The Best Cat Litter Boxes With Lid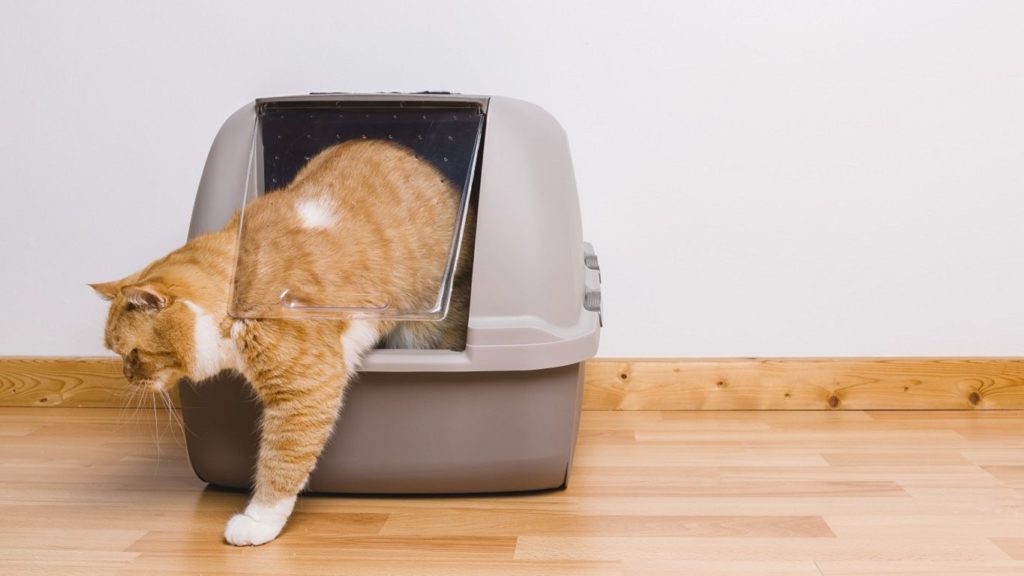 When it comes to having a cat litter box in the home, they can be problematic due to the smell and unpleasant sight they create. One alternative is to use a cat litter box that has a lid. Not only does this give your cat more privacy, but it also helps to eliminate smells. Another benefit is that it hides cat waste until it is ready to be emptied. Plus, if the litter box has stairs, this helps to clean your cat's paws as they exit to avoid trailing litter through your home. If you are in the market for a new cat litter box with lid, here are our pick of 5 of the best.
Petmate Booda Dome Clean Step
A dome-shaped litter box complete with stairs for easy access. It is suitable for multi-cat homes as well as larger breeds of cats.
Pros:
The dome shape gives your cat plenty of room to maneuver, and it also looks sleek from a design perspective. The stairs are designed to help your cat into the box, but also remove excess litter from their paws as they exit it. In terms of odor control, there is a charcoal filter built-in to absorb smells, making it ideal for placing in any room of the house. The box is designed for multiple cats to use, which is better value for money and more convenient.
Cons:
It is designed for multiple cats to use. However, this is dependent on whether your cats get along or are territorial. If you own dogs, there is nothing to prevent them from getting into the entryway, which could prove problematic.
IRIS USA Top Entry Cat Litter Box with
The Iris Top Entry Cat Litter Box features a flat roof with a wide gap to aid with entry. A scoop is also supplied that is attached to the side for easy cleanup.
Pros:
The roof has a platform making it easy for cats to lower themselves into the box. When they exit, the platform has holes in it so that excess litter will go back into the tray, meaning less mess for owners. The entrance is quite wide, making it suitable for a variety of breeds and ages. A scoop is attached to the side, so you don't have to buy any additional tools. The lid is also easy to remove and clean.
Cons:
One of the main advantages of having a roof is to conceal odors. However, this design has a large gap in the roof. If your cat is older and less agile, it may struggle to get out properly because a high jump is required to exit the box.
Catit Jumbo Hooded Cat Litter Pan
With a similar design to a cat kennel, the Catit Jumbo Hooded Cat Litter Pan has a transparent flap on the front to allow easy access and provide odor control.
Pros:
Design-wise, the flap is similar to a regular cat flat, making it easy for your cat to understand how to use it. The flap also helps prevent odors from escaping and also lifts up completely for easy cleaning of the litter. The carbon filter also helps prevent odors too. There is a handle on top so you can easily transport it to another location. It's suitable for larger cats, as the wide door gives easy access.
Cons:
The flap is transparent, which means your cat is not sat in complete darkness; however, this does mean you can see them while they do their business. Some cats struggle to open the swinging door, although this can be removed.
Unipaws Designer Cat Washroom Storage Bench
Designed to combat the unsightly nature of litter boxes, the sturdy wooden Unipaws Designer Cat Litter Box features a concealed litter tray.
Pros:
The main advantage is that it looks like a regular piece of furniture, making the idea of having a litter tray within the home much more appealing. The entrance can be placed on either side and is large so that any sized cat can fit through it. The top has a flat surface, which is ideal for storage. It's made from quality solid wood, MDF, and has metal hinges, so it is built to last.
Cons:
It requires a complex assembly taking up to an hour to complete, and doesn't include the tools needed to do so. The large gap doesn't have a flap meaning there is nothing to keep odors from escaping. The actual litter tray isn't included.
Litter Genie Plus Pail
The Litter Genie is a cat waste storage system. It features a device to cut the bag so the user can easily tie it and dispose of the waste.
Pros:
The device stores cat waste, which helps eliminate odors. Waste can be stored for up to two weeks, meaning fewer trips to the trash every day. Also included is a mechanism to cut the plastic liner bag, so that you don't have to touch it. The bag can easily be tied and disposed of afterward. The design of the box is quite sleek and would be ideal for small apartments.
Cons:
It isn't an actual litter tray, so you will still be required to use one also. Also, it requires manual scooping, which will cause more odors and mess. Some users have found the device doesn't click together well, so it is prone to falling apart.
What Really Matters
Ease of use
If your cat is used to a regular litter tray, they may have difficulty adjusting to a cat litter box that has a lid. To make it easy for your cat, ensure the entrance is wide so that there is plenty of room to get in and out. Also, older cats may not be able to do a steep climb or jump, so keep this in mind.
As an owner, ease of use is important to ensure you are getting value for money but also to make sure you can clean the litter box properly too. Usually, the lid will come straight off, so you can clean it. However, if the design only has one removable side, it might be challenging to clean out the litter tray properly. So, before buying, it's good to consider how both your cat will adapt to it, and if the design will make it easy to clean.
Odor control
The main reason owners switch to a cat litter box that has a roof, is for odor control. When cats go to the bathroom, this can create an unpleasant odor in your home that can be difficult to remove. Placing a lid over the litter tray helps trap odors, but is not a definitive solution, especially if there is a large gap to let the cat in, which will allow odors to escape. Other practical additions to look out for include carbon filters that help to purify the air. Also, designs that feature a flap will help. Unfortunately, it's not possible to find a completely airtight design for cat litter boxes because your cat needs to be able to breathe while using it.
Stylish design
While the primary function of a cat litter tray is for your cat to be able to use the bathroom, it's also worth considering if the design will fit the aesthetic of your home. After all, cat litter trays can be unsightly, so upgrading to one that features a roof will already improve the visual aspect. Modern cat litter boxes are available in a wide range of materials, colors, and sizes.
What's in right now?
A massive trend across consumerism, in general, is the move away from plastic. While plastic is easy to clean and lightweight to move, it's not the most environmentally friendly material. If you are keen to help the environment, it's possible to avoid using plastic within cat litter boxes. An added benefit of using a material such as wood is that often it will blend better with your furniture too.
In terms of odor control, cat litter boxes infused with charcoal is a deluxe feature that can help reduce any unpleasant smells from escaping. Some boxes may also be infused with aromas to create a pleasing scent or be made from odor-neutralizing materials.
Frequently Asked Questions
Which is best, a regular cat litter tray, or a cat litter box with a roof?
In terms of odor control and the visual aspect, a cat litter box that has a roof is by far the better option. The reason is that with regular cat litter trays, there is a wide surface area releasing odors into the environment. Although some cat litter formulas have odor control, complete protection can't always be guaranteed. Also, regular cat litter trays are messy as well as unsightly. By choosing a cat litter box that has a roof, you eliminate all these issues. Plus, the design fits in better with the rest of your furniture, compared with litter trays, which are unsightly. From your cat's perspective, having a roof also gives them privacy too.
How often do I need to clean my cat litter box?
Most cat litter formulas allow for up to 14 days before the litter tray needs to be changed. The real figure will depend on how many cats you own and how many times the litter box is being used per day. The good news is that as the roof will help prevent odors from escaping, you will be able to go longer than a regular tray. It's still a good idea to empty it regularly, which includes deep cleaning to remove smells and bacteria. Always ensure your cat has a fresh litter, as they may be discouraged from using it otherwise.
Is less work involved with a cat litter box?
Yes, however, your cat litter box will still need to be changed and cleaned regularly as you would with a cat litter tray. Some cat litter boxes simply hold the waste, which would require twice the amount of effort as the user needs to remove the waste and put it into a separate container. After a while, the container then needs to be emptied, so in effect, you are just delaying the process. However, the odor control element will mean less effort, as it means fewer scoops and trips to the trash. Also, you will not have to open the windows or spray air freshener to remove foul odors, because the mechanism has taken care of that for you.