The Best Automatic Cat Feeder For Your Cat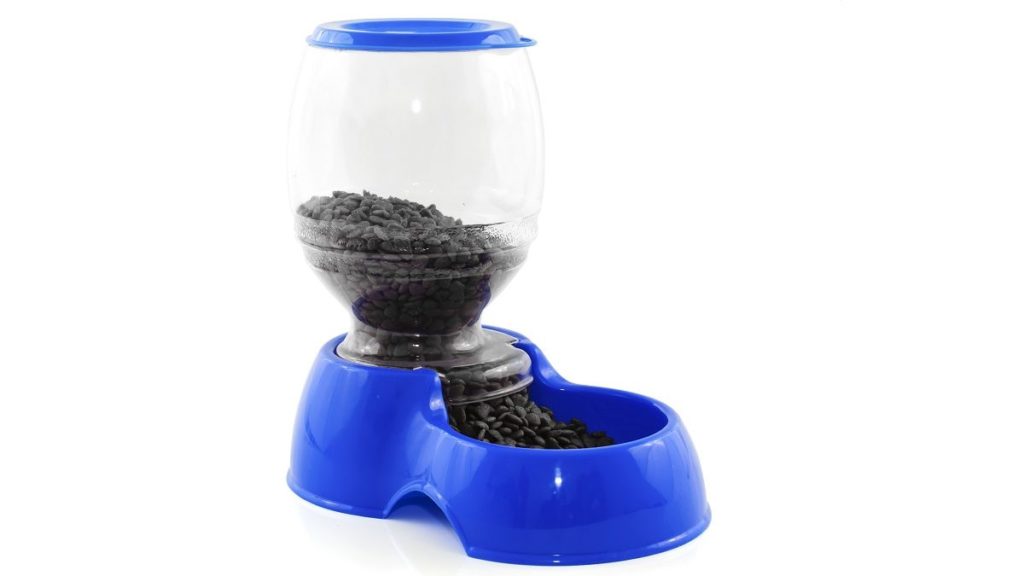 If you don't spend a lot of time at home, it may be challenging to take optimal care of your cat. Proper nutrition is one of the biggest challenges, and that is where automatic feeders can be of great assistance. These products can dispense food at preset times and keep your pet full even if you are not home. Take a look at our top five picks for the best automatic cat feeders on the market. Don't forget to check our short buying guide to learn more about which factors to consider during the purchasing process.
Arf Pets Automatic Pet Feeder Food Dispenser for Dogs, Cats & Small Animals, Features Distribution Alarms, Portion Control, & Voice Recording, Up to 4 Meals a Day
Arf Pets designed a "set it and forget it" automatic pet feeder that allows you to pick between ten portion sizes and choose four times throughout the day to dispense a meal.
Pros:
The beauty lies in the product's simplicity. It may not come with advanced features, but it does the job flawlessly. The feeder offers ten portion sizes (24ml per portion) and is suitable for dry food. The product also has an LCD clock that you can easily adjust. You can set four distribution alarms, which means the machine can dispense up to four meals per day. The option of recording your voice message as an alarm is a nice touch. The product doesn't take up much room, and you can plug it into an electrical socket or power it with three D-size batteries. It is worth noting that the feeder doesn't have a large footprint, and it manages to be both lightweight and stable.
Cons:
Though the dual power supply is a great feature, it seems that the battery connections are not reliable. If your pet tries to move the product, the batteries may lose contact, which may cause the feeder's clock to reset. Fortunately, you can easily resolve that by keeping the product plugged into the power outlet. Also, the corners may not be that easily accessible for your kitty, but you can resolve that by using a deep bowl.
PetSafe Smart Feed Automatic Dog and Cat Feeder, Smartphone, Wi-Fi Enabled for iPhone and Android Smartphones
You can control the PetSafe Smart Feeder over a mobile phone app, which means your kitty won't be hungry even if you come home late.
Pros:
If you are looking for advanced tech features, this may be the best automatic cat feeder out there. The premium unit has everything you need to make feeding your pet easier. For starters, you can set up to 12 mealtimes in advance. The portions can vary from 1/8 cup to four cups, which gives you plenty of room to fit any cat's appetite. You can control the machine over an app that is available for Android and iOS. It is extremely convenient for when you can't be home in time to feed your pet. The feeder will recognize if the food level is low, and you may even activate the option of automatic reordering via Amazon. The manufacturer uses BPA-free materials, and the machine is easy to clean.
Cons:
You can adjust the feeding time in 15-minute increments, which should be acceptable for most users. However, it is an advanced unit, and it is a shame that you can't set the exact time to dispense food to your pet. Also, don't expect the machine to automatically adjust for Daylight Saving Time–you will have to adjust the clock manually.
Furbo Dog Camera: Treat Tossing, Full HD WiFi Pet Camera and 2-Way Audio, Designed for Dogs, Compatible with Alexa
Although it was designed with dogs in mind, there is no reason why you shouldn't use the product for cats. You can use the camera to monitor your pet and dispense treats to play with and feed them.
Pros:
This is a premium device that combines feeding and monitoring your pet. If you would like to check on your cat while you are away from home, you can do so thanks to the machine's integrated camera. As long as you install the Android or iOS app and use a stable internet connection, you can check on your pet at any moment. Apart from the video, the product also has two-way audio, which means you can both hear and talk to your cat whenever you want. The device is capable of dispensing treats, and that can keep your pet full and amused. Animals love treats, and the fact that this machine throws them out will interested them for a long time.
Cons:
The app is quite reliable, but it is not completely crash-free. Although you may need to restart it occasionally, all the functions work, and the machine listens to remote commands. You should also note that the microphone is a bit quiet. If your cat is in another part of the house, they may not hear your voice. Additionally, some functions are only available with a premium subscription.
PetSafe Dog and Cat Food Dispenser, 5 Meal with Digital Clock or 2 Meal Tamper Resistant with Dials Automatic Pet Feeders, Portion Control, Holds Dry Food
Once you set the PetSafe 5-Meal Automatic Cat Feeder, it dispenses at the same time every day without you needing to reset it.
Pros:
The device only needs to be reprogrammed after changing the batteries. It's very easy to set up and use. All you have to do is add the appropriate amount of kibble for your cat. Then enter the times for which you would like it to be dispensed. It holds up to one cup of cat food per portion, and there are five feeding slots. Close the cover firmly and four slots remain sealed against pets and other little visitors that like to steal their food.
Cons:
One feeding dish remains open, so there are actually four programmable meal times instead of five. It needs four sized-D batteries. They last in the device for about two months, but can be quite an added expense.
Casfuy 5-Meals Automatic Cat Feeder, Auto Pet Feeder with Programmable Timer Dry and Wet FOod Dispenser Voice Recorder & Speaker for Cat and Small Medium Dog
The Casfuy Automatic Cat Feeder uses a power cable and suggests the user also install four sized-C batteries for backup power.
Pros:
The settings are easy to program. They include a ten-second voice message you can record to call your kitty to eat. The Casfuy cat feeder can be used for wet and dry foods simultaneously. It is an excellent device to help train overfed cats away from harassing their pet parents. It also gets them on a diet. It has a sturdy construction. Your cat will not be able to steal delicious treats out of it. The tray can be put in the dishwasher for cleaning.
Cons:
The device needs to be in "unlock" mode in order to make any changes to the settings. Care must be exercised when adding the food. If any gets over the sides, the device will jam and not dispense properly. There is nowhere to install a cold pack to keep the wet food fresh.
What Really Matters
You may be confused when you start browsing the features of a particular cat feeder. But you want only the best for your pet, and we are here to show you how to choose the most suitable food dispenser for them.
Storage Capacity and Portion Size
Storage capacity determines how much food you can fit in the dispenser. In most cases, that will be directly proportionate with the size of the unit. If you have a large cat, you may need a big food container. But if your pet is small, you can go with the smallest feeder out there, and still secure enough food for the entire day.
You should look for units that allow you to adjust the portion size; it is the best way to ensure optimal nutrition for your cat. You will be sure that your pet ate the right amount to ensure s/he's not hungry, but also to prevent overeating.
Durability and Longevity
If your automatic cat feeder is too light, your pet may knock it over while eating or playing. This is stability is quite important. Choosing a unit with durable materials will ensure that the feeder doesn't break even if it falls on the ground.
High-quality materials contribute to the overall longevity of the device. If you are looking for the healthiest automatic cat feeder for your pet, look for products with BPA-free materials because they are free from harmful compounds.
Ease of Control
It shouldn't take a long time to program your cat feeder. An easy-to-use interface is particularly important if you are in a rush to leave for work. The majority of feeders will have an LCD screen with the current time and control buttons around it. Some devices also allow you to control them via mobile apps.
FAQs
Q: How does an automatic cat feeder work?
A: These devices can feed your cat a particular amount of food at a specific time of day. You preload the feeder with food and set single or multiple feeding times. Once the time comes, the device dispenses the preset portion of food to your feline.
Q: Are automatic cat feeders a good idea?
A: Yes, these devices are an excellent way to ensure optimal nutrition for your pet. Whether you are at home or away, a feeder will dispense the preset food quantity at given times. That way, you will ensure your pet receives just the portion they need, which will prevent the serious problems that come with overeating or starvation.
Q: Do I need an automatic cat feeder with a camera?
A: Ultimately, that depends on your preference. A camera may be a neat addition to monitor your cats and ensure they ate. However, having an integrated camera won't affect the device's basic function: food dispensing. That is why you should consider the product's main characteristics and ensure that they meet your expectations. The camera is nothing but an additional feature.