How To Choose The Best Cat Carrier For Your Cat – CatTime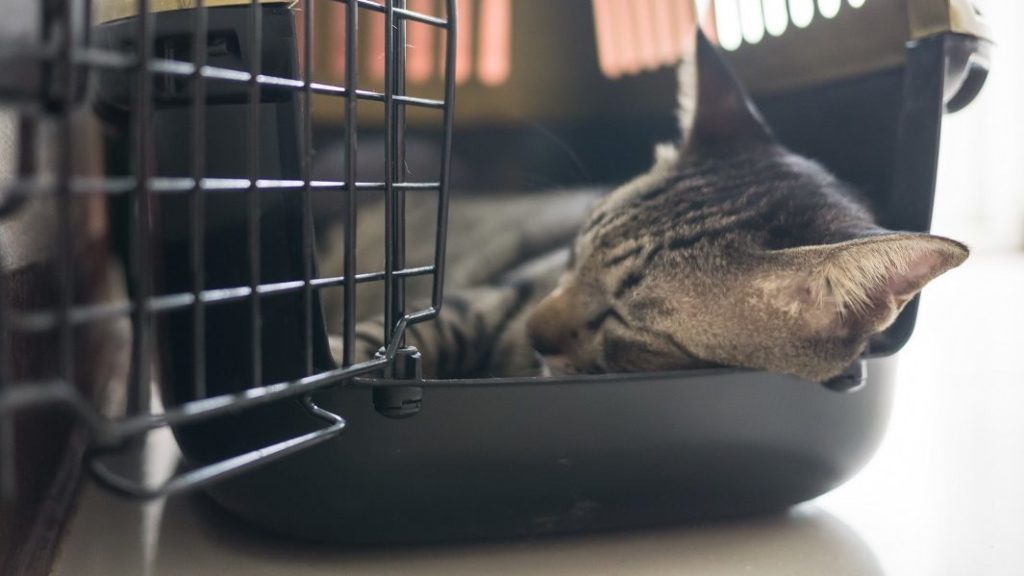 Cats are not only your pets but family members of your household. That is why you may want to take them with you on your next trip. For their comfort, why not purchase the best cat carrier on the market? The carrier should be as comfortable as possible for your pet. That will contribute to their welfare, which will make it easier for them to endure long journeys. We identified the top-rated cat carriers on the market and reviewed crucial features, the pros, and the cons of each product. We also analyzed the factors worth considering in the shopping advisor section. Check them out to learn how to find an ideal carrier for your cat!
Best Choice
Dreamy Pup is equally good for dogs or cats, and they will feel comfortable inside this carrier. The foldable design makes it easy to carry when your pet is not inside.
Pros:
Dreamy Pup is a brand that has been around for years, and the manufacturer is famous for perfecting its products to meet customers' needs. The carrier features two entrances, but only one opens completely. It is this door that you should accustom your cat to entering and exiting. The other side has a zippered opening you can use to give water and food to your pet. The fleece lining provides an extra element of comfort, and the breathable mesh will ensure they have plenty of ventilation n. When carrying the bag, you can take advantage of the convenient shoulder strap or carrying handles.
Cons:
It is important to understand whether or not the dimensions of this product are suitable for your cat. In the case of this product, it is vital to note that it's not recommended for cats over 15 pounds. This means it will fit most cats, but if your feline is overweight, you may need to consider an alternative product. Although though carrier was designed for airline travel, always check with the individual airline to determine that it will indeed meet their specific requirements.
Best With Top Door
The pet kennel provided by AmazonBasics offers a true bargain for a product that makes it easy to get your cat inside the carrier and guarantee their safety while traveling.
Pros:
The product can be an excellent choice for those who don't plan to use cat carriers regularly. If it needs to serve you once or twice a year, this item can be a real bargain. The most attractive feature is probably the opening at the top. This feature makes it possible to get even the most nervous cat inside. There is another door at the front, and it can be used to monitor your pet's comfort and to provide food or water. The holes in the sides provide additional ventilation, and the screws keep the construction tight. The product is available in two sizes, but even the smaller one should fit most felines.
Cons:
The structure of the carrier is not as strong as some other products. Also, the majority of components are made of plastic. Some cats won't feel as comfortable as they would in carriers with fleece linings. However, some cats don't mind plastic, and they may be okay while traveling inside this unit.
Best Soft Cat Carrier
if you wish to ensure your feline family member's maximum comfort, then the softness offered by Siivton's carrier will guarantee just that.
Pros:
This carrier does all the right things to boost the comfort of your cat. Thanks to the mesh windows, air circulation is maximized. If your feline needs more space, you can expand the unit on all four sides. The zippers provided will allow your cat greater freedom, within the constraints of the area beneath the seat. The soft inner pad is also a nice touch and will entice cats that need to take a nap. You can use the convenient carrying handles or the shoulder straps to carry your pet through the airport and elsewhere.
Cons:
Although the product may seem big from the outside, the inside of the carrier is not all that spacious. That is why large and heavy cats (those that weigh more than 14 pounds, although it may depend on the pet) might be too big for the item. As with any carrier, it is prudent before traveling to allow your feline to get accustomed to being inside the carrier. In this manner, the owner will know in advance whether or not this product will suit their pet. A particularly nervous or active cat may not be suited to this product.
Best Backpack Carrier
Instead of using the classic bag, how about carrying your cat in a backpack? PETRIP offers it in two different colors to match your clothing and luggage!
Pros:
PETRIP engaged in a different approach to animal carriers and used a unique backpack design for its carrier. This is a truly spacious product that can fit felines that weigh up to 22 pounds. The backpack features nine holes, as well as breathable mesh, to ensure optimal airflow. The backpack was made of PU leather and oxford fabric, which are both eco-friendly materials. The product is resistant to scratching, as well as being waterproof, which reduces worry about a damp cat when it's raining outside. You may not have direct visual access with this design, but the strong snap hook will prevent the pet from jumping out of the bag.
Cons:
Once your product arrives, the chances are it will have a strong and distinctive chemical smell. It is not something your cat will appreciate, which is why you should air out the unit before placing your feline inside. This step may help to prevent the cat from coming to hate the backpack forever. Although it's suitable for large cats, make sure that you are capable of handling the load, especially if there is a need to carry the backpack around for an extended period of time.
Best with ventilation
The Pet Magasin Hard Cover Collapsible Cat Carrier focuses on being a travel-friendly product that allows cat owners to take their pets with them on long trips.
Pros:
A collapsible cat carrier that features a portable design, which creates a more travel-friendly pet carrier. The product features a hardcover design, which offers impact protection for a cat placed on the inside of the carrier. There is a mesh design in the front area of the cat carrier, along with holes in the side, allowing for adequate air circulation. A top-load compartment is added for the storage of some pet essentials.
Cons:
The compact size of this cat carrier might make the product travel-friendly, but it does restrict the amount of space available for a pet. Space is also somewhat limited in the top-level storage compartment, which means only a few basic items can be added to this area. Furthermore, some airlines may not approve the usage of this cat carrier when traveling with a pet.
What Really Matters
With so many cat carriers available on the market, you may be confused as to how to choose the best one for your feline. Here are the main factors to pay attention to during the purchasing process.
Size and Weight
When we say size and weight, we are referring to the measurements of your cat, as well as the desired carrier. It is vital to ensure that your feline fits inside the product comfortably. Some experts recommend going for a product that is at least 1.5 times bigger than your pet. The manufacturers should specify the carrier dimensions, as well as the allowed maximum weight capacity. It can be smart to leave a bit of wiggling room there, too. For example, if your cat weighs 12 pounds, go for a carrier that can handle pets of up to 14 pounds.
Material
The next factor to consider is the material used for designing the carrier. The most budget-friendly products are usually made of plastic. They can be relatively durable and serve well if you don't use them frequently. However, they are usually not comfortable for your cat. You should look for carriers made of PU leather, oxford fabric, or similar materials. Breathable mesh is also important because it can contribute to your pet's comfort.
Other Features to Consider
Here is a list of some other factors worth keeping in mind when choosing a cat carrier:
Style – you can choose between units with carrying handles and adjustable shoulder straps or go with a backpack design.
Airflow – an important consideration for your pet's well-being and comfort. Go with a carrier with as many air holes as possible.
Access points – some products only have doors on the sides. However, others come with a top opening, which can make it easier to get your cat inside the carrier.
What's in Right Now?
The care we provide to our pets has been taken to a whole new level in 2020. That is why it is hard to speak about a particular feature that is trending. It is much easier to say that the trend is ensuring that your pet enjoys their carrier.
That is why those who shop for cat carriers in 2020 focus on features that contribute to comfort. Some of the things that shoppers consider include a soft pad, or a fleece lining for the inside of the carrier. Additionally, many shoppers are rightly concerned with ventilation,, and breathable mesh as it will ensure their cat has enough air.
Best Cat Carrier Prices
Whether we like it or not, finances are an important factor when buying any product. When it comes to cat carrier prices, the good news is that you won't have to splash your cash. You can find a beautiful and durable carrier for less than $100.
However, we still have three different pricing categories:
Cheap
these items will cost you $20 or less, but they come with certain limitations. The primary material will probably be plastic. That may compromise both the durability and the comfort of your pet, but it can be an affordable solution if you are not traveling frequently.
Mid-range
an average cat carrier will cost anywhere between $30 and $50. If you choose wisely, you can get everything you want for this price. That includes durable carriers that look beautiful and ensure optimal air circulation and pet comfort.
Expensive
the price of these products goes over $50, and they usually bring something innovative to the mix. You can expect bells and whistles and features that maximize both yours and your cat's comfort.
FAQ
Q: How to clean a cat carrier?
A: Before you start, put on disposable gloves. While having them on, remove everything from the carrier, such as water and food bowl, litter, bedding, etc. Follow the instructions to see if your product is machine-washable. For best results, you can consider using detergent and soap to remove any smell or residue, and a vacuum cleaner to get all crumbs and hair.
Q: Can cats share a cat carrier?
A: You may find some carriers designed for two cats, but experts do not recommend felines sharing the same restricted space. That can lead to conflicts and fights, especially if the trips are long.
Q: Why do you need a cat carrier?
A: It is a safe and convenient way of transporting your cat anywhere. If you are taking your pet to the vet, placing them in a carrier will ensure they don't cause trouble while you are driving your car.
Q: Are cat carrier backpacks safe?
A: You may be worried because you don't see what's happening with your cat while carrying the backpack. However, as long as you choose a product with optimal air ventilation and tight latches to prevent your pet from escaping, a backpack will be a safe method of transport.
Why Trust Us
Since 2008, CatTime has provided millions of cat owners with all the information they need to keep their pets happy and healthy. Our experts know exactly what it takes to raise our furry friends and our goal is to help all owners, new or experienced, care for their cats with all the right food, toys, equipment, and accessories.