The Best Scratching Posts for Your Cat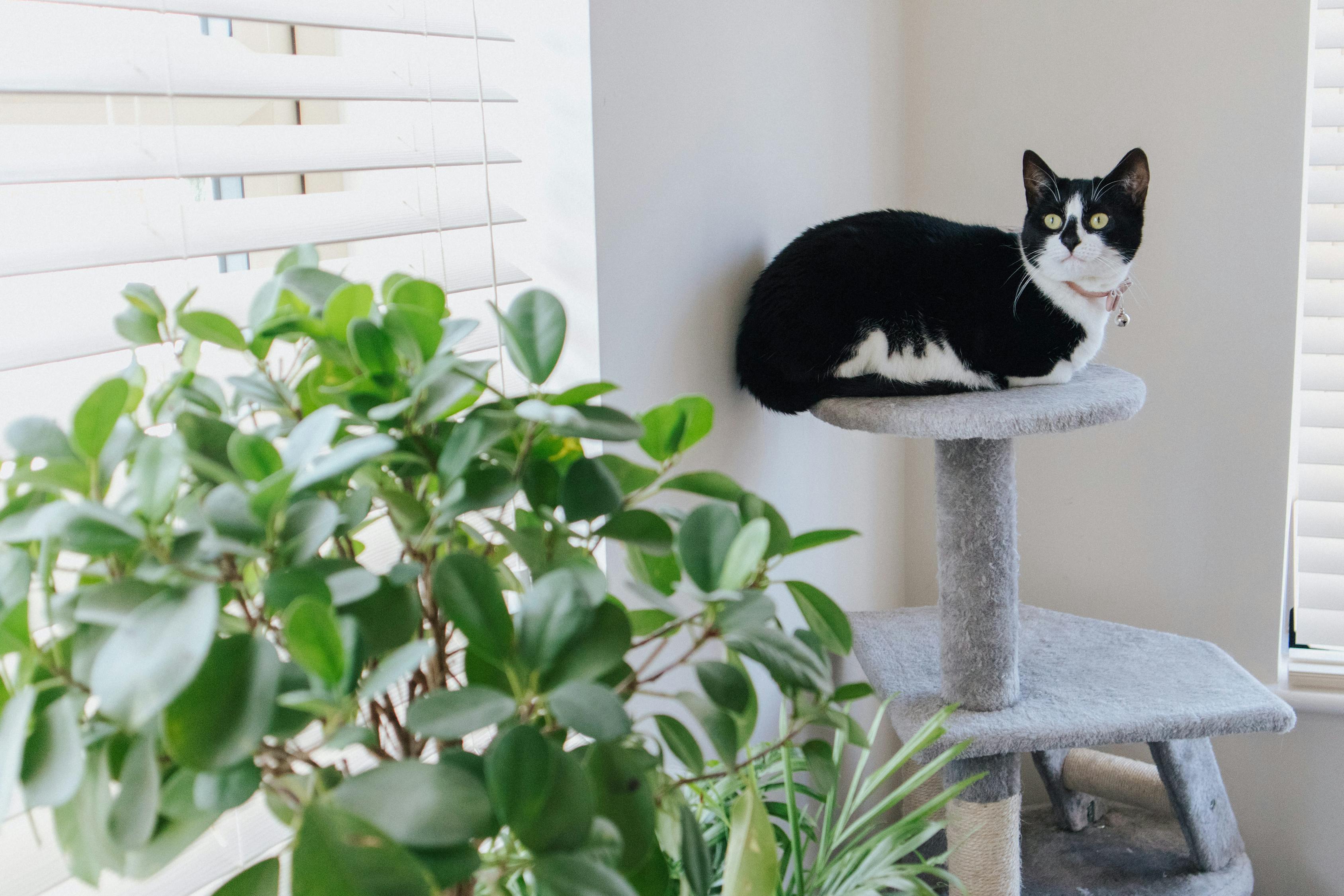 While we all adore our feline friends, most cat lovers can agree that we're not so keen on the tattered furniture and shredded curtains they can leave in their wake. But cats need to scratch to care for their paws and claws, stretch their muscles, mark their territory, and work out their anxiety. To keep both you and your cat happy, we suggest investing in a quality scratching post so they can scratch away to their heart's content while keeping your couch in one piece. Check out our top picks for the best scratching posts on the market to pick the right one for your family — felines included.
SmartCat Pioneer Pet Ultimate Scratching Post
This scratching post gives your cat plenty of room to stretch.
This scratcher from SmartCat stands out to us for a few reasons, and its durable construction is chief among them. A broad 16″ x 16″ base provides a sturdy foundation to support its 32″ height, and it's heavy enough to stay put without being a nightmare to move. The scratching surface is woven sisal, a natural material that's more durable than the sisal rope or traditional carpeting sported by many of its competitors. It assembles easily with only two screws so that your feline friend can get scratching almost immediately. It's a great way to give your cat plenty of room to scratch and stretch without ceding too much of your own territory.
Pros:
Tall enough for cats to stretch fully and tone their muscles effectively
Understated column design is surprisingly good-looking
Wooden perch on top is at an excellent height for jumping
Cons:
Doesn't include any additional features like batting toys or multiple perches
Price is on the higher end, but if you want a scratcher that'll stand the test of time, it's worth it
Pawz Road Scratching Post and Pad
Give your cat a satisfying sensory experience with this scratch pad.
This floor pad scratcher from Pawz Road gives cats a mixture of textures to enjoy as they exercise, scratch, and play. Its particleboard construction is covered with cat-friendly plush carpeting that features a woven sisal inlay on the base and a horizontal post covered with sisal rope to increase scratching space. A fuzzy ball toy tops off this space-saving design, allowing your cat to bat the day away.
Pros:
It's an affordable option that saves you space as well as money
Assembly is straightforward
Grippy base helps it stay put on hard or soft flooring
Cons:
Works best for smaller cats
Not the most durable construction
PetFusion Three-Sided Vertical Scratching Post
This space-saving design lets cats scratch, play, and nap in its innovative design.
We love the durable, premium cardboard construction of this scratcher from PetFusion, but what makes it stand out to us is its unique shape. The triangular design allows it to serve several functions at once. The scratcher's height and multiple angles enable cats to stretch comfortably as they scratch, and they can use the top for perching and jumping during active play. The center hole provides a fun hiding place as well as a super-cozy napping zone that makes the most of the unit's compact size. It's made of recycled corrugated cardboard and a strong, non-toxic glue made from corn starch, making it a safe choice for your cat as well as the environment. Silicone floor grips on the base reduce slipping, making it usable on most kinds of flooring. It's a great choice when you need to get the most functional area out of a small space.
Pros:
No assembly required
Includes premium USA-grown catnip leaves
Can be rotated to provide three times the scratching surface
Cons:
Lightweight design makes it best for lighter cats
It can take a while for cats to get used to the shape, but the included catnip helps
Akarden Tall Scratching Post
This post features a plush pom-pom that's perfect for encouraging active play.
This scratching post from Akarden provides cats with an extra-tall scratching surface to stretch out their muscles as they care for their claws. The scratching surface is a densely wrapped sisal rope with a small carpet band around the middle, while its base is constructed from sturdy, carpet-covered chipboard. But the cherry on top is the ever-enticing plush ball attached with a cord that's just long enough to catch the eye of any passing felines looking for some batting practice. It's a great option to provide plenty of stretching space and encourage active play to bring out the kitten in any cat, no matter their age.
Pros:
Natural sisal rope scratching surface
Wider base than many posts
Carpet base and band provide another texture for cats to scratch
Cons:
Some simple assembly is required
The base may still need extra support
Trixie Miguel Fold and Store Cat Tower
This tower gives your furry friends a single destination for all their favorite activities.
This tricked-out tower from Trixie Pet Products takes the cake when it comes to the sheer variety of features. The woven sisal scratching surface and plush carpeting provide contrasting textures for cats to scratch, and two plush balls encourage stretching, batting, and other active play. Its X-shaped design creates ready-made spaces for a cozy cat condo at the base and a luxurious, plush perch on top, so you can treat your favorite felines like the royalty they are. Even amid all these built-in bonuses, we're most blown away by how easy it is to fold up and store when not in use. In a matter of seconds, the unit can be slipped into a closet, behind furniture, or even underneath a couch with hardly any effort.
Pros:
Multifunctional unit is a great option for small spaces
Lounging mat can be removed and hand-washed
Storage-friendly design is handy for hosting guests with cats
Cons:
A little pricey, but the features make it a worthwhile investment for some
The cat condo's entrance may be a little small for larger cats
Frequently Asked Questions
Where's the best place to put a cat scratching post?
We'd suggest picking a spot next to the furniture your cat usually scratches. Try to find an area in the house, fully indoors or under a well-covered patio, where your cat feels safe. Putting it in the cat's favorite room will ensure they get the most use out of it.
How do I train my cat to use a scratching post?
One way to attract a cat to a scratching post is to use catnip. A generous sprinkling over the post is generally enough to make cats come running. Also, playing with your cat in the area around the post can encourage your cat to use it. You can discourage the cat from using other surfaces to sharpen their nails by covering their favorite areas with tape or making a loud noise to make that spot less appealing and redirect them to the scratching post.