The Best Heated Cat Beds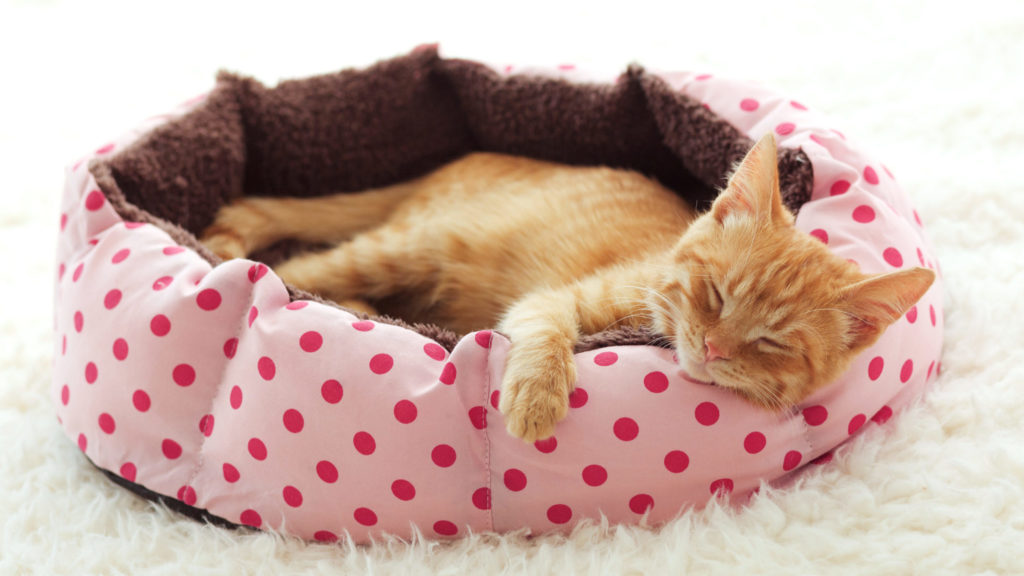 If the temperature goes down, we grab an extra blanket to keep warm. But what about our cats? How do we keep them warm when it's cold? The solution is a heated cat bed. These products provide adequate warmth for your kitty, even when the temperatures are low. Your pet will also enjoy maximum comfort thanks to the padding made of high quality and soft materials. Take a look at our top picks from the heat cat beds available on the market.
K&H Pet Products Heated Cat Bed
This simple bed from K&H is a huge hit for cats that like to snuggle up.
This option from K&H has everything we look for in a heated cat bed and more. For starters, the heating element spreads evenly throughout the base of the bed, providing ample toastiness for your feline. Plus, the edges are overstuffed to help raise the bolsters. This makes it more nest-like for your cat to curl up in. What's more, the cover is machine-washable, so you can just unzip it and toss it in with the rest of your laundry. Finally, with multiple sizes and color options, this bed is sure to fit in your feline-friendly home.
Pros:
Because it only uses 4 watts, it's a safe choice
The inner foam is orthopedic and gentle on older cats' joints
The cover is a plushy material that retains heat
Great price
Cons:
It's only 4 watts for safety purposes, so though those in really cold climates may want something warmer
K&H Pet Products Lectro-Soft Outdoor Heated Pet Bed
This heated mat from K&H might look simple, but it's packed with features for comfort and safety.
This heating pad from the eminent K&H Pet Products is perfect for keeping cats warm in those colder months. It can be used by itself, thanks to the toasty fleece cover, or placed underneath additional bedding. A bit warmer than most other options, this one features a balanced heat output that stays consistent even during environmental temperature changes. Another winner from K&H, this mat is the real deal.
Pros:
You can remove the cover for washing
Water-resistant, so it can be used outside (though we don't recommend leaving it outside)
Available in small, medium, and large sizes
Cons:
The heating element is excellent, but the pad itself is pretty thin
K&H Pet Products Mod Dream Pod Pet Bed
This deluxe cat bed is more of a pet pod since your cat can snuggle up inside the cave-like interior.
Cats love tucking into little hidey-holes, which is why it's a safe bet that your feline friend will adore this cat cave from K&H. The interior sports a heater-and-pillow combo that can be washed once you remove the heating element. The inner walls of the cave are black, to further absorb heat and provide a comforting dark interior. And when the season changes and the air gets warmer, you can remove the top part with the pull of a zipper. Trust us, your cat will dig it.
Pros:
The inner cushion can be washed in a machine
Available in three different colors
The enclosed shape naturally retains heat, even when the heater isn't on
Cons:
A bit pricier than most cat beds
Extreme Consumer Products Cat House
This kitty house is primarily designed for outdoor use in areas like barns and garages, but it is also acceptable for indoor use.
Those in the market for a cat house that can be kept both inside and outside should check out this option from Extreme Consumer Products. It can be used outdoors, even on chilly days, thanks to the fantastic warming heater. And moving it around is easy. In fact, it's collapsible and zips together with zippers and hooks, so you can even bring it with you on trips. Available in a wide range of colors, these cat houses are a popular choice for those hoping to give feral cats a little shelter and domestic outdoor cats a little taste of home.
Pros:
Easy to clean with a quick wipedown with soap and water
Assembly and disassembly are easy
The front and back flaps function as doors and can be removed if needed
Cons:
K&H Pet Products Outdoor Heated Kitty House
The bed in this cat house is heated and easy to clean, so it's perfect for cats that strictly live outside the house.
Another great choice for the outdoors, this pick from K&H is available in several different designs, including olive, barn, cottage, log cabin, and a real tree edge camo design. The heated option comes with a 20W heater that can keep your pet warm even at subzero temperatures. The houses feature durable nylon and a waterproof nylon backing. The instructions for assembly are straightforward. Your pet has two exits from the house, and removable door flaps are there to keep your pet safe from the harsh elements. The heated pat comes with a certificate that meets electrical safety regulations.
Pros:
Modest price point for such a durable and long-lasting outdoor cat house
The 20-watt heating pad provides plenty of warmth
Cons:
The cord is only 5.5 feet in length, so you may need an extension cord
Frequently Asked Questions
Are heated cat beds safe?
Heated cat beds are generally safe for your pets. The product should meet the electrical safety regulations, which can be proven with a certificate. Read the device manual carefully and be sure to follow the instructions.
Can you use a heated bed outdoors?
Most manufacturers will specify whether the bed is suitable for indoor or outdoor use. Heated cat beds require power to work, which is why an electrical socket should be nearby. Unless you use the product on a covered porch or in a garage, don't go with a mat or bed-only option for the outdoors. Instead, choose a cat house that can protect your pets from harsh weather.
Which heated bed is suitable for an older cat?
The older cats get, the more warmth they need to feel comfortable. The main feature to look for is a heater with impressive heating capabilities. Generous padding contributes to an overall feeling of warmth.
Are heated cat beds a fire hazard?
High-quality cat beds from reliable brands meet the latest electrical safety regulations. As long as you follow instructions, these products are safe to use. However, avoid using the heating function of the bed if you notice anything out of the ordinary.