The Best Canned Cat Foods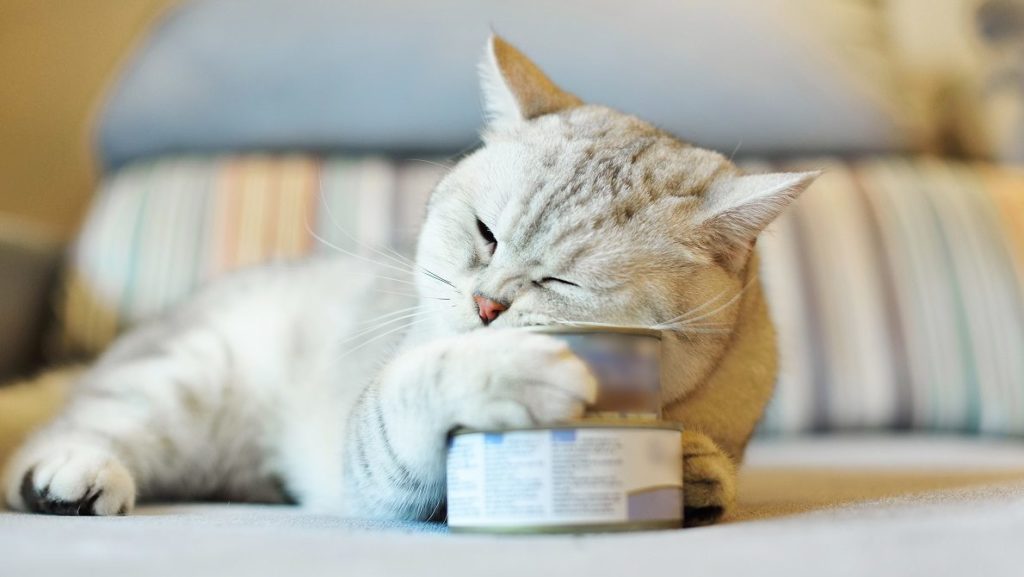 Furry felines can be difficult to please, and finding a canned cat food that they won't turn their noses up at can be a challenge. What cats eat can influence their overall health and agility, so ensuring your cat eats the correct food with essential nutrients and minerals is crucial. Canned cat food is nutritionally-balanced, and you can easily control and monitor portion sizes; however, it tends to be more expensive than dry food. The good thing is it doesn't have any abrasive qualities, which helps reduce the build-up of tartar. We've compiled a list of the best canned cat foods to help you make the right choice.
Purina Fancy Feast Cat Food
The Purina Primavera Collection is a great tasting assortment of top quality, tender cuts of turkey, chicken, and tuna combined with nutritious greens. It's the ideal meal for the gourmet-loving cat.
Pros:
Cats seem to love the taste of this food, even some picky eaters enjoyed it, and the added greens are a bonus ingredient. We like that this canned food is made with real chicken, turkey, and tuna and contains many different ingredients that add texture and flavor—it's real restaurant-inspired cat food. It's great for cats who have urinary issues, or who require extra fluids in their diets, as it's high in moisture content.
Cons:
Several cat parents found their cats didn't enjoy the gluey consistency of this food, and we found it's not the best option for cats who don't enjoy a very saucy dish. It's also not the most visually appealing canned food, and many buyers found the product too expensive for daily use.
Blue Buffalo Wilderness Wild Delights Wet Cat Food
If you're looking for pure, 'safe-ingredient' cat food, then choose Blue Wilderness Wild Delights minced canned food. It's 100% grain-free, high in protein, and has no artificial preservatives.
Pros:
This food has less questionable ingredients than other brands and buyers appreciate the junk-free and identifiable contents. It has an excellent concentration of real chicken and trout that's easily digested and enhanced with amino acids. Besides containing no corn, wheat, and soy, it also has no poultry by-products. We like that it contains thiamine, which is a vitamin cats need to maintain optimum health. With prolonged use, buyers have noticed better muscle mass, shinier coats, and more active cats.
Cons:
One of the few dissatisfactions with this product is the hefty price, with many buyers finding it overpriced in comparison to others in its class. Also, some cats found the chunks of meat too large to eat, and owners had to mash it up to make it more edible. We would have preferred a little more gravy.
Hill's Science Diet Wet Cat Food
Hill's Science Diet wet cat food was developed by food scientists and is recommended by vets. It's a precise nutritional food formulated to benefit cats' coats, weight, and overall health.
Most Nutritionally-Balanced
Pros:
Hill's canned food is a USA-made food comprised of premium ingredients from quality-tested suppliers. It contains real chicken, lamb, or salmon, and as a result, we found it to be a good value for money. We like that it contains added vitamin C and antioxidants and enough high protein to maintain lean muscles and manage weight. Our cats enjoyed the thick, smooth texture of this canned food, and most cats adore the salmon flavor.
Cons:
While we appreciate that this canned food is free of artificial flavors and preservatives, many buyers were not impressed that it contains pork by-products. We found this canned food to be much drier than other brands, and the smell is more pungent, too.
Purina Friskies Canned Wet Cat Food
The Purina Friskies Variety Pack conveniently contains four different flavors and textures, including chunks, shreds, and meaty bits. It's ideal for fussy cats who crave something different daily.
Pros:
Friskies offers an excellent way to include wet food in your cat's diet affordably. It's made with real turkey and chicken, and the savory gravy adds substantial moisture to the food. We found the texture to be just right: not too moist, not too dry. Cats seem to enjoy the juiciness of this canned food, and buyers have witnessed visibly shinier coats after frequent use.
Cons:
Even though this food has a good balance of moisture, some older cats find the food difficult to chew. It's also not the healthiest option available as it contains some artificial flavors, meat by-products, and fillers such as wheat gluten and modified corn starch.
Sheba Perfect Portions Wet Cat Food
If you need a quick canned cat food solution, try Sheba Perfect Portions, which are salmon and tuna servings in a delectable gravy that have already been perfectly portioned for your convenience.
Pros:
We like that you don't need to store leftovers when using this food—the minimal wastage is what appeals most to buyers. Plus, it's impossible to overfeed; the portions are small but sufficient and perfect for cats who need to watch their weight. The food is made with real tuna and salmon and contains no grains, gluten, artificial colors, or flavors, so it's ideal for cats with allergies. Overall, it's affordable cat food with a good texture and taste that's suitable for cats of all ages.
Cons:
We found the packaging of this product could be improved. The packages are difficult to open, and it's almost impossible to do without getting gravy on your hands. It's hard to get the product out of the container, too. You're also left with a lot of plastic packaging to dispose of, so it's not the most environmentally-friendly choice.
What Really Matters
Ingredients
Cats seem to favor wet food; however, some wet canned foods are not very good quality and are filled with questionable ingredients. That's why it's important to consider the ingredients included in your cat's food carefully. Watch out for fillers, such as powdered cellulose, rice starch, and wheat gluten, as well as animal by-products. Avoid canned cat foods that are low in protein and high in carbohydrates as carbohydrates in excess are biologically inappropriate for cats. A top quality cat food will have meat as the first ingredient.
Carrageenan is another ingredient that is quite commonly used as a thickener in cat food, yet it is not necessarily safe for cats. It's a food additive made from seaweed, and it comes in two forms: degraded and undegraded. The degraded form is known to cause inflammation in the gastrointestinal tract and tumors, ulcers, and cancer in laboratory testing of animals. The FDA bans degraded carrageenan, but new evidence suggests even the undegraded one is bad for humans and animals.
Age and Nutritional Requirements
A cat's nutritional needs change as they age. For example, kittens need food that supports growth and sustains them while they play, while older cats may need food that supports health issues they've developed from aging, such as kidney or joint issues. It's crucial to find a canned cat food that suits your specific cat's requirements and not apply a one-food-suits-all approach to feeding.
Weight
If you want your pet to have a long and healthy life, your cat must maintain a healthy weight. Overweight cats are prone to health issues and are at higher risk of developing urinary, liver, and heart conditions. Using pre-portioned canned cat food can assist you in controlling how much and when your cat eats. Look for canned cat food that contains good quality lean meats and instead opt for grain-free varieties.
What's In Right Now?
Personalized and customized pet food is becoming increasingly popular. As more cats develop specific dietary requirements and nutritional needs, the need for customized meals continues to grow. Some pet retailers have opened up custom kitchens in-store where pet owners can see their specific pet's food being made, and with human-quality ingredients. Other retailers have implemented home-delivery services that deliver custom formulations based on surveys completed by pet owners.
When it comes to ingredients in cat food, transparency is now imperative. People want ingredients that promote good health and address specific issues, but they also want to know that the ingredients are 'clean,' ethically sourced, and environmentally-friendly. Grain-free foods and CBD supplements have also experienced a boom this year.
FAQs
Can canned cat food be frozen?
Manufacturers do not recommend freezing canned cat food as it can alter the final taste and texture of the product. When canned food is frozen, it expands, which can then cause the can to burst. Some wet cat foods contain starches, and starchy ingredients tend to curdle when frozen.
Why is wet cat food better than dry food?
Wet cat food is not necessarily better than dry; both food types have their pros and cons. Dry food is cheaper, can be left out for the cat to come and go, and is better for cats' teeth as it helps remove tartar. Wet food assists in the development of bones and muscles and have a much higher moisture content (ideal for cats with kidney issues). Most cats tend to prefer the taste of wet food.
How long can you leave canned cat food out?
This depends on the temperature of the room it's being kept in. In hot temperatures, with no air-conditioning, canned food can be left out for approximately 20 minutes. When it's colder, you can leave the food out for about two to three hours.