The Best Cardboard Cat Scratchers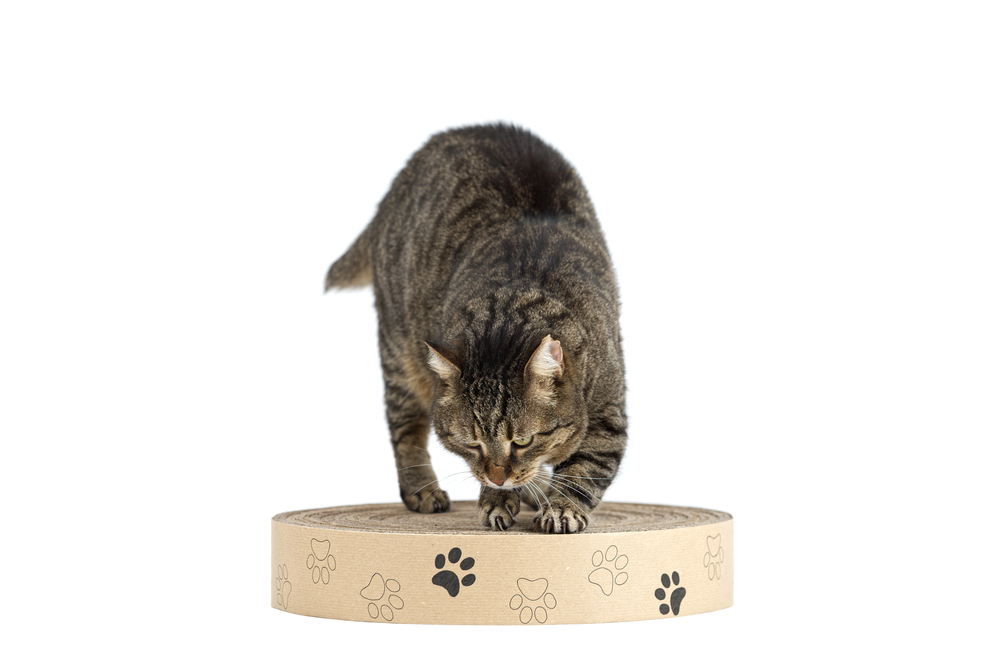 If you're one of the millions of cat owners out there, odds are you've got an amazing companion and furniture that's seen better days. While we all love our four-legged furry friends, no one wants to come home thinking, "Okay, which corner of the couch did my cat demolish today?" One of the best ways to avoid such destruction is to get yourself a cat scratcher (or several). But with countless on the market, it's tough to find out which ones will provide the right distraction for Fluffy and not simply gather dust in the corner. With that in mind, here are the five best scratchpads to attract those razor-sharp kitty claws.
Coching Cat Scratcher Cardboard Scratch Pad
This fantastic option from Coching is double-sided for double the scratching time.
With a natural instinct to claw and scratch at anything with a textured surface, cats are notorious for using couches, clothing, and curtains as their makeshift scratchpads. Enter the Coching Cat Scratcher. The Coching Cat Scratcher Pad will not only save you tons of anxiety, but your pets will find it irresistible. With a consistency that resembles tree bark, your cat's clawing instincts will be more than fulfilled. And the tough construction of this non-toxic pad ensures long-lasting durability. That being said, rely on Coching to provide your cat with the best overall scratching experience.
Pros:
Texture design mimics tree bark
Long-lasting durability to provide your cats with healthy claws and a productive workout
Non-toxic materials (even the glue used during the construction process is derived from corn starch)
Comes with a 6-month warranty
Cons:
Smaller in size than the average cat scratcher
No traction on the bottom, so it can slide around at times
Kitty City XL Wide Corrugate Cat Scratchers
Your cat will enjoy lots of room to stretch out and scratch away with this multipack of scratchers.
There are three things cats absolutely love: laying down, stretching out, and scratching whatever they can sink their claws into. The Kitty City XL Wide Corrugate Cat Scratcher provides them with the best of both worlds. Not only is this scratcher wide enough for them to lay on, but the non-toxic paper also provides them with hours of claw-friendly workouts. And as an added bonus, this scratcher comes in packs of 3, ultimately saving you unwanted time and money at the local pet store.
Pros:
With a size of 18 x 10 x 1.5 inches, your feline companion will have plenty of room to rest on this scratcher while giving their claws a healthy workout
Non-toxic
3-pack option is available for purchase
Cons:
Each individual pad is glued in and is therefore unable to be replaced
The cardboard scratching surface is only on one side, so it can't be flipped over once the surface is worn down
PetFusion Ultimate Cat Scratcher Lounge
This oversized luxurious cardboard scratcher has both style and function. Your cat will enjoy lounging and scratching and look good doing it.
The PetFusion Ultimate Cat Scratcher Lounge delivers on its promise. A chaise lounge and scratchpad rolled into one, your cat will love this oversized distraction. Made of recycled cardboard and non-toxic corn starch glue, this scratcher/lounge combo is also easy on the eyes. Its sleek design sets it apart from generic pads, allowing the scratcher to blend in with your natural decor. It's easy on the eyes is what I'm saying and is worth bragging about to your cat-loving friends.
Pros:
It's a lounge and cat scratcher rolled into one
Made from recycled cardboard and non-toxic corn starch glue
Sleek design sets it apart from generic scratch pads
The large surface allows for more than one cat at a time
Cons:
On the pricier end of scratch pads
Larger and heavier than the average cat scratcher
Cardboard can shed rather easily
GoPets Premium Cat Scratcher, Infinity Lounge
Not only is this scratcher reversible, but it also contains another scratcher inside to keep your cat entertained for hours on end.
With this premium scratcher, your cat can simultaneously lounge while feeding its natural urge to claw. What sets this pad apart from the rest is the added insert, which helps this scratcher last about four times longer than most other options. Made with recycled corrugated cardboard, this cat scratcher is recyclable even after your cat is done with it to minimize your carbon footprint. Better yet, this pick is lightly infused with catnip to keep your cats interested in the art of scratching.
Pros:
Extra thick, long-lasting, and reversible with insert, this scratcher can last up to four times longer than traditional cat scratchers
Environmentally friendly materials and recyclable
Cat bed and scratcher rolled into one, so you may catch your feline friends snoozing on it
Cons:
On the smaller side
No solid layer to catch any catnip you may want to put on it
FATCAT Big Mama's Scratch 'n Play Ramp
Your cat will go nuts over this scratcher's appealing inclined plane and built-in catnip-filled butterfly bouncing toy.
With a catnip infused toy, your feline companions won't tire of this scratcher. And the title says it all: "Scratch 'n Play Ramp With Reversible Cardboard Toy and Catnip" – that's pretty much a cat-trifecta. Not to mention, the ramp can double as a cozy lounge spot or leaning post, whichever your feline desires. So, when it comes to creativity, FATCAT hits the mark.
Pros:
The scratchpad is reversible, so it lasts twice as long
Made from 100% recyclable materials
With the scratcher, catnip, and toy, this option is a 3-in-1 distraction for your cat
Great source of exercise
Cons:
The metal cord attached to the catnip-infused toy is easily bendable
Cardboard tears apart easily
Frequently Asked Questions
Why should I invest in a cat scratcher?
To save your furniture, checkbook, and sanity. Cats love to dig their claws into any surface with traction – these scratchpads are designed for that. Plus, it gives your cat a good workout in the process, which might actually help them sleep past 3 am.
What's one of the main features to look for in a scratchpad?
The most important: durability. Your cat will love a good scratchpad and no doubt go to town on it, so you're going to want it to last more than one scratching session. Some cardboards are sturdier than others, while some can easily flake away. Search for strength and see if the pad is double-sided.
How often should I change out a scratching pad?
This varies depending on how many cats you have and the durability of the cardboard. If your cat is unable to latch its claws into the cardboard, it's time for a new pad. Likewise, if your cat's claws are easily sliding across the cardboard surface, that also means it's time to switch out that scratcher for a new one.
Are there advantages to using a cardboard cat scratcher as opposed to other types of material?
Yes. Cardboard is flexible, allowing more durability and wiggle room for cats to sink their claws into. Plus, the cardboard surfaces allow for catnip to easily seep through, giving your feline added motivation to scratch away. Lastly, the cardboard on most scratchers is made from recyclable material and, in turn, can be recycled once it's time for a new pad.