The Best Cat Backpacks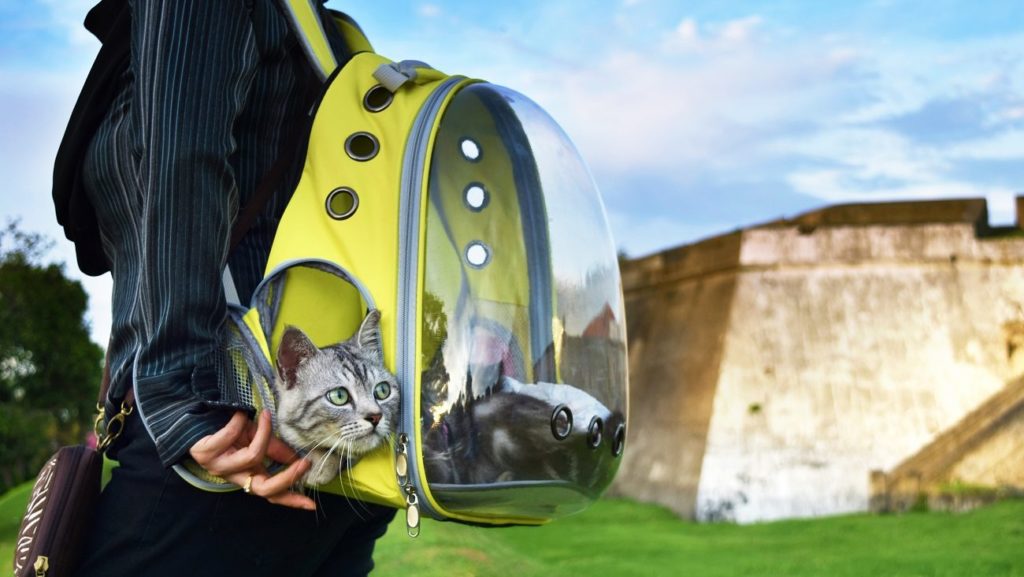 Your cat is an important member of the family. So, it's no surprise that many of us are now choosing to take our feline friends out with us to run errands and visit friends. To do that, you'll need a cat carrier that is easy to use and keeps your cat comfy throughout the journey. Cat backpacks are the go-to product for your commuting cat. Whether you need to pop to the vet or are taking your cat on a long hike, our guide to the best cat backpacks can help you find the right backpack for you and your pet.
LEMONDA Portable Pet Travel Carrier
The LEMONDA Portable Travel Pet Carrier Backpack is an ideal option for people who want to take their small pets with them when they go into the outdoor world.
Pros:
The backpack features a hard shell, added to ensure there is adequate protection for small pets that a person would like they take with them. A small transparent window is included in the form of a bubble at the front side of the backpack. This allows the pet to see the world around them. Air holes are added to the sides of the backpack to make the product safer for the pet. The backpack features a waterproof design.
Cons:
The air holes are relatively small on the sides of the backpack, which may somewhat restrict the oxygen supply for the pet. The backpack is also only appropriate for small pets, due to a restriction of space on the inside. Some people may also be concerned that the interior of the backpack could cause overheating of their pet.
PetAmi Deluxe Pet Carrier Backpack
The PetAmi Deluxe cat backpack is a structured backpack designed for easy access and optimum comfort for both you and your cat. Allows your cat to relax on trips to the park or the vet.
Pros:
The cat backpack by PetAmi offers convenience and comfort for both you and your cat. It is well-ventilated and has a zip-up mesh window so that your cat can easily see out. A two-way zip makes it even easier to get your cat in and out, and once inside, your cat can enjoy the thick, soft bedding and extra headroom. The reinforced structure of the backpack ensures maximum comfort for the wearer, and also means that the bag won't collapse on your cat while they're inside.
Cons:
The backpack may be less comfortable to wear for a taller person. If you are very tall, the base of the backpack may sit uncomfortably on your back, so it's best to give the product a test run before committing to long-term use.
Pecute Pet Carrier Backpack
With space for essentials like water and waste bags, this waterproof backpack by Pecute offers comfort and practical design for carrying your cat when traveling.
Pros:
This backpack by Pecute offers lots of cool options, including an open-top for your cat to stick their head out, a mesh cover that offers breathability and visibility, and a shade cover to protect them from the sun. The shoulder strap is adjustable for comfort during wear and the wider backpack distributes the load more effectively. The backpack is lined with soft padding for your cat and has storage space for waste bags, water bottles, mobile phones, and wallets, making it ideal for use when traveling.
Cons:
The back of the carrier extends to give your cat more space to move around when you have stopped for a break. As the extension is made of nylon, a cat that is anxious when in a cat backpack may damage it with their claws. The main section of the backpack, however, is sturdier for a cat who may still be getting used to being carried in a backpack.
Kundu Deluxe Backpack Pet Travel Carrier
The Kundu Deluxe Backpack Pet Travel Carrier features a compact design with a see-through mesh, making it more convenient and comfortable when traveling with your pets.
Pros:
The product doubles as both a backpack and a carrier that can be pushed on the ground. The double-wheel design makes it easier to push the carrier when it is on the ground. The product has been approved by several airlines, providing a complete solution when traveling with a pet. The backpack features a relatively larger internal compartment, making it good for smaller cats and dogs without causing anxiety.
Cons:
The travel carrier only comes in a single color. The handlebar can only extend to a limited height, which may not be ideal for taller individuals. Not all airlines have approved the use of this pet travel carrier. This means the customer will first have to check with the airline they use before deciding to buy this carrier.
Dilisens Traveler Pet Backpack
The Dilisens cat backpack is an affordable backpack that ensures comfort for you and your pet. The mesh sides increase visibility for your cat, and when not in use, you can easily store the backpack.
Pros:
This breathable cat backpack by Dilisens always has three sides of PVC mesh, allowing your cat to see out and thereby promoting interaction between you and your pet. The mesh also ensures that the carrier is breathable with good airflow. Chest buckles in the backpack ensure comfort and confidence when carrying your cat, and there is a removable mat inside so your cat can relax. The mat also makes cleaning easier. Tether your pet inside for extra security. The backpack is collapsible.
Cons:
The chest strap is mounted quite high on the shoulder straps, which suits someone with a slim or average physique. However, it may not be comfortable for a larger person who wishes to carry their cat in this backpack, as it may feel like it sits too close to your neck.
What Really Matters
Comfort
If you plan to invest in a cat backpack, you want to know that both you and your cat will be comfortable when the backpack is in use. Padded straps, additional chest or waist straps, and a structured frame to the backpack can all help to ensure that you don't take too much strain through your shoulders or back when carrying your cat. Your cat will appreciate a comfortable mat or blanket to sit or lie on, and it is important to ensure that the cat backpack you choose will be spacious enough for your cat to move around and look at the outside world–or even sleep, if desired. There also needs to be enough headroom for your cat to stand or sit.
Safety
When you take your cat out of the house, you want to know that they will be safe in the cat backpack you have chosen. The backpack should be secure and may feature a lock. All straps and zips should be easy to securely fasten. You want a backpack that is comfortable, but sturdy enough not to collapse on your cat when they are being carried inside it. If you intend to open the backpack when you are out and about, a security leash may be necessary. A leash can give you peace of mind that when you open the backpack, your cat won't be able to run away in an unfamiliar territory; it will ensure that they stay close to you.
Style
Although comfort and safety of you and your cat are of paramount importance, when you carry your cat, you want a backpack that makes you feel and look good, too. A stylish backpack can be a talking point when you're carrying your cat through the neighborhood or on hikes. We all have individual tastes and preferences and choosing a backpack that you love can make you want to use it more often. Many styles of cat backpacks come in a range of colors or designs, allowing you to select the colorway that best suits your personality–or your cat's.
What's in Right Now?
When you decide to carry your cat, you want a backpack that is going to fit into your lifestyle. Whether your backpack will be used to make the occasional trip to the vet, for strolls around the local park, or for big adventures in the great outdoors, you want to be sure that your backpack will meet your every need. Backpacks with multiple carry modes have become popular, including backpacks suitable for front carrying or those that come with a wheeled option. Multi-purpose backpacks that double up as a cat basket or safe haven when travelling with your cat are also in style as they consider more than one of your cat's needs.
Just because the backpack is primarily designed for carrying your cat, doesn't mean you have to compromise on style. Fashionable cat backpacks can leave you feeling proud and excited to carry your cat. If you plan to use your backpack regularly, a product that also considers your needs could be a game-changer. Finding a backpack with space for your phone, keys, wallet, or lunch could allow you to venture further with everything you need contained in one bag.
FAQs
Is there a backpack that will let me talk to my cat as we walk?
If you want a backpack that allows you to interact with your cat while you're out on a walk, you may find it easier to select a backpack that can be worn on the front or back. A backpack that can be carried by hand rather than worn may also allow for easier interaction between the two of you. Be sure to look for products with good-quality mesh to ensure that there is good visibility both into and out of the backpack.
I plan to go on long walks with my cat. What should I look for?
For long walks, comfort for both you and your cat is of the utmost importance. Selecting a backpack with padded shoulder straps, a chest strap, and a waist strap will help to distribute the weight of the backpack. Check the measurements of the backpack carefully to ensure it will allow your cat to move around comfortably; and make sure the backpack is comfortable for them to sleep in. If you are out for a long time, your cat may want to stretch their legs, so a leash may be helpful for allowing them to explore without the risk of getting lost.
Which backpacks help showcase my cat so that everyone can see her/him?
Cat backpacks don't need to be boring; there are a number of fun designs that ensure optimum comfort of your cat while looking on-trend. From exciting colorways to space-age designs, your cat backpack can match your personality. To be the talk of your friends, look for quirky designs, exciting materials such as leather or PVC, and even backpacks that look smart enough to be part of your business wear. Choosing a cat backpack that doubles up as a basket may allow you to take your beloved pet into work, where they'll be adored by your colleagues.