How To Choose The Best Cat Bed for Indoor Cats For Your Cat – CatTime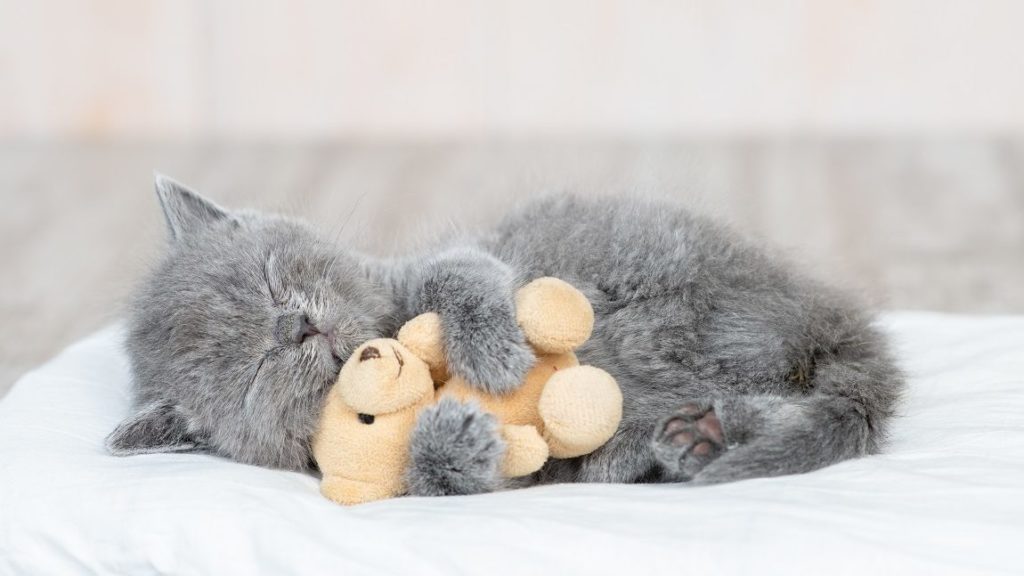 An indoor cat requires specific items to help them feel comfortable and at home. A cat bed is just one of these. A cat bed should give your cat a sense of calm and warmth after a long day of play. There are, however, so many different brands. The sheer range of cat beds for indoor cats is overwhelming. We have looked far and wide for the best cat bed for indoor cats, and have put together this guide to help you choose the right one for you and your feline.
Best Choice
You can rarely go wrong with anything labeled "deep dish." The same can be said for your cat's bed. The Deep Dish Cuddler from Best Friends by Sheri OrthoComfort is a cat bed that appeals to even the
Pros:
This cat bed is the ideal hybrid between a closed bed and an open design. Cats can snuggle and burrow into the fluffy, pet-safe lining and feel secure – without feeling claustrophobic. It works well for cats who don't like overly tight spaces but do seek out cozy spots to relax. The bed comes in standard and jumbo sizes to accommodate cats of all shapes. Sherpa options and a plethora of colors make it easy to pick the cat bed that best suits your home. AirLoft fibers help keep this bed firm for longer than other leading beds.
Cons:
For cats that prefer a roof over their head – and bed – this might not go over well. It does have an open-top design for easy in and out, but not all cats appreciate an open-bed concept. High walls can make it difficult for kittens, and elderly or disabled pets to enter and exit the bed.
Best Easy to Maintain
The Pet Tent soft bed for cats has something not all pet beds have: the ability to be machine washed. With hair and other messes that come with pet parenthood, this is a big plus for pet bedding.
Pros:
If your cat loves enclosed spaces, this is the perfect sleeping spot for them. The tent gives pets a level of privacy similar to their bedroom. You can easily spoil your baby without having to make significant changes in your home. The sleek design fits seamlessly in corners and other nooks and crannies. Giving it a routine clean is as easy as popping it into your washing machine and allowing it to air-dry. Choose from several colors and patterns – all of them have the same soft, inviting lining.
Cons:
Some cats aren't a fan of the cave-like environment this bed provides. Larger cats might feel cramped in the Pet Tent. It can also be a tight fit if you have multiple cats who like to sleep together.
Best Self-Warming Bed
Aspen Self-Warming Beds are a must-have for those residing in colder climates. The floor can be a chilly place for your cat - the heat-reflecting technology in this bed solves that issue.
Pros:
The Mylar lining in Aspen beds helps your cats self-heat their sleeping space. Little body heat is lost when a cat is curled up in this bed, making it both efficient and comfortable. Cold winters and cold weather, in general, require some extra bedding for pets – this simple and effective design doesn't break the bank. There are size options for smaller and hefty cats alike. It comes in three colors and multiple shapes. A non-skid bottom makes it safe for slick floors.
Cons:
Your cat might be a little too warm in this bed during warmer months. It works very well at trapping heat in the lining, so you might find your cat avoids it when temperatures rise.
Best Design
Stackable cat beds are a great way to save space and add a little style to your area. Kitty City Stackable Cat Cubes are both versatile and pleasant additions to your home.
Pros:
These cubes are great for multi-pet homes – especially if you have cats with various tastes. The indoor portion of the cat cube is a hit for pets who like their private space to sleep. The "roof," or perch of the cat cube, offers an additional area for cats who are fine with relaxing out in the open. The cube sits comfortably in smaller spaces while still providing a roomy area for larger cats. It's easy to assemble and folds flat for storage. The neutral colors of the pattern fit well with most decor.
Cons:
While many cats will want to sleep in the cat cube, it might become more of a play area similar to a cat tree for others. The fabric design is appealing, but it is also the only pattern and color available. Some cats will regard this cube as a scratching post.
Best for All Size Cats
Meowfia Premium Cat Caves are cozy, warm, and, best of all, fit even large cats in them. Enclosed cat beds can be a challenge for bigger cats, but this bed solves that issue.
Pros:
The eco-friendly material of Meowfia Cat Caves also helps keep them clean. The Merino wool material works well to repel stains, dirt, and pet odor. Spot cleaning usually does the trick if it does need the occasional sprucing up. Cats up to 20lbs can fit comfortably in the large-sized Meowfia Cat Cave. While it comes in five different colors, each has its unique design. If your cat decides they'd rather sit atop this bed, don't worry – it'll spring back up into shape after they leave.
Cons:
The cocoon-like shape of this bed can be too tight of quarters for some cats. Others might be attracted to the wool material and choose to shred at it, rather than enjoy sleeping in it. Cats and kittens may be tempted to chew and eat the wool.
What Really Matters?
Pet-safe options
Pet parents are becoming more and more aware of the safety of pet foods and accessories. Beds are no different. No loving pet mom or dad wants to introduce something into their cat's environment that could harm them. Pet supply companies are following suit with this trend by offering beds made from materials that won't hurt or irritate your cat. It's also essential to have some safety standards such as non-slip features and beds that won't collapse on your cat. Cats are often excellent judges of safety when it comes to their rest areas. If your cat doesn't feel safe in a bed, there could be a good reason – and your cat will avoid the bed.
Non-Intrusive Designs
Nobody wants their pet's belongings to double as an eye-sore in their home. Many cats like to sleep near their humans, and as such, petbeds often become a key piece of furniture in the living room or bedroom. Cat beds that are styled to flow with the decor of most homes are becoming more extensively available. That's a big win for everyone, but especially for the cat who doesn't want their bed to be shut off in an empty corner of the house. The size matters, too. Apartment dwellers, in particular, are frequently low on floor space. So, a cat bed that isn't unnecessarily large is a must.
Enough Space
Even if you have only one cat, they'll need ample space to get comfortable in their bed. Larger cats can have a more difficult time with this, as some beds are simply too small for them. A cat who feels too cramped in a indoor bed will likely abandon it. The cat may even try to form a cat bed using everyday items like a laundry basket or carboard box. Providing a pet bed of the correct size is an essential step for getting your cat on board with new sleeping space. If you have multiple cats who like to cuddle together, they will also need a larger bed. Many cats would rather sleep elsewhere than have to give up their napping buddy.
What's In Right Now?
Sustainable, eco-friendly, and washable materials are all attractive qualities in a cat bed. First of all, synthetic and chemical-laden materials don't line up with safety standards for pets. Many pet parents are also ethically conscious about their pet supplies, including pet beds. Sustainably-sourced and cruelty-free materials are becoming more widely used in not only pet bedding, but all pet-related supplies. It's also more common to see machine washable materials or fabrics that repel pet messes. Cats spend a lot of time sleeping, and that's a lot of opportunities for pet-related messes to occur. When they're not sleeping, they still sometimes like to spend a lot of their time in their beds. Even regular use causes some buildup of hair and grime in pet beds, and they all should be washed from time to time. Luckily, it's getting easier to find pet beds that can be popped right into the washing machine or are otherwise simple to keep clean.
Prices
Expensive
$30-50. This price range hosts cat beds, which are highly durable and made from top-quality materials. There are usually some unique features that come with more expensive pet beds, like self-heating technology.
Mid-Range
$19-30. Mid-range priced cat beds offer plenty of amenities for your cat without steep prices. Most beds in this price range have premium materials and simple yet stylish designs.
Cheap
$14-19. For parents of very picky cats, cheap beds are usually the best place to start shopping. Many of the beds in the price range will appeal to the hardest to please cats.
FAQs
How do I know what type of bed my cat will like?
It can take a few tries to get your cat in a bed that they adore. Or, you might be fortunate and hit the mark on the first attempt. Some cats are harder to please than others. One way to try to predict what exactly your cat wants in a bed is to pay attention to the places in your home that they normally like to sleep. Do they like to slip into the cabinet for a nap, or are the content on the couch? Do they want to burrow under blankets, or is a pillow enough to keep them content? Cats who tend to spend time in enclosed spaces will generally find favor with an enclosed bed. A cat who rarely goes under the couch will probably prefer an open-style bed.
How can I keep my cat's bed clean?
If you're lucky enough, your cat will become attached to a bed that is machine washable. Following the manufacturer's instructions is your best bet in this case – it's usually just like washing your bedding. The most significant difference is most cat beds should be air-dried. If your cat's beloved bed isn't machine washable, it might have machine washable components that you can periodically run through the laundry. If that's not possible either, spot cleaning with damp cloths or steamers is often all the maintenance your cat bed needs. A once-over with a lint roller or vacuum can help with hair buildup.
Where is the best spot to put my cat's bed?
Unfortunately for pet parents, it's not always up to us where the cat feels most comfortable. Placing a bed in a less than desirable spot might cause your cat to stop sleeping in their bed. If your cat likes napping near you, a good start is to place their bed in the room where you spend most of your time. A sunny spot is always an advantage. If it's cold, make sure your cat has plenty of heat – either from their bed or other sources – wherever you place their bed.
How often do cat beds need to be replaced?
How often you replace a cat bed depends mostly on the level of wear and tear.. If your cat doesn't do much but sleep in their bed, it can last for a long time – several years with the proper care. The most significant indication your cat needs a new bed is if the material is wearing down or being chewed (or scratched) off.