How To Choose The Best Cat Blanket For Your Cat – CatTime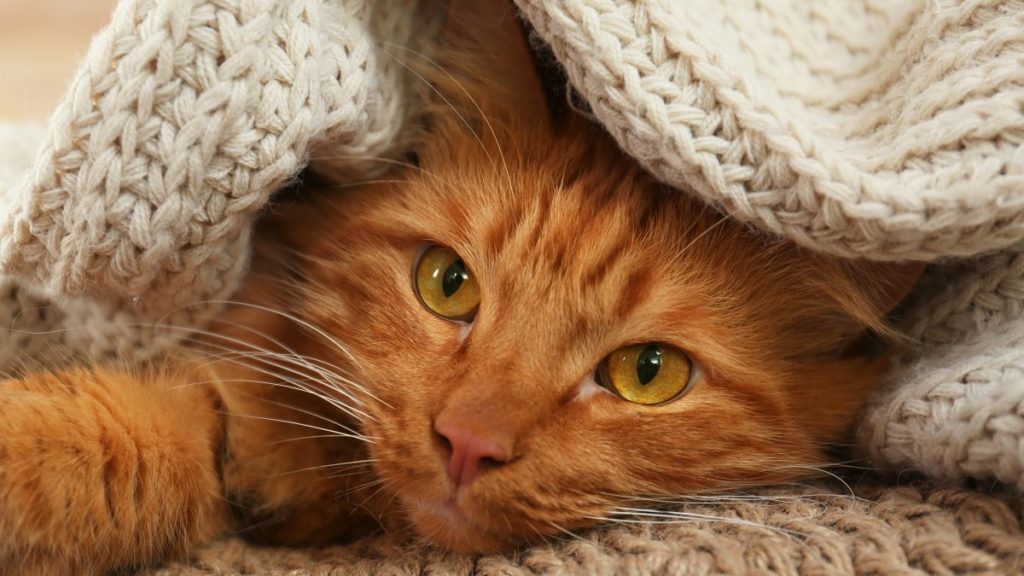 Everyone knows cats love to snuggle and sleep; that's why cat lovers are always on the lookout for the ideal cat blanket that is both plush and cozy, as well as durable. Cat blankets and beds need to be washed regularly, so the cat blanket you choose ideally needs to be machine washable, safe for the tumble drier, and sturdy enough to withstand constant cleaning. Pet owners can land up spending loads of unnecessary cash on cat beds, blankets, and accessories, so we've put together a list of the Top 5 blankets to help you choose the best one for your precious feline.
Best Choice
The Allisandro microplush fleece is the ultimate in indulgent luxury and comfort for cats. It's lightweight but cozy, with cute designs, and ultra-soft blankets in different sizes to suit your cat.
Pros:
This ultra soft blanket is made from light, environmentally friendly microfleece, and it's hypoallergenic. The quality is excellent, and we found that it washes and dries well and doesn't pill and shed, or get loose threads. It comes in soft neutral colors in fun designs, and the print is crisp and defined; the edges of the blanket are finished well. Overall, we found this blanket ideal for small- to medium-sized dogs. Customers loved that it comes in a cute zip-up bag made from recycled materials.
Cons:
While most customers enjoyed the lightweight feel of this cat blanket, some found it too thin to provide adequate comfort to their pets. If you're looking for a large, weighty blanket, this is not the best option for you as it's quite small.
Best Self-Warming
The self-warming FurHaven bed is a faux fur-covered mat designed to keep your cat toasty in cold weather. The innovative thermal sheet gathers the cat's body heat and reflects it to staywarm.
Pros:
If you have a heat-seeking cat, then this self-warming, electricity-free blanket in fun prints is ideal for you. The material is soft and plush, and quilted, which offers some extra support. It's lightweight, so easily portable, which makes it ideal for travel, too. It's the right size to place in a crate or carrier and big enough, even for larger cats. We like that it's machine washable and affordably priced. Older cats with stiff joints seem to love this blanket.
Cons:
While most cats were satisfied with the plushness of this mat, some cat owners found it too stiff. If you're expecting it to be flexible like a blanket, this is not the product for you. Some cats were frightened by the crinkle sounds that it makes when moved. Because it's quite light, we found it a bit difficult to keep it in place. Also, some customers didn't enjoy its slightly chemical-like odor.
Best Fluffy Cat Blanket
The Dasior Fluffy Fur blanket comes in beautiful pastel colors and is conveniently reversible. The luxuriously soft blanket is double-layered and provides security, comfort, and warmth to your cat.
Pros:
This ultra fluffy blanket is ideal for cats, and if you have small dogs in the house, they will enjoy it too. We like that it's machine washable, and users found it didn't pill after extensive use. Users found that even though this blanket is fairly lightweight, it still feels substantial. We found that the double layer of the blanket helps to keep cat hair off couches and beds, so if you have a cat that sheds, this is the blanket to choose.
Cons:
Although the blanket is machine washable, some cat parents found it didn't wash thoroughly in the machine, and it came out matted and separated. Some people also found the blanket a bit too small, so if you have a few cats, it's not ideal. It's completely dependent on a cat's personality, but we found that some cats didn't enjoy the texture of the blanket.
Best Easy-to-Clean
The Aiperro Premium Fleece blanket is a soft, fluffy, lightweight blanket made from comfortable, breathable Berber fleece. It comes in three sizes and is perfect for cat beds, sofas, cages, and crates
Pros:
Customers found this 2-pack set of blankets very affordable and great value. The blankets conveniently come in neutral colors, beige and grey, which blend in well with most house color themes and furniture. These blankets are ideal for cats to cozy up on cold Wintery nights, but also don't overheat the cat in the hotter months. We like the durability of these blankets; they can be washed (in the machine) repeatedly and don't pill or shed. The small-sized blankets are ideal for cat carriers.
Cons:
Although these blankets come in three different sizes, small, medium, and large, some customers found that even the medium and large-sized blankets were not big enough. The blankets are very cozy, but a little on the thin side and some cat owners found them flimsy.
Best Double-Layered
Petsure's ultra-soft pet blanket is a stylish, multi-purpose blanket made from microfiber flannel that's double-layered to ensure warmth and comfort for your cat through all the seasons.
Pros:
Not only are these blankets incredibly soft to touch, but they look good, too, and are a stylish addition to any home. We found these blankets to be well made, durable, and excellent quality. The stitching is tight, with no frayed edges and threads. It also keeps its shape well when washed, and it's easy to shake off any fur. We loved the generous size of these blankets as they're roomy enough for several cats to share and snuggle.
Cons:
These blankets are slightly more on the expensive side compared to others in their class; however, we found them to be well worth the slightly heftier price tag. We would have appreciated it if there were more colors to choose from as it's only available in grey.
What Really Matters
Material
One of the most important things to consider when buying a cat's blanket is the fabric used to make it. Generally, cat blankets are made out of polyester, fleece, flannel, and sherpa. The type of material you choose should depend on the behavior of the cat, their kind of hair, and whether you live in a hot or cold climate. Cats can also be very picky about texture, so if you have a fussy cat, avoid 'noisy' fabrics that might scare him/her.
The right blanket can be very calming for a stressed and anxious cat. It can also be used to provide comfort in stressful situations, such as going to the vet or moving house. Cats release pheromones into their blankets when they knead, so having a familiar marked item can also provide comfort.
Durability
All pet bedding needs to be washed regularly, so it's important to look out for cat blankets that can be machine washed and are durable enough to be washed frequently. Otherwise, you may find yourself having to replace the blankets too often. Cheaper quality blankets will also begin to pill and shed after frequent washing.
Personality and Needs
It's essential to consider your cat's personality when purchasing a blanket. While most cats will enjoy snuggling up in a blanket, some cats may not like it. Cats can be comforted with a familiar blanket on trips to the vet or when moving to a new house.
When using a blanket, you do need to be aware of overheating your cat. Cats, like humans, can regulate their temperatures and will get up and move if they feel too hot. Therefore, it's important to ensure your cat is not tucked too tightly under a blanket, and it can get up and move away if necessary. Kittens will stay warm by snuggling up to their mom, so there's no need to cover them with a blanket. If you have an especially playful cat, avoid blankets with tassels and pom-poms, or big holes. Your cat could get tangled up in it or chew on the hanging pieces and choke.
Also consider your cat's physical needs when purchasing a cat bed or blanket. If you have an old or sickly cat, choose a blanket with padding for extra comfort. If you have a cat that is allergic to synthetic fibers, choose a pure cotton blanket.
What's in Right Now?
The upward trend in pet 'humanization' is resulting in pets becoming important members of the family and a greater demand for premium quality pet products. Generally, pet owners are spending more and more on their pets. Premium cat blankets that are made from excellent quality materials, and that have longevity, will continue to grow in popularity.
Similarly, the current focus on 'clean' living extends to pet products as well. Customers want to know where their products are made and who is making them. People are also more interested in what products contain and pay attention to the ingredients. Cat blankets that are made from sustainably sourced materials and that are ethically made are favored.
Prices
Expensive
If you want a premium quality, luxurious cat blanket, expect to pay $10 and above. You can purchase a 2-pack of top quality cat blankets for around $18. At this price, you will get a plush blanket that will last you a long time.
Mid-Range
Middle-of-the-range blankets cost between $5 – $9. Blankets in this price bracket are still good quality and mostly made from durable materials. Generally, these blankets will be slightly smaller and thinner than the more expensive ones.
Cheap
If you have a high turnover of cats, or you're looking for a blanket just for short-term use, then it makes sense to opt for a cheaper blanket. You can pick up cheap and basic cat blankets for between $1 – $5. These blankets do the job but are generally less luxurious and pill quite quickly.
FAQs
Why do cats knead blankets?
Kneading is an instinct for cats, and they begin kneading when they're kittens. They knead their mothers while they're feeding to stimulate the mother's milk flow. Sometimes, older cats knead blankets out of habit or to self-soothe. Cats also have scent glands in their paws that release a scent when they knead, so it can be a way to mark territory or show ownership. Cats don't only knead blankets; when they are content, they will knead people, cushions, and even other animals. They usually purr while they're kneading.
How should I wash my cat's blankets?
Before washing, it's essential to first get all the cat's hair off. Put on a rubber glove, wet it with water and then rub it over the blanket. Alternatively, you can use a lint roller or a vacuum cleaner. If possible, wash the blankets using hot water. Also, use a hypo-allergenic, fragrance-free, gentle detergent. Experts recommend rotating/washing your cat's blankets once a week. If you have a long-haired cat that sheds a lot, it's a good idea to brush off the hair in-between washes. It's essential to wash pet blankets regularly to get rid of bacteria and allergens that your cat may bring in from outside.
What's the best fabric for a cat blanket?
The rule of thumb when selecting a cat blanket is to choose a fabric with a tight weave. That way, there's less opportunity for the cat to get its claws into little holes and snags. Darker colored fabrics, with patterns and textures, are more forgiving when it comes to concealing stains and cat hair in-between washes. It makes sense to go for lighter colored blankets if you have a light-haired cat. It's best to avoid materials such as velvet, tweed, and silk, which are not durable enough or suitable for pets. If you have a cat with skin issues or allergies, opt for a hypo-allergenic fabric or a pure fabric, such as cotton.