The Best Cat Brush for Shedding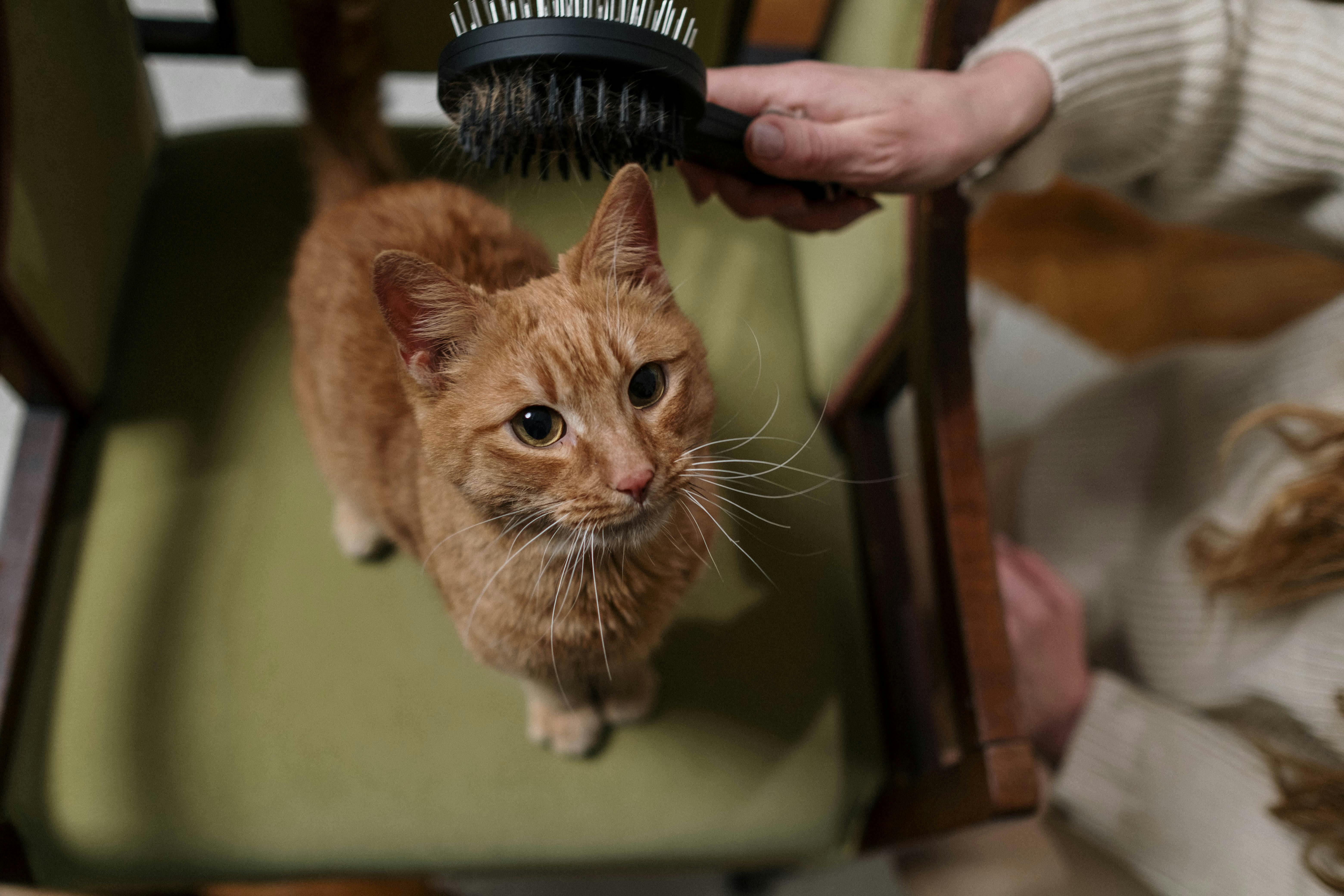 Is your kitty shedding copious amounts of hair with no end in sight? If you are afraid to wear black clothing or have guests sit on your couch because of cat hair, it is probably time to get a cat brush for shedding. Fortunately, there are hundreds available. It's important to select the shedding cat brush that is best for your cat's type and size. Otherwise, it could hurt to use. Read on to find out about the general classes of cat brushes for shedding and how to select the best and safest varieties at the prices that suit your needs.
Hertzko Self Cleaning Slicker Brush
The Hertzko Self Cleaning Slicker Brush removes all forms of matting from the topcoat and undercoat without scratching the skin.
A reliable tool, the Hertzko Self-Cleaning Brush, is designed with good ergonomics and a thumb rest. The bristles retract at the push of a button so you can simply shake the shed hair off instead of going through a laborious cleaning process. It works well on all cat sizes, and hair types – even thick and fine longhairs come clean. Most cats love the scratchy massage they get with this tool, and it makes for great bonding time with the pet owner.
Pros:
Great value for the price
Gentler than most options
Easy to clear hair using the retractable bristles
Cons:
It's relatively gentle, but some cats may still feel some irritation by the metal bristles
SleekEZ Deshedding Grooming Tool
This option from SleekEZ is a popular tool for pulling off loose hair from your cat without irritating them in the slightest.
Another fantastic option, the SleekEZ Grooming Tool doesn't look like your typical hairbrush. Instead, this tool comes as a solid wooden handle with a steel comb on one end. Easy to grip in the hand, you can pull loose hair off of just about any domestic animal. Use it on your cat, your dog, and even your horse for a quick and painless way to wick off the loosies.
Pros:
The unique design is intuitive to use and easy to grip
The shallow wavy teeth don't pick up the hair, so you don't have to clear between the bristles
Pets enjoy the feeling since it's akin to petting them
Available in different sizes and colors
Cons:
The hair will fall to the ground, so you'll have to either do it outside or over a ground cloth
itPlus Cat Grooming Brush
With a simple button to clear the teeth and an easy-grip handle, this option takes the prize for the easiest to use.
This grooming brush from itPlus makes the grooming game just a bit easier. The easy-to-press button on the back of the brush head clears the bristles, so you can work quickly and efficiently to get at all that loose hair. Just working with a trash can on hand, you can easily give your cat a full groom in just minutes. With the itPlus, there's less mess and less stress.
Pros:
The handle is non-slip
Super affordable
The steel bristles are durable
Cons:
The brush head is a bit small, so you'll have to clear the bristles pretty frequently
Pet Craft Supply Deshedding Brush Tool
This smaller, gentler brush is perfect for kittens and sensitive cats.
As small as they are, kittens can produce a lot of loose hair. If you've got a tiny kitty that needs grooming, check out this pick from Pet Craft Supply Store. Inexpensive enough to fit into any new pet owner's budget, this brush has short bristles for a non-irritating groom. And even if those short bristles get clogged up with loose hair, you can clear them quickly with the push of a button. Even if you just need a mini brush to toss in your pet's travel bag, this is a great choice.
Pros:
The grip is comfortable and easily maneuvered
The bristles are short and won't hurt a little cat's skin
Works with all hair types
Cons:
Pressing the clearing button doesn't always fully clear the hair, so you may have to remove it using your hands
Frequently Asked Questions
How do I use a cat brush for shedding control?
The exact use of the cat shedding brush will depend on the classification of the tool and the manufacturer's guidelines, but there are a few things that are similar to all. Never lean heavily or use pressure when brushing your cat with a shedding tool. These tools are ordinarily sharp in some way or other and can injure your cat – and cause you bodily harm if she reacts by biting. Simply glide the tool through your cat's fur, in the direction of growth, not against it. Let the natural weight of the product help to guide it.
If the brush gets caught on tangles, knots, or mats, remove it from the hair vertically and work through the area with short, light strokes without pressure. If the shedding cat brush you bought is not working as expected, you probably need to switch your class of tool. Using a slicker brush for heavy matting in a longhair is not going to be as efficient as a matt-breaker. Vice versa, a matt-breaker is not going to give your cat a smooth, lustrous coat. Sometimes more than one tool is needed to take care of the job and provide the results you are looking for – which is a reason to go cheap, admittedly.
Can't I buy a multi-pet dog/cat brush for shedding?
You certainly can. Multi-pet brushes generally work the same on both cats and dogs. The main difference is that manufacturers have a difficult time getting the size just right to use on both types of animals. Cats are more angular, and the multi-pet brushes tend to be a tad too big for them. Dog brushes are also constructed with less delicacy than a brush that is only made for a cat.