How To Choose The Best Cat Cage For Your Cat – CatTime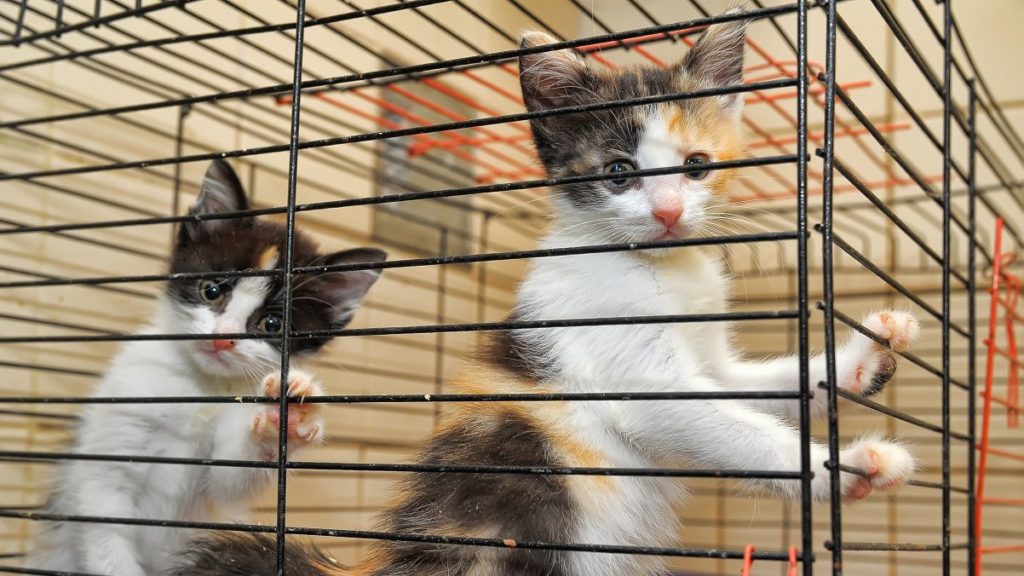 Cat cages, when used responsibly for temporary periods, can be useful in improving a cat's overall wellbeing and sense of security. Using cat cages to train, protect, and soothe cats is becoming more and more popular. Cat cages can be used for different purposes. Often they're used to contain feral cats or to separate fighting cats. Sometimes they're useful as a refuge for shy cats, and they can be an effective tool to safely introduce a new cat to your home. They can also be used as outdoor playpens to give indoor cats outside time. Here's our list of the Top 5 cat cages available.
Best Choice
The MidWest cat playpen is a multi-level, sturdy cat cage that can accommodate up to three cats. Its spacious design and functional accessories will ensure hours of fun and comfort for your cats.
Pros:
If you're short on space and need a quick, affordable solution to separate or contain your cats, then this is the cat cage for you. It comes with three adjustable perching shelves, a slide-out plastic leak-proof tray for easy cleaning, and a free cozy cat bed. It's also coated to prevent rusting. We like that it's roomy enough for several kittens or two or three large cats to enjoy. The wheel casters allow you to move it around with ease, and it folds down easily for convenient storage.
Cons:
While the actual cage is large and spacious, we found the perching shelves a little too small for bigger cats. Several customers found the assembly instructions were insufficient, and the cage challenging to assemble. The latches didn't always match up, making it hard to secure the edges, and some of the edges were too sharp. Also, the pan doesn't slide out as easily as we would like.
Best For Large Cats
The AmazonBasics 3-tier cat cage is a multi-purpose, rust-resistant cage that is the perfect affordable solution for both travel and home.
Pros:
This cage is simple to assemble, and users loved the easy fold-down design. The wheels make it easy to move, and they're lockable. Customers appreciate that while it's easy to maneuver, it's still sturdy. It comes with reinforced latches, three vertical spaces, and two swing doors, as well as a removable, leak-proof floor. There's ample space for a litter box, and rest and play. If you're looking for an easy-to-collapse, user-friendly cage that travels well, then this is the cat cage for you.
Cons:
The shelves in this cage are constructed of plastic on top of metal frames, and several customers find they are not steady enough and tip easily. As a result, this is not the best cage if you have very active cats. Also, even though they are reinforced, some customers' crafty cats can figure out how to open the latches.
Best Easy-to-Clean
The stylish IRIS Cat Condo comes in an attractive design and is made from durable materials that are epoxy-coated to ensure longevity. You can purchase the IRIS cat cage with either 2- or 3-tiers.
Pros:
Customers especially love that this cat cage is a breeze to keep clean and has wide sliding doors that provide easy access to the inside. We like that it comes with wooden perch shelves and a bright and colorful hammock. The cage is relatively easy to assemble and tall and roomy enough, even for very active cats. There's enough room to store food on the top shelf, a bed on the second shelf, and a litter box on the floor. It also looks good and blends in well with other furniture.
Cons:
Some customers with medium- to large-sized cats found the hammock too small to be used comfortably. Similarly, customers with larger cats found the 3-tier cage wobbles too much when the cats jump onto the top shelves. We were disappointed that this cage doesn't have wheels, which would make it easier to move around.
Best Space Saving
The IRIS Wire Cat Playpen is the ideal solution for small spaces as it's tall rather than wide. This pretty multi-story cat cage comes with two perches and is spacious and sturdy.
Pros:
This large, narrow cage is made with powder-coated wire and a durable base that's ideal for homes with space constraints. The subtle design ensures it blends in well in the home. We liked the pin lock latches on the doors and that there's a door at each level. Customers found this cage durable and functional and overall, easy to assemble. Our cats seemed to like the very high top perch, and it's a great cage for agile adult cats. The enclosure has six wheels which stabilize the cage when moving it around.
Cons:
While the cage is simple to assemble, we found the setup instructions lacking. Some customers were not satisfied with the quality of the clips. While bigger cats enjoy jumping from shelf to shelf, the space between the perches is too big for smaller cats, so this is not the best cage for kittens. We also found that the shelves could be sturdier as they tend to wobble when used.
Most Durable Cat Cage
Cats love the AVEEN 3-tier cat cage, which is spacious and comfortable. It's constructed out of durable, sturdy materials designed to withstand frequent use and energetic cats.
Pros:
This cat cage is quick and easy to assemble and comes at a great price, too. It has two large swing-open doors in the front, two platforms for the cat to rest on, and two ladders. The latches are secure and cat-paw resistant. The base can easily slide out, making it simple to clean. Plus, it comes with a free hammock for lazy cat naps. We liked the spaciousness of this rust-proof cage and that it can easily fold down flat to be stored.
Cons:
We found this cage is slightly smaller than others in its class. It's ideal for kittens or small cats but is probably not the best choice for larger cats. Some customers' cats did not enjoy walking up the ladders. The gap between the bottom of the frame and the base tray is quite large, and some curious kitties tend to get their paws stuck in the space.
What Really Matters
Size
If you want your cat to enjoy its time in a cat cage, the first thing you need to do is ensure the cage is the right size for your cat or cats. Obviously, the bigger the cat, the larger the cat cage should be. Another factor to consider when selecting the size of your cat cage is the purpose of the cage. Determine why you need the cat pen. Will you be using it for very short periods, for example, to feed your cat or to separate it from other animals temporarily? Will the cat be sleeping in the cage? Or is the cage to give your cat some 'safe' time outdoors? In which case, the cage should be bigger than an indoor cage. If space is an issue, look for a narrower, taller cage and opt for one that blends in with your wall colors and furniture. Essentially, if your cat's going to spend a lot of time in the cage, it makes sense to invest in a good quality, durable, spacious cage.
Cleaning
Keeping your cat cage clean is crucial to ensure your cat remains healthy and happy. That's why it's sensible to purchase a cage that is quick and easy to clean. Cat pens that have base trays that can be slid in and out, or are at least easily removable, are the best option. Similarly, your cage needs to have doors that are wide enough to allow easy access to remove litter trays, beds, and food bowls. If there are access doors on every level of the cage, it makes cleaning much more manageable.
Interest and Accessories
Keeping your cat entertained and comfortable will make all the difference in determining how much your cat enjoys its time in the cage. Cat cages that have multi-levels will provide more interest for the cat, and different types of surfaces will appeal to different cats. Some cats enjoy hanging in a hammock, while others prefer more stable surfaces. Look for cat cages that come with accessories such as cozy beds, soft hammocks, and multiple resting perches.
What's in Right Now?
The past few years have seen rapid growth in the overall 'pet product' market, and cat furniture continues to grow in popularity. Convenience is essential, and pet owners want products that are aesthetically appealing, good quality, and affordable, but that are also user-friendly and light on labor. Space-saving cat furniture is significant, and this year we'll see an increase in cat cages that are more ergonomic and inventive.
Prices
Expensive
If you want to invest in a quality cat cage that will last for a long time, then you will have to spend in the range of $200 and above. These top-end cages are superior quality and come with all the bells and whistles you can imagine. The top quality cages are ideal for travel and for cats who spend a lot of time in the cage.
Mid-Range
If you're looking for a middle-of-the-range product, then you'll most likely need to spend between $70-$200. In this range you will get a good quality cat cage with accessories, such as cozy beds and covered shelves. In this range, you'll also find cages with multiple-level perches.
Cheap
You'll pay $60 and under for a basic cage, or a one-level cage. Entry-level cages usually only have one access door and minimal accessories and extra features. The cheaper cages are suitable for quick trips to the vet or short journeys in the car but not for long-term stays or long flights.
FAQs
How long can a cat stay in a cat cage?
Generally, cats are adventurous animals, and they enjoy having the time and space to roam around. That's why you shouldn't confine your cat for long periods in a cat cage. If you have a cat that causes chaos at night, you can confine the cat to a cage overnight, but then be sure to let it out first thing in the morning. Otherwise, a few hours in the cage at a time is sufficient.
How should I clean my cat cage?
When cleaning a cat cage, it's a good idea to use gloves to protect yourself, and your cats, from a transfer of germs. Remove all debris in the cage, for example, bits of fur, food, cat litter, and excrement. Scrub the surfaces with a cat-safe detergent and hot water. You can then disinfect the cage with a diluted bleach solution and leave it for 10 minutes before wiping clean again. Make sure you clean off the bleach solution well so as not to irritate the cat's skin.
How often should I clean my cat's cage and accessories?
Experts recommend that bowls and feeding accessories should be washed daily to prevent contamination. Blankets or cats' beds should be washed once a week in the washing machine (but kept separate from your clothing). Litter trays need to be cleaned out daily, and the actual cat cage should be disinfected weekly or every second week.