The Best Cat Feeder For Your Cat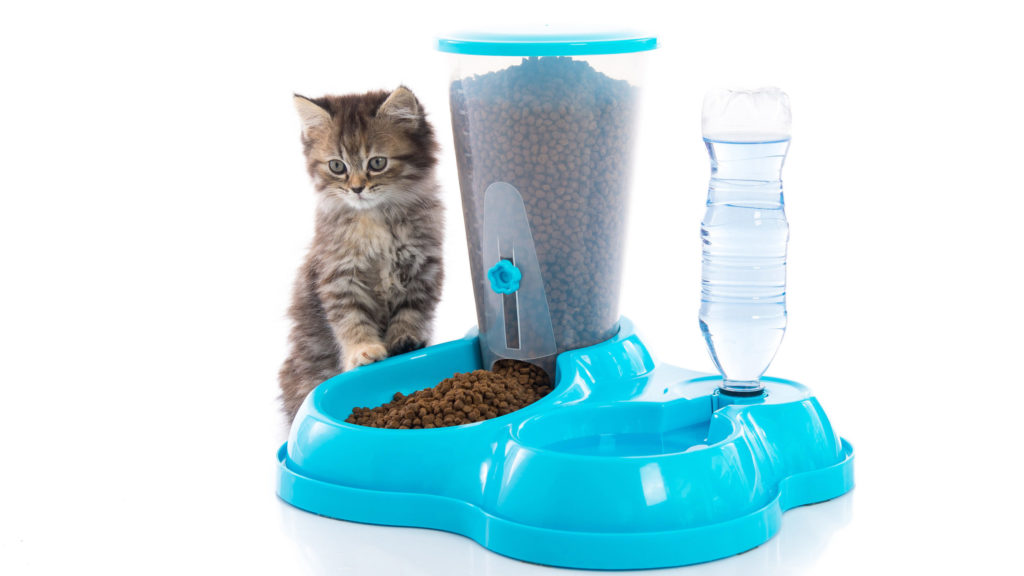 It's always hard to leave your pet at home, especially if you worry about making sure they get fed at mealtime. If you need to be away for a day or two, cat feeders are your answer. You can program these machines to feed your pet on time and ensure to meet their feeding requirements. Take a look at our top five picks for the best cat feeder. Check out the advantages and drawbacks of each machine, and don't forget to read our shopping guide to learn about the important features of these devices.
Automatic Cat Feeder, Roffie Food Dispenser with Distribution Alarms, Portion Control, Voice Recorder and Programmable Timer, Up to 4 Meals per Day
This automatic cat feeder suits your pet's needs by offering adjustable serving sizes and programming multiple meals per day.
Pros:
Roffie has designed a feeder that's suitable for small pets, such as cats and dogs. The storage container holds up to 6.5L of food to ensure your pet eats on time, even when you are not home. Schedule up to four meals every day with this automatic feeder. The machine gives you an option to record a custom message for your pet and invite them to eat. You can also adjust serving size depending on a meal, or your pet's requirements. The product utilizes both electric and battery power. Even if the power goes out, the batteries will continue running the machine. The control panel is designed to prevent pets from accidentally changing the settings.
Cons:
The instructions are not detailed; learning through trial and error should be expected. The manufacturer only specifies the serving size in grams, not cups. You can resolve this by using a converter. The voice recorder is not very loud, so it is not easy to hear it when far from the machine.
PetSafe Dog and Cat Food Dispenser, 5 Meal with Digital Clock or 2 Meal Tamper Resistant with Dials, Holds Dry Food
Pick the desired serving size and schedule up to five meals per day with this unique PetSafe box pet feeder.
Pros:
The feeder comes in an unusual box-like design. It has five compartments in which to pack meals. Depending on how the machine is scheduled, the box opens the compartment with food prepared for your pet. Other compartments remain unavailable until it's time to eat what's inside. The capacity of each compartment is up to a single cup, which gives you total control over portion size. Setup is easy, thanks to the LCD screen and control buttons. The feeder tray is removable and dishwasher-safe, which makes cleaning easy.
Cons:
The product uses four 4D batteries, which increases the initial investment and recurring costs of maintaining the unit. No option to use electric power means you always need to monitor battery life. Once you fill the feeder with meals, it can be quite heavy to move it around. The footprint is large because the machine doesn't take up much height wise space.
PetSafe Healthy Pet Simply Feed Automatic Dog and Cat Feeder, Pet Food Dispenser, Simply Feed Power Adapter, 2 Meal Splitter
You can program up to twelve meals of varied serving sizes with this automatic cat feeder. It is a long-lasting machine that is pet-proof and BPA-free.
Pros:
PetSafe is a reputable brand in the world of pet products, and this automatic feeder is great for cats who like dry food. The serving size is adjustable with a minimum of 1/8 cup and a maximum of four full cups. That makes the product a great choice for big cat families as there will be plenty of food for everyone. The container capacity is large, and you can schedule up to twelve meals with the device. The manufacturer uses high-quality and BPA-free components. The bowl is made of stainless steel and is safe to place in the dishwasher. The product uses a pet-proof dispenser with a translucent hopper and a locking lid.
Cons:
Read the manual carefully because programming the unit is not user-friendly. The machine has a learning curve, and you will need time to figure out how everything works. The feeder doesn't seem very sturdy, and larger cats might knock it over if persistent enough. You must manually check if there is enough food in the product because there is no low-on-food alert.
PetSafe Smart Feed Automatic Dog and Cat Feeder, Smartphone, Wi-Fi Enabled for iPhone and Android
This feeder is connected to a mobile app, which allows pet feeding even when you're not home. It also allows for portion size and serving speed adjustment.
Pros:
PetSafe Smart Feeder comes with numerous useful features, but smartphone app connectivity tops the list. The app is free and supports both iOS and Android devices. Schedule up to twelve meals for your pet or feed your pet right away. Serving sizes can vary from 1/8 of a cup to four cups, which is convenient if you have multiple pets. The product comes with a slow-serve option that dispenses a meal over fifteen minutes. The plastic components are BPA-free, and the stainless-steel bowl is dishwasher-friendly. The product utilizes 4D batteries that guarantee your pet will receive its meal even if the Wi-Fi drops.
Cons:
The price tag is high compared to standard automatic cat feeders, but that is understandable since the product comes with smart features. You must have Wi-Fi or mobile internet on your phone to adjust the feeder, or it will perform the actions you previously set. The lid on the hopper is not clear, which means you should remove the lid to see how much food is inside. Only dry food fits inside this machine.
Cat Mate C500 Automatic Pet Feeder with Digital Timer for Cats and Small Dogs
If your cat is a wet food fan, Cat Mate C500 is an automatic feeder that will keep them happy and well-fed at all times.
Pros:
Cat Mate C500 is an automatic cat feeder that sticks to the basics but does them well. The product comes with five compartments and a digital timer to set the time when a specific section will open. The timer is easy to use, and the LCD screen is very helpful. A single set of three AA batteries should last up to a year. The machine is pet-proof, which means that your pet won't be able to access the food in other compartments. The maximum capacity is ¾ pounds, and the unit allows you to insert ice packs to keep the food fresh. The product is easy to assemble and clean, thanks to a dishwasher-friendly lid and bowl.
Cons:
Ice packs can't stay cold for an entire day, and the main consideration is to ensure the food doesn't go stale. The general rule is that wet food doesn't last for more than two or three days, even with changing ice packs. The machine only operates on batteries, and there is no electric power option.
What Really Matters
Are you wondering which cat feeder is the best for your pet? Here is the list of the most important features to help you make the right decision.
Amount of Programmable Meals
Automatic cat feeders come with a programmable timer that allows you to schedule meals in advance. However, how many meals you can set at once depends on the machine. Some units can only schedule up to five meals, and others let you program more than ten.
The longer you plan to be away, the more meals you must program in advance. Additionally, you ensure the container capacity is large. That way, there will be enough food for all programmed meals.
Portion Size
Cat size, their feeding requirements, and the preferred type of food determine the suitable portion size. Small cats don't need much food, but large cats require a bigger portion. Most feeders allow for a choice between multiple portion sizes. These can vary from 1/8 cups for small cats up to four cups if you have multiple pets in your home.
If your pet is dealing with extra pounds, you can consider reducing portion size. Some units come with a slow-feeding option. Those machines dispense food over several minutes to avoid your pet getting sick from eating too quickly.
Ease of Use
Automatic cat feeders aren't difficult to use, and integrated control panels set everything. The units come with a clock and digital display to make programming easier. Read the instructions to discover the specifics, but once you learn the process, it takes only seconds to program your pet's meals.
Ease of cleaning is also important for a cat feeder. Removable and dishwasher-friendly components–especially the eating bowl–simplify the process.
Other Features to Consider
When choosing a cat feeder, consider these things, too:
Component quality – Plastic should be BPA-free; bowls are typically made of stainless steel for optimal durability.
Pet-proof dispensers – The container where the food is stored should come with a locking lid. That way, you ensure your pet can't easily access it.
Recording messages – Some units allow you to record custom messages to invite your pet to their meal. If your cat is picky and is used to hearing your voice, this can be convenient to get them to eat when you aren't home.
Battery or electric power – Most cat feeders utilize batteries, but make sure to choose a suitable type for your device. Some units can also be plugged into an electrical socket. In case of a power outage, the reserve batteries take over to ensure your pet's feeding needs are met.
FAQs
Q: How does an automatic cat feeder work?
A: This pet feeding tool dispenses programmed food portions at specific times of the day. Load the container and choose when and how much food to serve to your pet. When the time arrives, the machine automatically dispenses the specified portion size into a bowl.
Q: Can a cat feeder slow down my pet's eating?
A: If your cat eats too fast, that can make them sick. Consider purchasing an automatic cat feeder with a slow dispense option. Those machines dispense food over ten or fifteen minutes to slow down their eating process.
Q: Why are ice packs needed for wet food cat feeders?
A: Wet food has a short lifespan when not refrigerated. That is why ice packs are used to keep it fresh. However, please note that wet food doesn't last more than several days, even if you change ice packs regularly.
Q: How do I program an automatic cat feeder?
A: The details depend on the unit, but most of them come with a digital display and control buttons. You use the built-in clock to set the desired feeding times. The entire process shouldn't take more than a minute or two.