How To Choose The Best Cat Flea Treatment – CatTime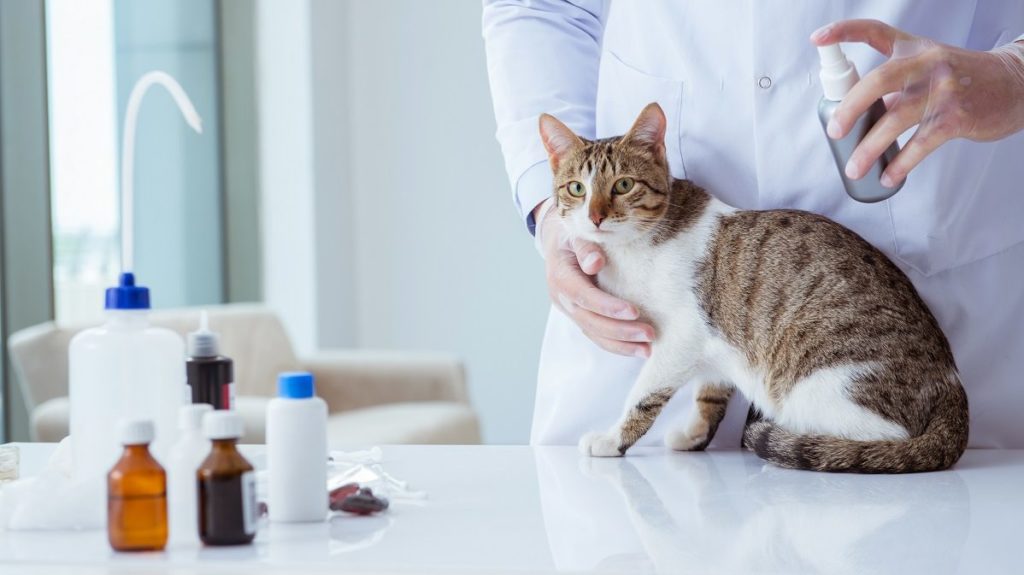 If you own a cat, you will know that ensuring they're in good health is of paramount importance. Fleas, ticks, and other parasite infestations are common problems that can cause your cat significant discomfort or worse. Therefore, administering regular flea treatments is crucial. Knowing which flea treatment is best for your cat can be difficult, and the choice can seem overwhelming. With our guide to the best cat flea treatments, you can make an informed choice about which treatment will best suit you and your cat.
Best Choice
The TevraPet Actispot II Flea Prevention & Treatment for Cats is an ideal option for heavier cats, acting as both a way to prevent fleas and to treat existing infestations.

Pros:
The product provides an effective way of preventing an infestation from fleas on a cat. At the same time, it can effectively treat an existing infestation from fleas. The product is a good option for larger cats, as the formula was developed for cats that weigh more than nine pounds. A single application of this particular flea treatment provides effective results for a period of up to six months.
Cons:
The product is quite pricey, which might be an inconvenience for some cat owners who are shopping for effective flea treatment on a low budget. Even though the product claims to last for a period of up to six months, some cat owners might have to buy a new supply sooner, especially when the cat seems to be infected with fleas before the six-month period passed.
Best Affordable
Sentry Fiproguard for Cats protects your cat against fleas, ticks and lice for up to thirty days. This six-month supply also offers protection against deer ticks that can transmit Lyme disease.
Pros:
Sentry Fiproguard is suitable for cats and kittens over eight weeks old, and heavier than 1.5lbs. The treatment offers protection against fleas for up to thirty days. It also protects against various types of ticks and lice. The waterproof liquid treatment should be applied between the cat's shoulder blades every month to provide ongoing protection. This vet-quality treatment is an affordable option for keeping your cats and kittens healthy.
Cons:
For cats with a very bad flea infestation, Sentry may not be strong enough to treat existing fleas. If your cat is already suffering from fleas, you may need to consider a stronger product to get rid of them before beginning Sentry to prevent further infestations.
Best Collar
The COTENI Flea and Tick Collar for Cat is a high-quality product that reduces the need for chemical-based drops to assist in controlling ticks and fleas on cats.
Pros:
When this collar is used, the customer has no need to use standard tick and flea drops, which can sometimes contain harsh chemicals that could cause problems with the cat's skin. The cat collar is also able to provide protection against both ticks and fleas. A single collar can be used for a period of up to 12 months in total. This means the collar is likely to save the customer a significant amount of money compared to buying tick and flea treatments every month.
Cons:
The collar has a limit in terms of its adjustable size, which means it may not be appropriate for some larger cat breeds. The ingredients used in the collar may also not be as effective as those found in standard tick and flea treatment products.
Best 100% Natural
The Beloved Pets All Natural Flea Tick Home Spray is safe for both cats and dogs, and help to control the presence of both ticks and fleas that may be infesting the home.

Pros:
The spray has been produced with only a range of natural ingredients. This helps to provide a safer way of preventing an infestation from ticks and fleas, as there are no harmful chemicals that are added to the spray's formula. The product is ideal for houses where either cats or dogs are present. The addition of rosemary and geranium oil helps to speed up wound healing on pets, which is useful in cases where ticks or fleas have bitten the animal.
Cons:
Not all-natural ingredients are known to provide an effective way of eliminating an existing tick or flea infestation. Thus, there may be a need for additional products if a cat or dog has already been infected with these organisms. The product is also relatively expensive compared to other options that are currently available on the market.
Best Easy-to-Use
The Catego Fast-Acting Flea & Tick Treatment is ideal for both cats and kittens over 1.5 pounds and works within the first six hours.
Pros:
The product has been developed to provide a faster way of killing ticks and fleas on a cat. Once applied, it starts to work within the first six hours following the application of the treatment. The product is also effective against ticks and fleas. In addition to treating an existing infestation of ticks and fleas, the treatment is also highly effective at preventing a recurrence. This makes it an ideal prevention method too.
Cons:
The treatment uses a synthetic chemical-based formula to assist in killing and preventing infestations from ticks and fleas. Some people may prefer to use a more natural option when treating an infestation from ticks and fleas on their cat. There are also a few tick and flea treatments on the market that come at a lower price than this one.
What Really Matters
Effective Protection Against Fleas
When you own a cat, you want the best for their health. As flea infestations are so common, you must be able to rely on a flea treatment that offers the best results. Untreated flea infestations not only lead to itching and discomfort for the cat, but can also leave their skin bitten, inflamed, and covered in sores. Even worse, the fleas can spread to their bedding and your home's furniture, carpets, and other soft furnishings, which makes future infestations likely. When you choose a flea treatment, you want to know that it will either treat or prevent flea infestations for peace of mind regarding your cat's health and the health of other members of your family. The treatment you choose must eradicate fleas and last for the advertised period of protection. In addition to its effectiveness, you want to be sure that the medication or natural ingredients contained within it will not cause any side effects for your cat, other pets, or family members.
Ease of Application
Buying the flea treatment is the first step; getting it onto your cat is the second. Many cats may resist being restrained in order to have their flea treatment placed on the back of their neck or sprayed onto their fur. If your cat detests having any form of treatment, you will want to select a product that is quickly and easily applied. Single-squirt medication may be easier to administer than full-body sprays. Waterproof products are helpful if you have an outdoor cat, as you will be reassured that the flea treatment will still work even if your cat's fur gets wet after application. If your cat hates intervention of any kind, you may find that a flea collar provides the best protection for your cat with minimal intervention.
Tolerable Scent
Although the flea treatment is for your cat, you want to consider the effect the medication may have on you. Some flea treatments contain essential oils, natural products, or medications that have distinctive smells. If you are particularly sensitive to strong smells, you may prefer to find a flea treatment that is odorless or contains a scent that you like. Some products contain essential oils that can help with your cat's mood, and you may want to select a product that will also help your cat. It is also worth considering how long a scent might last, as you may feel that a short-lived scent that provides excellent flea protection is worth tolerating.
What's in Right Now?
As with many aspects of modern life, natural and organic products are a popular choice for the protection of your pet's health. Although you will be keen to ensure that your cat is not affected by fleas, you also want to treat them in the most natural way possible. Luckily, essential oils and naturally occurring substances can kill fleas and other parasites without the need for strong medications or chemicals. Flea collars are also a popular choice, as they use natural ingredients to prevent fleas and have a longer period of efficacy than many of the products that are applied to cats' skin. They also do not require repeated treatments and can simply be left on your cat.
Liquid pharmacological preparations have also remained popular, with applications applied to the back of the cat's neck around once a month. The promise of 98-100% of fleas being killed within twelve hours of application is reassuring to many. These products are also effective against ticks and lice for all-around confidence regarding your cat's protection against parasites.
Prices
Expensive
$18 – $30 buys a lightweight flea collar that contains natural ingredients and lasts for eight months.
Mid-Range
$12 – $18 gets a natural or pharmacological product that is applied to the cat's skin to protect against fleas and other parasites.
Cheap
$5- $12 is the price range for a six-month supply of affordable, topical, pharmacological treatments.
FAQs
I have a number of cats of varying ages and weights. Which products should I consider?
Many flea treatments specify a minimum age and weight requirement for your cat. Some treatments specify a maximum weight. These guidelines ensure that the cat is not over- or underdosed. If you have more than one cat, you may find it easier to choose a treatment that can be used for all cats aged over eight weeks to avoid buying multiple products. If you have a cat from whom you wish to breed it is important to check that the flea treatment is suitable for that circumstance.
I am interested in using natural products for my cat. What should I look for?
Natural cat care products are becoming more popular, and natural cat flea treatments are no exception. It is understandable that you may prefer organic products or products that contain essential oils to prevent your cat from getting fleas. Because of their popularity, most natural pet care products will advertise their all-natural or organic status, but if it is not obvious from the name or description, look for the list of ingredients. Essential oils are often included in these types of treatments, as they have natural antiseptic properties and effectively kill and further repel parasites.
It's difficult for me to find time to treat my cat with flea treatments. What should I consider?
If you have a busy lifestyle, it can be easy to overlook flea prevention for your cat. If your cat spends a lot of time outdoors, you may have limited opportunities to apply the treatment, and if you have a cat who hates being treated, it can feel like a real struggle. Flea collars offer an alternative to placing drops onto your cat's skin and can provide several months of protection against fleas and other parasites. Selecting a lightweight, flexible collar can reassure you that your cat will be protected and comfortable.