The Best Cat Fountains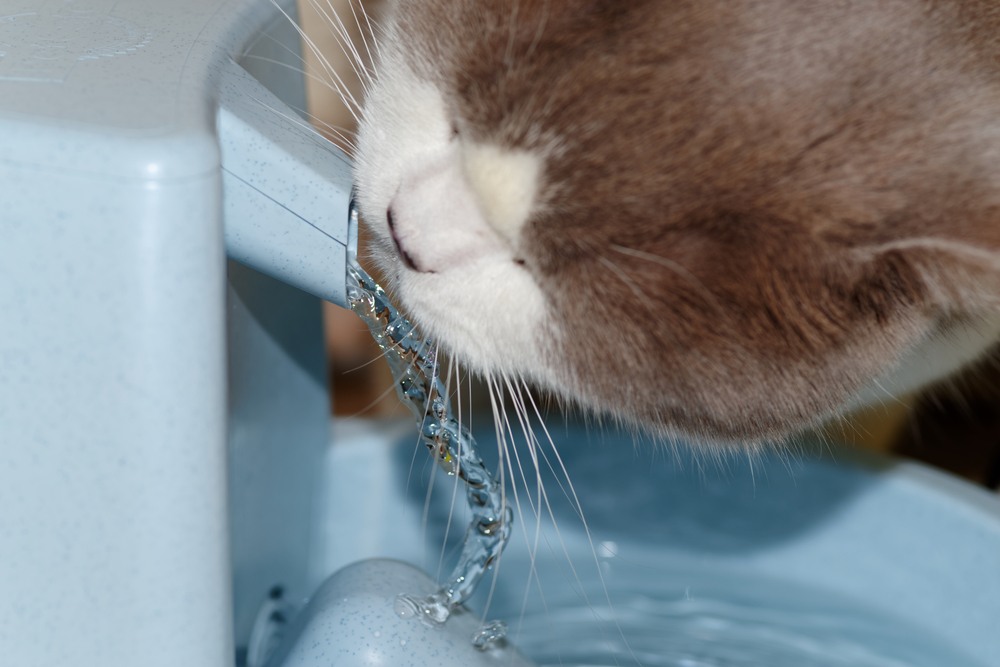 Cats weren't always the well-groomed domesticated furballs that we love today. Their wild ancestors were attracted to running water since it was a sign the water was fresh and safe to drink. Your cat is no different. Cats are attracted to running water, making a water fountain a great way to ensure your cat is properly hydrated. A water fountain is the perfect way to have constant running water available to your cat, whether you're around or not. We rounded up some of the best cat fountains out there just for you. Read on to find the fountain for you and your furry friend.
Veken Pet Water Fountain
For a water fountain that does it all, Veken has you covered. Your feline friend will be attracted to the adorable fountain, encouraging them to drink more water. The fountainhead sports three flow modes, including waterfall, bubble, and gentle flower. The continuous flow of water and the brightly colored flower will draw your cat's attention in no time. With a triple filtration system, you can feel confident that your cat is drinking hygienic water, keeping them healthy and happy.
Pros
Works well with finicky cats that are selective about where they drink water. The fountain's flower shape attracts cats and gets them to drink out of the fountain.
The fountain doesn't make any noise when the flower cap is in place. Otherwise, it sounds like a quiet waterfall.
It's easy to set up, so your cats can start using it almost immediately upon arrival.
Cons
It may take time for your cat to warm up to the fountain.
Wonder Creature Cat Water Fountain
This pump indicates when the water level is low, so you don't forget to replenish the water supply. There is also a window that allows you to see the water level remaining. The flow design aerates the water, adding oxygen and a fresh taste, which will surely encourage your kitty to drink more. The stainless steel top of the fountain is removable and dishwasher safe, making cleaning it a breeze. With a simple setup, your cat is a few steps away from a beautiful fountain. You'll love how quiet it is, and your cat will love the delicious, plentiful water.
Pros
We found the filtration system works as advertised, removing hair, dirt, food particles, chlorine, and heavy metals from the water. Our cats seem to agree, lapping up the clean, healthy water.
The automatic water shut-off works well, turning off the fountain as soon as the water level gets too low. The fountain's flashing red light lets you know it's time to refill it.
Cons
The fountain only comes in one color.
NPET WF050 Cat Water Fountain
Satisfy your cat's needs without breaking the bank with NPET's WF050 Cat Water Fountain. Cost-efficient and effective, the water fountain has a unique design with a transparent tank. You will be able to see the water level, ensuring that your cat isn't left thirsty. Also, its sleek design is perfect for any aesthetic, so your cat's fountain won't be an eyesore. The high water capacity prevents the need for frequent refills, ticking one more thing off your to-do list. Best of all, this fountain sports a filter to improve the taste and the quality of the water.
Pros
We found that cats that normally won't drink out of a fountain or don't drink enough water in general, were happily drinking water from this fountain.
The fountain is set up to work like a faucet and you can adjust its height for optimal drinking for your cat.
The fountain is large enough that you won't have to refill it often. Plus, it's transparent so it's easy to know when it's time to clean it.
Cons
The fountain doesn't include an adapter for plugging it in.
Pioneer Pet Swan Fountain
If you're looking for a more understated fountain that fits in with your home, this fountain is perfect for you. The white basin and spout truly give the fountain a minimalist look that is unmatched by other fountains. It may also be a beneficial choice if your cat is put off by more elaborate and tall fountains since the basin sits low to the ground and the water flows downwards. The fountain is also quiet due to the USB-powered pump. For an elegant, simple fountain, Pioneer Pet is the way to go.
Pros
We love that there's a small switch on the motor that lets you adjust the water flow, allowing you to get it just right for your cat.
The fountain's high water capacity makes it a great option for households with multiple pets.
It mimics a faucet, making it a great fountain for cats that love drinking out of the faucets around your home.
Cons
The spout is a single piece, which may make cleaning slightly more difficult.
iPettie Kamino Pet Water Fountain
While a cat water fountain is ideal for independence and increased water consumption, the noise can be off-putting. IPettie's Kamino Pet Water Fountain is very quiet, so you can keep your fountain anywhere in the house without disturbing your day. The LED light around the edge and window attracts your cat, encouraging them to stay hydrated. If you keep the fountain in your bedroom, you can turn the light off at any time with the switch on the power cord. The LED light also warns you when the water level is low and the pump automatically shuts off if it is too low. This fountain is ideal for a quiet home and a thirsty feline.
Pros
If you don't like the sound of water dripping, this is the faucet for you. The water bubbles up from its center and if you clean it regularly, you'll find that it operates silently.
We loved that this fountain doesn't require a lot of upkeep and the replacement filters are affordable.
Cons
The Automatic pump shut-off stops the water, which may leave your cat thirsty until you refill.
Our Tips and Tricks
If you're dealing with a picky cat, at times it can be challenging to train them to drink from a fountain or to drink as much water as they should throughout the day. You may find your cat drinking from the toilet, or trying to get a sip every time you turn on the faucet. To help your cat get adjusted to a new fountain, it's best to keep it off until the cat is ready to use it. Give them time to investigate their new toy and become comfortable with it. Be patient with your cat and have an alternate water source nearby so they have another source of freshwater until they become used to the fountain. In time, your cat will adjust to its new fountain and begin drinking from it regularly. 
Frequently Asked Questions 
Why does my cat need a water fountain?
Proper hydration is crucial for the health of your furry friend. It can improve their digestion, flush out toxins, and increase their nutrient absorption. If your cat is on a dry food diet, it is even more important that they increase their water intake. To live a long and healthy life, your kitty needs to drink water. Cats are attracted to running water, so a water fountain can increase the amount they drink.
How often should I change the water in my cat's water fountain?
You should make sure to clean the fountain at least once a week. Bacteria can grow, even though the water is running. It is also important to replace the fountain filters regularly. Make sure you monitor how much water your cat is drinking, so you can add more water to the fountain as needed.
About the Author
About the Site
CatTime
Since 2008, CatTime has provided millions of cat owners with all the information they need to keep their pets happy and healthy. Our experts know exactly what it takes to raise our furry friends and our goal is to help all owners, new or experienced, care for their cats with all the right food, toys, equipment, and accessories.