The Best Cat Furniture for Your Home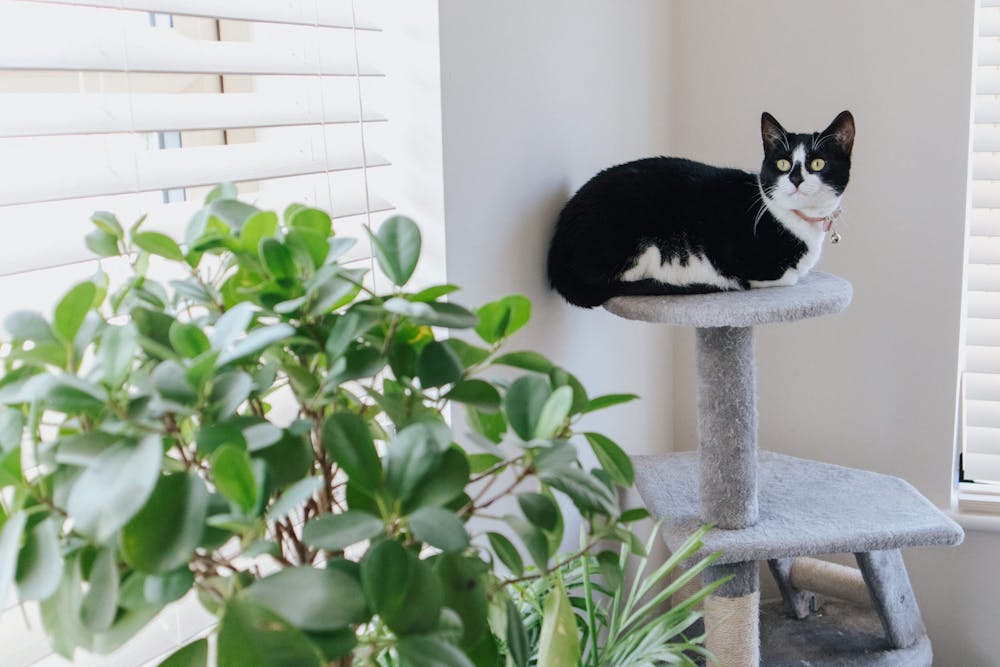 Cat furniture can make a world of difference when it comes to your furry pal's overall well-being and happiness. You'll need something with at least one claw-friendly surface, and you should also pick furniture that's made to last (not something made from flimsy materials). Of course, choosing the right cat furniture really all comes down to your cat's personality, activity level, and personal preferences. To help you select the right product for your precious pet, we've rounded up a list of our favorite pieces of furniture here.
unipaws Cat Bench
The sleekly designed unipaws Cat Bench pulls double-duty. First, it functions as a cute nightstand that hides your cat's litter box, blending in seamlessly with the rest of your decor. And, it's also a cozy spot for your cat to hang out on, with a wide top space and cat hole. We love that this bench is plenty durable, too, with a magnetic touch design and solid wood construction. Keep your home sanitary and your cat happy with this awesomely versatile furniture piece.
Pros:
Not only does this bench keep your cat's litter box out of sight, but it also contains the smell really well.
The instructions are clear, detailed, and very easy to follow, and the hardware bags are well-labeled. So, assembly is quick.
Although it's technically a cat bench, it's sturdy enough to use as a small TV stand, if desired.
Cons:
This bench is definitely on the pricey side.
PEFUNY Cat Perch
All kitties love to sunbathe and watch the world go by, which is why the PEFUNY Cat Perch is such a great product. This perch can accommodate cats of all sizes, with its sturdy, nonslip suction cups and stainless steel materials. Plus, the cozy hammock space is complete with super-soft flannel pads, so your kitty can comfortably enjoy the sunshine, all day long.
Pros:
The fabric is thick and strong, and designed to hold a lot of weight.
The suction cups are strong and durable. They're built to accommodate even the heaviest kitties.
You can make this perch even more cozy by adding a snuggly blanket.
Cons:
It does take a while to assemble.
Nova Cat Tree
Do you have an active, scratching cat on your hands? The Nova Cat Tree is a must-have. This towering, multi-tiered tree has tons of options for cats to choose from, so it's bound to appease your cat. There are resting spots, multiple spots to jump to, scratch pads, and toys galore. Also, we love that it's very sturdy (perfect for cats that are jumpers) and covered in skin-friendly, soft plush fabric. As a bonus, this tree is also perfect for households with more than one cat.
Pros:
This tower is super-sturdy — you can let multiple kitties rough-house and play on it, without worrying about whether it'll hold up.
Considering the quality and size of this tower, it's very affordably priced.
Cons:
This tree comes with too much packaging.
Bedsure Cat Bed
The Bedsure Cat Bed provides a homey, inviting interior that will make your kitty feel safe and snug. This enclosed cat house is thoughtfully designed and ideal for cats who love to hide away and have their own space. It comes equipped with a durable scratching board and even a plush hanging ball, so cats can be as active or sedentary as they want. Don't be surprised if your kitty spends entire days nestled inside this cozy little cave.
Pros:
It folds up neatly and compactly, for easy storage when not in use.
The removable cover can be washed in the washing machine, so it's easy to maintain and keep clean.
The mats are made of a warm, cozy material that cats love.
Cons:
The packaging odor is too strong.
Trixie Cat Cave
All cats love the Trixie Cat Cave since it offers more than a few options. There's a sisal scratching surface, so they can claw to their heart's content. There's a hanging ball on a string that they can bat back and forth. And, there's even a plush hammock and cat cave space for rest time. No doubt about it, your kitty will be one happy little camper.
Pros:
It's really ideal for small spaces, for those who live in apartments or small homes.
It also folds up easily, so you can pack it away when you have guests or you want to take it with you on the go.
Cons:
This product isn't really well-suited for larger cats.
Our Tips and Tricks
Buying your active, frisky kitty a cat tree is one of the best things you can do for your beloved pet. Cats love to run, jump, and play — this is an integral part of their daily existence. Be sure to get a tree that's appropriately sized, both for your cat and your living space. Measure the area where you want your cat tree to go, and get a tree with a wide, solid base to keep it from falling over when your cat jumps on it. Depending on how active your cat is, you may want to get a tree with interactive features, like spring toys and pom-poms. And, the fabric should be soft and durable — good carpet and cardboard should last a long time.
Frequently Asked Questions
What are the benefits of a cat tree?
Cat trees are wonderful since they allow cats to freely explore, climb, and scratch without destroying any of your belongings. This is especially helpful if you live in a small or modestly-sized apartment, without a ton of extra space for your cat to roam around.
How do I choose the right cat tree?
There are tons of different kinds of cat trees, and picking the right one will depend on a few key factors and considerations. First, it's important to select a tree that's the right size for your cat. If your cat is big on scratching, be sure to get something with multiple scratching surfaces. And, if your cat is super-playful and active, a taller cat tree with more space between the levels may be appropriate (and of course, less so for an older, less active cat).
How can I train my cat to use a cat tree?
A tried-and-true way to get your cat to warm up to a cat tree is by sprinkling catnip on it and then giving them plenty of space and time to explore and be near the smell.
About the Site
CatTime
Since 2008, CatTime has provided millions of cat owners with all the information they need to keep their pets happy and healthy. Our experts know exactly what it takes to raise our furry friends and our goal is to help all owners, new or experienced, care for their cats with all the right food, toys, equipment, and accessories.