The Best Cat Furniture for Your Home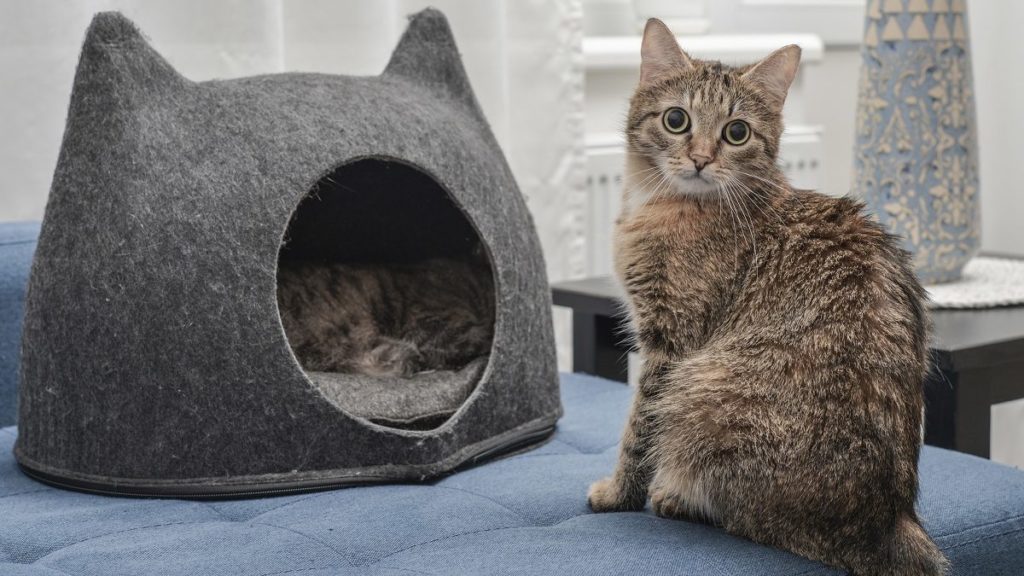 If you own a cat, you likely already know that your feline friend needs both mental and physical stimulation. This includes being able to leap, scratch, play, stretch, and sleep comfortably. Some of these kitty instincts are so strong, that if you don't provide an outlet for them, your cat will figure it out on her own. (Read: your furniture's going to get absolutely mauled.) To create the perfect domestic oasis so your kitty can pursue that lavish life, check out this list. Our team researched and selected furniture that's both functional and stylish, so whatever kind of feline needs you're looking to meet, you're bound to find something here.
Best Pet Supplies Pet Tent
If Whiskers is the type to be found snoozing inside of confined spaces, this tent may be just right.
Is it something instinctual that leads our feline companions to sleep in tight, confined spaces that look like caves? It's not our place to say, but what we can say is that some of those spaces — like this tent bed — sure do look cozy. Sleep is one of the most essential factors in your kitty's health, so you're going to want to encourage the healthiest sleep they can get. Aside from the privacy and sense of safety that this tent's mostly-enclosed design provides, the bed itself is velvety-soft, ultra-affordable, and easy to clean.
Pros:
Wide variety of lovely colors offered
Lightweight, so you can move it to another room with ease whenever you need to
High-quality stitching helps ensure its longevity
Cons:
The structure isn't the most supportive, so it might tip over if your cat likes to roll around or stretch inside it
Rabbitgoo 61″ Cat Tree
This cat tree contains a variety of perches, posts, and other fun terrains for your kitty to explore.
Few pieces of furniture are more perplexing in function or stranger-looking to the uninitiated than the cat tree. Designed to meet a variety of a cat's needs, cat trees typically provide a mix of sleeping platforms, overlook towers, scratching posts, and more. This one is no exception. With multiple scratching posts, a "condo" for napping, a ladder, hammock, perch, and a basket, this cat tree is something of a feline funhouse. Looks pretty fun, right? Don't get any crazy ideas, though – it's for your cat, not for you. We don't want to catch you trying to sneak in a cat nap on this thing.
Pros:
Available in multiple colorways, so you can pick the one that best suits your home's decor
Includes graphic instructions and installation tools, making it quite easy to assemble
Scratching posts are wrapped in sisal rope, which is great for cats who enjoy scratching
Cons:
It isn't the sturdiest on its own, but you can mount it to the wall with the included hardware
Veken Pet Fountain
This fountain provides a fresh supply of water any time your cat wants it.
Ever noticed the strange relationship cats seem to have with water? Of course you have. If you want to ensure your cat is as well-hydrated as she can be, the best way to do that is to get an at-home fountain like this one. Rather than leaving a bowl of sitting water around for hours or even days on end, you can offer your cat a supply of constantly-fresh water thanks to this one's water pump. Best of all, it's very easy to use and it's surprisingly affordable.
Pros:
Comes with a silicone mat that you can place underneath the fountain to protect your floor from any water that spills over
Maintenance and installation are easy
Fine for both dogs and cats, so it's a great choice for a multi-pet household
Cons:
Trixie Pet Products Miguel Fold and Store Cat Tower
Your cat can scratch, nap, and lounge the day away in this marvelous, compact, hammock-style tower.
Unlike us humans, our housecats don't need to wait for that fancy vacation to lounge in a hammock for days on end. If your cat is a devotee to the finer things in life, lounging in luxury is sure to appeal. This unit's standout feature is its top-tier hammock, but it's much more than just a hammock. The bottom tier houses a cozy, plush-lined condo, and the exterior's sides boast natural sisal scratching surfaces. All in all, this unit combines luxury and practicality in one.
Pros:
Extremely small form factor, so it's great if you're pressed for space
Excellent cost value
Cons:
Balls that hang off the side for play are a nice idea, but they could wrap around your cat's paws and get stuck, so they're a bit of a risk. You might consider cutting them off
PetFusion Three-Sided Scratching Post
This three-sided post offers your cat the ability to scratch and stretch to his heart's content.
Take a look at this post and you'll see that it's truly as simple as a piece of cat furniture could be. Conceived as a three-side scratching post, this one is comprised of a sturdy base, a strong recycled-cardboard body with non-toxic cornstarch glue, and a center cubby so Whiskers has an open-air shelter in which to hang out. And thanks to its multiple sides, it's great for multi-cat homes — no need for two felines to compete for their turn at the scratching post.
Pros:
Durable and well-made
No assembly necessary
Simple, sleek design makes it a decor-friendly piece
Cons:
May slide around easily if it's on a hardwood floor
Frequently Asked Questions
Is there a particular type of cat furniture that's the best at stopping my cat from scratching up my entire house?
Actually, yes. If Whiskers won't stop scratching, there's a simple solution: scratching posts. A cat tree, for example, will contain multiple scratching posts. You'll want one that has sisal rope because it attracts cats. Another good bet is to have cat furniture with climbing poles. Providing an outlet for that desire to climb can prevent your kitty from clawing at that high-up drapery.
I've got a pretty small apartment. What furniture would suit me and my cat best?
This depends. If you're looking for a cat tree, you'll want to keep in mind that they can be quite large and complicated in their design. This can mean that they take up a lot of space. Be sure to check your available dimensions and shop accordingly. Certain cat trees are designed to be more narrow than others, opting for a more vertical-oriented design. Options like that would be a good bet for a small apartment.
Will my cat naturally gravitate towards the cat tree? How do I entice her to take to it?
As we mentioned, if the cat tree has scratching posts with sisal rope, your cat will naturally be drawn to it. However, you might need to provide a little incentive to get your cat onto the tree in the first place. You might want to sprinkle a little catnip in the area to accomplish that. If not catnip, maybe some toys, or even a favorite meal. Also, be sure to place the cat furniture in a room that your cat frequents.