The Best Cat Grasses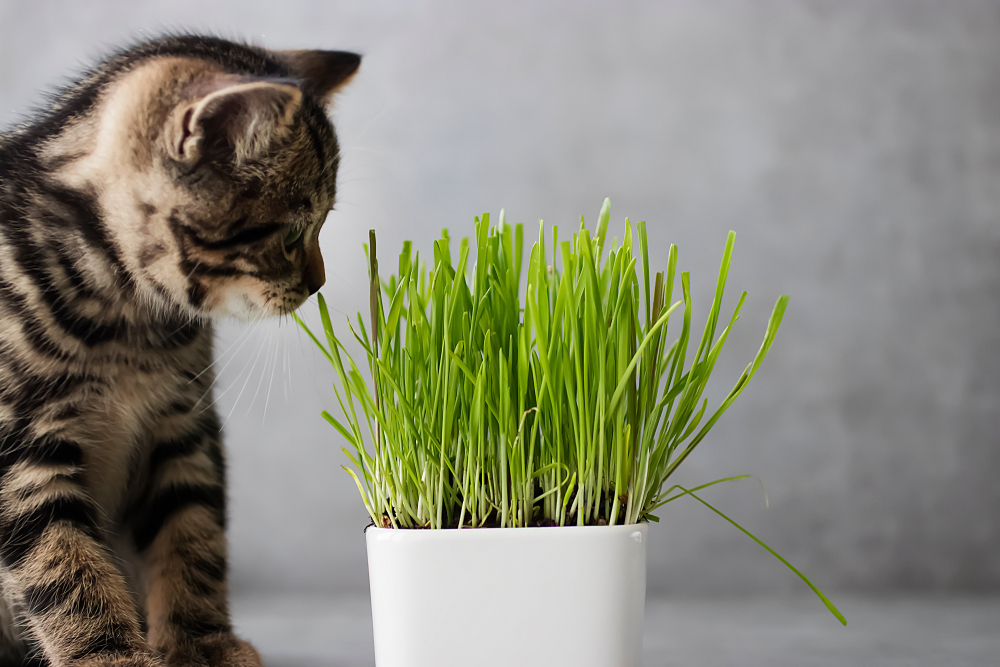 Green plants might not constitute the bulk of a cat's diet, but they are an integral part of it all the same. If you've ever noticed your feline friend nibbling on grass or plants, they are likely seeking out fiber to help balance out their gut flora. That's why we recommend getting some cat grass for your home. Here, we've compiled a list of the best of the best in greenie edibles for cats. Read on to discover the perfect pick for you and your cat.
SmartyKat Sweet Greens Cat Grass Grow Kit
This kit contains soil, a potting container, and an ounce of oat seeds so that you can grow the greens your cats need.
Pros:
The SmartyKat Sweet Greens kit is a smart buy for cat owners everywhere. Super inexpensive, this affordable little kit contains seeds, soil, and a pot for growing wheatgrass. It's really easy to get it going, too, thanks to the simple instructions and low-maintenance seeds. In fact, cats like to nibble the tops, so this grass will grow continuously over time. Of course, you may eventually run out of seeds, but at this price point, restocking won't break the bank.
Cons:
Buying seeds on the internet can be a difficult process — when these wheatgrass seeds are damaged in transit, the germination rate can be reduced.
Rose and Branch Organic Wheatgrass Seeds
This pick comes with an ample supply of organic, non-GMO wheatgrass seeds that are easy to grow.
Pros:
The grass grows very rapidly. Even for first-time users, the process is simple and straightforward. There is no need to soak the seeds. Under the right conditions, the seeds sprout very well. The grass thrives well and is of good quality, reaching a maximum height of about five inches.
Cons:
Organic wheatgrass seeds don't come with a planter, and that necessitates a separate purchase. Some animals might reject the grass, although this is probably a matter of preference.
The Cat Ladies Cat Grass Grow Bag Kit
For a no-brainer planting kit, we recommend this fresh pick from The Cat Ladies.
Pros:
If you're in the market for a grass planter kit that gets results, go with this kit from The Cat Ladies. You don't need a green thumb to get some grass growing with this set, which features various types of seeds, including oat, barley, wheatgrass, and rye. The instructions are very easy to follow, and each of the three grow bags is ultra-portable, so you can move them from room to room when necessary.
Cons:
Some may not like the fact that the grow bags are housed in plastic baggies.
Todd's Seeds Wheatgrass Seeds
If you're lacking in outdoor space, we recommend going with this indoor-friendly option.
Pros:
Even without sunlight, these seeds will still sprout. This makes the seeds particularly well-suited for indoor use where light is limited. Planting is a straightforward process that doesn't require much skill or prior knowledge. The hard red wheat is rich in lipids, minerals, and vitamins. There are no chemicals in the seeds, either, making them a safe option for your pet.
Cons:
There are no instructions on the box, so it's pretty touch-and-go for people who haven't done something similar before. Sometimes, despite the thorough lab testing and quality-control measures, you might still get a batch that doesn't germinate well.
Window Garden Pop-Up Cat Grass Kit
Ideal for homes with one or two cats, this kit contains well-proportioned grow bags with seeds that are easy to sprout.
Pros:
If you're looking for perfectly sized cat-grass options, you've found them. With this three-pack of grow bags, you won't have to worry about whether your cat is eating too much or too little; rather, you can sprout these seeds, place each pack somewhere your cat will see them, and let them be. The packs offer just enough seeds to satisfy your cat's appetite without going overboard.
Cons:
The packs are not reusable, so if you like them, you'll have to buy another kit in the future to replenish your supply.
FAQs
Where does cat grass come from?
There are several variations of seeds that produce cat grass. Popular types include wheat, rye, barley, and oats. This vital supplement to your cat's diet doesn't just come from one specific seed, but different types.
How much grass should I grow for my cats?
There is no specific amount recommended for planting. However, planting a handful of seeds each time is enough for one cat; if you have several cats, you'll obviously need more. The amount you should grow depends on the sprouting success rate and the number of animals in the equation.
Is my pet going to turn down the grass?
It is important to note that not all cats eat grass. Out of personal preference, some may snub the greenery. If your cat is a picky eater, start with a small amount of grass and observe her reaction. Hopefully, she takes to this healthy option without a fuss and nibbles away.
How safe is cat grass?
Very safe — especially the organic and GMO-free types. Just like humans, animals are sensitive to chemicals and preservatives. Also, ensure that the house is free of other potentially harmful plants that your cat may eat. Regardless, remain on the lookout for symptoms that may warrant a visit to the vet.