How To Choose The Best Cat Harness For Your Cat – CatTime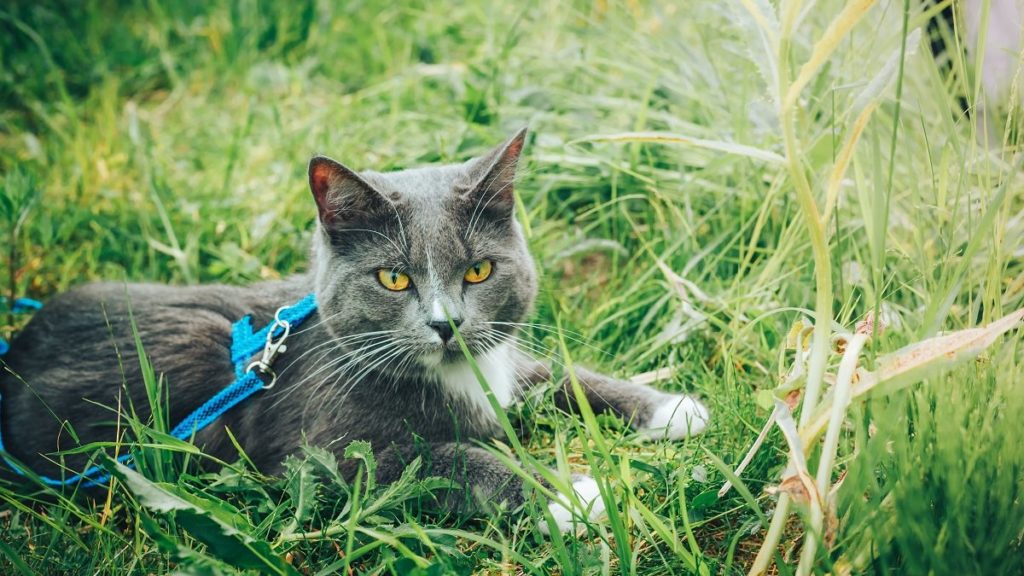 Of course, you love your cat, but you may still be gathering the courage to take them for a walk. The best way to be ready for a joint outdoor adventure is to use a cat harness. It will keep your feline safe, and you can rest assured that they will stay in your vicinity.
Finding the best cat harness takes time, but we've made the job easier by sifting through the top picks on the market. Take a look at our in-depth reviews, and don't forget to look at the most critical factors to consider when choosing the right harness.

Best Choice
This manufacturer uses soft and comfy materials that your cat shouldn't mind, which minimizes the chances of them even trying to escape.
Pros:
The chest girth ranges from 13 to 18 inches, and kitties with neck girth from 10 to 12 inches can also fit comfortably into this product. The materials are soft, and breathable air mesh ensures that your cat won't mind the harness. The leash is 59 inches long and quite strong, since it is made of sturdy nylon. Apart from keeping the pet safe, the double metal D-ring will keep your kitty safe from choking. The product is easy to put on, adjust, and take off, which can be important for those who haven't used a harness before. The strap is reflective so that drivers can easily notice your cat in the dark.
Cons:
The product provides fair protection against escape, but if your kitty is skilled enough, they may still find a way to get the harness off. This particularly applies to cats with a narrow neck and big tummy. It would be nice if there was more than a single color combination, but at least the available design seems attractive.
Best Design Cat Harness
Top-quality materials and six different color combinations make this leash tough to beat.
Pros:
PetSafe manages to find the optimal balance between aesthetics and functionality. For those who want everything to look perfect, the harness is offered in six different designs. As for the functionality, you can choose between three available sizes with the largest chest girth available at 18 inches. The bungee leash is a nice touch since it is elastic enough to prevent tugging or pulling and minimizes the risk of injury. The double rings on the back allow you to restrain your feline without making them uncomfortable. The product is quite durable, and it should last for a long time.
Cons:
The bungee leash looks nice, but it is not long. That may be a problem if you're a tall person with a small kitty. In that case, you may not be able to walk straight without pulling your cat upwards. Additionally, the kitty might need some to adapt to the harness, but that is a usual occurrence with these products.
Best Escape Proof Harness
KOOLTAIL turns a black cat harness into a comfortably snug, and incredibly sleek, vest for your kitty.
Best Escape Proof Harness
Pros:
KOOLTAIL uses an ingenious design that keeps cats safe and doesn't allow them to make their big escape. Your cat will not be going where you don't allow her to, not as long as she's strapped securely in this cat harness. It comes in three sizes: small, medium and large. Each straps on easily with thick velcro. The D-rings are heavy-duty and positioned in the perfect spot between the back and the neck where your cat cannot reach. Your kitty won't be chewing the straps off those any time soon.
Cons:
If you happen to purchase the cat harness too big, it will not be escape-proof. Being made of a fleece-type of material, it might be too warm for summer use. There are no color options available besides black.
Best for Budget
The Fuleier Cat Harness and Leash is an adjustable product that can be tailored to the size of the cat. The product comes in different sizes and colors.

Pros:
The price tag is more attractive than the majority of alternatives. The harness is available in various sizes, ranging from XS up to XL. There are six different colors to choose from, including grey, red, blue, and more. The harness also fit dogs, making this a multi-purpose product. The design of the harness also makes it impossible for a cat to escape once it is fitted on its body. A durable leash is included with the harness.
Cons:
The harness may cause some strain and friction underneath the legs of the cat. The fact that the harness is a multipurpose product that can also be used on a dog means it will not provide a custom fit as much as a competitor product specifically made for cats.
Best Adjustable Harness
PetSafe Come With Me Cat Harness comes with a fantastic leash that is five feet long with a flexible bungee apparatus.
Pros:
The leash construction makes an allowance for the quick darts cats sometimes make. With another cat harness, your kitty's neck might get yanked painfully. PetSafe has constructed the harness so that, during normal use, it gives a slight pressure to the shoulders to help direct your cat. The harness doesn't wear near the neck or throat in case your cat suddenly jumps. Purchasing the right size will help keep your little loved one from hopping out and leaving you standing there holding the leash.
Cons:
The wrong size of this product might hurt your kitty, however. A cat harness that is too small will squeeze her in the wrong areas. Ideally, it should only be smug. One that is too large will encourage her to step out of it, possibly injuring a leg or a foot.
What Really Matters
It is time to take a look at the essential features to consider when identifying the best cat harness for your pet. Here are the three main factors to keep in mind during the process!
Find the Perfect Fit
Do you know what the best cat harness is for your kitty? It is the one that fits them perfectly! If the product is too tight, your pet will not like it, and it may leave marks or even cause injuries. But if the harness is too loose, it will be easy for the cat to escape.
That is why you should read the size chart of your desired product carefully. Measure your pet by following the instructions provided, and make sure to find the right size in terms of both chest and neck girth. Once you receive the harness and put it on your cat, find the correct adjustment to keep your cat both safe and comfortable.
Materials
The manufacturers use different materials when designing cat harnesses. Most of them combine polyester or other fabrics with a breathable mesh. The latter ensures that your cat is comfortable. It can be particularly crucial during sunny days when your kitty might not appreciate wearing a vest.
The material will also affect the cleaning process. It is important to simplify the cleaning as much as possible to save yourself time and effort. Finally, the right choice of materials can prolong the durability of the harness.
Design
The final thing to consider is the item's design. Some manufacturers offer different styles of harnesses, such as vests. Others ensure that their products come in different colors. That way, you can mix and match the harness with the clothes you are wearing, which will make you and your pet the best-dressed owner-pet team in the park!
What's in Right Now?
These days, it is all about comfort. That's why it's not strange that the latest trend in the cat harness industry is to take that comfort to the highest possible level.
Breathable mesh is the preferred material manufacturers use to make cats feel comfortable while wearing the harness. It is also important to prevent choking if your pet moves suddenly. That can be done by using double D-rings on the back, or by an alternative method.
Best Cat Harness Prices
The good news is that cat harnesses are not that pricey, and you can find a unit that meets your expectations without breaking the bank.
Before we take a look at different categories, please note that you should also consider how many sets are a part of the product you consider purchasing. If the price difference is not big, a two-pack harness may be a better deal despite the actual cost tag being higher.
Here are the three primary pricing ranges:
Cheap
These harnesses are available at a cost lower than $10. For the price, you should get a material that provides decent comfort to your cat. Although they might not be as durable as other units, these harnesses should ensure that your cat doesn't escape them easily.
Mid-Range
This is a category that will meet your expectations in most cases. The price of these harnesses goes up to $15. You will need to pick the right size, but these units will also offer a lot of adjustments to accommodate the particular measurements of your pet.
Expensive
If you want to secure the ultimate comfort for your kitty, you should be ready to pay more than $15 for a cat harness. Whether it is breathable mesh or another material, components are chosen carefully to ensure that the products meet your expectations and ensuring your pet's comfort.
FAQs
Q: Why should you use a cat harness?
A: Cats love to explore, and you can't keep them inside all the time. Harnesses provide a safe way to take them out and allow them to explore the world in a controlled environment. These products allow your cat to smell things, scratch and climb actual trees, roll in dirt or sand, etc. Harnesses are also great for daily walks and training sessions. Their main benefit is keeping your pet safe at all times.
Q: How do you train a cat to wear a harness?
A: We suggest training your kitty to wear a harness indoors. Put the unit on your cat and allow it to walk around freely for 15-20 minutes. Next, place the leash and follow your cat around without pulling it. As time passes, start pulling and controlling your kitty's movement. Once you are sure the cat is comfortable with the harness, you can go outside with it.
Q: Is it okay to leave a harness on a cat?
A: You shouldn't leave your cat with a harness unattended, especially if the leash is still attached to it. Your kitty is active, and the leash can easily tangle and cause discomfort or serious issues like choking. That is why it is best to stay near your cat as long as they are wearing a harness.
Q: Which way does a cat harness go?
A: Read the instructions to find the right way of putting the harness on your cat. It will depend on the model, but you should adjust it around your pet's torso and neck, and then choose the desired tightness.