The Best Cat Litter Boxes With Lids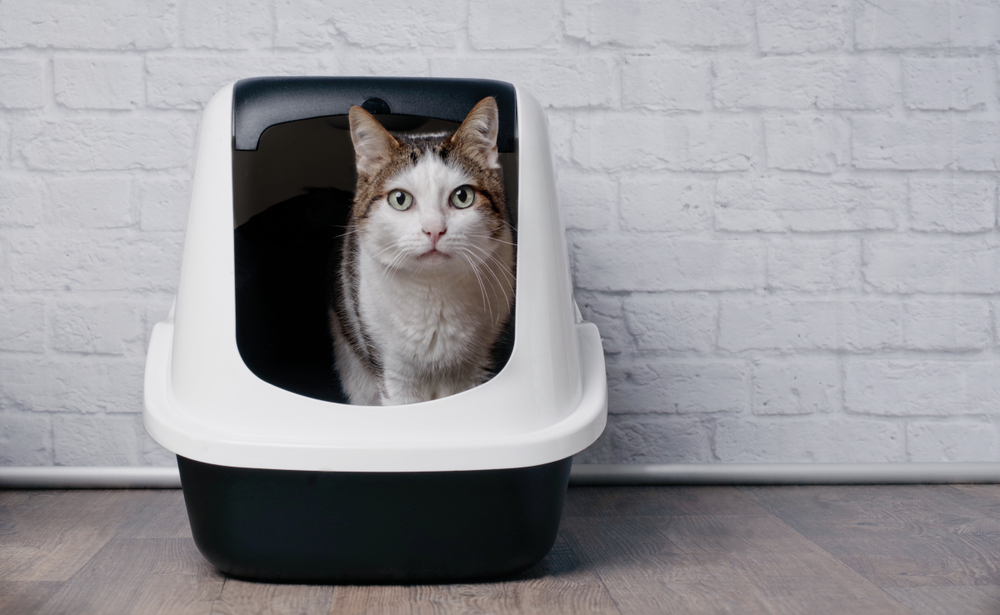 Becoming a cat owner can be a very exciting and playful experience. Cats are one of the most cuddly companions you can own. Unfortunately, indoor cats can also be some of the messiest. Having to constantly clean up after your cat's messes can be bothersome and irritating. Cat litter boxes provide a simple solution to this problem. Litter boxes give your cat an area to easily go to the bathroom without ruining your carpet or furniture. When choosing the right litter box, you want to search for key qualities like design, convenience, and versatility. Luckily, we have already compiled a list of the best litter boxes with lids online. Continue reading to find which litter box will make clean up more convenient.
Purina Tidy Cats Litter Box
This pick from Purina Rudy Cats provides the best litter system you can find. First off, this litter box kit comes included with litter pellets and pads making for an easy setup. The convenience of this litter kit is further enhanced with its hinged hood. This hood allows for quick and effortless cleaning of the box. Plus, the breeze litter pads included last up to seven days for one cat. That is far beyond the two-day capacity of your standard litter pads. Another handy feature is that the pellet system helps separate urine and solids. This helps control and undermine the odor.
Pros:
Breeze litter pads are long-lasting
The litter pellets separate solids and urine to control odor
Hinged hood for quick and easy cleaning
Cons:
The scooper included could be more effective
Petmate Dome Litter Box
This option from Petmate presents the best mess control litter box available online. The dome lid construction of this litter box encloses cats on all sides. This guarantees your cats privacy and simultaneously keeps your floors spotless. Plus, the grooved step entrance wipes your cat's paws for them as they exit. This prevents any litter tracking from getting all over your house. Additionally, this litter system also features a charcoal filter that absorbs odors, giving you the freedom to place it anywhere. Lastly, this litter box comes with a variety of waste management products like scoopers, pads, and bags to ensure you a quick cleanup.
Pros:
Dome design; reduces mess and gets cats privacy
Charcoal filter; reduces odor
Comes included with waste management products; enhances convenience
Cons:
The lid could be somewhat stronger
IRIS Top Entry Cat Litter Box
The choice by IRIS is considered the best-designed cat litter box on the market. For starters, the top entry opening ensures the sides of the litter box are enclosed. This keeps clean litter pellets from messing up your floors. Another feature that keeps your floors clean is the grooved lid on this litter box. The grooved lid allows your cats to remove litter from their paws as they exit. Plus, the IRIS option offers an attachable hook to conveniently hang the litter included scooper, which makes cleaning up a breeze.
Pros:
Includes litter scooper
The top-entry design reduces the mess
Grooved lid to eliminate scattering and make clean up easier
Cons:
The litterbox is hollow and can be somewhat noisy when cats bang on it
PetSafe Cat Litter Box
This pick by PetSafe takes convenience to the next level. This litter box does most of the work for you as it's a self-cleaning litter system. That means no scooping, cleaning, or refilling your cat's litter box for weeks. You can't think of anything more convenient than that. Additionally, the crystal litter removes all smells and odor by absorbing the urine and dehydrating the solids. The top lid contains a large grated surface that helps your cat clean the litter off their paws. Another beneficial feature is that this litter box has built-in motion sensors to track your cat's health and how often they use the litter system.
Pros:
Self-cleaning system
Built-in motion sensors track cat's health and litter box usage per day
Grated surface to eliminate scattering
Cons:
More expensive than your average litter box
Frequently Asked Questions
What kind of litter should I get?
It all depends on your own preferences. We would suggest that you try multiple different kinds of litter until you find the one that works for you best. Some of the easiest litter to clean are pellets, clumping, and clay. Don't forget that the amount of litter you use also matters. Some cats love to feel the box as they dig and like less litter. But the more cats you have the more litter the better, as it helps undermine the smell.
How often should I clean my litter box?
It can vary depending on how many cats you have but as a general rule, it's good to clean your litter box around a few times every week. If you have one cat with one litter box, you can clean it about two or three times a week. If you have four or five cats with multiple litter boxes, you should probably clean them every other day.