The Best Cat Litter Boxes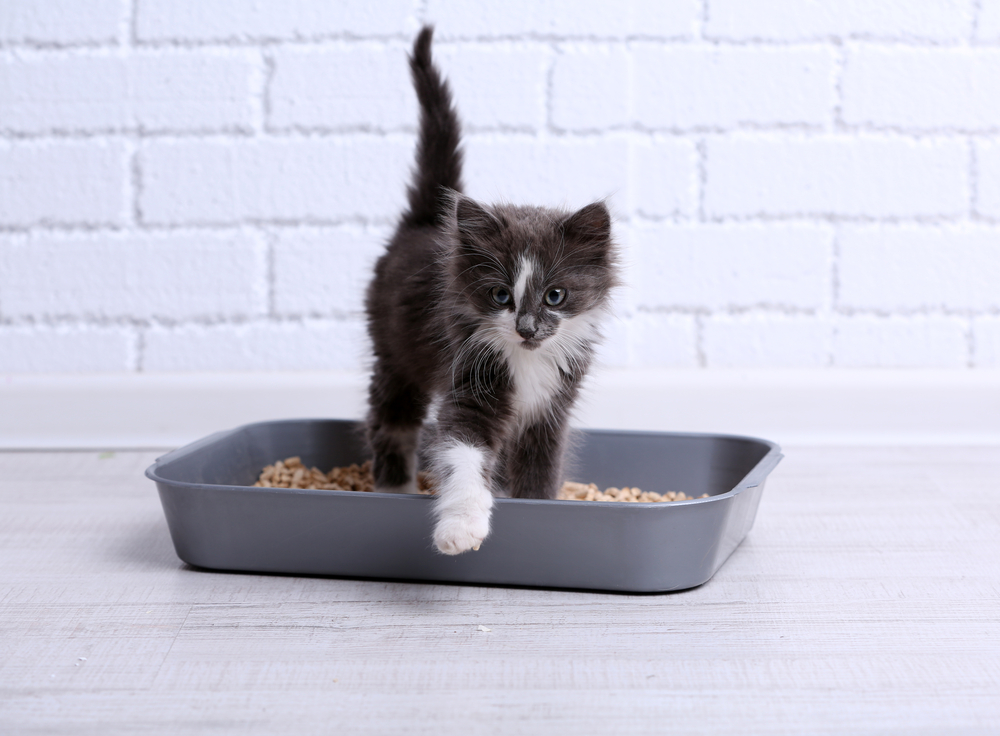 Cat litter boxes are designed to give your feline friends a place to do their business in a way that is more private and protected than a regular litter tray. Cat litter boxes also help reduce odors and mess due to the litter being enclosed with a lid, as opposed to being left out in the open. Overall, they are cleaner and provide less of a hassle, making them much more user-friendly for owners. If you are in the market for a new cat litter box, here are a few of our top picks for you to choose from.
Catit Jumbo Hooded Cat Litter Pan
This jumbo-size litter pan from Catit has a brilliant design that makes bathroom time easier for both you and your cat.
The bigger the better. This jumbo-sized cat litter pan from Catit has everything we look for and more. The large size accommodates even the chunkiest of cats, while the large opening makes scooping poo easier than ever. Really, the design is quite thoughtful since the hinged door prevents your kitty from tracking litter with them as they climb out. It also has a carbon filter to reduce the stench. With Catit, you can keep your cat's business in the office.
Pros:
The considerable size makes this a great pick if you own more than one cat.
It's not only made from BPA-free plastic, but it's also incredibly easy to clean.
The sturdy handle on top lets you move it with ease.
Cons:
The jumbo size may be too much for smaller apartments.
Van Ness Large High Sides Cat Litter Pan
Those with tight funds should check out this budget-friendly option from Van Ness.
If funds are tight, fear not. This affordable cat litter pan does an excellent job of containing your kitty's pee and poo. Though it may be basic in design, it actually serves the purpose quite well. The extra-high sides reduce spills and splashes. They also allow you to fill it up with extra kitty litter to please the cats that like digging around. Best of all, the plastic material is a cinch to clean, as it can be hosed off or cleaned in a large sink or tub.
Pros:
The open concept design allows your cat to get in and out with ease.
We like that the plastic material has a slick, polished texture that's stain-resistant and easy to clean.
The litter is lightweight, so it's easy to move around as needed.
Cons:
If your cat likes to dig or kick, you may want to place this litter pan in a wider box.
IRIS Top Entry Cat Litter Box
Housed in a round-shaped container with a top-entry design, this cat litter box offers your pet some privacy.
Let's face it: seeing your cat do his business in the home is not ideal, and on top of that, it generates foul odors. With that in mind, the privacy this product gives is one of its best features. The shape of this product minimizes odor and gives Whiskers his privacy. It also helps avoid litter being spilled or trailed through your home. Plus, the non-skid rubber feet ensure the unit does not slide around on hardwood floors, and the large entry on top makes it easy for even the chunkiest cats to get in and out.
Pros:
Compared to other cat litter boxes, the sleek design makes it less of an eyesore.
The grooved grippy top helps remove litter from your cat's feet as they climb out. We were impressed by how much it reduced litter traction throughout the home.
Cons:
The included scooper feels a tad flimsy, so you may want to purchase your own.
Van Ness CP5 Sifting Cat Pan
This pan from Van Ness makes changing out the litter way easier.
When it comes to cleaning out kitty litter, the faster the better. It is not a chore most people look forward to, though this cat pan from Van Ness at least makes it easy. The smooth polished finish makes sure waste doesn't stain or stick to the surface, so you can wipe and wash away any poo and pee. Better yet, this option features a filter pan that sifts solid droppings out and saves the clean litter.
Pros:
The included extra pan is convenient for sifting out solids.
This is an excellent pick if you own multiple cats.
We found this worked very well with clumping litter.
It can actually reduce the amount of kitty litter needed since clean litter gets saved through the sifting.
Cons:
The sifter is supposed to work on its own, but we find it works best to leave it to the side until it's time for cleanup.
Frequently Asked Questions
What's the difference between a litter tray and a litter box?
A cat litter tray has a shallow surface area and is typically left in open areas around the home, such as the kitchen. It requires you to manually scoop waste every day and can be quite off-putting, especially as you can see your cat excrete waste. Plus, if you don't have a good quality litter mix, the odors can be quite strong.
Cat litter boxes look to remove these issues by providing a more secure (sometimes fully enclosed) area for your cat to use the toilet. In some cases, cat litter boxes are even automated, which requires much less owner intervention and swiftly removes waste from sight, which also reduces odors.
Is it better to have an open or hooded cat litter box?
If your cat is unfamiliar with a hooded design, it may be better to start them off with an open cat litter box instead. The benefit of a high-sided, open cat litter box is that less waste is created as more of the litter will remain in the tray. However, if you are looking to eliminate odors and mess, then a hooded design is the better solution.
How often should I empty my cat litter box?
Each model of cat litter boxes will come with its guidelines, as some designs are manual, which will require a daily scoop, whereas automated boxes will require less intervention. Ideally, all cat litter boxes should be emptied frequently to avoid odors and bacteria from accumulating.
What are the top mistakes that cat owners make when it comes to litter boxes?
Not getting a box that is big enough. If your cat feels restricted or can't enter the box properly because the entrance or space inside doesn't give them enough room, then they are unlikely to use the litter box at all.
Another issue is choosing the wrong location. Cats do not like to waste near where they eat because it goes back to ancient predator tactics. So, it's best not to have their litter tray or box directly next to their food bowl. There should also be plenty of separation between the litter boxes of your cats to avoid territorial issues.
Finally, there's the issue of not cleaning your cat's litter box often enough. Similar to humans, cats are unlikely to use a filthy toilet, so keeping the box clean and the litter fresh is important.
About the Author
About the Site
CatTime
Since 2008, CatTime has provided millions of cat owners with all the information they need to keep their pets happy and healthy. Our experts know exactly what it takes to raise our furry friends and our goal is to help all owners, new or experienced, care for their cats with all the right food, toys, equipment, and accessories.