The Best Cat Litter Houses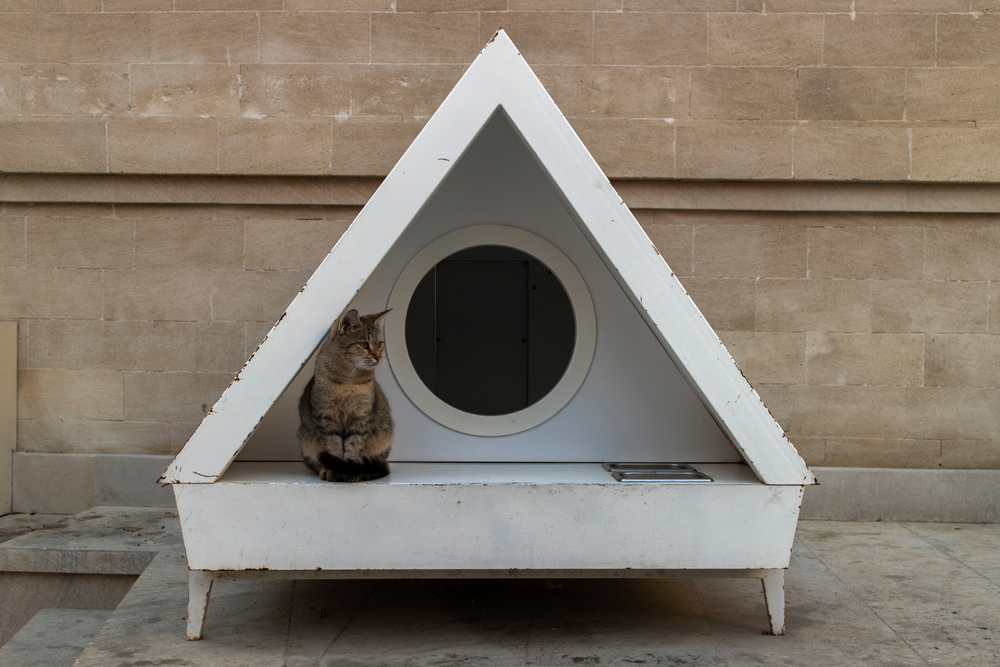 Cats are wonderful pets. On the one hand, they're fun to play with and have tons of personality. On the other, they're usually independent. The only drawback? Litter boxes. They're ugly, stinky, and take up space you could use for more important furniture or storage pieces. That's why we turn to cat litter houses. They provide you with a convenient place to put your kitty's litter boxes while covering up the smell and look. While searching for the right litter houses, we wanted to make sure we gave special attention to a few key details. Those include the size of each box, how well they can hold in odors, and how easy they are to assemble. For example, the Pawland litter house is effortless to put together, and it does a fantastic job of covering up smells. However, it isn't as large as the Best Choice large litter enclosure, which is probably the only option that can fit the largest cat breeds. Meanwhile, neither of them has the added cat scratcher that makes the Good Life USA house so awesome.
Pawland Decorative Cat House
How does a cat house that doubles as nice decor sound? We think it sounds great. Enjoy keeping your cat's messes hidden (and its smells, too) with the help of this decorative cat house. It features an enclosed litter box with a discrete opening for your cat to jump in and out of. It appears to be a nice, small decorative table where you can display some of your favorite art or decor. Or, if your cat fancies it, she or he can use the flat top for a nice place to take a nap.
Pros:
Assembling this cat litter house is quick and easy. You can get it put together and filled with litter in as little as half an hour.
Airflow vents in the back help odor dissipate while helping your cat feel more comfortable inside.
The large door opens up and gives you access to the inside without anything getting in your way. That makes it easy to clean while giving you a simple way to get your cat in case of an emergency.
Cons:
The instructions for assembly may be hard to follow for anyone who has never put anything together before.
Internet's Best Store Decorative Cat House & Side Table
Few things feel worse than those assembly-required projects that end up taking the entire day and leaving you with a piece of furniture that is barely functional. Thankfully, that isn't the case with this cat litter house from Internet's Best Store. This piece includes a link to an instructional video, which makes the assembly process straightforward and clear. The door on this house is fixed with a hole that allows your cat to jump in and out. And when it's time for you to clean out the litter box, simply open the hinged door and swap out the litter. The design of this is a nice, clean white that features a wide tabletop for placing plants, books, cats, and more.
Pros:
This litter box looks fantastic, and we think it's the perfect choice for when you want to give your kitty a few options. You can put one on each level of the home to give your cat plenty of options while keeping your decor cohesive.
We find it super easy to clean. A small hand broom is all it takes to sweep out dry litter, and you can wipe up the surface with a simple rag.
The size is ideal for nearly any space. It's small enough for cats to feel nice and secure while providing plenty of potty space.
Cons:
You can't fit standard-sized litter boxes inside of this litter house.
Good Life USA Modern Wood Pet Crate
The last thing you need is for your cat litter house to fall apart. Talk about a mess. With one like this from Good Life USA, however, you can rest easy. This cat litter house is durable and built to last. Even better, it looks like a regular piece of furniture and you can choose the color that best matches the decor of your room. The paint on this is waterproof and the legs are made of solid wood, so you know you're getting better quality than other litter houses on the market.
Pros:
The entrance to this litter house has a built-in scratchpad, which catches any litter that your cat may track out of the box while giving them a handy place to exercise their paws.
We find the extra space inside to be ideal for storing a small broom or your litter scoop.
Doors at the front of the house give you fast access to cleaning and changing out the litter. They're especially helpful for those of us with pain in our knees and backs because they help us get in and out quickly.
Cons:
Assembling this litter house can be time-consuming.
Staart Decorative Dyad Wooden Cat Litter
It is possible to have a modern home that is well-decorated and a cat that uses the litter box. You can do that with this cat litter house from Staart. It is a classic mid-century design and features a white finish with gray accents. No one will ever guess that you're hiding a litter box in there. You can put this in your living room to use as a side table or in your bedroom to use as a nightstand. Who knew kitty bathrooms could look so nice?
Pros:
The materials are all high-quality and eco-friendly, making this a great choice for busy cat-parents. You can put it together and be on your way with no problems.
This cat house is an affordable option, especially compared to others of the same size. That makes getting more than one convenient.
There is plenty of ventilation on the sides to prevent odors and bacteria from building up. It also helps your cat feel more comfortable while using the bathroom inside.
Cons:
The entry hole is on the side, making it a bit harder to find a good spot to tuck it in.
Best Choice Products Large Wooden Cat Litter Box Enclosure
Do you have one cat who requires a lot of space? Or do you have multiple cats that need to share a litter box? Either way, this large cat litter house from Best Choice is the way to go. It's larger than your average house, which provides more space for your cat to enjoy and more space for you to decorate as well. Take advantage of the flat top of this piece to display your favorite art or leave it for your cat to enjoy. This house has a solid wood frame with metal fastenings so you can trust it to last.
Pros:
This house gives your cat plenty of space to move around, even if you have a larger breed, such as a Mainecoon. It also provides a little buffer zone that stops litter from being tracked out.
The built-in magazine rack adds some flair to the house while giving you a handy spot to put books, magazines, and other stuff in, making it convenient to use as an end table.
We appreciate that both color options are light and neutral. They help this large box fit into any space discreetly and with style.
Cons:
It's quite heavy and hard to move once you have it all put together.
Frequently Asked Questions
Is it safe to have a cat litter box in your bedroom?
The dust from cat litter can be a lot for you to breathe in, but if you have the box enclosed in a cat litter house, it reduces the risk of you being exposed to all that dust. It is important to clean it regularly for both your health and the health of your cat.
How do I keep my cat from tracking litter all over my house?
A high-sided litter box helps your cat shake off more of the litter before he or she exits the litter box. A higher box will also help to contain the mess so you aren't left with extra cleaning every time you swap out the old litter.
How many cats can use one litter box?
It is best for cats to each have their own litter box. This helps to ensure that everyone has their own space and can rid of their waste comfortably and when they need to.
About the Author
About the Site
CatTime
Since 2008, CatTime has provided millions of cat owners with all the information they need to keep their pets happy and healthy. Our experts know exactly what it takes to raise our furry friends and our goal is to help all owners, new or experienced, care for their cats with all the right food, toys, equipment, and accessories.