The Best Cat Litter Receptacles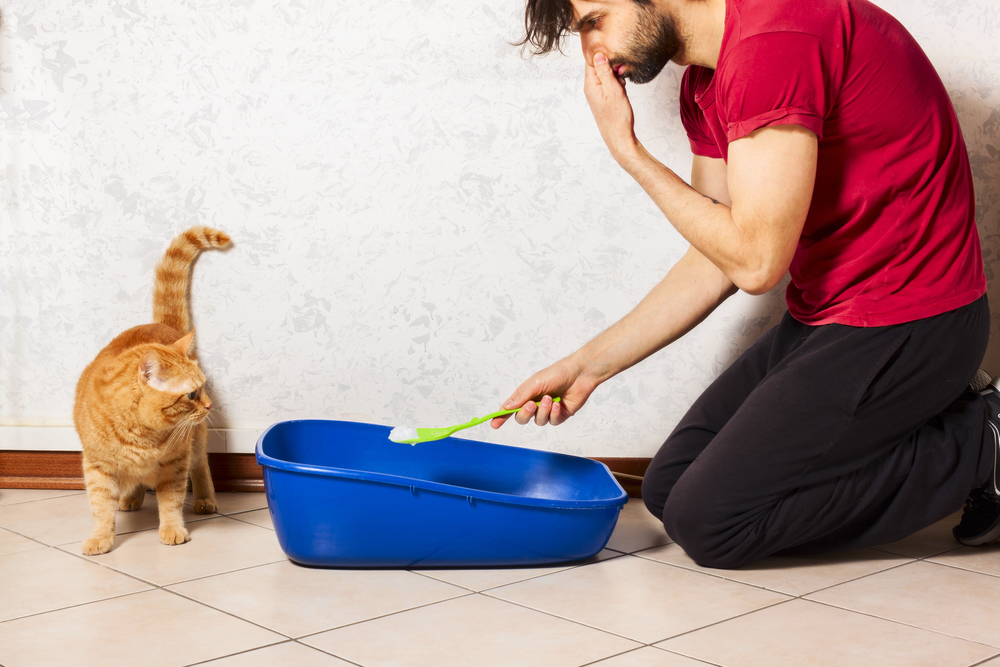 We love cats to no end. However, their bathroom situation can be more than a bit stinky. If your home sometimes smells like litter or if you're sick of taking cat waste out to the trash can multiple times per day, a litter receptacle is exactly what you need. These simple-yet-effective bins seal out the stink and some even include deodorizers and bags. Here, we've come up with a list of the best of the best. Read on to find the one that's right for you and your feline.
Litter Genie Plus Pail
This is the cat Litter Genie that started it all and its performance will not disappoint.
To control the odor of cat litter and lessen your trips to the outdoor trash can, we recommend the brand that created the idea in the first place. This cat litter receptacle is made by the company Litter Genie. To dispose of your kitty's waste, all you need to do is open the can, drop in the litter, and pull the handle to lock everything inside. The locking design and the special odor-reducing bags are sure to keep your house smelling fresh, even if you don't take litter to the garbage as often as before.
Pros:
This litter genie can hold 14 days of cat litter, so you can drastically reduce your number of trips to the trash can
The small design of this device makes it perfect to tuck way in any corner of your home
The litter genie has a convenient spot on the side to hold your litter scoop
Cons:
This does require special Litter Genie bags, which can add up in cost as time goes by
PetFusion Portable Cat Litter Disposal
If you've got multiple boxes to clean, you'll appreciate this cat litter receptacle with a comfortable handle for easy moving.
This is the perfect litter receptacle for homes that have multiple cat litter bins spread throughout different areas or rooms. It's lightweight and small in size, and it's got a sturdy, comfortable handle on top so you can easily carry it with you wherever you need to.
This litter receptacle is also unique because it can be used with any type of bag, so there's no need to spend large amounts of money on special refills or brand-name products. You can always choose scented bags if you want a little bit of extra odor-fighting power, but the lockable air-tight lid and dual-layer design are great for that, too.
Pros:
This option has a charcoal deodorizer inside for extra odor protection
It can hold up to two weeks worth of litter at a time
Bag-holding snaps will hold any size bag perfectly in place
Cons:
It's a bit pricey, though you may save money over time since you don't have to buy any specific refills
Litter Champ Premium Disposal System
This cat litter receptacle will fit in almost any space.
Living in a small space can be challenging on its own, and being a cat owner can make it a bit harder. Luckily, this litter receptacle from Litter Champ is made to fit in teeny tiny spots, so you don't have to sacrifice odor-fighting abilities to save on the small amount of spare space you've got left in your home.
This option is just 19 inches tall and 9 inches wide. It opens with an easy foot pedal and it has a hook on its side to hang your litter scoop from, saving you even more space in your little home.
Pros:
This litter receptacle has three seals to keep odors inside at all times, keeping your home fresher than you ever thought possible
You can use any type of bag with this device
It comes with a handle on top for easy carrying
Cons:
This does not have a locking lid, but it still does a great job of keeping odors inside instead of in your home
Litter Genie XL Pail
If you're a proud cat lady or gent with multiple cats in your home, you'll love the impressive storage capacity this container has.
Maybe you've got a few cats roaming around instead of just one, or maybe you need a bit more time between garbage can trips. Either way, you're sure to love this extra large cat litter receptacle from Litter Genie. It works just as well as their original product, but it holds 21 days of cat littler instead of the typical 14.
This cat Litter Genie is easy to use, and it has multiple odor-blocking mechanisms. Its top locks tightly when it is shut and its bags are meant to hold in both odor and germs for your comfort and safety.
Pros:
Even though this option has a large capacity, it is still small enough to store in an inconspicuous space
This container keeps smells out just as well as smaller devices, even though it holds waste for longer periods of time
Cons:
Since it's a bit larger, it may not be the best for extremely small spaces
The refill bags can get expensive over time
Litter Locker Fashion Disposal Bucket
This cat litter receptacle is made to look good, even if it doesn't have the most attractive purpose.
If you're on the hunt for a litter genie that will look nice in your space, you'll love this device from Litter Locker. It's specially designed to hold odors away while not taking away from the aesthetic of your home.
This cat litter receptacle is all white and small in size. It works with refill bags that can hold up to 2 weeks' worth of litter. It even has fabric covers (available at an added cost) that can make it look nicer if you want something other than the all-white style.
Pros:
This option comes with a cat litter scoop as well as a free bag refill to get you started
It has a spot on the side to store your cat litter scoop between uses
The locking lid holds odors inside extremely well
Cons:
The cost of the refill bags can add up over time
The cost of this device is higher than most
Frequently Asked Questions
Q: What are the best spots to store a litter receptacle?
A: Most people prefer to keep their litter receptacles right by the litter box for easy cleaning. With that said, it can easily be tucked into an unseen corner or even set inside of a larger cabinet or closet if you want to keep it out of plain sight.
Q: Does any odor come from the receptacle when it's closed?
A: These devices are made to lock away all scents, so they should not smell as long as they are used according to the instructions they come with.