How To Choose The Best Cat Nail Cap For Your Cat – CatTime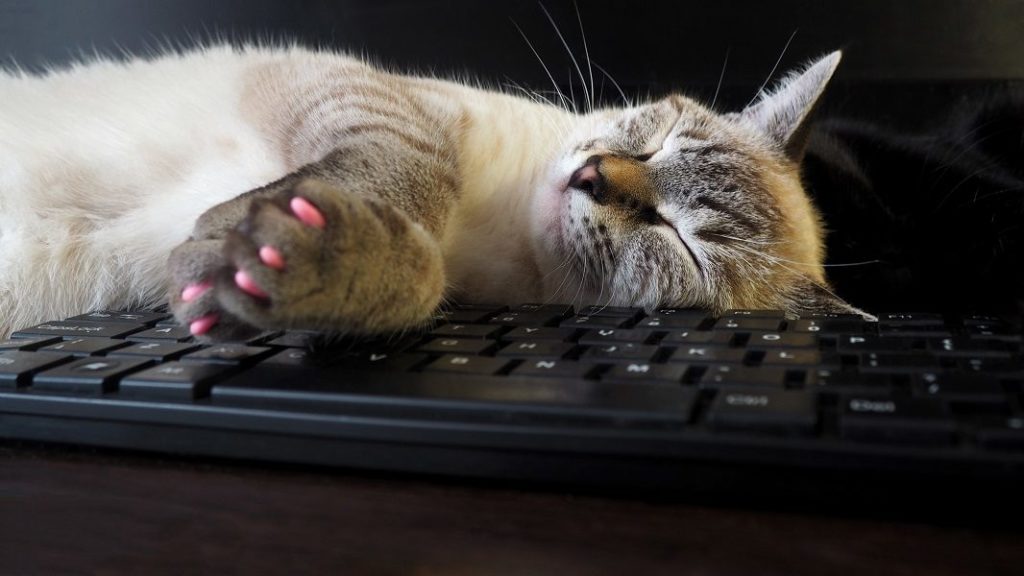 Is your cat scratching the furniture frequently? If your feline's nails are a big problem for the environment, you want something to prevent snags and scratches. The solution lies in finding the best cat nail caps out there. These products protect your furniture and other items from scratch, and they also improve your cat's appearance. Take a look at our selection of cat nail caps and find a suitable choice for your pet. Don't forget to read our shopping advisor to learn more about the product's features!
Best Choice
VICTHY designed a pack of 100 cap pieces that are very durable, long-lasting, and fit the latest environmental standards.
Pros:
The medium size pack will fit most adult average size cats. The manufacturer mentions the package is suitable for felines between 11-16.5 pounds. You can also choose alternative sizes depending on your pet. The caps fit the environmental standards and are non-toxic. Even if your cat swallows them, they won't present a threat to their health. The pieces are durable and will prevent the furniture and environment from kitten scratching them. Applying the caps is easy, and you receive glue and applicator with the unit. The maximum durability of the product is up to six weeks, although that will depend on the pet.
Cons:
You will need a bit of practice when applying the glue since it is easy to apply too much. Although nail caps are durable, persistent cats can pull them off easily. Some felines might find the caps annoying, and they can make them nervous. The pack contains multiple cat colors, but you don't get to choose. If you have a male cat, you might not want to put rose caps on him, and that might limit how many units from the pack you will use.
Best with Glue
You will receive 140 pieces in each nail cap pack. If you plan to use the product frequently, and you like to experiment with colors, this pack is a suitable choice.
Pros:
Each pack of VICTHY cat nail caps includes 140 pieces, as well as seven glue units and applicators. The manufacturer included a generous amount of glue, so there is no danger of running out. You will find 14 different cap colors, which gives plenty of room to experiment with your feline's appearance. The product doesn't contain any harmful chemicals, and it fits the latest safety and environmental standards. Multiple sizes ensure that you pick the right caps for your cat effortlessly. The pieces are quite durable, and they can last for weeks if your cat is comfortable wearing them.
Cons:
The colors are random, and only luck determines how many caps of each color will be included in the pack. It takes effort to apply them to the cat, especially if your pet is nervous and restless. The glue might have a distinctive smell once applied. Beware of using too much glue since it ruins the appearance of the nails.
Best Non-Toxic
These kitten caps fulfill all expectations when it comes to this type of product, including meeting the safety standards and offering suitable durability to protect furniture and other items.
Pros:
If your cat is a scratcher, you need durable nail caps, and these are very resistant to bites and wear and tear. They can do a good job of stopping snags and scratches. The manufacturer claims a single piece can last up to six weeks from application. The pack includes caps, adhesive glue, and applicators. Each box contains two colors, and you can choose which patterns to include in the unit. Two-color options, glitter, and other accessories are great for those looking for unique designs. The caps and the glue are both non-toxic and safe for your pet.
Cons:
The caps are rather large, and you will need to trim them to fit your feline. It is hard to get the right quantity of glue to apply. If you utilize too little, the cat takes the cap off in a couple of days, but applying too much leaves a visible stain. The pack only contains two color combinations, which is quite limiting.
Best Price
If you never used claw caps before, this compact pack is a great fit to test the product and see whether it is what you need.
Pros:
Ninery Ave designed a compact-sized nail cap box with 20 pieces inside each unit. You can pick your favorite color and choose between multiple sizes. The manufacturer ensured that the product meets safety standards, which means it is made of non-toxic and safe compounds. The adhesive glue is fairly easy to apply since the tip acts as an applicator. The caps are relatively light, which increases the odds that your feline won't mind wearing them. The price is quite affordable, and the compact box is suitable for testing the product before buying a large pack for long-term use.
Cons:
Each pack only includes a single color. If you are looking to experiment with your cat's appearance, you will need to buy multiple boxes, which increases the price. The clear color becomes yellowish quickly, especially if your pet spends a lot of time outside. After applying, you need to keep your cat calm for five minutes until the adhesive sticks. That can be tricky if you have a nervous pet.
Best with Extra Strength
Clawndoms designed soft and flexible nails that are also very durable and offer admirable protection against snags and scratches.
Pros:
If you have a cat that doesn't like wearing nail caps, these units might prove to be a smart choice. They offer a natural feeling due to their softness and flexibility. Your feline won't even notice wearing them, which increases the chances of caps lasting for a long time. The glue is quite strong, too, and it will take a lot of effort to take the caps off. The manufacturer used non-toxic and safe components and avoided any harsh chemicals. You can choose between nine different colors and three sizes to fit both your and your feline's preference.
Cons:
Product price is not that tempting, especially since you get only 40 cap pieces, and you don't get to choose more than one color. Users new to claw caps might have problems applying the optimal quantity of the glue. The entire application process can be inconvenient if your feline refuses to cooperate.
What Really Matters
What are the most important features to consider when choosing cat nail caps? Check out below and learn more about picking a suitable cap pack for your feline.
Quality
Start with considering the quality of your desired cat nail caps. First, high-quality caps will last longer, which means you can put them on, and rest assured your feline will wear them for weeks. Additionally, quality items are also safe and non-toxic, which means they can't harm your pet.
If your cat is nervous, restless, and doesn't like the caps, you might want to go with extremely soft and flexible pieces. That way, you ensure that your pet won't feel wearing the caps, which means they won't have the urge to bite them off.
Apart from the caps, you should also consider the quality of the glue. It should be made of safe compounds and be easy to apply. That is why most manufacturers include an applicator with their products.
Size
Cat claw size varies depending on the breed, age, and weight of the feline. That is why you need to pick a suitable size for your pet.
Most manufacturers offer a choice between multiple sizes, but make sure to pick the corresponding one. The smallest size is usually for kittens, and medium-size will fit most average cats. If your pet weighs over 17 pounds, you might need large and durable claw caps.
Apart from the size, consider how many nail caps are within the box. The smallest packs will contain 20 pieces, but the largest boxes might come with 140 units or more.
Color
Your final consideration should be the nail cap color, and you can choose from a wide range of options on the market. Large packs will frequently come in two or more color options, while compact boxes might offer only a single color.
The color choice should fit your and your feline's preference. Feel free to mix and match with different colors. You can get creative and experiment with different designs to add to your pet's appearance.
What's in Right Now?
Your cat is incredibly important to you, and you want only the best for them. The owners are paying more attention than ever to the products their pets use. That is why the latest trend in the cat nail cap industry is manufacturing safe and non-toxic units.
These units meet the latest environmental standards and are free of harmful chemicals. That is critical because your cat might eat the cap when you are not looking. If you pick a safe unit, eating the cap won't harm your pet. Many cats are prone to biting the caps off their nails, which is why non-toxic caps could be a smart investment.
Prices
You don't have to pay a fortune for cat nail caps since these products are quite affordable. However, there is still a difference in cost, depending on the brand and other factors.
Here are the main three pricing categories:
Cheap – you can acquire these cat claw caps for less than $5. You shouldn't expect more than 20 or 40 pieces in a box, and anything more than that could compromise the quality of the caps. The choice of colors might also be a bit limiting at this price range.
Mid-range – the average cost of cat nail caps is between $5 and $10. The actual price will depend on what you need. You can get a large number of caps at this price range, or go for pieces that are big and suitable for large and heavy cats.
Expensive – if you choose to pay more than $10 for nail caps, you could say they are expensive. However, the biggest packs are available at this price. If you pick wisely, you could be making a long-term investment, and caps could last for a long time. Alternatively, you could get the highest quality caps, which is an excellent way to go if you have a nervous cat prone to biting the pieces.
The crucial thing to ensure is that the caps offer a decent value for money. Apart from the quality and brand, consider the number of pieces in the pack. That can also affect the price significantly.
FAQs
Q: Are cat nail caps safe?
A: Claw caps are generally safe, and they are not a threat to your pet. However, make sure to pick caps made of natural and non-toxic materials. That way, they can't harm the pet even if they eat it.
Q: How do cat nail caps come off?
A: In most cases, your cat will bite through the cap after a while, and it will fall off. However, if you want to remove it manually, the key is to remove the adhesive bond. Do that by trimming the top of the cap slowly. As soon as you break the bond, it will be easy to remove the cap from the base.
Q: How long will cat nail caps stay on?
A: The initial factor of cap durability is how comfortable your cat is wearing it. Nervous felines might bite the cap off in days or only hours. Product quality also affects how long it will stay on, and the best caps out there can last for weeks.
Q: How to apply cat nail caps?
A: You should receive detailed instructions with your product. However, the general process involves trimming the caps and nails to fitting sizes, applying the glue with the applicator, and placing the cap on your cat. In most cases, it will take a couple of minutes for the glue to stick, so make sure your pet doesn't touch the cap during that time.