The Best Cat Scratchers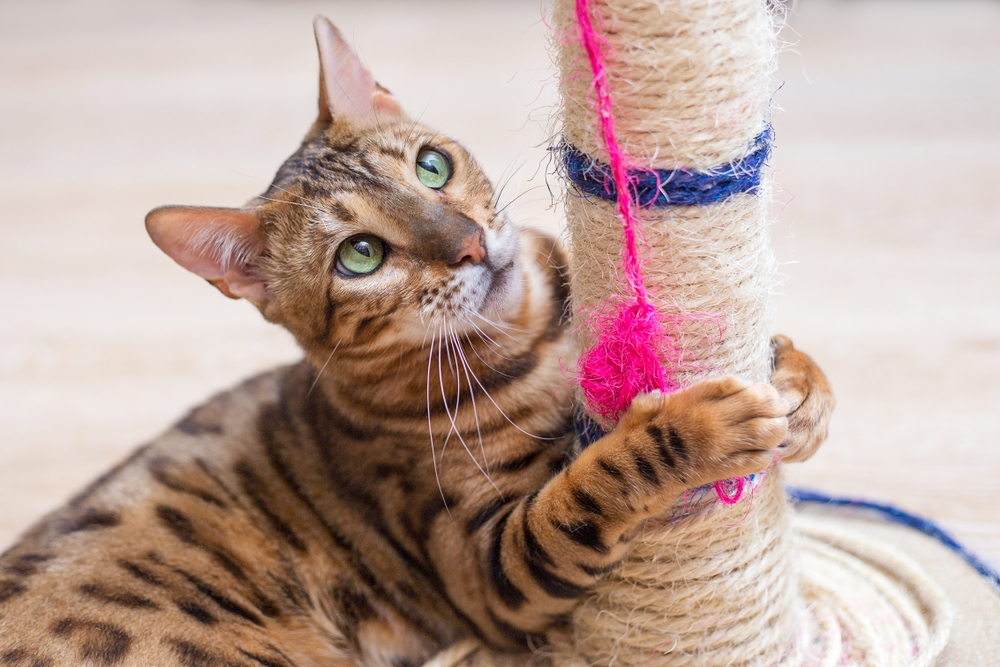 There are two types of cat scratchers in this world: the one you choose for your cat, and the one the cat chooses in spite of you. The one the cat chooses can include your couch, your rug, your favorite purse, the side of your leg, or that priceless Picasso you inherited from Aunt Penelope. That's why it's critical that the cat scratcher you choose is the one your cat uses. Cats are going to scratch - there're no two ways around it. They scratch to clean and sharpen their claws, to exercise their muscles, and to mark their territory. Finding the right object for this activity is critical for your cat's happiness - and yours. Cat scratchers are as varied as a cat's breed and personality, so finding the exact match for your cat can take a little trial and error. To help you out, we've whittled down the options to the best of the best.
Coching Cat Scratcher
With a simple, flexible design and rugged construction, the Coching Cat Scratcher is our pick of the litter.
If you're looking for a simple, affordable cat scratcher – or you've never tried a cat scratcher before – the Coching Cat Scratcher is an excellent place to start. The durable, 100% recycled cardboard material is designed to mimic tree bark, making it not only irresistible to cats but 50% stronger than comparable products. All materials used are non-toxic, including the cornstarch-based glue, so you know it's safe for your beloved pet. Better yet, the minimalist design suits every type of home decor, and when your cat is finished destroying one side, you can simply flip it over and let her start again. At just under 16 inches long, it's the perfect size for small and medium-sized cats.
Pros:
6-month warranty for finicky cats
Available in four colors & sizes
Comes with catnip
Cons:
Sides can be scratched off
Not for large cats
Kitty City XL Corrugated Scratcher
At a foot-and-a-half long and nearly a foot wide, the Kitty City XL Corrugated Scratcher is ready for the big time.
If you own a Maine Coon, perhaps you're going to need a refrigerator box for a cat scratcher. But for all the other jumbo-sized cats, the Kitty City XL Corrugated Scratcher is right on the money. It's not only 18 inches long, but at 10 inches wide it's broader than most of the competitors in the market. Featuring all-recycled heavy-duty cardboard and a reinforced encasement, it's also strong enough for those big strong claws. A high-value buy, this one comes in a 3-pack for what you typically pay for just one.
Pros:
Reversible
Non-toxic
Slim for easy storage
Cons:
Material isn't dense
Catnip can fall through the bottom layer
PetFusion Ultimate Cat Scratcher Lounger
Give your cat another reason to love his scratcher by making it a bed as well.
Basically, cats do three things all day: eat, sleep, and scratch. The folks at PetFusion got wise and combined two of these activities to create their Ultimate Cat Scratch Lounger. With a curved shape that looks like it was inspired by a 70's science fiction movie, this lounge is a beloved nap spot for cats. And, at 34 inches long, it's great for owners who have multiple cats who like to sleep together. The lounge is fully reversible and encourages play thanks to the open ends and varied surfaces. Another durable option, the PetFusion Ultimate Scratcher is stitched together piece by piece for stability and strength.
Pros:
Three neutral colors
100% organic catnip included
Perfect for bay window areas
Cons:
Typically lasts about 6 months
Heavier than others at 10 pounds
PetFusion Vertical Cat Scratching Post
For cats who stand up to scratch, the PetFusion Vertical Cat Scratching Post is a great substitute for walls and screen doors.
Some cats prefer to stand up on their hind legs and scratch away. For these cats, their victims typically end up being walls, screen doors, and couches. Fortunately, PetFusion has the perfect solution: the 3-Sided Vertical Cat Scratching Post. Shaped like a triangle with curved sides, the post stands a whopping two-feet tall, allowing cats to stretch out and scratch to their heart's content. With reinforced cardboard mesh on all three sides, you can continually rotate the structure to provide fresh scratching material, while smaller cats will love to play or even sleep in the wide middle section of the post. Another fantastic overall option, the PetFusion Vertical Cat scratching post is designed to save your furniture.
Pros:
Aesthetically-pleasing
Also works in horizontal format
Available in Standard and Large
Cons:
One side is not corrugated
Cornstarch glue melts under heat
Furhaven Pet Busy Box Toy Scratcher
For cats that love combining playtime with scratch time, the Furhaven Pet Busy Box Toy Scratcher has you covered.
If you've watched a cat tear apart a stuffed toy, you know that scratching is about play as well. Furhaven Pet knows this too and has designed a series of cat toys that act as scratchers at the same time. Our favorite is the heart-shaped Busy Box. As the name suggests, it's a heart-shaped box with corrugated scratching material on top, ringed by channels that have two jingle balls inside. When not scratching away on the outside, your cat will go nuts batting the balls around the groove, providing hours of play. Furhaven Pet features 15 other designs as well, so you know there's one your cat will fall in love with.
Pros:
90-day limited warranty
Catnip included
Reinforced cardboard grooves add stability
Cons:
Made for smaller cats
Smaller scratching surface area
Frequently Asked Questions
I really want my cat to use a scratcher instead of my couch but he won't. How do I get him to use one?
Cats are people, too, as the saying goes, so it's really hard to know what your cat will or won't do until he tries it. Some owners have to go through a few different shapes, sizes, and designs until they find the scratcher their cat prefers. It's a good idea to add a little catnip to the scratcher to see if that will stir some interest. Otherwise, just remember that your cat needs to scratch, so he'll have to find something acceptable to both of you eventually.
I love my cat scratcher but I hate all those little pieces of cardboard that get on the floor. Is there anything I can do about that?
Those little pieces of cardboard are inevitable with these scratchers. The good news is that they're super easy to clean up with a vacuum. And because they're fully biodegradable, you don't have to worry about their effect on the environment. Otherwise, just try to find comfort in the fact that it could be pieces of your couch littering the floor instead of pieces of cardboard.