The Best Cat Strollers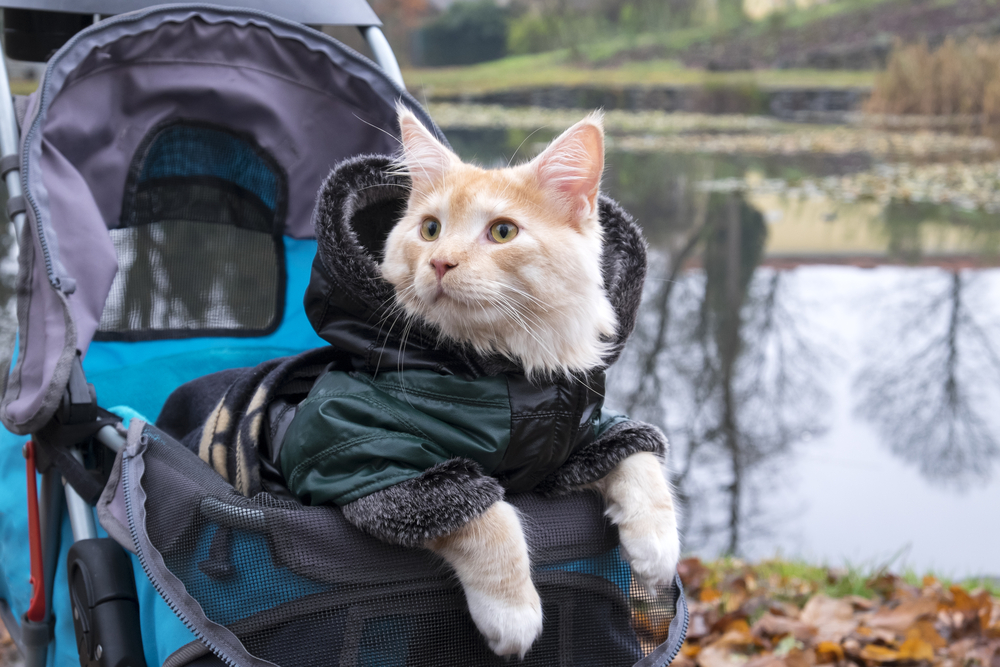 Cat owners are in a tough spot when it comes to the indoor/outdoor debate. On one hand, cats have an instinct to want to explore the great outdoors. On the other, the outside world poses many dangers to our feline friends we'd like to shield them from. One way to give you and your cat the best of both worlds is a cat stroller. Cat strollers are exactly what they sound like. Just like you'd walk your baby around in a stroller to let them check out the outside world, you can now do with your cat in a cat stroller. There are plenty of cat strollers available these days, and features and styles run the gamut. To help you find the right one for you, check out our list of the best cat strollers in the business.
Pet Gear Happy Trails Lite Cat Stroller
As the saying foretells, sometimes curiosity can get our furry friends into trouble. Fortunately, with Pet Gear's Happy Trails cat stroller, you can let your cat's imagination run wild without ever letting them out of your sight. Pet Gear's cat stroller has a spacious and comfortable main compartment for your cat to hang out in along with a large basket underneath. The mesh lining that goes over the main compartment is easy-locking and zipper-free. This cat stroller also boasts some heavy-duty double-lined wheels that can handle gravely and cracked sidewalks with ease.
Pros:
Although it isn't mentioned in the description, this stroller features small windows on the top and back of the main compartment. This will allow you to be able to see your pet, and for your pet to be able to see you.
Whereas some strollers might tip over if your cat sits too far back, this one is sturdy enough that it won't tip no matter where your cat is positioned.
Cons:
The locking mechanism on the mesh lining can become loose at times, so be sure to check on it periodically.
Nova Microdermabrasion Foldable Cat Stroller
This cat stroller from Nova Microdermabrasion is built with comfort for your cat in mind. The floor of the main compartment features a padded foam bottom that provides support and comfort to your feline friend when you're strolling about town. The mesh window covering the main compartment is easily accessible via zippers in the front and back. The spacious basket underneath the main compartment is a perfect spot to throw your bag, cat food, water, or other personal belongings. The double-lined wheels have 360-degree swivel capability, making them better suited to handling unpaved or gravely sidewalks. Not to mention, this cat stroller folds up for storage in mere seconds.
Pros:
This stroller is so spacious that it can accommodate not just one, but two, small pets. If your cats are attached at the hip, then you'll want to check out this roomy option.
The great design makes it easy to push, whether you're a taller adult or a child. Anyone in the family can take your kittens out with this great stroller.
Cons:
The built-in cup holder may be too small for some drinks.
Vivo Foldable Cat Stroller
A spacious main compartment in your cat stroller is essential, particularly if you have a nervous cat. Vivo's foldable cat stroller provides you with an exceptionally roomy main compartment that should be able to fit even the world's largest house cats. The wide mesh lining covers the entirety of the main compartment window. There are multiple access points to open the compartment via zipper. This main compartment is so spacious that it can hold any pet up to 30 pounds, making it an ideal pick for cat owners who also have dogs. Not to mention, the bottom basket is large and deep enough to hold all of your personal belongings such as a backpack, purse, or food and water for the cat.
Pros:
Although this stroller is meant for just one pet, it can comfortably fit multiple small pets within it. You'll be able to bring all your pets out at one time with this convenient, roomy option.
This cushion stroller is perfect for pets with physical limitations who still love being outdoors. They'll be able to explore in comfort without over-exerting themselves.
Cons:
The wheels could be a bit more durable.
Ibiyaya 5-in-1 Cat Carrier
Ibiyaya's innovative and unique 5-in-1 cat carrier would make a truly impressive addition to any cat owner's pet product arsenal. Not only does this thing act as a stroller, but it can also turn into a cat backpack, a cat roller, and a cat car seat. With this product, you can take your cat with you anywhere you go. If you get tired of using the stroller, just put it into backpack mode and let your cat peer out of the mesh lining while you stroll through the park. There's no limit to the possibilities you and your feline friend can explore with this remarkable product from Ibiyaya.
Pros:
We found that even children can easily navigate this stroller. If your kids love to take their pets out, then this is a great option for you.
This multifunctional carrier is the perfect solution to traveling with pets. You no longer have to worry about bringing a bulky stroller and a separate carrier—with this option, you'll have both pieces in one, easily portable design.
Cons:
This option is a bit pricier than its competitors.
Our Tips and Tricks
Every cat owner and every cat has unique needs. It's important to consider what these are when considering what stroller to purchase. For instance, does your cat suffer from physical discomfort or health concerns? Then you may want to consider an option that prioritizes comfort. Do you travel frequently with your pet via car or plane? If so, we recommend that you consider a multifunctional option that will allow you to bring your cat inside transportation with the detachable carrier. Are you a city dweller? If you are, we highly suggest a stroller with durable wheels that will smoothly travel over gravel.
Frequently Asked Questions
Can my dog also use this cat stroller?
Yes, cat strollers can be used with other appropriately sized pets. As long as your dog is small enough to fit inside the main compartment and they don't exceed the weight limit, they can come along for strolls as well. 
Why is this a better alternative to taking my cat on a walk with a leash?
For the most part, cats are vehemently resistant to leash walks. Unlike dogs, they do not follow along very well. They go where they want to go, stop when they want to stop, and do not understand the cues you give them. Many owners have been successful at training their cats to walk, but it is an arduous process that the vast majority of cats will despise every step of the way. Cat strolling, on the other hand, is a far less frustrating and far more fruitful endeavor.
About the Author
About the Site
CatTime
Since 2008, CatTime has provided millions of cat owners with all the information they need to keep their pets happy and healthy. Our experts know exactly what it takes to raise our furry friends and our goal is to help all owners, new or experienced, care for their cats with all the right food, toys, equipment, and accessories.