The Best Cat Supplements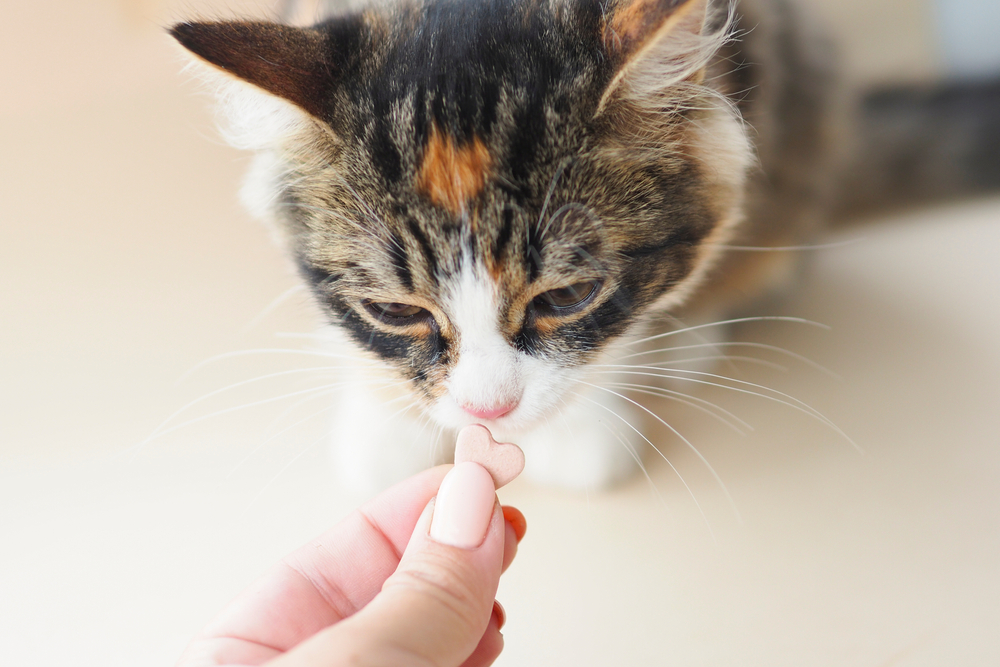 Our cats deserve the best, but sometimes, a traditional kibble diet isn't enough. Thankfully, a variety of cat supplements are available to meet the health needs of all cats. These drops, powders, and treat-form products help with everything from skin issues to stomach health. And we've found and reviewed the best options on the market, so keep scrolling to get your search started.
What to Look For
While reviewing today's best cat supplements, we focused on three key features: safety, effectiveness, and ease of administration. We first found ourselves appreciating the Purina FortiFlora, as it's something most cats can benefit from, and it comes from a trusted brand. We also loved the Nodens Hip and Joint drops for their quality ingredients and quick results. Which supplements will be best for your pet? Simply read on to find out.
Purina FortiFlora Probiotic Cat Supplements
This powder can help cats with stomach discomfort, unexplained diarrhea, and more.
From hairballs to vomiting, stomach issues are all too common for our feline pets. This probiotic cat supplement is designed to help with the power of live active cultures. It comes in powder form, each serving in its own separate packet. Simply pour it on top of your pet's food and watch them enjoy the tasty liver flavor. It's made by the long-trusted brand Purina and is based on veterinary science recommendations.
Pros:
Enticing flavor
Available in 1 or 3-month supplies

Supports digestion, immune health, and antioxidant intake

Often solves cat diarrhea with no found cause
Can help cats avoid intestinal distress during antibiotic treatments
Cons:
Higher than average price
Nodens Hip and Joint Cat Supplements
These all-natural drops can support older cats with arthritis and other similar conditions.
If you have an older pet who struggles with bone or joint pain, this cat supplement may help. It's often given to cats experiencing osteoarthritis or degenerative joint disease. The natural ingredients nourish and replenish joints and bones and may even reduce painful swelling. The mixture is human-grade and made in the USA, so you can trust your pet is getting the highest quality treatment. Even better, the yummy beef flavor makes the supplement easy to administer by mixing it into your kitty's food.
Pros:
Reasonable price

2-month supply
Results could appear in as little as one week
All vitamins and other ingredients are listed clearly on the bottle
Also includes taurine for overall cat wellness
Cons:
Mostly designed for older cats; not all age groups
PlanoPaws Omega-3 Skin and Coat Cat Supplements
Beautify your pet's fur, and maybe even reduce their shedding, with this incredible fish oil.
Another problem area for pets is often skin and coat. This cat supplement targets both these issues with the help of pure Omega-3 fish oil. It can help with conditions that include allergies, dandruff, and excessive shedding. Along with these, the mixture also supports healthy bones, joints, and immune systems. Being made from sardines, mackerel, and herring, the oil is especially delicious for cats. Simply add a few pumps to their food and watch the health benefits follow.
Pros:
Affordable price

Low odor

Various bottle sizes are available
Ideal for cats of all sizes and life stages
Comes with two cap types for your convenience
Cons:
All omega-3 products have some level of fishy smell, but it will fade away once it's consumed
ProDen PlaqueOff Oral Health Cat Supplements
Take better care of your kitty's teeth with the help of this tasty and effective food mix-in.
All cats can benefit from oral health support, and ProDen's supplement provides just that. This powder removes and prevents the build-up of plaque, tartar, and bad breath. The natural ingredients include brewer's yeast for flavor and hand-selected seaweed for cleaning power. Each serving is easy to measure with the included scoop, too. Just sprinkle it over wet or dry food.
Pros:
Low price point

The powder has no odor
Resealable, airtight lid
Can help prevent major dental concerns
Improvements should be noticeable in just 3-8 weeks
Cons:
Not safe for cats with hyperthyroidism
VetriScience Lysine Immune Support Cat Supplements
This powerhouse supplement may help prevent illnesses, support eye health, and reduce allergy symptoms.
If your pet gets sick often, this cat supplement is worth adding to their daily routine. It's designed to support the immune system, as well as eye health and allergies, with the help of an amino acid called L-Lysine. They come in chew form, so you can feed them to your pets like treats. And since their results are proven with research, you can trust your pets' health will improve over time.
Pros:
Affordable

Made in the United States 

Safe for cats in all life stages
Helpful for respiratory support during stressful events
Ideal for cats who go to pet daycare and/or boarding centers
Cons:
May be difficult to get pickier cats to consume since these cannot be mixed into food
Frequently Asked Questions
Are any supplements required for cats?
No supplements are currently required or recommended for all cats. The needs of each individual animal will vary. The easiest and safest place to start when deciding which supplements your cat may need is your veterinarian. Bring up any concerns or discomforts your pet experiences regularly, and ask if the products listed above can help.
How quickly can cat supplements take effect?
Some supplements will provide noticeable results in as short as one week, while others take a couple of months. This assumes that the chosen supplements fit in with the condition your pet is experiencing. If your cat doesn't ever show results, it may be worth exploring your concern with a veterinarian in case your cat has a different underlying condition.
About the Author
Why Trust Us
Since 2008, CatTime has provided millions of cat owners with all the information they need to keep their pets happy and healthy. Our experts know exactly what it takes to raise our furry friends and our goal is to help all owners, new or experienced, care for their cats with all the right food, toys, equipment, and accessories.