The Best Cat Sweaters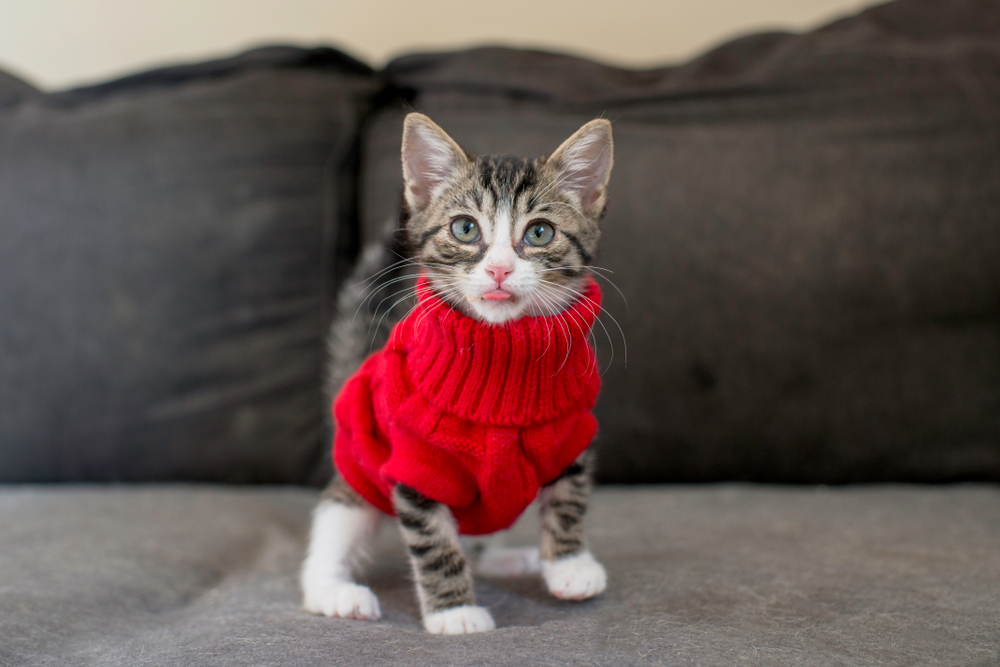 Comfy, cozy, and just plain cute, an adorably tiny sweater might be that one accessory your cat is missing. These fun pieces can be incredibly useful for naturally fur-free kitties like the Sphynx cat. They're also just great for short-hairs that tend to get chilly and kitties in recovery that need some extra help staying warm. From practical-and-warm to pretty-and-posh, there's a cat sweater for every feline. But with all the different options available today, it can be overwhelming when it comes to picking out the right sweater for your cat. To help you narrow down your options, we've searched high and low and found the best of the best in cat-sized sweaters.
Wiz BBQT Knitted Turtleneck Sweater
This high-quality sweater comes in varying colors and is sure to keep your cat cozy and warm.
Keep your baby warm with this darling knitted sweater. You'll be able to choose from six different sizes and five vibrant colors so you're sure to find the right one that suits your cat. This comfy sweater is short-sleeved, has a folded turtleneck, and offers a cute plait braid design. The material is super soft acrylic yarn and we love that it's slightly stretchy so it slips on effortlessly.
Pros:
Easy to wash
Soft to the touch
Comes in a range of sizes and colors
Cons:
It might be best to order a size up as these run small
Bolbove Bro'Bear Cable Knit Sweater
Perfectly snug, you won't need to worry about your kitten or small cat getting lost in this sweater by Bolbove.
If you own a new kitten or an adult cat that's on the smaller side, this knit sweater might be the one for you. Offered in five different sizes, each size runs smaller than you might expect which makes them perfectly suitable for smaller cats. The true shade of the pink and the blue options that you can choose from are very similar to the photos, and there are detailed sizing instructions so there shouldn't be any surprises once your new sweater arrives.
Pros:
Comes with a complimentary silver keychain
Made from machine-washable fabric
Quality, soft material
Cons:
We wish there were more than two colors to choose from
Kitipcoo High Collar Sweater
Your kitty will be sitting pretty with this faux-fur, high collar sweater vest.
Have your cat looking absolutely fabulous in this turtleneck, faux-fur sweater vest. The fluffy collar is truly our favorite part and the soft, hand-knitted fabric is unique. This sweater is offered in five rich colors and is made from anti-allergy material so as not to irritate your kitty's skin. It comes in multiple sizes and has a non-restricting sleeveless design so your cat will feel comfortable all day.
Pros:
100% handmade and well-crafted
Unique, fashionable design
The fit is true to size
Cons:
Pricier than other sweaters
Frequently Asked Questions
Can all cats wear sweaters?
As long as your cat can tolerate clothing, and does not overheat, they should be able to wear a sweater. Ideally, sweaters should be for cats who truly need assistance in maintaining their body heat, like certain hairless cats or underweight cats in recovery. Although hairless cats do not have fur to keep them warm, they usually fair just fine without sweaters. You will want to avoid putting a sweater on your long-haired cat considering they could overheat. In general, placing your cat in a sweater for a cute photo or event should not be an issue. But be sure to watch your cat's body language for signs of distress.
How do I teach my cat to enjoy wearing a sweater?
Some cats will simply never enjoy clothes. Others find clothing comfortable and even calming. Some can be coaxed into tolerating them. We never recommend you force your animal to wear something they clearly do not enjoy just for the sake of them looking cute for you. But if you come across a circumstance where your cat needs the added warmth of a sweater, there are a couple of tips that could help. First off, start slowly and gradually. You can start with collars, bandanas, or bows to get your kitty acquainted with the feeling of something around their body before your upgrade to a full sweater. Secondly, you can try to reward them with a treat for positive reinforcement whenever your place the clothing item on them.