The Best Cat Tents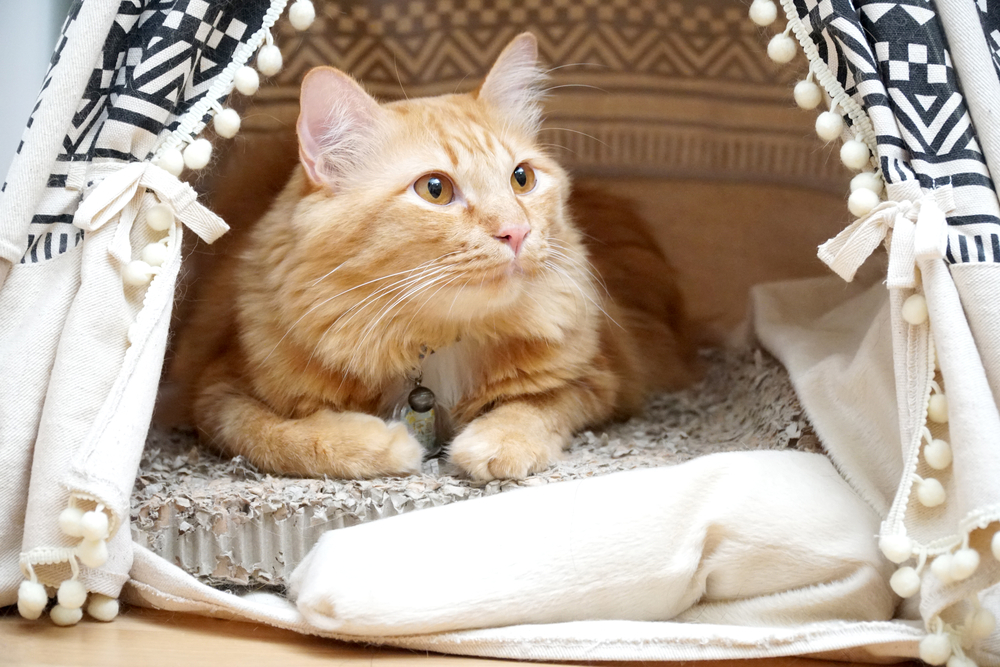 As much as cats like to play, they also want to sleep. In fact, they adore sleeping. Yes, cats can somehow manage to curl up just about anywhere, but that doesn't mean they won't appreciate being spoiled with their own personal cat tent. It's like a home within a home. After all, they love their privacy, so it's only fitting that they should have a personal, comfy nook they can lounge in for hours while they recharge their batteries. So, with our cat's best interest in mind, we did some research. While choosing which cat tents would make the cut, we focused on some key details. First and foremost, safety is the top priority. We wouldn't want to put any of our or your furry friends at risk. Next, we checked out the style and ease of use. For example, the Outback Jack tent pops open quickly and easily, and it looks pretty cool. However, it doesn't fit nicely inside the way the Glitterstar or the Best Pet Supplies can. Each one has its pros and cons, so if you'd like to explore them further, check out this list of the best cat tents.
Outback Jack Cat Enclosure
This outdoor cat tent lets your indoor cats get some fresh air outside.
It's always difficult to watch our indoor cats stare longingly out the window hoping for any chance to experience what's on the other side. Unfortunately, they don't realize that it's for their own safety and protection. That being said, Outback Jack has the perfect solution for those curious cats that need to explore. Their outdoor tent enclosure allows your pet to experience nature from the confines of a netted tent while ensuring they remain comfortably at arm's length. With an accessible price point and a design that lets you keep an eye on their shenanigans, this pick is sure to be a hit with your felines.
Pros:
Assembling this enclosure takes seconds, allowing your feline friend to start frolicking in no time.
The end of the tube can tuck right into a cat door or your window to allow your cats outside access all day long.
This tent includes a little bag for compact storage and convenient travel.
Cons:
The tent only has one opening.
Best Pet Supplies Cat Tent
Supply your cat with the best in comfort.
Despite how much we love our feline friends, we all know that they can be pretty picky at times. Plus, it's absolutely draining to purchase something for them only to find out they prefer the packaging it came in. This is where Best Supplies comes in. Their cat tent is not only the ideal nook for our feline friends who are harder to please, but it provides them with a superior level of comfort and security. Adding to the appeal is the fact that these designs fit flawlessly into your home's décor.
Pros:
Enclosed tent beds, like this one, do an excellent job of helping your kitty feel safe and comfortable, which can help with anxiety and lower their stress levels.
We find that our pets love this bed when it starts to get chilly out. It helps them stay nice and cozy.
Unlike many either pet tents and beds, this one can fit large cat breeds. It can even fit small dogs.
Cons:
The stitching can come undone after several cycles in the washing machine.
Glitterstar Cat Tent
Let your cat feel like a star with this fashionable tent.
Our cats deserve the very best, they deserve to be pampered in every way and they know it. In fact, they demand it at times. Glitterstar is fully aware of this and that's why they've come up with this tent that exudes fashion, comfort, and individuality. Plus, it has built-in tassels, which we all know our cats can't resist. Best of all, it's quite durable and can help shelter your kitty for years to come.
Pros:
This tent is available in several sizes, making it the perfect choice for cats of any age or breed.
All the fun patterns and color options help you find a tent that perfectly matches your decor.
Considering how well-made this tent is, the price is a steal.
Cons:
Cats will be tempted to claw and scratch the microfiber.
Frequently Asked Questions
Are there any features I should keep an eye out for while looking for a cat tent?
Most tents do vary from one another. In fact, some tents don't even have a cushion and are designed primarily for outdoor use to allow your cat to safely experience mother nature. Some are designed specifically for napping while providing your feline with a private, secure resting place. Several take the term 'tent' and give you just that, an indoor structure that resembles an outdoor tent or teepee. These are creatively satisfying and can even give your home décor a little something extra. Some enclosures are multi-functional, meaning they can transform from a tent to a sofa bed. Ultimately, when it comes to a cat tent, it's the dealer's choice, as we know that our individual cats have a personality all to themselves.
Are these cat tents safe?
Absolutely. In fact, they're designed to offer your cat a safe and secure space whether it be for playing or napping. The goal is to alleviate any anxiety they might have by providing them with the privacy they so desire.
About the Author
About the Site
CatTime
Since 2008, CatTime has provided millions of cat owners with all the information they need to keep their pets happy and healthy. Our experts know exactly what it takes to raise our furry friends and our goal is to help all owners, new or experienced, care for their cats with all the right food, toys, equipment, and accessories.