How To Choose The Best Cat Tree For Your Cat – CatTime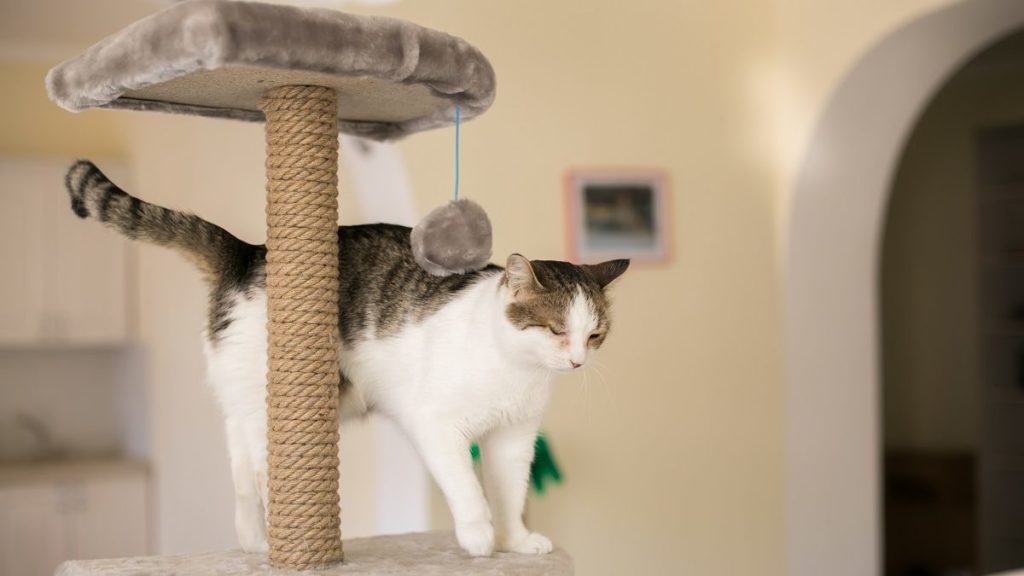 Keeping your feline friends happy, healthy, and entertained is the hallmark of a good pet owner. A good cat tree can help you with all three of these things. A bored cat can become destructive around the house, and a lazy or stressed cat can quickly become unhealthy. That's why it's essential to provide your cat with toys that stimulate them. Cat trees provide a place to play and scratch or stretch out and relax, making it many cats' favorite spot. They come in all shapes, sizes, colors, and configurations, so to help you choose one, here are five of our favorites.
Best Choice
This spacious cat tree from Feandrea stands at over five feet tall, making it suitable for those who have multiple cats to entertain.
Pros:
We love the variety that this tree offers, featuring multiple cozy napping spots, rope toys, and an abundance of reinforced scratching posts. There is even a detachable food bowl, so your cat can chow down while they play. The scratching posts are made from durable, natural sisal rope designed to maintain and sharpen cats' nails. And with a hammock, plush basket, large cat condo, and multiple perches, this cat tree is great for those who own multiple cats.
Cons:
Some users have noticed the rope coming undone or looking frayed, but this problem seems to be few and far between. If you see this happening to you, don't panic, it's nothing a little bit of hot glue can't fix.
Best Multi-Level Cat Tree
Whether your cat likes to lounge, jump, climb, scratch, or pounce, they will love the Lazy Buddy. And more importantly, you'll love how happy it makes them.
Best Multi-Level Cat Tree
Pros:
The Lazy Buddy is constructed with stability in mind and features extra thick boards and reinforced posts. The clever triangular design of each level also promotes balance. so there's almost no chance of your cat knocking it over. The carpeted ramp is perfect for older lazy cats or small kittens that can't quite make that first jump yet. Once they're on the first platform, the other board jumps are a little smaller, all the way up to the cozy perch waiting for them at the top.
Cons:
The biggest complaint among users is the assembly that is required. Since it is so large, it doesn't come pre-assembled, but it does come with all the hardware you need and a promise of easy assembly.
Best Activity Cat Tree
Young or old, your cat is sure to fall head over paws with this cat tree from AmazonBasics. The large scratching area combined with the comfy bed atop makes this tree irresistible to your furry friend
Pros:
This cat tree is one of the best ones if your cat is obsessed with scratching. Hyperactive cats can scratch until their heart's content on the four scratching posts. Unlike other trees that only cover a fraction of the posts with rope, the posts on this cat tree are wrapped top to bottom with jute. The sturdy square base takes up just over a square foot, making this cat tree easy to tuck away in a corner and forget about.
Cons:
The only downside to this cat tree is there's no way to take the carpet off to do a deep cleaning. As you can imagine, cat trees can get pretty hairy with your cat spending hours on them. If you notice the tree getting hairier than you're comfortable with, just run a vacuum cleaner over the surface a few times until it is sufficiently clean.
Best for Relaxing
This sleek Catry cat tree is designed to please both you and your furry friend. The extra sturdy condo base serves as a cozy reprieve where your cat can catch some Zs.
Pros:
The sleek design of this cat tree makes it an obvious choice for anyone who is looking for something simple that won't be an eyesore. The two-tiered layout means your furry friend can lounge around in the kitty condo on the bottom, or jump up to the top to keep an eye on the house. However, what earned this Catry tree a spot on our list is its removable mats that make cleaning super simple. Removable mats aren't a feature that you see every day, so it goes a long way when comparing products.
Cons:
The only thing that takes away from this cat tree is that the more your cat scratches, the more shreds of rope fiber come off. It takes a while to notice but can create a mess on your floor over time. Stray rope fibers are fairly standard when it comes to cat trees, so be sure to pick up the tree and vacuum around it, regardless of which one you buy.
Best Vintage Style
The wood veneer on this Feandrea cat tree isn't something you see often, but we love the vintage touch that it adds. Not to mention, it looks great in any room without clashing with your style.
Pros:
Aside from the vintage-style appeal, we can appreciate the high-quality materials used to make this cat tree, and we can't help but love the cute little windows that are placed along the sides. They give your cat a place to peer out of while relaxing on the fluffy cushions. The four cushions can easily be removed and washed to keep their snow-like appearance. The ease of cleaning makes maintaining this cat tree easier than most and can extend its life.
Cons:
Although this cat tree is very stylish, this comes at the cost of giving up some scratching space. The wood does not make a suitable scratching surface, so your kitty will have to stick to sharpening their claws on the one post and scratching mat.
What Really Matters
Your Cat(s)
Getting a cat tree that is the right size for your furry companions is essential. If you have multiple cats, you should get a bigger cat tree that can accommodate all of them. Even if you only have one cat, you should take into consideration their size and personality when picking out a cat tree. Are they big enough to jump from platform to platform? Will they fit in the beds? Are they active and constantly running and jumping around the house, or are they more laid back and like to nap and lounge around?
Stability
With all of the jumping and climbing that happens on cat trees, you want to be sure the one you get has a stable and sturdy base. Some manufacturers take extra steps to ensure their cat tree is sturdy and impervious to being knocked over, such as extra thick or weighted bases. Purchasing a sturdy and stable cat tree is a great way to keep your wild kitty safe while they play.
Design
Design is one of the most important things to keep in mind when shopping for a cat tree. Your cat doesn't care very much about the aesthetics, but you probably do. Most people want something that matches the interior of their home, but all the cats care about is what kind of features it has. Perches, beds, scratching posts, condos, rope toys, are all commonplace in cat trees, but striking the perfect balance can be hard. If you know your cat is hyperactive, then try to get a tree with lots of toys that will stimulate their senses. On the other hand, if your cat is known for plopping down and sleeping for hours on end, maybe focus on finding a tree with a cozy bed for your cat to curl up in.
Available Space
Finally, the amount of space you have available in your home can play a significant role in which cat tree is best for you. If you have a good amount of room, you aren't as limited in your choices and can choose from cat trees that sprawl both vertically and horizontally. However, if you don't have a lot of open floor space, try to find a cat tree with a smaller base and features that stretch upwards instead of to the sides.
What's in Right Now?
Cat trees have only become more elaborate and luxurious as the years pass, and now we find ourselves in 2020 with things like giant sprawling cat trees with tunnels, beds, and toys galore. Another new and very trendy innovation is removable mats and cushions that make cleaning as easy as throwing a load of laundry in the washer. No scrubbing or vacuuming is necessary when you have detachable parts.
Admittedly, though, our favorite trend in 2020 is stackable and customizable cat trees. Stackable trees allow you to start small and scale up down the road if necessary, which can come in handy and save you money as your cat grows and needs more space. Customizable trees make it possible to tailor fit the experience to your cat and their personality. Customizable trees also give you the power to switch it up and give your cat a completely different layout without having to buy another tree.
Prices
Expensive
Expensive cat trees can cost you anywhere from $200 to $400 and typically have features you can't find anywhere else. The higher price range is where you'll typically find large, customizable, and luxurious cat trees made from high-end, durable materials that will last for years.
Mid-Range
Mid-range cat trees are the most common and will suit most people's needs. They run from $100 to $200 and have a moderate amount of play and rest areas for your cat. Mid-range trees can vary greatly in size, from 2 feet to 6 feet, although they usually are not as big as expensive ones. They are made from noticeably better materials than cheap ones and have an average lifespan.
Cheap
Cheap cat trees cost less than $100, and the cheaper you go, the less reliable the construction gets. You can find some sturdy and reliable trees for around $80, but if you go much lower you'll notice a steep dropoff in quality. Cheaper cat trees tend to have bases and platforms made from corrugated cardboard, which keeps costs low, but significantly reduces its durability and stability. It's not completely impossible to get a good quality cat tree for cheap, but you'll have to look a little longer and pay close attention to the details.
FAQs
Are cat trees safe for kittens?
Cat trees are safe for kittens and play an important role in keeping them healthy and happy. Kittens are little balls of energy, so giving them toys and a designated space to get all of their energy out will keep them from getting stressed or ruining your furniture and shoelaces. Some people worry about kittens falling from perches, but a good rule of thumb is that if they can get up, they can get down. Still, you should keep an eye on kittens when they are playing on the tree for the first time and help them if they look like they're struggling.
Is bigger always better?
Bigger isn't always better, and it's not always necessary either. You shouldn't just look for the biggest cat tree out there when a smaller one can do the same job. Bigger trees will, of course, have more space, but if you only have one or two cats, there's no need to splurge on a giant cat tree that they might not even use all of.
What kind of cat tree is best for senior cats?
Senior cats tend to have lower energy levels, but can still benefit from cat trees that are meant for them. Cat trees for seniors will usually have more resting spots than playing spots and may feature steps or ramps that help your old friend navigate the tree. Even if your cat spends lots of time napping, don't buy a tree without a scratching post. Cats never stop loving a good scratching post, and it is essential to keep their claws healthy at any age.