The Best Covered Cat Litter Boxes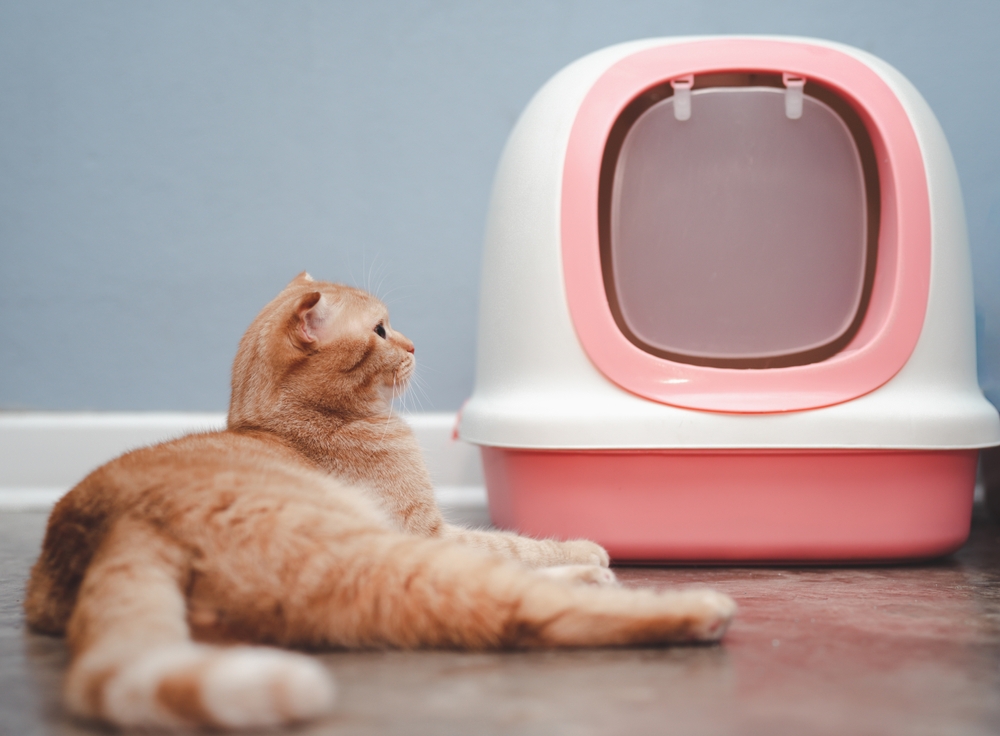 If you own a cat, you know that keeping their litter box clean and odor-free is essential. The best way to do that is with a covered cat litter box. Covered litter boxes provide a more private and comfortable environment for your cat while also preventing odors from escaping. Plus, they help to keep litter contained and reduce the amount of tracking. With so many styles and designs available, it can be hard to choose the right one. But fear not. We'll help you find the best option for your feline friend.
What to Look For
When looking for covered cat litter boxes, consider ones with a thick, tight-fitting lid that contains unwanted odors. The interior of the litter box should also be easy to clean and feature an efficient filtration system to minimize tracking and dust. The box should also be large enough to accommodate your cat comfortably and allow them to move around more freely. Lastly, look for a covered cat litter box with a design that stands out like a sore thumb. For example, we loved Makesure's litter box for its ultra-modern look and filtered floor, which reduces tracking. If you'd prefer a more affordable option, we'd recommend Van Ness' litterbox. Its swinging door gives your cat privacy and keeps odors to a minimum. Read on to learn more about our top picks.
Van Ness Covered Cat Litter Box
This litter box may not have all the frills of more expensive models, but it's easy to clean and masks odors quite well.
Van Ness's litter box offers a lot and for a reasonable price. For one, it's constructed of durable plastic and comes with a snap-on lid that keeps messes contained. The box is large enough to accommodate most cats and has a deep pan that helps contain odors. The high sides of the pan help keep litter inside and make it easier to clean. What's more, Van Ness includes their Zeolite air filter, which significantly reduces odors. All you have to do is replace the filter as needed. We also found that this litter box is easy to assemble and lightweight enough to move around. Overall, this is a worthy choice for cat owners who want a reliable, mess-free litter box.
Pros:
Decent size for small to medium cats
Zeolite filter is quite effective
Clasp locks keep lid secure
Easy to wipe clean
Neutral color
Cons:
Too small for larger cats
IRIS Top Entry Litter Box
This top-entry litter box gives your cat the seclusion they need to do their business in peace.
The IRIS Top Entry Litter Box is an excellent option for cat owners. It features a top-entry design that prevents litter scatter while providing cats with a comfortable and private place to do their business. The generous lid opening makes it easy for your cat to jump in, and the high walls help keep the litter contained inside. The non-stick surface on the interior of the box also helps prevent sticking and makes cleaning easier. All in all, we highly recommend this product as it provides both comfort and convenience for cats of most sizes and breeds. Its sturdy construction ensures years of use without worrying about wear and tear. Plus, its simple yet stylish design will fit seamlessly into any home decor.
Pros:
Lid stays on securely 

Withstands heavier cats
Fussy cats seem to like this litter box
High walls prevent urine from spraying everywhere
Greatly reduces the amount of litter on your floor
Cons:
Included scoop is rather flimsy
Modkat Flip Litter Box
This innovative litter box reduces leaks and odors and provides your cat with a generous amount of space.
The Modkat Flip Litter Box is an innovative and stylish litter box that is sure to help keep your home looking neat and tidy. The tall walls reduce leaks, so if your cat likes to pee on the side, you don't have to worry about messes all over the floor. We all know how picky and finicky cats are, which is why we like that Modkat's lid adjusts into three different positions — closed, half open, and fully open. That way, you can give your cat privacy according to their preference. And if you're tired of purchasing liners, we're pleased to report that Modkat includes a thick reusable liner. It hooks into place securely, keeping it from moving around or becoming damaged while in use. When it comes time for cleaning, the lid makes it easy to access all areas of the box without having to move too much litter around.
Pros:
Nothing sticks to the surface when you scoop
Tall walls reduce urine-related messes
Liner stays securely in place
Magnetic top
Not an eyesore
Cons:
Hard to scrape waste from the corners
IRIS USA Jumbo Enclosed Cat Litter Box
Big cats will feel comfortable in this spacious litter box.
The IRIS USA Jumbo Enclosed Cat Litter Box is an ideal solution for anyone who has a cat and wants to keep their home clean and odor-free. This litter box is made of durable plastic that can handle scratches, bumps, or blows from your kitty's paws. The top lid prevents odors from escaping while also giving your furry friend privacy. It features a large opening, so you don't have to worry about scrubbing out stuck-on bits of litter from the sides or corners of the box. Additionally, the litter box's grate captures stray litter before your cat's paws touch the floor. Convenience-wise, the included scoop has a spot where you can hang for easy access whenever. Made in the USA, this enclosed kitty litter tray offers your feline friend a functional and private bathroom solution that makes life easier for you as well as your cat.
Pros:
Scoop stays hidden inside the litter box

Top comes off for easy cleaning
Deep base prevents litter spillage
Great size for larger cats
Cons:
Makesure Cat Litter Box
Who says a litter box can't look nice? This option offers convenient storage for essentials and a drawer-like base so you can quickly dispose of waste.
Makesure's litter box offers many features that make it stand out from similar products on the market. The sturdy wooden feet provide stability and prevent the box from sliding across floors, while its magnetic design keeps the lid securely closed so cats can't get into their litter when they're not supposed to. Additionally, there's a hidden storage space underneath where you can store all of your kitty's supplies like scooper and extra bags. The curved filter aisle helps reduce litter track when your cat exits the box and makes cleanup much easier since most of the mess stays tucked away inside. We especially love the drawer-style design, which allows you to pull out any waste without having to reach in deep. Not only does it help keep things tidy, but it also saves time too. Makesure's thoughtful design elements are both attractive and functional, providing convenience as well as comfort for cats and humans alike.
Pros:
Attractive minimal design hides unsightly waste
Smell entry prevents most dogs from entering
Removable litter tray
Easy assembly
Contains smells
Cons:
Frequently Asked Questions
Why should I consider a covered litter box?
A covered litter box can help to keep your home free from odors, provide a quiet and private space for your cat, and add an extra layer of protection against curious pets or children. It also helps contain messes more effectively than an open-air litter box. Moreover, cats may feel safer in a covered litter box since it offers them privacy while they do their business.
Are covered litter boxes safe for kittens?
Yes, covered litter boxes are generally safe for kittens. However, it is important to make sure that the opening of the box is large enough for your kitten to easily get in and out. Some kittens may feel trapped inside a covered box and become stressed or scared if they cannot escape quickly.
What should I use to clean my litter box?
The best thing to use for cleaning a litter box is hot water and mild detergent. Be sure to rinse the box thoroughly with clean, warm water afterward so that your cat won't be exposed to any soap residue.
About the Author
Why Trust Us
Since 2008, CatTime has provided millions of cat owners with all the information they need to keep their pets happy and healthy. Our experts know exactly what it takes to raise our furry friends and our goal is to help all owners, new or experienced, care for their cats with all the right food, toys, equipment, and accessories.