The Best Crystal Cat Litter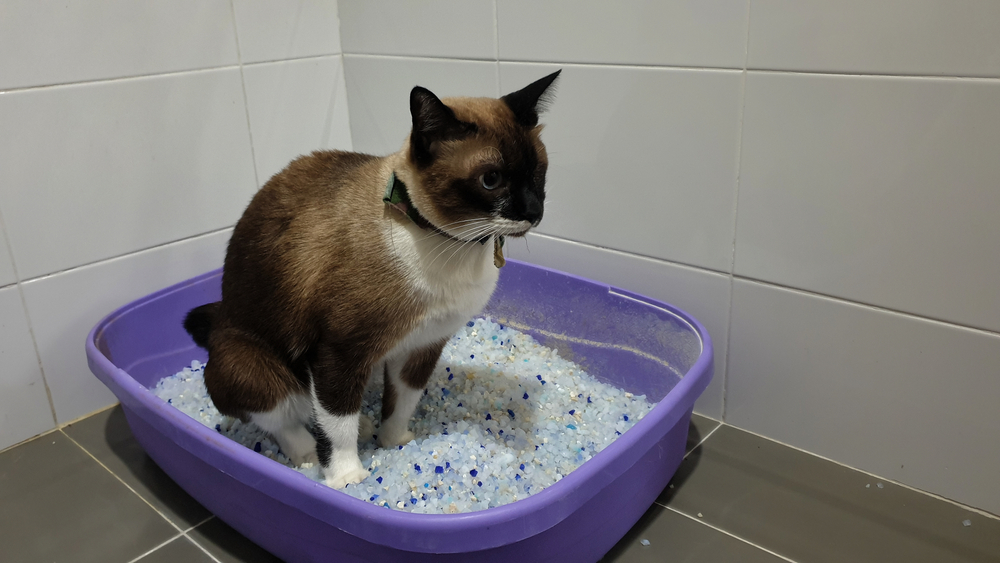 Cleaning up kitty litter is one of the less glamourous inevitabilities of owning a cat, but every cat owner has to do it. While it's not everyone's favorite chore, it doesn't have to be that bad - or stinky. These days, many cat owners are switching from clay litter to crystal litter, because it effectively absorbs liquids and smells. It also keeps litter boxes dust-free, so those of you with allergies can breathe as you please. We scoured the market to find the best crystal cat litters on the market. In order to find the best crystal cat litters, we asked ourselves three questions: Is it easy to keep clean? Does it cover up any bad smells? Will it last a long time? With these questions in mind, the scoop-free cat litter from PetSafe stood out as our favorite. It has a strong odor control that covers up even the strongest of smells and is low-tracking, so your cat won't bring the mess outside of its box. However, if your top priority is a cat litter that can last, then consider the crystal litter from Fresh Step. Not only does it control the odor for up to 30 days, but it's soft enough for even the most sensitive of felines. Read on below to find the rest of our picks and why we think they stand out among the rest.
PetSafe ScoopFree Premium Crystal Cat Litter
Dealing with clumps in your cat's litter box is something that no cat owner loves. It means that your cat ends up using more litter over time, which costs you more money over time. This crystal litter from PetSafe has a high absorbency ability, which is great. It also comes in conveniently portioned bags that make it easy for you to use. It can absorb urine and dry solid waste for odor control that is five times better than clay litters. On top of that, it is also 99% dust-free to protect you and your cat.
Pros:
The odor control works well to absorb even the strongest of bad smells.
It comes in two pre-portioned bags so you won't have to measure or scoop.
For even less of a mess, the litter is low-tracking so your cat won't scatter it outside of the box.
Cons:
It doesn't last quite as long as it claims to.
PetSafe ScoopFree Cat Litter Crystal Tray Refills
Self-cleaning cat litter boxes may be one of the best inventions ever, but you'll need to stock up on litter tray refills. These refills from PetSafe make it so you don't have to do any scooping, keeping your dealings with the cat litter are as minimal as possible. The tray features a plastic lining so you have extra protection against leaks and the litter itself is 99% dust-free. When it's time to clean the litter box, you don't have to do any scooping. Simply take out the disposable litter tray, toss it in the garbage, and get a new one.
Pros:
The crystals lock away the odor of solid waste for a long time.
You won't waste any time on clean-up since it's easy to simply remove the litter tray and dispose of it.
It has a plastic tray lining to help prevent leaking, so you can place it on any floor or carpet without worry.
Cons:
It doesn't absorb urine as well as expected.
Fresh Step Crystals Premium Cat Litter
The one downside about cats is the smell they bring with their litter box usage. However, you can combat that smell with the help of a good crystal cat litter like this one from Fresh Step. This brand is well-trusted in the cat world, so you can believe that this litter will get the job done. These crystals have 30 days of odor control, so you don't have to swap out your litter nearly as often as you would with regular litter. This 8-pound bag of litter offers the same number of uses as a standard 28-pound bag of litter. It is made with a low-dust formula to keep everyone happy and healthy and smelling better.
Pros:
The Ammonia Block Technology helps to control bacterial growth, so you won't have to worry about any strong permeating smells.
Not only does it absorb solid waste, but it also strongly absorbs moisture from urine.
The 30 days of odor control means you can keep a fresh-smelling home for a long time.
Cons:
There is more dust than expected.
Ultra Pet Clumping Crystal Cat Litter
Dust from litter is a serious problem that you may not think about until it's too late. Hopefully, we are catching you before it happens, and leading you to a crystal cat litter that will eliminate your dust concerns. This one from Ultra Pet is 100% dust-free and works to reduce irritation and allergens that often result from cat litter. This litter also works to absorb ammonia orders to keep smells at bay and also minimizes mess thanks to the easy-to-clean crystals. And your pet will love that this litter is free of fragrance which means there are no added chemicals that could potentially harm it.
Pros:
It absorbs liquid instantly, so it doesn't leave any soggy mess in the middle of the clump.
This crystal litter is extra soft, so it's great for your cat if it has sensitive paws.
If you don't want any extra smells in your home, then give this one a try. It absorbs the stink without any added fragrances.
Cons:
The clumps can be difficult to scoop.
Neon Clumping Silica Gel Cat Litter
Your cat will inevitably track at least a little bit of litter going from the litter box to other places around your home. And stepping on that litter doesn't exactly feel good. To help that from happening, consider getting this neon-colored cat litter that makes it easy for you to spot and clean up before stepping on it. The litter is made of silica gel that clumps easily. Neon's litter also helps to control odors so your home stays smelling good.
Pros:
The bright color makes it easy to see, so you can quickly clean it all up if your cat tracks it outside of its litter box.
The quick clumping makes mess removal fast and easy.
Cons:
It doesn't last quite as long as we hoped.
Frequently Asked Questions
Is crystal cat litter good for cats?
Because most crystal cat litter is made with silica crystal beads, it is generally safer for cats and people, especially those that are irritated by the dust from traditional litter. The crystal litter also helps with neutralizing odors which is a benefit for you and your cat as well.
Do you scoop crystal litter?
Crystal cat litter is usually made from silica gel. That silica gel absorbs liquid waste so that it is easier for you to clean up. The silica gel clumps up when wet, allowing you to scoop it up out of the litter box without having to dump the entire box.
How often should I change my crystal cat litter?
Depending on the quality of the crystal litter that you choose and the amount of mess your cat makes, you should only need to replace the entire box of litter about once every month or so. When you remove clumps out in between a full replacement, you may find you need to add a little more litter to the box.
About the Author
About the Site
CatTime
Since 2008, CatTime has provided millions of cat owners with all the information they need to keep their pets happy and healthy. Our experts know exactly what it takes to raise our furry friends and our goal is to help all owners, new or experienced, care for their cats with all the right food, toys, equipment, and accessories.