The Best Cute Cat Trees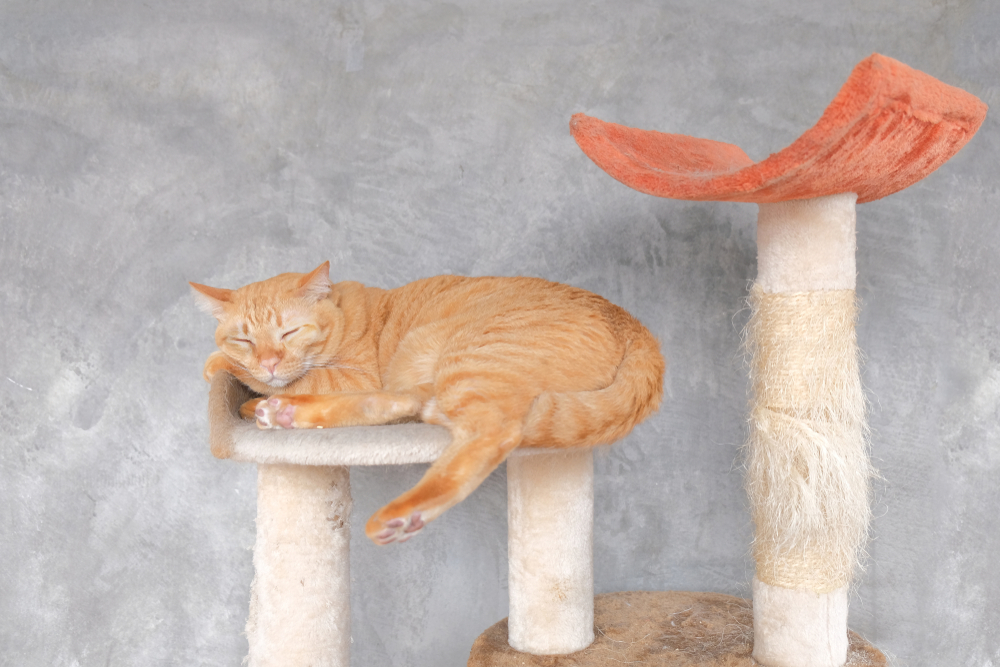 Cats love to sleep almost as much as they love to play, so why not give them a space that's good for both? With cat trees, your furry friends have everything they need to lounge around, scratch their claws, and even play all in one space. There are plenty of cat trees on the market, but it's important to pick one that suits your cat and your living space. That's why we've narrowed down the best cute cat trees on the market that work to keep your cats entertained without compromising their style.
What to Look For
When narrowing down the best cat trees, we considered size, overall design, durability, and price. For example, the PAWZ Road cactus cat tower is a great option if you want an all-around quality cat tree with a unique and creative design. However, if you prefer something bigger for multiple cats, Yaheetech's multi-level cat tree tower has lots of room for your cats to play and plenty of color options. Read on to see all our top picks and find the cat tree that's right for your furry friend.
PAWZ Road Cactus Cat Tower
This cactus-themed cat tree has a cute design and practical layout that make it a great addition to any cat home.
If you're looking for a unique way to spruce up your home and give your cats a place to call their own, this cactus cat tree from PAWZ Road may be just what you need. The clever cactus design brings a bit of the Southwest into the comfort of your own home. It also features comfy carpeted perches for your cats to lay on. Each perch is curved to better fit your cat's body shape and give them a cozy resting space. Better yet, the removable covers are machine-washable for easy cleaning. For a cat tree that's just as convenient as it is cute, you can't go wrong with this purchase.
Pros:
Cute cactus design
One hanging ball and one springy ball
Plush carpet perches
Perch covers are removable and machine-washable
Curved to fit your cat's body shape
Cons:
Not as durable as other options
Yaheetech Multi-level Cat Tree Tower
This large cat tree boasts plenty of room, making it great for climbing.
If you own multiple cats and are looking for one cat tree to house them all, look no further. Yaheetech's giant cat tree is one of the biggest on the market, with height options of up to 70 inches, giving your cats the most room to lounge and play. Since it's so tall, it comes with a safety wall strap to give it extra support by attaching it to the wall to prevent it from tipping over. If you want to make sure your cats have enough space, this cat tree is hands-down one of the best on the market in terms of surface area and safety.
Pros:
Options for 54, 61, and 70-inch towers
It comes in eight different colors
Includes a safety wall strap
Features two cat condos and three perches
Has a cat ear shape on the top perch
Cons:
May tip over if you don't use the included wall strap
Catry Sunflower Cat Tree
This space-saving cat tree features a cute sunflower design and enough space for one cat.
If you just have one cat and are trying to save floor space, this sunflower-themed cat tree provides a cute and compact solution. With just one post and one perch, this bare-bones cat tree has just enough features to keep your cat entertained and comfortable without getting in the way. It also includes a hanging mouse toy to keep your kitty occupied. Best of all, the cute sunflower design is sure to brighten up any living space. For a cat tree that's just as tiny and adorable as your furry friend, this one is a sure winner.
Pros:
Simple, compact design
Cute sunflower theme
Doesn't take up much floor space
Made with natural sisal
Includes a hanging mouse
Cons:
May not be stable for larger cats
On2 Pets Cat Tree With Leaves
This cat tree mimics a real-life tree for a more natural environment.
If you want to give your cat a more natural playing experience, this cat tree brings the charm of real trees into your home. It features multiple levels and plenty of sisal material, just like others on the market. The key difference is this one includes branches and leaves, giving your cat the fun of hiding in the tree and playing just like they would outside. Plus, it comes with options for different color leaves and sizes. All in all, this cat tree would make a great, natural-looking addition to any living space.
Pros:
Simple assembly
Designed for cats up to 32 pounds
Sturdy construction
Made with leaves to recreate a natural environment
Comes in different leaf and size options
Cons:
Branches may fall out frequently
Nova Microdermabrasion Cat Tree
This affordable cat tree offers more than enough space and is built well.
With all the different cat products on the market, it can be hard to know if you're getting a good bargain. But with Nova Microdermabrasion's cat tree, you don't have to wonder anymore. This affordable option offers lots of space and a straightforward design with plenty of perks — all at a reasonable price. The tree features two cat condos and a cushioned top perch to give your cats a bird's eye view of your home. It's covered in scratch-worthy sisal and a super-soft plush material for cozy cuddling, making it the perfect environment for napping and playing. For the price, you'd be hard-pressed to find another cat tree as large and practical as this one.
Pros:
Great price
Includes a sisal ramp for scratching and climbing
Has a large top perch
A very soft plush covering
Multiple levels for numerous cats
Cons:
Assembly directions were not very informative
Frequently Asked Questions
Are cat trees and cat scratching posts the same thing?
Not necessarily. Most cat trees have scratching posts included in them, but as a whole, they're meant for more than just scratching. They often have cat hammocks, beds, and little cubbies for cats to sleep on as well as different levels for them to perch on top of. Cat trees act as a play place and a cat home simultaneously, while scratching posts are normally just singular sisal posts meant for scratching.
Do I have to attach my cat tree to the wall to keep it from falling over?
This depends on how tall the cat tree is, how large your cats are, and how aggressive they are while playing. If you have multiple large cats that like to climb to the top of a tall cat tree and jump off, they could cause it to wobble or fall. Some cat trees come with extra pieces meant for attaching the tree to the wall so it won't fall, much like some bookshelves. It's not necessary for all cat trees, but it is something to consider for larger trees and larger cats.
About the Author
Why Trust Us
Since 2008, CatTime has provided millions of cat owners with all the information they need to keep their pets happy and healthy. Our experts know exactly what it takes to raise our furry friends and our goal is to help all owners, new or experienced, care for their cats with all the right food, toys, equipment, and accessories.