The Best Fish Cat Toys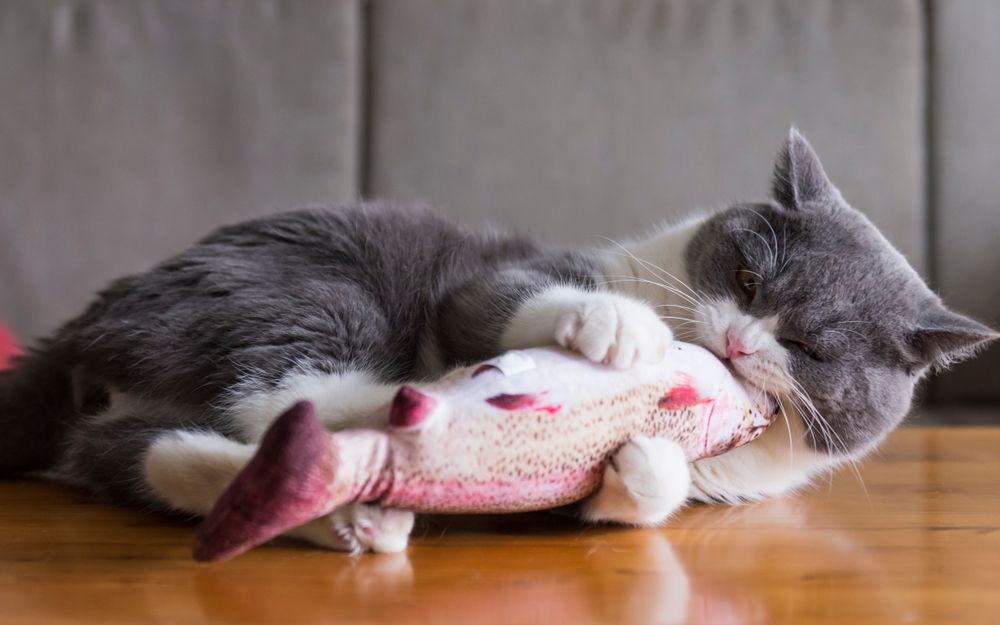 It's crucial to provide your cat with ample opportunities for physical play. Not only does playing with toys give your kitty much-needed exercise and help them maintain a healthy weight, but it can also help boost your pet's mood, too. There are all kinds of toys to choose from, from interactive, robotic toys to catnip-stuffed ones. And of course, you can never go wrong with a fish toy of any kind. Here are the best fish cat toys to pick from.
Potaroma Cat Fish Toy
Your kitty will go crazy for the Potaroma Cat Fish Toy. That's because it actually looks and moves like a real fish thanks to its built-in motion sensor that kicks in every time your cat is near. Watch with delight as your cat jumps and flounces around your living room, trying to chase and play with this eye-catching toy. Made from plush, durable, non-toxic materials, this toy even comes with fresh catnip, which can help alleviate stress and boredom. For felines who love to pounce and hunt, there's no better toy.
Pros:
Has an automatic built-in motion sensor, so it wiggles in a realistic way
Is equipped with a catnip pouch
Made with safe, non-toxic materials
USB chargeable (so no need for batteries)
Has a washable cover
Cons:
Definitely a little pricey for a cat toy
Litter Mat Cat Fish Toy
Is your kitty always on the prowl? The Litter Man Cat Fish Toy will keep your energetic pet occupied for hours. These interactive fish toys stimulate a cat's natural hunter instincts with their automated robotic fins that begin moving around as soon as they're placed in water. Conveniently, they also automatically turn off when you take them out of the water, to save power. Plus, the built-in LED lights will encourage your cat to bounce and play.
Pros:
Comes with four brightly colored, interactive toys (plus batteries are included)
Toys can be placed in the water; they automatically start swimming
Stimulates cats' natural hunter instincts
The built-in LED lights will get your cat's attention
Cons:
You do have to buy a bowl separately
Petmate Cat Toy
Great for interactive play, the Petmate Cat Toy will be your lively kitty's new BFF. This toy is awesome for keeping cats mentally sharp and strengthening your bond with your beloved pet. Simply grab the wand, give it a twirl, and watch as your cat goes wild. Plus, you can even pick between a worm, tadpole, and crawdad. Watch out: your kitty may very well become totally obsessed with this toy.
Pros:
Awesome for particularly energetic kitties
Cats never tire of this toy
Helps to alleviate boredom and anxiety
Choose between one of three animals
Great value
Cons:
The ribbons do tend to shred fairly easily, so you may need to limit playtime
SmartyKat Fish Flop Cat Toy
Considering that you get three toys in one pack with the SmartyKat Fish Flop Cat Toy, this product is a total steal. These toys are each filled with pure, chemical-free catnip and are ideal for either solo or interactive play, depending on what your kitty is in the mood for. They're also the perfect size for cats to carry around in their mouths, which they love. Stimulating and fun, these toys come in dozens of different designs, too.
Pros:
Great for budget shoppers since you get three toys in one
Lightweight and very plush
The catnip is made without chemicals and pesticides
Really helps you bond with your kitty
Available in a wide variety of designs
Cons:
The packaging for this product could really stand to be improved
Our Pets Catnip Toy
If your cat is obsessed with catnip, get them the Our Pets Catnip Toy. Catnip toys are classic for a reason, after all, since many feline friends go crazy for them. Your cat will likely get excited at the mere smell of the catnip, which will then prompt them to get playful and chase the toy around. Naturally stimulating and enriching, this toy will emit aromas for hours after your cat is done playing with it, which keeps them interested and coming back for more.
Pros:
Made with strong, aromatic catnip made in North America
Encourages physical play and mental stimulation
Appeals to your cat's instincts
Choose from one of several cute designs: carrot, banana, fish, snake, cigar, cactus, and chili
Cons:
The plastic tag that keeps the fish attached to the cardboard is on the inside of the fish (which means that when you cut the plastic, there's no way to completely remove the tag)
Frequently Asked Questions
Is there any chance that catnip could make my cat sick?
Catnip isn't a true toxin and thus is perfectly harmless for cats to play with. However, if your cat digests a huge amount of catnip at one time, this could prompt a poison-like reaction in the form of diarrhea or vomiting, so always take care to limit the kitty's catnip intake.
How do I wash my cat toys?
As with most types of fabric, you can wash your cat toys in the washing machine (on a gentle or delicate cycle), but it's always best to consult the instructions before doing so.