The Best Flea And Tick Prevention For Cats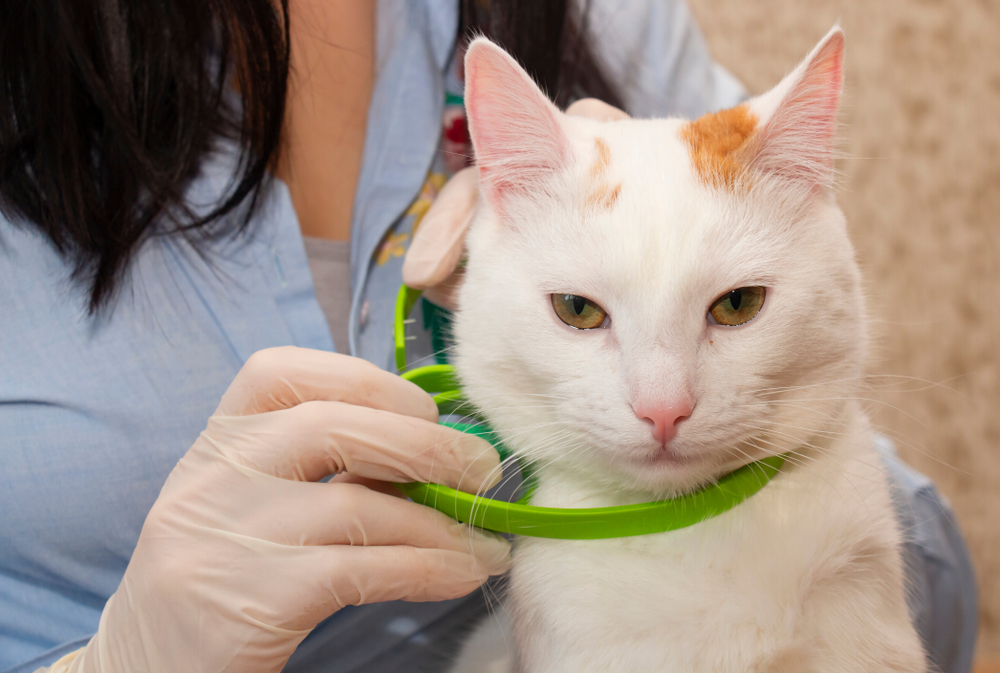 There's nothing that can send our furry friends into a frenzy like fleas and ticks. Those pesky pests can invade our house, comfort, and peace of mind. When the itching won't stop, and it's time to seek medical intervention, it can be hard to sort through all the available options and find what's best for our pets, but we're here to help. We've put together a list of the best flea and tick treatments for cats to narrow down your search.
What to Look For
When narrowing down the best flea and tick medication, we considered product design, functionality, and intended use. For example, if you wanted a topical flea prevention medicine for large cats, Advantage II flea prevention and treatment is a great option for cats over 9 pounds. If you wanted an approach that was less messy for cats that hate to be held still, the Capstar Oral Flea Treatment for Cats is a great ingestible option. Keep reading to see the treatment that's right for your furry friend.
Advantage II Flea Prevention and Treatment
This affordable and simple treatment is a great place to start.
If you're a new pet owner and aren't sure where to start looking for flea and tick medication, this is worth considering. Advantage II is a classic brand and comes with a reasonable price tag, so it's not a risky investment. One pack lasts up to 30 days, so you can use it for shorter amounts of time instead of buying a product that lasts for 6-8 months. This tried, and true brand offers solid results and simple instructions, so it's a great option for anyone with larger cats.
Pros:
This topical ointment is fragrance-free, so it won't overpower your home with any overbearing scents.
This ointment kills through contact, so the pests don't have to bite your cat to be affected.
Cons:
Applying topical ointments can be troublesome for some cats, but if you have a well-behaved cat, it can be simple and affordable.
Frontline Plus Flea and Tick Treatment for Cats
This iconic flea and tick treatment have been a favorite of vets and pets for 20 years.
Frontline is an iconic name in pet products, and for good reason. They've been a trusted brand for 20 years, longer than most other brands have even been in business. This waterproof treatment features two crucial ingredients to kill eggs as well as fully grown fleas and ticks. The pack comes with three doses, which can be used for three consecutive months of protection or spread out and saved for future outbreaks. No matter how you use it, you can't go wrong with this proven treatment.
Pros:
This ointment kills chewing lice in addition to fleas and ticks, so it has even more protection than other options.
This is designed for cats and kittens older than eight weeks and heavier than 1.5 pounds, so it works on a wider range of cats than other medicines.
Cons:
Some cats may develop small bald spots after application.
Seresto Flea and Tick Collar for Cats
Say goodbye to topical ointment mess with this long-lasting collar design.
If you need a flea and tick treatment without the mess of topical ointments, this collar is a great alternative. Once your cat starts wearing the collar, it provides protection from fleas and ticks for up to eight months. It distributes a small dosage of medicine continuously for maximum protection and minimal side effects. And for those who love to snuggle, this collar doesn't leave any harmful greasy residue, so it's safe to pet your cat after application.
Pros:
Unlike other treatments, this collar doesn't give off any odor, so it won't annoy you with an overpowering scent.
The collar starts working within 24 hours for quick and effective pest relief.
Cons:
This collar is fairly expensive, but it's worth it to get the real deal and not a lesser knock-off.
Vet's Best Flea and Tick Easy Spray
Protect your house as well as your pets with this natural ingredient spray.
Fleas and ticks can live on pets, causing them to itch, but they don't always stay there. They can infest furniture, carpet, and other areas of the house. If you want to attack fleas and ticks no matter what surface they're on, this spray may be your weapon of choice. Made with essential oils and plant-based ingredients, this spray is safe to use on cats and around your home. Best of all, it's affordable and simple to use.
Pros:
This spray also kills and repels mosquitoes, so it goes above and beyond what most other flea and tick medications do.
You can use this on cats and kittens older than 12 weeks, so there's no specific weight range to adhere to.
Cons:
This can have an overpowering smell and may be potentially dangerous to some pets. It's best to closely monitor them to see if they have a reaction to the treatment or hate the smell.
Capstar Oral Flea Treatment for Cats
Avoid the hassle of applying ointments to your cat with this oral alternative.
If your cat has a hard time sitting still, you know that topical ointments for flea and tick treatment can be a huge pain. Even if your cat is typically well-behaved, a lot of cats don't take too kindly to being held in place for medicine. If you need a convenient alternative, this oral treatment is a great hassle-free option. You can get it without a prescription and start treating immediately. You shouldn't have to dread flea treatment, and with this medicine from Capstar, your cat won't either.
Pros:
This medicine is fast acting, and just one tablet can start killing fleas within 30 minutes of ingestion.
This treatment works on cats between 2 and 25 pounds, so it covers a larger weight range than many competitors.
Cons:
This medicine can have dangerous side effects for some cats, so it's best to read directions extremely closely before using it.
Frequently Asked Questions
Does all flea and tick medicine have to be applied to a cat's back?
Not necessarily. Most topical flea treatments instruct users to apply the ointment around the cat's shoulders. However, there are oral treatments that are ingested and spray treatments that can be sprayed on your cat and objects around your home.
Can I pet my cat after I apply flea and tick treatment?
If you use a topical ointment, you may have to avoid petting your cat for 24 to 48 hours. Oral treatments don't usually cause any alarm for petting or physical touch.
About the Author
Why Trust Us
Since 2008, CatTime has provided millions of cat owners with all the information they need to keep their pets happy and healthy. Our experts know exactly what it takes to raise our furry friends and our goal is to help all owners, new or experienced, care for their cats with all the right food, toys, equipment, and accessories.