The Best Flea and Tick Preventions For Cats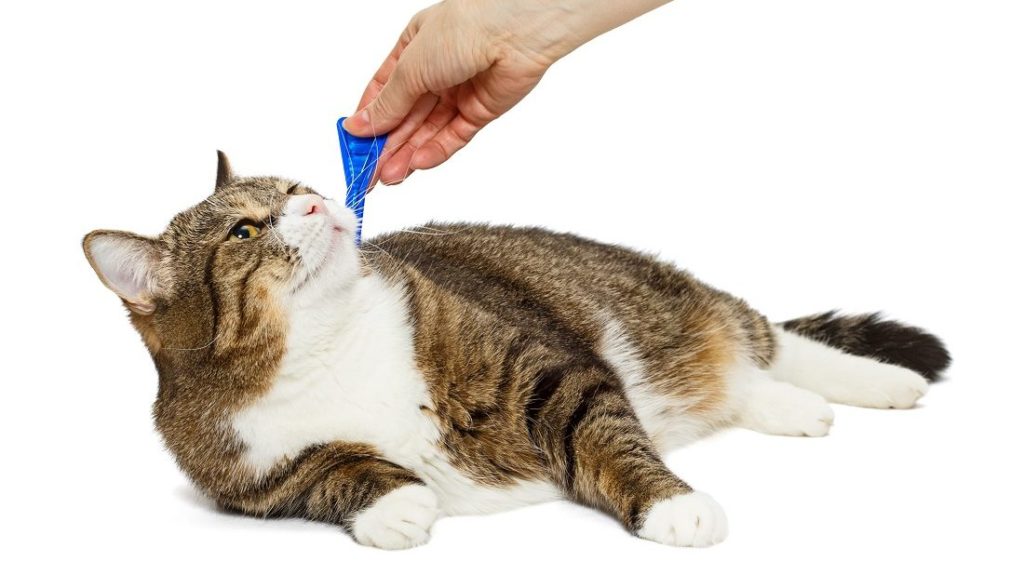 Ticks and fleas are common infestations that can affect any cat. These small bugs do not only pose as an annoyance but can even be a threat to both your cat and even your own wellbeing. There are some fleas that can transmit tapeworms to cats. In fact, there is evidence that these fleas may also transmit the tapeworm to humans, so this is not a topic to take lightly. Additionally, ticks can also spread other diseases, including Lyme disease, which can lead to serious consequences regarding your health.
For these reasons, flea and tick prevention for cats should be an important strategy you implement. There are many different products on the market today, but they are not all equally effective at preventing an infestation of ticks and fleas on your cat. In this article, we will look at the top five products that effectively prevent fleas and ticks on a cat.

Seresto Flea and Tick Collar for Cats, 8-Month Flea and Tick Collar
The Bayer Animal Health Seresto Flea And Tick Prevention For Cats is a collar that helps to keep a cat safe against these organisms for a period of up to eight months.
Pros:
A high-quality tick and flea collar that lasts for up to eight months. The product can protect against various organisms, including the common ticks and fleas that often infest cats and other animals. Existing ticks and fleas may be expelled from the cat's body when the collar is used on the pet. The collar also helps to prevent further infestation from ticks and fleas.
Cons:
Treatment for an existing infestation of ticks or fleas may not be as effective with this collar compared to the use of spot-on treatment. Pet owners may find that the color is more effective as a preventative tool instead. The pricing for the collar is also relatively high. There are alternative options available that last for longer.
Frontline Plus Flea and Tick Treatment for Cats
The Frontline Plus for Cats and Kittens offers three doses of an effective tick and flea treatment for cats that weigh more than 1.5 pounds.
Best Year-Long Protection
Pros:
This is one of the most popular options when it comes to the use of spot-on treatment for ticks and fleas. The formula was designed to assist with treating an existing infestation from both ticks and fleas that may affect the cat. Once treated, the product still remains active to assist in preventing fleas and ticks from infesting the cat for up to a month after the application. There are three doses in this package.
Cons:
People with a single cat may not benefit from the three doses included in the single package. This increases the cost involved with buying a treatment for ticks and fleas. The product is not appropriate for large cats. Even though a minimum of 1.5 pounds is specified, cats that weight too much may have too large of a surface to cover by the spot-on treatment.
Cheristin for Cats Topical Flea Prevention, 3 Doses
The chemical formula utilized in the Cheristin for Cats Topical Flea Treatment three-dose package goes to work in less than an hour after product application.
Pros:
Buying three doses in one package helps you save money. The formula also goes to work to quickly kill and prevent further infestation.
Cons:
The formula is not safe for cats who have a habit of licking themselves constantly.
Bayer Animal Health Advantage II 2-Dose Flea Prevention and Treatment for Large Cats, Over 9 Pounds
The Bayer Advantage II Flea Prevention for Large Cats features an effective way or both treating and preventing an infestation of fleas on larger cat species.
Pros:
The product is ideal for larger cats. This is an important advantage, as many flea prevention products have a low limit on weight. This flea prevention treatment can be used on cats that weigh more than nine pounds. The package also contains six small containers, each providing a full one-month treatment to help prevent a cat from being infested with fleas. The chemical formula used in the product is effective against fleas, flea eggs, and flea larvae.
Cons:
When looking at the price of the product, it does seem like one of the more expensive options currently available on the market. There are more affordable options that help to protect against fleas. The product also does not provide protection against ticks, which also poses a health risk to cats.
What Really Matters?
Ingredients
The first thing to consider when it comes to buying a product to assist with flea and tick prevention for cats is the ingredients. Even though there are a specific number of ingredients that have been approved for this purpose, brands create different formulas. These products will often be promoted as providing a more effective level of prevention, but you should not only look at the potential efficacy of the ingredients.
When the ingredients used in a tick and flea prevention product are too potent, it could actually cause damage to your cat's skin. There is also the risk of your cat getting some of the formula in their mouths; if the ingredients are toxic to the cat should they ingest it, this situation could quickly play out into chaos.
A number of natural flea and tick prevention products for cats are also available. These products will usually take advantage of natural plant extracts in order to assist with repelling the ticks and fleas from your cat.
While looking at the ingredients found in the product, be sure to consider what type of bugs they will be effective against. You want a product that will be able to effectively repel both ticks and fleas while being a cat-safe option at the same time.
Dosage
Depending on the specific product, flea and tick prevention for cats may need to be reapplied every few weeks. If you do decide on a treatment that is used every few weeks, it would be a good idea to consider the number of doses you get in a single package.
The majority of these products will only come in a single-dose package. This is useful for applying the tick and flea treatment and gives you the ability to prevent ticks and fleas for the time being, but it is a good idea to consider packages that come with multiple doses.
A multi-dose package usually gives you access to the treatment at a lower cost per unit. This is a good idea if you have more than one cat. Buying a package with multiple doses is also great even if you only have one cat – it means that you have a supply that will last for at least a few months.
Duration and Effectiveness
The duration of the product's action is another important thing to consider. Most of the spot-on treatments that are available for cats last for a couple of weeks. On average, these products can help to prevent ticks and fleas on your cat for four to six weeks. After this period, you will need to apply a new dose of the treatment to further prevent infestation.
However, there are a number of products that can provide a much longer duration in which the tick and flea treatment will be effective. This is most often the case when you decide to opt for a collar instead of a spot-on treatment. Consider what you prefer and what your budget allows.
FAQs
What is the best flea and tick treatment for cats?
There are quite a variety of tick and flea treatments for cats on the market today. This can make it somewhat difficult to choose one that is the best or right for your cat. The two major categories include spot-on treatments and collars. Both of these offer effective results – the collar generally offers a longer duration of effective treatment.
Consider your personal preferences when trying to consider what treatment would be best for your cat. If you prefer a spot-on treatment, then you must be sure to reapply it every few weeks. At the same time, note that not all collars provide effective protection. Collars tend to be preventative tools, which means that many of the collars available will not actually kill existing ticks and fleas.
Where do you put flea medicine on a cat?
Spot-on treatments are generally easy to use. There is no need for additional tools with these treatments – all you need is your cat and the treatment. The medicine will usually be placed at the back of the cat's neck; separate your cat's fur and expose their skin. The medicine should be dropped directly on their skin.
Note that this is how the majority of spot-on treatments work and doesn't account for every treatment on the market. Always be sure to thoroughly read the instructions that come with the product before trying to apply it.
Is it bad if my cat licks the flea medicine?
The safety of tick and flea medicine for cats really depends on the specific ingredients that are included in its formula. When you opt for a natural repellent, they will usually be safe and not cause your cat harm, even if they lick it. On the other hand, some of the more traditional treatments for ticks and fleas on cats can cause harm to your cat if they ingest it.
The container or label of the treatment will usually contain warnings. If you are concerned about your cat's health, be sure to take a closer look at those warning labels. This will give you a better idea of what to expect.
Can cat fleas live in human hair?
Generally, fleas that infiltrate a cat's fur will not cause an infestation in human hair. These fleas will usually only be found on the cat, but they can jump off, which can cause your bed, carpets, and other furniture to become flea infested. They will not call your own hair home but take note that the fleas found on cats can bite you.