How To Choose The Best Kitten Collar – CatTime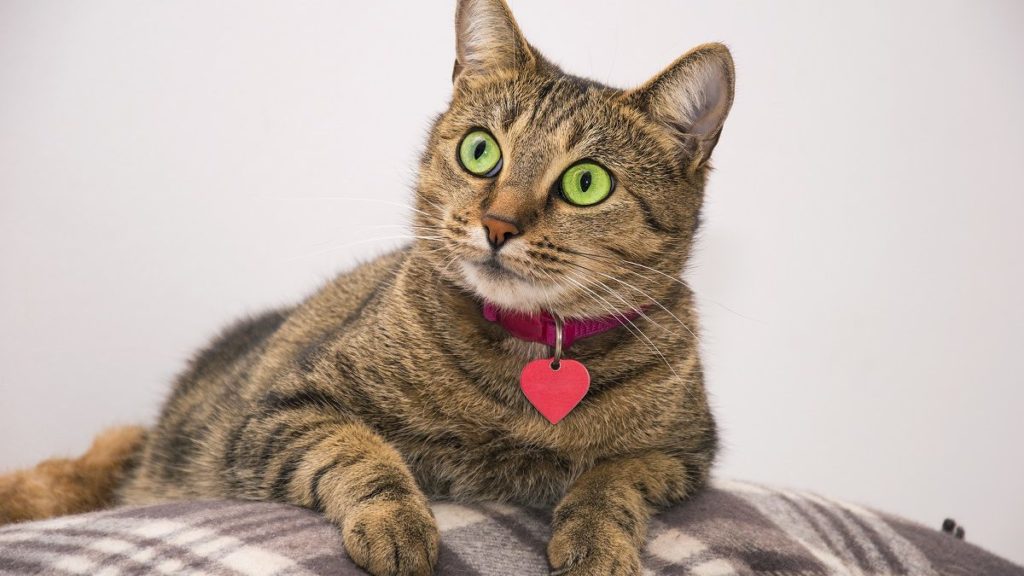 A cat collar can be an accessory used to style your pet, but it is also a convenient item that promotes the kitten's safety. Some collars have reflective surfaces to notice the cat in the dark, and others come with your contact details embroidered directly on them. If you are thinking about getting one of these for your pet, it is important to find the best kitten collar out there. We singled out our top five cat collar picks below. After getting to know each of their pros and cons, don't forget to read the buyer's guide below it. It will help you to find a suitable collar for your pet!
Best Choice
Pick between nine color options to ensure the collar goes with your cat's appearance. Two different sizes guarantee that it will fit comfortably around your pet's neck.
Pros:
The first thing you notice is the beautiful design with the moon-shaped pendant accented by stars and moons running the length of the collar. The product comes with a breakaway buckle for emergencies. Regardless of the chosen color, the collar will be bright and visible. The clasp is strong, and it will be extremely difficult for a kitty to take off the item on its own. That means it will be easy to notice your pet from afar and in low-light conditions. The compact packaging comes with a thank you card, which is a nice touch. You can fit the product on both small kittens and large cats, but make sure you get the right size for your cat.
Cons:
The moons don't seem well-attached to the collar. If your pet is restless and active, the moons might fall off quickly. The collar is a bit tricky to open while on the cat, since it requires the cat to stay still for a few seconds. Although the manufacturer states that the collar glows in the dark, that doesn't seem to be true.
Best Collar with Bell
The manufacturer has used a leather material, silver-colored moon and diamond rivets, and an elegant non-removable bell for an improved appearance.
Pros:
JOANSAN designed an elegant and durable collar available in black. The silver rivets complement the designed well, and the pendant acts as a bell. The item is 3/8-inch wide, and it fits pets whose neck is from seven to ten inches large. This collar's design includes five holes to ensure that you can find the optimal adjustment easily. The buckle is made of premium metal, and it comes with an elastic strap that promotes your pet's safety. The collar is durable, but also soft so that your cat is comfortable wearing it for a long time. You can hand-wash the product to clean it if it gets dirty.
Cons:
Although the manufacturer specifies the collar is made of leather, it is not genuine, but rather polyurethane leather. The moon gems may fall off easily, especially if your cat is active and spends a lot of time outdoors. You will start noticing scratching marks and other damage on the material after a while. If your cat has a small neck, the excess length might look unattractive unless you cut it off.
Best Breakaway Cat Collar
Bemix Pets included three different collars in the same set, which makes this a valuable deal for those with multiple cats, or those who like to mix and match colors when dressing up their pet.
Best Breakaway Cat Collar
Pros:
If you are looking for bargain deals, look no further than the Bemix Pets cat collar. The company offers a three-in-one deal with three collars of different colors in the same package. The colors come in red, blue, and black. Each collar comes with a pendant that doubles as a bell. You will also find a cat-shaped buckle and stars and moons around the item. You can fit the product on cats whose neck has a perimeter of seven to eleven inches, and the collar is simple to adjust. The breakaway function is reliable, which means your cat will be safe with this product.
Cons:
The buckle can pop open with enough force. If your cat figures this out, it will be hard to make them wear the collar. Popping the buckle open outside will probably mean losing the product forever. The buckle features pointy cat ears, which is a possible safety hazard for your pet. The overall durability of the product is somewhat limited.
Best with Bow
You can choose between a bowtie collar to make your pet look beautiful, or a bandana collar to transform them into a cowboy!
Pros:
This Gyapet set offers twelve color options–each package containing two collars. One of them has a movable bowtie, and the other is equipped with a cute bandana. The manufacturer used durable polyurethane leather, cotton, and polyester for the collar. The product is durable, and it will stay on the neck of even the most active pets. That is because of the strong metal buckle and the D-ring used. The high-quality materials also ensure that the collar doesn't show signs of wear and tear for a while.
Cons:
The width of the collar is adjustable from 8.5 to 12.5 inches, which doesn't give you as much wiggle room as other similar products. Also, the adjustable range is not the same for the bowtie and bandana collar. The strap is thick and stiff, which can look funny and be uncomfortable, especially for small felines. The bowtie is a bit loose, and it might easily end up on the wrong side of your cat's neck.
Best Personalized Collar
If your cat loves spending time outside, they might get lost. In those situations, a personalized collar on their neck shows their name and phone number to ensure their safe return home!
Pros:
FlowerTown designs these personalized name tags in various styles, and you can choose the desired color options for the collar and embroidery. Although you can use the collar as an ID tag, feel free to write whatever you see fit. The product is reasonably durable, and it features a corrosion-resistant D-ring and a cat-shaped buckle. The collar surface is reflective to help your pet get noticed easily in lowly lit conditions. The product is soft enough to ensure that your feline's neck remains unharmed. The breakaway feature is reliable, and it is easy to take off the collar if it is necessary.
Cons:
Since cat collars are small, you can't fit more than twenty-five characters on the product, which limits your creativity. The product is big, which is why it is not the best fit for small cats. If your pet tries to pull the collar off, the chances are they will damage the embroidery. The colors in the pictures might not be true to the actual shades used for the product.
What Really Matters
Are you wondering how to choose a kitten collar for your pet? These are the main topics to consider during the purchasing process!
Breakaway Feature
Breakaway is the most important safety feature in cat collars. Your cat will spend time playing and exploring. The collar might get caught on a tree or another object. In this case, the breakaway feature will ensure the collar opens under pressure. That way, you prevent potential strangling accidents involving your pet.
Size
The collar should properly fit your pet, which is why you should check out the product's width. Most collars come with an adjustable strap to increase the odds that it will fit your cat.
Depending on the item, it might be fit for small kittens (around six inches long), and large cats (up to twelve inches or more). Check your pet's neck width and compare it with the neck range offered by the product. That way, you will ensure the collar will fit your feline without making them uncomfortable.
Design
The cat collar market offers a wide range of color and design combinations. Some manufacturers keep things casual and offer single-colored collars. Others add accessories like moon and star rivets on the item.
You can also find kitten collars with various patterns, and stylish additions like bandanas and bow ties. Ultimately, it all depends on your preference. The only thing to consider is whether you need the collar to glow in the dark. Some products have reflective surfaces, which enables you to notice your pet even if lowly lit conditions.
Durability
The collar should be strong enough so that the cat doesn't take it off easily. Additionally, strong collars won't show signs of wear and tear for a long time, which allows them to maintain optimal appearance.
The durability will depend on the materials. Kitten collar manufacturers often use polyurethane leather, as well as cotton, polyester, and other fabrics. The buckle itself is usually made of metal to be more durable. If it is corrosion-resistant, it promotes the lifespan of the collar and promotes your cat's safety.
Pendants
Pendants play both aesthetic and functional roles. When it comes to aesthetics, the choice is up to you, and you can choose from various shapes. As for the functionality, decide whether you want the pendant to act as a bell. That way, the cat will make sounds whenever in motion. It will help you know that the pet is coming your way, and also make it easier to find it around the house and yard.
What's in Right Now?
Personalization is the latest trend in the kitten collar industry. Cat owners like to tailor the collar to their pet, which is why manufacturers allow them to personalize the product to their liking.
Some collars come with customized embroidery, which means you choose what to write on them. Most owners go with classics, such as names and contact details. However, you can get creative and write anything you want.
If you can't customize the collar with letters, the manufacturers might offer you to pick the color, design, or accessories. They offer multiple choices, and it is up to you to pick the one that fits your feline's characteristics.
Prices
Kitten collars do not have to be expensive, and their cost varies from under $5 to more than $15. Here is what to expect based on the budget:
Cheap
The most affordable collars cost less than $5. Choose wisely in this category because you want a collar that is fairly durable, but also soft enough for your pet to feel comfortable.
Mid-Range
The average cost of kitten collars is from $5 to $10. The actual price will depend on the materials used and other product features.
Expensive
If you are ready to pay more than $10, you can buy a premium cat collar. These should be the most durable, and some even come with unique designs.
FAQs
Can cat collars cause hair loss?
Did you put the collar on too tightly? Are you using a special flea collar filler with chemicals? In those cases, kitten collars might lead to hair loss on the cat's neck. However, as long as you ensure the product fits properly, you shouldn't have these problems.
How tight should my cat's collar be?
It should be tight enough so that it doesn't come off easily, but loose enough for your pet to feel comfortable. You don't want the collar to suffocate your feline, and you also want it to look nice, which is why optimal tightness is the best solution.
Will my cat get used to wearing a collar?
That is a highly relative question that depends on the pet. Some cats might have trouble accepting to wear the collar, especially for the entire day. Try giving the kitten a treat when you put the collar on them, and they won't try to take it off so quickly.
Can you put a cat collar on a dog?
In some cases, small dogs could wear a kitten collar. It depends on whether the adjustable neck range fits the dog. If you find that it is suitable, you can buy the same collars for both pets so that they have matching accessories.