The Best Kitten Foods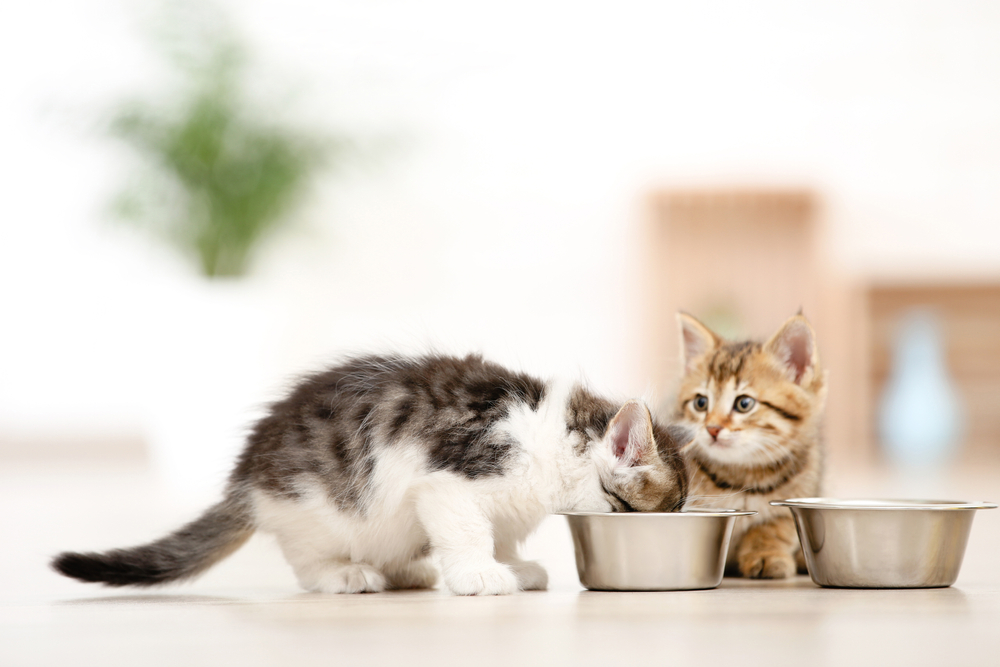 Just like our own babies, kittens require a balanced diet with enough nutrients to support growth and development, which is why you should find the best kitten food out there. That way, you ensure that your pet grows into an active and healthy cat. Read on to find our favorites.
Blue Buffalo Wilderness Dry Food for Kittens
Pros:
The manufacturer carefully selected the ingredients and ensured that the formula is grain-free. It contains pieces of actual chicken to provide a protein boost required for muscle development. The chicken never comes from by-products, and there is no soy, wheat, or artificial preservatives and flavors. Ingredients like taurine and fatty acids ARA and DHA promote cognitive development, retinal, and overall health. The company developed the LifeSource Bits blend to include the optimal amount of minerals, vitamins, and other nutrients your kitten needs.
Cons:
The largest bag available is five pounds. That makes it hard to stock up on the product. If you have an indoor and sedentary cat, the quantity of protein might be too much for them. The cost is not this product's best feature because you get a small bag for the price, but the price tag is expected since you get high-quality cat food.
PetAg KMR Kitten Milk Replacer Powder
Pros:
KMR is a food supplement designed for newborn kittens until they reach six weeks of age. The manufacturer indicates that it could also be suitable for post-surgery and convalescence. The formula includes vitamins, minerals, and trace nutrients with a similar caloric pattern to queen's milk. Moisture is estimated at 5%, and the formula consists of 42% of protein and 25% of fat. KMR is easy to digest and supports optimal growth, development, and energy level. You can choose between powder and liquid forms and multiple sizes available.
Cons:
Preparing the product takes time and effort, and the prepared mix should be used within 24 hours. The prepared mixture might be lumpy, but resolve this by adding a bit more water and stirring. The cleaning process is demanding since the mixture might leave residue on the bottle. The manufacturer indicates that KMR is only suitable for kittens and cats up to six weeks of age.
Purina Kitten Chow Dry Kitten Food
Pros:
The manufacturer designed a formula that includes at list 40% of protein, and 13.5% of fat. It is worth noting that this dry cat food has a moisture level of a maximum of 12%. The formula includes phosphorus, calcium, vitamin E, taurine, and other nutrients that focus on supporting optimal growth and development. These nutrients are also present in mother's milk, which is an indicator that the kitten will receive balanced nutrition. Real chicken bits are also included to add the flavor to the product. The manufacturer pinpoints their products are made in the United States.
Cons:
The 14-pound bag is not suitable for those not looking to stock up on the product. If you are only testing whether your feline will like this formula, you could end up with plenty of unused food. The risk always exists, especially with kittens used to wet food. The quality of ingredients could be better, but the formula contains nutrients and can be a part of a balanced diet.
Royal Canin Feline Health Nutrition Wet Kitten  Food
Pros:
The product comes in cans, but the food itself is in tiny bits that can easily fit into your kitten's small mouth. Thanks to that, this pack is a smart choice when the cat should make a transition to more solid food. The formula includes ingredients derived from chicken and pork, as well as added vitamins and other nutrients. The aim is to promote a cat's immunity and support optimal development and growth. The manufacturer pinpoints that cats up to 12 months old can use Royal Canin Canned Cat Food. Each can comes with three ounces of food, which you can divide into multiple meals per day.
Cons:
If you compare the product to similar canned cat foods, you will discover the price tag is a bit high. Although the product is high-quality, the cost seems higher than expected due to the prestigious reputation of the brand. The smell of the food might not be pleasant for people, but the important thing is whether your cat loves it.
What Really Matters
The good news is that the market offers a comprehensive selection of kitten food products. The downside is that it makes it hard to pick the best option. Here are significant factors to consider during the purchasing process.
Pick Food for the Right Age
Not all kitten food is suitable for the entire "childhood" of your pet. Always check the label to ensure the product is the right choice for the current age of your kitten. Milk replacers are a smart choice until your pet reaches six weeks of age. Dry food might not be wise until the kitten is at least four months old.
Cat food might also have a "suitable for all life stages" label. While you can give that to your kitten, it is better to choose a formula tailored to a kitten's needs.
The Importance of Real Meat and Protein
Kitten food varies in ingredients depending on the product and the manufacturer. It is crucial to scrutinize the label and confirm the formula's suitability for your pet. The more high-quality ingredients, the better. If a product claims to contain chicken or other meat, confirm that it doesn't come from by-products, but it is actual meat.
Protein is an essential nutrient for kittens since it supports muscle growth and development. The formula should contain at least 30% of protein to ensure sufficient energy and promote overall kitten health. Other vitamins and nutrients, including phosphorus and taurine, are also desirable. If it is possible, avoid artificial flavors and preservatives.
Type: Wet or Dry Food?
The choice is up to you, but both wet and dry food has pros and cons. Wet food offers a high moisture content, which promotes kidney and urinary system health, and helps to prevent dehydration. It is usually more expensive than dry food and doesn't last as long.
Dry food is convenient to serve and has a long lifespan. You should be careful when switching your kitten to dry food since it is not that easy to digest due to the lack of water content. Consider mixing both wet and dry food to get the best of both worlds.
Packaging: Can or Bag?
The two most common packaging types for kitten food include bags and cans. The manufacturers use bags to store dry food that comes in small bits and pieces. As for wet food, it usually comes in cans as it is easy to store and serve it that way.
Apart from the packaging type, consider the size, too. Bags can vary from small two or five-pound bags to large 14-pound packs or bigger. An average can stores three ounces of food, and the packaging might contain from three to more than a dozen of cans.
What's in Right Now?
Pet owners treat their cats as family members. That's why they only want the best of them. The result of that is increased demand for high-quality kitten food filled with nutrient-rich natural ingredients.
A high number of manufacturers try to adjust to this trend. That is why they include actual meat compounds in their formulas, as well as other ingredients with nutrients that kittens require.
The primary concern is to secure a balanced diet that promotes overall cat development and growth. A single kitten food pack aims to support immunity, energy level, and general health of kittens.
FAQs
Can I feed kitten food to adult cats?
Kitten food is not dangerous for adult or older cats by itself. However, kittens and adult cats do not have the same nutrition needs. A kitten requires more protein and fat than an older cat. Unless your vet recommended otherwise, it's now wise to give kitten food to adult cats, especially not for a long time.
Can kitten food cause diarrhea?
If you adjust your cat's diet in any way, it might cause diarrhea. When a kitten is switching to solid foods, diarrhea might be one of the side effects of the process. Your pet might also have an allergy to one or more ingredients. If you notice issues with diarrhea, try switching to other cat food brands. If the problems continue, visit your vet for advice.
By when should cats eat kitten food?
Kittens are cats up to 12 months old. That means you can feed them kitten food up to that point. However, recommendations might vary depending on the brand. Read the label and see if there is a specific recommendation.
How much food to feed a kitten per day?
That depends on the product, but the label should contain all necessary information. Avoid feeding kittens only once per day. Instead, your pet should have at least three meals a day. It secures the essential nutrients and their optimal absorption.
About the Site
CatTime
Since 2008, CatTime has provided millions of cat owners with all the information they need to keep their pets happy and healthy. Our experts know exactly what it takes to raise our furry friends and our goal is to help all owners, new or experienced, care for their cats with all the right food, toys, equipment, and accessories.