How To Choose The Best Kitten Toy For Your Cat – CatTime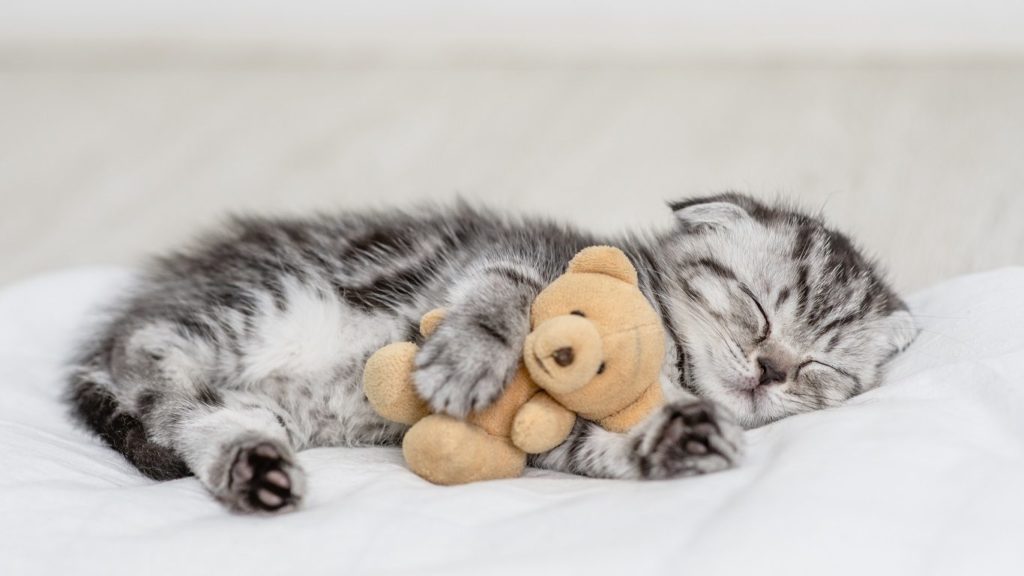 Giving kittens toys to play with helps to sharpen their cognitive function. In addition to keeping your kitten entertained, it will teach them new skills as they develop into an adult cat. From running, jumping, and problem solving, there are endless benefits when you give your kitten something to play with. Toys mimic the skills your cat would use to hunt prey in the wild. Toys can also be a great way to bond with your kitten. If you are looking for some toys for your kitten, here are our pick of the five best.
Best Choice
Consisting of three different levels, the Petstages Tower of Tracks involves your cat passing a ball around in a circle to try and get it out.
Pros:
The game is an interesting puzzle for your kitten to solve. They can slide their paw into each level to encourage the ball out, which is tricky; however, this level of difficulty is what keeps them entertained longer. There are no small pieces that your kitten is able to swallow, making it safe for younger kittens. The unit is deliberately small to be at the same height as your kitten, so that it's a fully interactive experience.
Cons:
It's quite a bulky toy, so it isn't ideal if your living area is short on space. There isn't a lot of variety with the game itself, so over time, your kitten could become bored with the concept. It's designed for multiple kittens to use simultaneously. This feature is only useful depending on how well your kittens or cats get along.
Best Set
Offering a wide choice of entertainment for your kitten, this Youngever set contains twenty-four pieces that are suitable for both kittens and older cats.
Pros:
With so much variety from each of the twenty-four pieces, there is a lot to entertain your kitten. It's also excellent value as you receive such a large amount of toys for one, low price. The toys also cater to different behaviors, including hunting, jumping, and other sensory experiences. If you were to buy each of these pieces separately, it would be much more expensive. The toys are bright and colorful and are therefore easy to spot for kitten and owner alike.
Cons:
Supervised play is advised, as some of this set's parts are quite small, which threatens ingestion. As each of the toys only amounts to a few cents each, the quality isn't the best; they could fall apart even after regular use. Some users recommend removing smaller pieces to ensure safety.
Best for Nighttime Play
For kittens who are active at night, the Petstages Purr Pillow cat toy is designed to act as a comforter and playmate to keep them entertained while their owner sleeps.
Pros:
The toy is soft and cuddly, meaning your kitten can lay on it for comfort. In addition, the toy has a touch-activated purring sound that lasts for two minutes. The purring mechanism can also be removed to wash the toy. The toy is ideal for cats with anxiety or separation disorder and can also be used to comfort grieving cats. It doesn't require any owner intervention to play with, so it's ideal for your kitten to play with at night.
Cons:
The toy is designed to be comforting rather than a stimulant, so you will need to provide your kitten with some different toy types for some variety. The toy also requires regular washing as kittens tend to lick the fabric as if it was a real cat.
Most Durable
Designed to make your kitten's dreams come true, the Youngever Twenty-Piece Cat Toy Set includes mice that are individually filled with catnip.
Pros:
Cats and kittens alike adore mice toys because it appeals to their hunting instincts. Additionally, each piece is filled with catnip, which relaxes cats. It's also ideal to have catnip in toys, especially if your kitten is too young to eat catnip or if they have a digestion issue with it. In terms of durability, the material of these toys is tough enough to withstand your kitten clawing away at the mice. As twenty pieces are included, this ensures longevity and offers great value for money.
Cons:
The eyes and ears that are stitched onto the mice could become loose with regular play. If so, you'll need to ensure that your kitten doesn't ingest any of the material; this could be dangerous to their health. If you have lots of time to play with your kitten, it will make the toy more entertaining.
Safest Kitten Toy
For a safe product that allows you to supervise your kitten while they play, the Cat Dancer Rainbow Cat Charmer is a piece of material on a stick that becomes attractive to cats as it moves.
Pros:
In terms of safety, having an item on a stick means your kitten cannot ingest any small parts. Also, the stick ensures you stay in control, so your cat cannot become injured. The ribbon is very attractive to cats and making a similar toy that's equally durable isn't easy. Once you drop the toy, your kitten will enjoy wrapping themselves in the ribbon, without any way of it causing them harm. It's also a great way to bond with your cat, as it requires user interaction.
Cons:
The stick is just a one-piece set, so it is not ideal for entertaining more than one cat. It also requires the owner to manually move it in order for it to attract the cat, so not ideal if you want to be able to leave your kitten to play alone. If older cats with stronger claws get hold of it, they could rip the material.
What Really Matters
Stimulation for Your Kitten
Kittens are young and full of energy. As a result, they require lots of entertainment and stimulation. As kittens, they will be starting to develop their skills required as an adult cat. For example, hunting and stalking prey. Your kitten will benefit from being able to reenact these instincts through their toys, which is why it's important to provide them with lots of variety. For example, strategy games help your cat develop their logic, whereas toys that allow them to jump around helps them burn off energy and develop muscles and strength for when they venture outside.
Quality Bonding Time
Another benefit of buying toys for your kitten is that they allow for quality bonding time between you and the cat. When kittens are first placed into a home, they might be nervous and unsure of their new surroundings. Toys provide the perfect icebreaker and can help build a sense of trust between you and your kitten. If the toys are shared between a kitten and other cats, it can also help your animals bond.
Safe Materials
Of course, any animal owner will be concerned with making sure everything they buy is safe for their kitten. One of the top priorities is to ensure the materials are durable and don't come apart easily. In some cases, kittens (or other pets you may have in your home) will ingest toys, especially if small pieces become loose. It's a good idea to opt for larger or more durable pieces, as this will offer safety to your cat and peace of mind for you. Another aspect of safety is choosing non-toxic toys, which is another way you can ensure the health of your kitten or cat.
What's in Right Now?
The trend for kitten toys is swaying towards those that don't contain plastic, due to environmental concerns. However, another trend comes in the form of cat toys which are puzzles that take a while for your cat to figure out. In fact, this idea is also common to see in food bowls where the food is distributed in a pattern so that the animal takes their time when they're eating and doesn't create a mess on the floor. Regarding toys, the idea is to keep the animal busy for a long time rather than give them something with which they will become quickly bored. It makes for an entertaining thing to watch, too!
Prices
Cheap
For kitten owners on a budget, you can easily pick up individual cat toys for as low as $1, although this doesn't ensure great quality. Ensure that cheaper toys are made from good materials and don't contain any small parts that your kitten could choke on.
Mid-Range
The average price for a set of kitten toys is $10. As kittens are quite small, so are the toys, which is why the typical price is pretty low. The trick is finding a set that will keep them entertained, so you don't have to keep buying more toys.
Expensive
Premium kitten toys retail at $20 and above, and usually include luxury materials, or a more complex challenge. Expensive kitten toys may also be suitable for your kitten as they grow into an adult cat, making them great value for money overall.
FAQs
Why does my kitten need toys?
Similarly to puppies, when cats are first born, they have a lot of energy that needs burning off. Kittens are also learning to adapt to their surroundings and acquiring the skills they'll need to survive as an adult cat. Toys help kittens with every aspect of being a cat, especially when it comes to puzzle-solving, hunting, and all the other skills they need. Plus, kittens simply need entertainment, and toys are the perfect outlet.
What type of toy is best for kittens?
Toys that make kittens feel at ease are a great variety to start with. For example, toys that have soft material and may purr, or those that contain catnip. This is important because it will make your kitten feel safe, especially if they are active during night while you sleep. To help keep your cat entertained and develop skills, look for toys that encourage gentle play, such as mice or balls that bounce along the floor for them to catch. Your cat has a natural hunting instinct, so toys that mimic the need to catch their prey is ideal. Avoid toys that have sharp edges, loose pieces, or anything else that might cause harm to your kitten.
My kitten gets bored with toys easily. What should I do?
It's worth taking note of what toys they have tried to identify a pattern. It could be that your cat isn't old enough to understand how the toy works yet. Or, perhaps it's just not stimulating enough for them. The best advice would be to try a different toy type, such as a ribbon that can easily catch their attention. Try to pick a toy that your kitten can play with on their own that doesn't require owner intervention, as the problem could be that it's not fun unless you move it for them. Remember, kittens need a lot of stimulation at an early age, so the toys need to be fun to reflect this.
Can I leave my kitten alone to play?
Kittens, like any young animal, need close supervision. However, it's impossible to watch them 24/7. Having said that, any toys that your kitten does play with need to be safety-tested, to ensure that your kitten won't come to any harm, especially if they aren't being supervised at the time. Kittens should not be left alone for long periods, and also need to be closely monitored overnight.