The Best Litter Boxes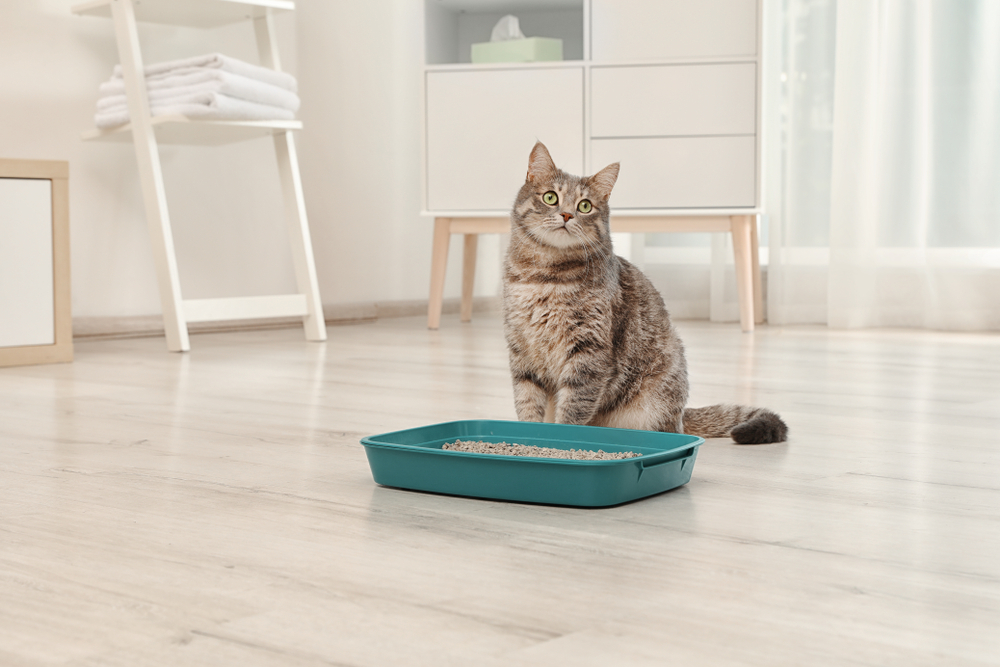 As much as we love our feline friends, there's one not-so-glamorous chore that comes with being a cat parent – the litter box. Yes, the litter box itself is a great invention for our indoor friends. However, things can get rather… messy. There's the odor, the litter particles making their way onto the floor, and the scooping. But because we love our cats, we'll go out of our way to make sure they're always happy. With that in mind, let's try to make things a little easier on ourselves and take a look at some of the best litter boxes on the market.
Petmate Sifting Litter Pan
There aren't many things more tedious than cleaning out your cat's litter box. Without a doubt, it's a chore that's constantly on the 'I'll do it tomorrow' list. Well, Petmate just made your life a lot easier with this sifting pan that pretty much takes the work out of the cleaning process. Simply toss the litter into a sifting pan, shake it out, and voila, the box is clean. Not only is this convenient, but it will also save you a bunch of money on cat litter.
Pros:
The sifting tray makes for an easy clean
No scooping required
Reinforced bottom
Saves you money on cat litter
Cons:
Wet litter will sometimes stick to the bottom of the tray
Doesn't work well with all litter brands
Iris Top Entry Cat Litter Box
It's never fun to walk across a floor that's covered in cat litter particles. The crunching sound on the soles of your shoes – that's if you're lucky enough to be wearing shoes. But thanks to Iris, you can avoid disaster and enjoy clean floors while providing your cat with one of the best litter boxes on the market. With a top entry, your cats can climb right in, do their business, hop out, and leave your floor free and clear.
Pros:
Top entry prevents litter scatter
Easy to clean with the included scooper
Non-skid rubber feet
Grooved lid removes litter particles from claws
Cons:
The lid can sometimes collapse into the box
The plastic shell isn't of the highest quality
PetSafe Self-Cleaning Litter Box
Tired of scooping cat litter every day? Tired of cleaning their boxes every week? Yeah, it's not a fun process, but we do it to keep our feline friends happy and comfortable, which is exactly what PetSafe knows. That's why they released their self-cleaning litter box that automatically removes waste with a built-in raking mechanism. Not only does this eliminate odors, but it also saves you from having to clean and replace litter every week. All you have to do is remove the disposable tray at the bottom.
Pros:
Self-cleaning
Good for the economy and your bank account
Disposable trays
The health counter keeps track of how many times your cat goes to the bathroom
Cons:
Not 100% waterproof, so the digital panel could be affected
Not the best at trapping odors
Tbrand Foldable Cat Litter Box With Lid
Animal lovers have all been faced with that one conundrum: what to do when it's time to travel? If traveling involves hitting the open road, then Tbrand has you covered. Cat's aren't the biggest fans of being plopped in a car, but this portable, top-entry litter box will help ease some of the anxiety. The box is also sturdy enough that it can be used in your home, too, making it a multifunction item.
Pros:
Easily foldable and portable
The top-entry design prevents messes
Eco-friendly material
Easy-clean drawer design
Cons:
Smaller than your average litter box, so it's not ideal for larger cats
Litter can sometimes spill out the back while cats are digging
Petmate Open Cat Litter Box
Some litter boxes can be expensive and run you a hundred dollars or more when basically they all do the same thing – provide a toilet for your cat. With this classic box, Petmate has you covered. Classic in style, easy to use, a cinch to scoop, and effortless to clean, this is one box that gets the job done without any hassle to you or your feline friend.
Pros:
Plenty of space for cats of all sizes
Available in four different sizes
Easy to scoop and clean
Won't break the bank
Cons:
Box tends to run on the smaller side
Plastic can crack rather easily
Frequently Asked Questions
What should I look for when purchasing a litter box?
For one thing, you'll want to make sure that it's the right size for your cat. It really is amazing, though, some of the options on litter boxes today: top entry, self-cleaning, disposable trays. It's more of a dealer's choice, as some folks don't need all the gadgetry and opt for an old-school classic box. But the most important thing is that you and your cat are happy.
Does more expensive mean better quality?
In some circumstances, yes. But that can also backfire at times, too, since the more mechanical litter boxes have a better chance of breaking down at some point. Yes, a cost-effective box can easily crack, but it's also hassle-free to replace. However, a self-cleaning box may be ideal if you have a few feline friends running around.