The Best Litter For Healthy Cats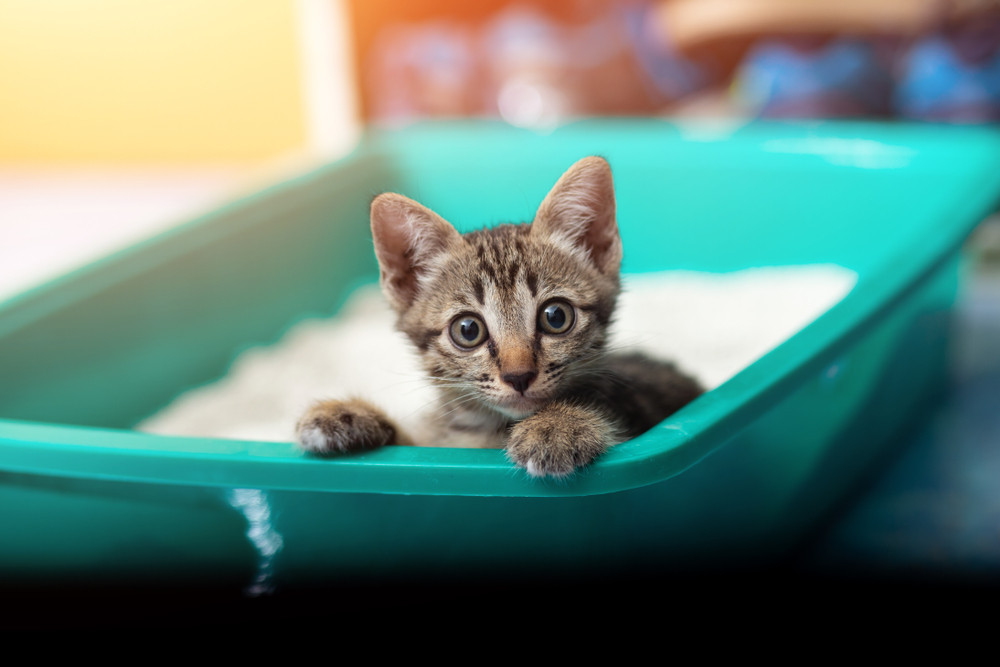 Whether you already have a menagerie of fuzzy felines or you're picking up your first pet, it's essential to find the perfect products. We especially recommend choosing a high-quality litter to help you keep odors down while providing your healthy cat with the ideal place to potty. Plus, the better the litter, the easier it will be to maintain.
What to Look For
For a healthy cat and clean home, we recommend choosing your kitty litter based on texture, ingredient quality, and overall cleanliness. For example, Alpha Paw Genius cat litter monitors your kitty's health with lightweight, non-clumping crystals that don't stick to fur or paws. However, Okocat Super Soft wood litter is best if you have a particularly picky puss. It's gentle on their feet and clumps quickly to keep the mess at bay. And although we love these, we know every pet is unique. So no matter your pet's preferences or needs, we're sure there's a litter for you below.
Alpha Paw Genius Cat Litter
Keep a close eye on your cat's health by simply checking these color-changing crystals.
Alpha Paw Genius cat litter has it all. It soaks up and absorbs urine to lock in odors without clumping or sticking to your kitty's fur or feet. You don't have to worry about messes or harsh scents. But that's not the best part. What makes this litter unique is that it monitors your pet's health by detecting blood, bilirubin, Ph levels, and more. From there, it changes the color of the crystals so you can see if they're in tip-top shape or need a visit to the vet.
Pros:
Litter fades back to white after a while so that only the freshest spot is colored for easier monitoring
Unscented and absorbs foul odors
Absorbs fast without clumping
Easy to clean
Cons:
Gets a little dusty during changes
Okocat Super Soft Wood Litter
Your kitty's sensitive paws will stay perfectly safe on this super soft wood litter.
Okocat Super Soft wood litter soaks up urine and clumps around messes while helping your kitty stay comfortable and safe. Meanwhile, the fine wooden grains provide fantastic odor control to keep your home smelling fresh and clean. And since it has a low-dust formula, you can also avoid excessive tracking, respiratory problems, and all of the other pitfalls of typical wood litter.
Pros:
Biodegradable and eco-friendly
Clumps to make changes easier
Low dust and low tracking make it easy to keep floors cleaner
Excellent odor control compared to most natural litter
Cons:
Pieces can be too big for a sifter
Vetreska Tofu Cat Litter
These flushable pellets are made of pure, biodegradable tofu for maximum convenience.
Vetreska Tofu cat litter is biodegradable, flushable, and all-natural, making it one of the most eco-friendly options out there. It clumps up around stinky messes to keep the odor contained and dissolves in water to help you avoid clogs when you flush it away. Plus, little scent beads help add freshness throughout the area. When you add that to how little dust it releases, it's hard to beat.
Pros:
Lightweight for easy maneuvering
Doesn't leave dust in the bottom like many pellets
Flush away clumps and top off for effortless, mess-free cleaning
Low dust makes it great if you or your family have allergies
Cons:
Pellets don't work well with litter robots
Pretty Litter Health Monitoring Cat Litter
This odor-blocking crystal litter can help keep your kitty in tip-top shape.
Pretty Litter Health Monitoring Cat Litter uses color-changing crystals to help you and your vet stay on top of your furry family member's health and wellness. It can alert you to urinary issues, liver problems, and more by measuring blood, bilirubin levels, and Ph. It also absorbs liquid and odors in a flash to keep your cat and your home clean and scent-free.
Pros:
Clump-free crystals don't stick to fur or cause irritation
Health tracking is ideal for elderly or sickly cats
Easy to clean from both the litter box and floor
Controls odors well
Cons:
Pricier than most crystal cat litters
Cats Incredible Lucy Pet Clumping Litter
A beautifully light smell and powerful clumping keep your home feeling as clean as possible.
Cats Incredible Lucy Pet clumping litter has a lovely scent and uses Smell Squasher, which neutralizes ammonia and keeps your home as fresh as possible. The lavender scent helps you keep a light, floral feel to the area without overwhelming the sense, and the quick-clumping clay helps you effortlessly scoop out the mess. Cleaning can take seconds instead of half an hour. As a bonus, it rarely tracks and doesn't get too dusty, which helps you keep your floors clear of debris.
Pros:
Works well for multi-cat homes
Scent is fresh without being too strong or irritating
Clumps so fast odor never has a chance to get into the air
It's easy to scoop and top up your litter box for less frequent whole-box changes
Cons:
Hard to pour the litter from the box
Frequently Asked Questions
What are some things to avoid when choosing a litter?
Some cat litter is messy and dangerous. We recommend staying away from anything that gets very dusty, such as clump-free clay litter. The dust can cause respiratory problems and leave a residue around your home.
How much kitty litter do I need?
There should be two litter boxes in your home for a single cat. And for every cat after that, you can add one more. So if you have four cats, five boxes are appropriate. You will need enough litter to fill each box about three inches deep.
About the Author
Why Trust Us
Since 2008, CatTime has provided millions of cat owners with all the information they need to keep their pets happy and healthy. Our experts know exactly what it takes to raise our furry friends and our goal is to help all owners, new or experienced, care for their cats with all the right food, toys, equipment, and accessories.