The Best Natural Cat Food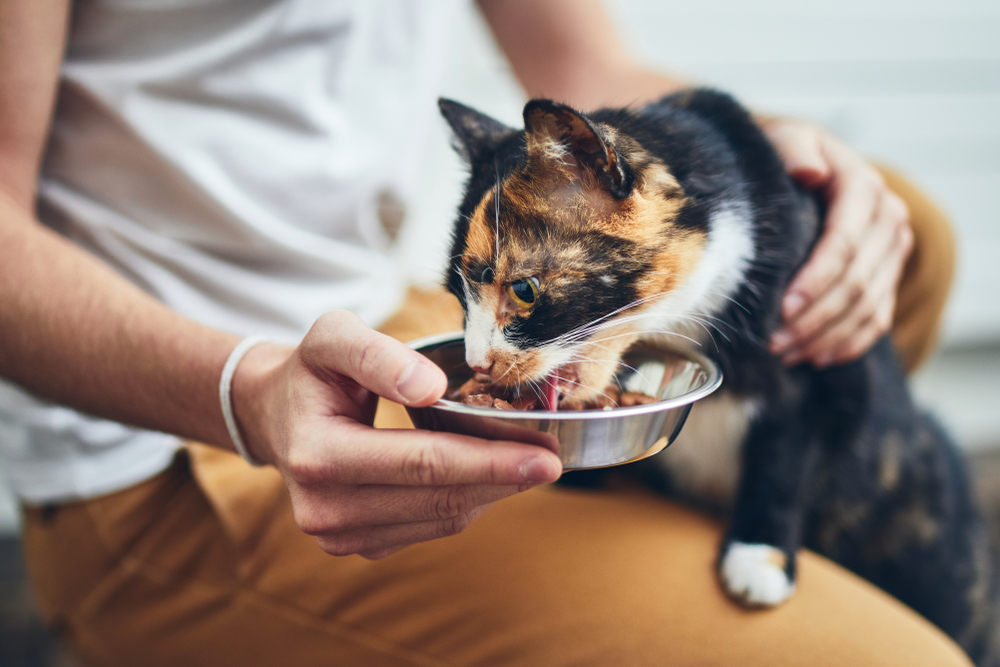 We love our cats more than anything, which means we want them to stay happy and healthy for as long as possible. That means keeping their teeth strong, their coats shiny, and their eyes bright. To do that, it's important to choose the right food. There's a lot that goes into it, but the most important part of finding the right one is to keep it as close to their natural diet as possible. Having the right nutrition will go far in keeping your feline friend full of energy and ready for their long naps and hours of play. Your cat is important to us, too, which is why we've created this list of the best natural cat foods to help you keep them feisty for years to come.
What to Look For
In our research, we found that the best natural cat food is nutritious, easy to digest, and packed with protein. For example, Blue Buffalo Wilderness natural adult cat food features high-quality meat as the first ingredient, along with essential vitamins, minerals, and antioxidants. If your kitty prefers morsels with a bit more moisture, then we heartily recommend Feline Natural's canned cat food. It's got all the nutrients your furball needs. Plus, we all know how cats like to avoid their water bowl. This food is a sly way of making sure they stay hydrated. Read on to learn more about our favorite picks.
Blue Buffalo Wilderness Natural Adult Cat Food
Cover all of your cat's nutritional needs with this high-quality food.
If you want a high-protein food that's as close to a cat's natural diet as possible, Blue Buffalo Wilderness Natural Adult Cat Food has you covered. It's made with lots of meat and no grains, so you're giving your feline friend more of what they need and none of what they don't. The added Lifesource bits are full of antioxidants, vitamins, minerals, and other ingredients that help keep your pet as healthy and happy as possible. Best of all, this dry kibble is easy to measure, so you can keep track of just how much your kitty is consuming.
Pros:
Choose from three high-quality types of meat, including duck, chicken, and salmon
You can get a bag as small as two pounds or as large as 12 pounds, making it easier to feed multiple cats
This food has everything a cat needs for a balanced diet
Cons:
It's on the pricier side
This food isn't ideal for cats with sensitive tummies
Blue Buffalo Sensitive Stomach Natural Cat Food
Support your pet's unique health needs with this specialty food.
Like many humans, some cats have tummy troubles from time to time. For those kitties, we turn to Blue Buffalo Sensitive Stomach Natural Cat Food. Real meat, whole grains, and high-quality prebiotics come together to form a nutritious diet for your cat that's gentle on their stomach. There are lots of added benefits, too. It supports their immune system while helping them maintain a healthy weight. Omega fatty acids mean their skin and coat will never look or feel better, either.
Pros:
This food is both healthy and tasty, unlike many other sensitive stomach foods
All-natural ingredients help your cat feel their best
You can get either a small bag for one cat or a larger bag for multiples
Cons:
There's only one flavor available
It works great for tummy issues, but it doesn't help with skin allergies
Purina Cat Chow Naturals
This is an excellent option when you need to keep your cat's weight in check.
House cats are prone to becoming overweight, which is why paying close attention to their diet and adjusting it as needed is so important. If they start to get a bit chunky, you may want to check out Purina Cat Chow Naturals. It's perfect for keeping your kitty's weight in check, and it has the added benefit of improving their coats and preventing hairballs. The best part? It has no artificial flavors or preservatives, so you will always be confident that they're safe and healthy.
Pros:
Super affordable
Most cats love the taste, even those who tend to be picky
The completely balanced recipe keeps lazy felines in great shape
Cons:
It doesn't use the absolute highest-quality ingredients, although the protein source is awesome
Sensitive stomachs don't always agree with it
Stella & Chewy's Freeze-Dried Raw Dinner Morsels
There's nothing healthier, tastier, nor closer to nature than the real raw meat in this option.
Evidence has shown that the closer you can get to a cat's natural diet, the healthier they'll be. And what could be closer to nature than raw? We can't think of anything, which is why Stella & Chewy's Freeze-Dried Raw Dinner Morsels is one of our favorite food choices. The recipes all include 98-percent meat, including muscle, organ, and bone. That's precisely what they'd get in the wild. From there, they've added vitamins and probiotics for an extra boost for their immune system and digestion. It's all done in small batches for fantastic quality control.
Pros:
There are six recipes, so you're sure to find one your cat loves
Raw meat that's been freeze-dried is safer than fresh raw and healthier than kibble
This food is one of the closest you can get to feeding your cat all-fresh meat
Cons:
It's very expensive, especially if you plan to feed it to more than one cat
You may need to soak it for best results, which means you need prep time to feed your cat
Feline Natural Canned Cat Food
Your cat will stay happy, healthy, and hydrated when you choose this all-natural wet food.
Many vets and breeders agree that canned cat food is the healthiest shelf-stable food available for cats. That's because most kitties don't like drinking water, so they often become dehydrated. That can lead to lots of health problems. Canned food also usually includes a lot more meat than kibbles. Feline Natural canned cat food is one of the best canned foods out there. It's grain-free and packed full of grass-fed and free-range meats. As a bonus, there are no gelling agents or fillers.
Pros:
Nine flavors and several case sizes make it a convenient choice for one cat or several
The recipe includes 98-percent fresh meat, organs, and bone to keep it close to natural
It hydrates your cat while filling its tummy
Cons:
The cost can make it hard to afford for many cat owners
Some cats don't like every recipe, so you may need to sample a few before buying it by the case
Frequently Asked Questions
Why is it important to feed my cat natural food?
Just like with humans, a cat's diet and health are intimately connected. Natural foods leave out the preservatives and fillers that many lower-quality alternatives often include, making them a better choice overall. Also, in general, cats like the taste of natural foods better, too.
What type of food is best for my cat?
There is no one-size-fits-all choice when it comes to food for your cat. The best choice for them will depend on a few factors. First, you'll need to figure out your budget. Once you've done that, you can move on and start thinking about your cat's flavor preferences, health issues, and habits. For example, a cat with a sensitive stomach that avoids water will do best with wet canned food containing no fillers or hard-to-digest ingredients. On the other hand, a healthy cat that drinks water regularly but is picky about taste may prefer freeze-dried foods.
About the Author
Why Trust Us
Since 2008, CatTime has provided millions of cat owners with all the information they need to keep their pets happy and healthy. Our experts know exactly what it takes to raise our furry friends and our goal is to help all owners, new or experienced, care for their cats with all the right food, toys, equipment, and accessories.