How To Choose The Best Outdoor Cat House For Your Cat – CatTime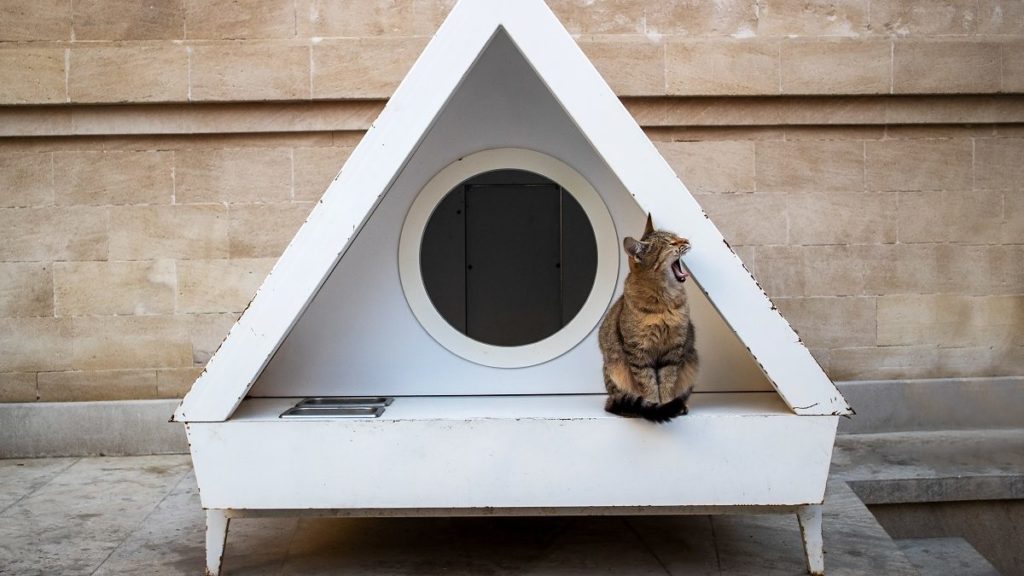 It is essential to know that your cat is safe and warm in all climates. Many cats are free-spirits and like to stay out at night. Understanding your cat has a warm outdoor bed during cold months can give you peace of mind. An outdoor cat house can protect against rain, wind, snow, and freezing temperatures, and many can be stored in your garage, barn, or porch. If you are worried about stray cats in your area, leaving a warm, dry house out for them provides somewhere safe for them each night. Our guide will help you find the best cat house, depending on your cat's personality and your budget.
Best Choice
This outdoor cat house is large, sturdy, water-resistant, and has a heated bed to keep your cat warm when sheltering or sleeping outside. It requires mains power for heat and comes with a 5.5ft cable.
Pros:
The K&H Outdoor Cat House is ideal for cats of all sizes as it measures 18 by 22 inches. Easily assembled, it is heated with a plush heated cat bed to ensure your cat stays warm and cozy even in harsh weather. The outer fabric is water-resistant to keep your cat dry, and the heat pad can be washed to keep the house fresh. It has two doors for safety, each with a transparent door flap to retain the heat. This product is the ideal choice for cats who prefer to sleep outside or in outhouses or porches.
Cons:
To keep the cat house warm, the two doorways are covered with a plastic flap which your cat needs to push against to enter and exit. If your cat is used to using a cat flap or has an adventurous nature, likely, they won't be put off by the plastic flaps. However, a more nervous cat may be unsure of using this cat house.
Ideal for Winter
This attractive cat house is water-resistant and provides a warm home for your cat. It has a heated pet mat and padded bottom for comfort and warmth and provides shelter from the elements in winter.
Pros:
The Petyella heated cat house is easy to assemble and is large enough to house both cats and dogs under 25lbs. It is water-resistant and has a heated pet mat, which is powered by the mains. The cable is chew-proof making it suitable for use with pets, and it has a timer to ensure the house is only heated when required, for example, at night. The house is appealingly designed to look like a cottage for your cat. It has two doorways, which each have a plastic flap to retain the heat within the house.
Cons:
Although the roof is water-resistant and the base is waterproof, the cat house cannot be left in an uncovered space such as the garden, as rain can get in through the plastic flaps. To keep your cat warm and dry, this cat house is only suitable for use in porches or a garage or barn.
Best for More Cats
This wooden outdoor cat condo provides a sheltered home for night-times and lousy weather, but also offers a shaded balcony area for playing and resting on warmer days. Several cats can share this ho
Pros:
The Petsfit Outdoor Cat House is an aesthetically pleasing choice made of solid wood. The roof is made of asphalt to protect your cats from rain, and the whole house is raised off the ground to prevent rising damp in wet weather. Large and sturdy, it can hold three cats up to 18lbs limit, or one cat and her kittens. There are two exits from the main cat house, ensuring your cat can safely escape from predators. A ladder leads to the condo roof where your cats can rest or play in warmer weather.
Cons:
The cat house will require assembling once it arrives. The holes are pre-drilled, but if you are not keen on construction or find self-assembly products challenging, then you may prefer an alternative product that requires less time to put together.
Best Wooden Cat House
This painted wooden cat house has an asphalt roof to protect against the elements and carefully spaced wooden boards to ensure proper air circulation. Cats can rest on the roof or inside the house.
Pros:
The Petsfit wooden house is ideal for one cat or up to three kittens and is suitable for indoor or outdoor use. It is sturdy, and small gaps between the wooden boards ensure good air circulation. The wooden door can be closed or remain open to act as a ramp into the house. The roof lifts to make cleaning inside easier. The house is weatherproof, and as it is lifted off the ground on legs, moisture cannot seep in through the base. Your cat can enjoy sitting on the flat roof in sunny weather.
Cons:
The house is relatively small and only suitable for one cat. If you have multiple cats, a large cat, or if your cat is used to sleeping in a larger space, you may prefer a bigger cat house. If your cat might have kittens in the future, a larger cat home might be a better long term investment.
Best Price
This cat cube is a haven for cats as it has two exits and plastic door flaps to retain the heat. If you have more than one cat, two cubes can be stacked together, saving space on cat beds.
Pros:
The Kitty City large cat bed is designed to stack in sets of two for multiple cats. It is made of water-resistant, sturdy fabric walls that are insulated to keep your cat warm. Each cube has two exits for your cat's safety, and each door has a clear flap to protect from rain or wind. The flaps also keep the heat inside. In warmer weather, remove the flaps to keep your cat cool with good air circulation. This house is suitable for indoor and outdoor use and is easy to assemble and store.
Cons:
The base of the cat house is fairly firm. If your cat is used to a plush bed, they may not be keen to sleep in the cube. You may need to place a blanket or pad into the house so that they feel more comfortable using it.
What Really Matters
Keeping Your Cat Warm
When looking to buy a cat house, one of the most critical considerations is likely to be whether it will keep your cat warm. Even a cat with a thick coat will get cold in winter temperatures, and although they might love to be outdoors, they will need somewhere to get warm and dry to rest and sleep. A well-insulated cat house will retain some heat and may warm up more when your cat is inside it. If you live in an area that experiences frigid temperatures, a cat house with an electric heated pad will offer your cat the greatest warmth. If you are worried about the welfare of stray or feral cats in your area, these cats are at risk of being underweight and malnourished and so keeping them warm should be a priority.
Waterproof
To stay warm, a cat also needs to be dry, and so it is essential to ensure the product you choose is waterproof if it will be kept outdoors rather than in a barn or garage. Some products are water-resistant, meaning that they can withstand a small amount of rainfall. Waterproof products should not let water penetrate the cat house, keeping your cat dry even in heavy rain. Check the product details carefully to determine if the house is waterproof or water-resistant. The material of the cat house could also help you decide if the house leaked. Additionally, a product that is raised off the ground on legs or stilts will prevent water from rising from the ground and seeping into the base of the cat house.
Easy to Clean
Although cats might be good at cleaning themselves, over time, an outdoor cat house can begin to get grubby. Cat hair and dirt can all accumulate and become offensive. The exterior of the cat house can also become dirty with fallen leaves or environmental debris. The cat house you choose should be easy to clean, and this could mean washable covers, wipeable walls, or a roof that lifts off to make it easy to access inside the cat house. If the cat house does not come with a mat or bedding, it may be helpful to choose a cat bed or blanket that you can easily wash to keep the cat house looking and smelling fresh.
What's In Right Now?
Although a cat house might serve a functional purpose, for many of us, the aesthetics of a product remain important. If the house is going to be positioned in your garden, porch, or balcony, you will probably see it every day. It is, therefore, crucial that you like what you see. Wooden cat houses can blend into a garden more effectively as you may already have wooden outdoor furniture or a wooden shed.
Many of us have more than one pet, and you may own animals other than cats, too. If your pets get on well with each other, you may want an outdoor house that will be suitable for all of them. How many cats you have may affect the size of the house you require. Several cats will need a much larger home than a single cat, and the same is true if you want to make a warm space for a dog and cat to share. Keeping multiple pets is common, and luckily larger, multi-functional houses are available.
Prices
Expensive
>$125 for a large wooden cat house suitable for more than one cat. The house is weatherproof and has additional space for cats to rest or play on a covered roof in warmer weather.
Mid Range
$67-$75 for a cat house large enough for one cat. The cat home may be constructed of wood or insulated fabric. The houses are weatherproof and may include a heat mat.
Cheap
$44-$50 for pet shelters constructed from fabric panels. These houses will protect your pet against the elements and maybe weatherproof or include a heated mat to keep your cat warm in the winter.
FAQs
What do I do if I don't have space for a cat house undercover?
If the cat house you choose will be left open to the elements, rather than placed in a barn or garage, it is important to look for a fully waterproof product. The house will also need to be lifted off the ground to prevent damp getting in via the base or floor of the house. If you live in an area of sub-zero temperatures or guaranteed snow, a heated cat house will offer superior warmth for your cat.
Is it safe for cats to sleep outside all night?
Cats have a vast range of instincts that make them suited to the outdoors. They can smell and hear for miles, and generally know how to stay safe and keep warm. However, the outdoors does come with its fair share of risks, from territory fights with neighboring cats to main roads with fast cars. Cats, therefore, benefit from having an outdoor shelter they can call their home. Failing to provide this can force them to take shelter in less comfortable, less safe environments.
Aesthetics are important to me. Which cat houses will I love?
Cat houses are no longer merely functional. From attractive wooden cat homes to quirky cottages or funky campervan styles, a cat house can be as individual as your (or your cat's) personality. Once you have identified your functional requirements, such as a heated mat or waterproof construction, you can choose a cat house based on your taste to ensure both you and your cat love it.