The Best Self-Cleaning Litter Boxes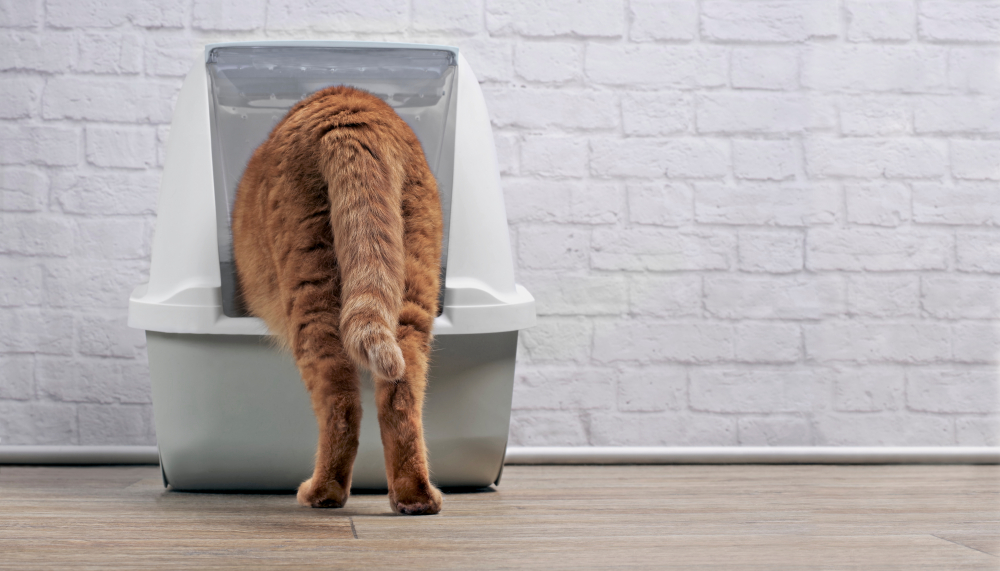 Cats are the perfect companions. They are affectionate, sweet, silly, curious, and intelligent, and their antics will keep you endlessly entertained. And if you have to be gone from the house for long stretches during the day, your kitty will be just fine. Of course, there is just one drawback to owning a cat: cleaning out the litter box. It's not exactly the most pleasant task. Fortunately, there are litter boxes out there that do the job for you. Yes, you read that right: automatic self-cleaning litter boxes are a thing and if you don't have one yet, it is time to get on it. This type of litter box automatically detects when your cat has used it, and then promptly removes the waste and cleans the box. Trust us, you and your feline friend will be so much happier together with a self-cleaning litter box in the house. Ready to find the right product for you? Here are some of the best self-cleaning litter boxes available.
PetSafe ScoopFree Cat Litter Box
Not only does the PetSafe ScoopFree Litter Box do an excellent job of cleaning up after your cat, but it also helps you to monitor your cat's health, making it an easy pick for best overall. Cats are prone to getting urinary tract infections, so it's extra-important to use proactive measures to stay on top of your precious kitty's health and be able to detect illnesses early. After all, you don't want your cat to be in pain without your knowledge, since they have no way of communicating this to you. That's where the ScoopFree litter box comes in. Not only does this box automatically remove waste and thoroughly absorb smells, but the health counter feature keeps track of how many times your cat uses the box, which is an effective tool in catching and preventing a UTI.
Pros:
Cleanup is super-easy with this litter box; all you have to do is remove the tray and throw it away, which is convenience we appreciate.
Because this litter box utilizes crystals, you won't have to worry about dust getting all over the place.
Being able to track your cat's movements with the digital counter is an underrated feature that will make you wonder how you ever lived without one.
Cons:
While it may be a bit pricy, this litter box is worth every penny.
PetSafe Automatic Cleaning Litter Box
The PetSafe Automatic Cleaning Litter Box efficiently removes every last trace of waste, so you don't have to scoop or clean your cat's litter box for weeks. And, perhaps most importantly, this litter box boasts near-unbeatable odor control. The crystals dehydrate solid waste and fully absorb urine so that no more gross cat smells permeate your home. Not to mention, these crystals are low-tracking and 99% dust-free, so they won't stick to your cat's paws. Say goodbye to your dirty floors and hello to your new, litter-free living space.
Pros:
This litter box's odor control is unbeatable, thanks to the highly absorbent crystals
We love that this box can be used for a whole month before it needs to be fully cleaned, and were pleased that it was a rather innocuous experience.
The power supply of this box is very good, helping provide it more power and last longer than other competitors.
Cons:
The box is definitely on the smaller side (at 20.38″ x 7.13″ x 28″), so if you have a bigger cat, this might not be the right fit.
Omega Paw Self-Cleaning Box
If you can't afford to shell out the big bucks just for a litter box, get the Omega Paw Self-Cleaning Box. The patented self-cleaning grate works like a charm, separating waste from litter, and the litter step is specifically designed to catch and contain litter from your kitty's paws. That means no more messy floors. Made from very durable materials and available in four colors, this product gets the job done perfectly at half the cost of most other self-cleaning litter boxes.
Pros:
We can't believe how affordable this litter box is for how effectively it works. Not only is the value there, but the quality is there as well.
The patented self-cleaning grate efficiently separates waste from clean litter, saving you from having to change it frequently.
Cons:
Be extra careful not to put too much litter into this box since it's easy to overfill.
LitterMaid Self-Cleaning Litter Box
If you've just got one kitty, the LitterMaid Self-Cleaning Litter Box should be your go-to product. No muss, no fuss: this handy litter box is perfectly sized for one cat, and the integrated rake does a thorough job of removing waste, so your cat has a fresh, clean start every time. You get a scoop-free clean for up to a week, and the high walls help prevent litter scatter. It's easy to install and easy to use; your cat will be acclimated to it in no time.
Pros:
This litter box is the perfect size for one cat (under 15 pounds), so it won't take up more space than it needs to.
The rake cleanly and thoroughly removes waste, helping reduce smells and the box remains tidy.
We like how easy it is to take this box apart when cleaning it, making cleaning a breeze.
Cons:
Because this litter box has a rather short cable, you'll have to make sure you put it near an outlet.
Our Tips and Tricks
Make sure you try to find the right type of cat litter for your self-cleaning box. Because different litters absorb urine and feces differently based on whether they're clumping or non-clumping and the materials their made from, cat litters will interact with your self-cleaning box differently as well. For example, some litters may be more likely to stick to the rakes of your box than others, which may affect your box's ability to effectively move old urine and feces out of the way. Also, make sure to never overfill your litter box, as it can potentially block your box's sensors or cause additional stress on your box's motor.
Frequently Asked Questions
How does a self-cleaning litter box work? 
Unlike traditional litter boxes, self-cleaning litter boxes have a rake that sifts through the litter, removing waste from the box. The waste is then transported to a small, enclosed receptacle, where it lives (completely odor-free) until you can get rid of it.
Will my cat automatically get used to using their new box, or do I have to train them?
Most cats will automatically get used to using their new litter box (this is a natural habit for domesticated cats), but to ensure that this happens, you should show your kitty their box as soon as you get it, letting them sniff it and get inside of it. Keep in mind, too, that your cat's litter box should be big enough for them to turn around in, and it should have low-enough walls for them to get in and out of it easily.
About the Author
About the Site
CatTime
Since 2008, CatTime has provided millions of cat owners with all the information they need to keep their pets happy and healthy. Our experts know exactly what it takes to raise our furry friends and our goal is to help all owners, new or experienced, care for their cats with all the right food, toys, equipment, and accessories.