The Best Self-Cleaning Litter Boxes for Your Cat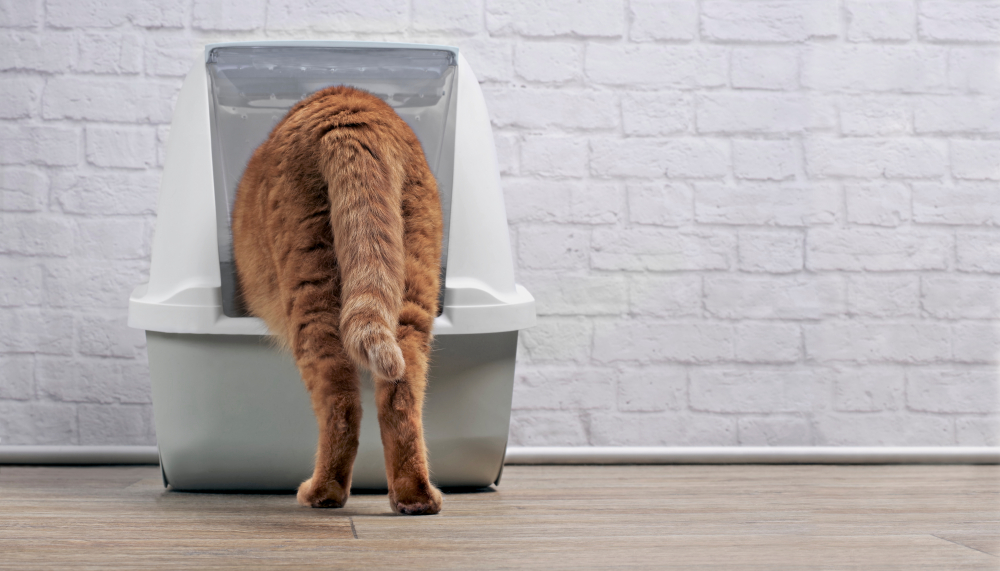 Cats are the perfect companions. They're affectionate, sweet, silly, curious, and intelligent, and their antics will keep you endlessly entertained. And if you have to be gone from the house for long stretches during the day, your kitty will be a-okay (as opposed to dogs). Of course, there's just one drawback to owning a cat: cleaning out the litter box. It's not exactly the most pleasant task. Fortunately, there are litter boxes out there that do the job for you. Yes, you read that right: automatic self-cleaning litter boxes are a thing and if you don't have one yet, it's time to get on it. This type of litter box automatically detects when your cat has used it, and then promptly removes the waste and cleans the box. Trust us, you and your feline friend will be so much happier together with a self-cleaning litter box in the house. Ready to find the right product for you? Here are the five best self-cleaning litter boxes available.
PetSafe ScoopFree Cat Litter Box
The PetSafe ScoopFree Litter Box automatically cleans your cat's waste and also helps you keep track of your feline friend's health.
Not only does the PetSafe ScoopFree Litter Box do an excellent job of cleaning up after your cat, but it also helps you to monitor your cat's health—making it an easy pick for best overall. Cats are prone to getting urinary tract infections, so it's extra-important to use proactive measures to stay on top of your precious kitty's health and be able to detect illnesses early. After all, you don't want your cat to be in pain without your knowledge, since they have no way of communicating this to you. That's where the ScoopFree litter box comes in. Not only does this box automatically remove waste and thoroughly absorb smells, but the health counter feature keeps track of how many times your cat uses the box, which is an effective tool in catching and preventing a UTI.
Pros:
Crystal litter removes the smell of cat waste
Low-tracking, 99-percent dust-free crystals means cleaner floors
You can monitor your cat's health, which helps you detect illnesses early on
Disposable trays have a plastic lining to help protect against leaks
Cleanup is super-easy; all you have to do is remove the tray and throw it away
Cons:
PetSafe Automatic Cleaning Litter Box
Hate the smell of cat urine? (Yuck, who doesn't?) Get this PetSafe box.
The PetSafe Automatic Cleaning Litter Box efficiently removes every last trace of waste, so you don't have to scoop or clean your cat's litter box for weeks. And, perhaps most importantly, this litter box boasts near-unbeatable odor control. The crystals dehydrate solid waste and fully absorb urine so that no more gross cat smells permeate your home. Not to mention, these crystals are low-tracking and 99-percent dust-free, so they won't stick to your cat's paws. Say goodbye to your dirty floors and hello to your new, litter-free living space.
Pros:
Truly unbeatable odor control, thanks to the highly absorbent crystals
Self-cleans for weeks on end
Entices cats to use it
Your floors stay clean; the plastic lining in the trays help safeguard against leaking
Set-up is easy and quick
Cons:
The box is definitely on the smaller side (at 20.38 x 7.13 x 28 inches), so if you have a bigger cat, this might not be the right fit
Omega Paw Self-Cleaning Box
This self-cleaning litter box from Omega Paw is a total steal.
If you can't afford to shell out the big bucks just for a litter box, get the Omega Paw Self-Cleaning Box. The patented self-cleaning grate works like a charm, separating waste from litter, and the litter step is specifically designed to catch and contain litter from your kitty's paws. That means no more messy floors. Made from very durable materials and available in four colors, this product gets the job done perfectly at half the cost of most other self-cleaning litter boxes.
Pros:
Excellent value
The patented self-cleaning grate efficiently separates waste from clean litter
Has an integrated litter step
Sturdy clip design
Comes in multiple colors
Cons:
You have to be extra careful not to put too much litter into this box since it's easy to overfill
LitterMaid Self-Cleaning Litter Box
The LitterMaid Single Cat Self-Cleaning Litter Box is the ideal product for pet owners with just one cat.
If you've just got one kitty, the LitterMaid Self-Cleaning Litter Box should be your go-to product. No muss, no fuss: This handy litter box is perfectly sized for one cat, and the integrated rake does a thorough job of removing waste, so your cat has a fresh, clean start every time (which all cats love). You get a scoop-free clean for up to a week, and the high walls help prevent litter scatter. It's easy to install and easy to use; your cat will be acclimated to it in no time.
Pros:
The perfect size for one cat (under 15 pounds)
The rake cleanly and thoroughly removes waste
Requires no daily scooping
Designed with high walls, to help prevent litter from getting scattered all over your floor
Cons:
Just a tad too flimsy for our taste
Cat Genie Self-Flushing Litter Box
Yes, the Cat Genie Self-Flushing Litter Box may be pricey, but it's worth every penny.
There's just no other way to say it: The Cat Genie Self-Flushing Litter Box is an incredible product. Although it's billed as a litter box, it's essentially a toilet for your cat. When your kitty goes, the liquids drain through the reusable granules, while solids are removed and liquefied for safe, easy disposal down your drain or toilet. After each use, the Cat Genie gently, effectively washes, scrubs, and purifies the granules, so the box is ready for its next use. The granules never need changing, and your cat will always find a box that's clump-free. Pretty nifty, right?
Pros:
Super-cool design; this litter box flushes away waste, and it also washes and hot-air dries itself clean after every use
Doesn't require any litter
Very easy installation process
You can even set it up in the bathroom
Has three cleaning cycle options, so it really stays pristine
Cons:
The price point may be inaccessible for some
You will need to be able to connect this litter box to a cold water supply line
Frequently Asked Questions
How does a self-cleaning litter box work? 
Unlike traditional litter boxes, self-cleaning litter boxes have a rake that sifts through the litter, removing waste from the box. The waste is then transported to a small, enclosed receptacle, where it lives (completely odor-free) until you can get rid of it.
Will my cat automatically get used to using their new box, or do I have to train them?
Most cats will automatically get used to using their new litter box (this is a natural habit for domesticated cats), but to ensure that this happens, you should show your kitty their box as soon as you get it, letting them sniff it and get inside of it. Keep in mind, too, that your cat's litter box should be big enough for them to turn around in, and it should have low-enough walls for them to get in and out of it easily.