The Best Shelves And Perches For Walls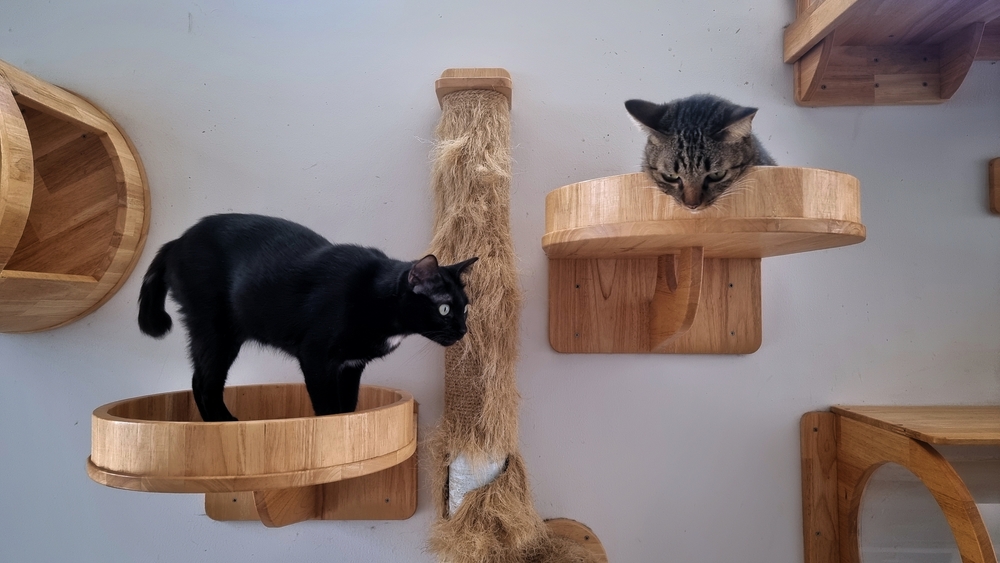 All cats deserve the ability to climb, pounce, and hide, but indoor pets don't always have the chance. However, with a quality set of cat perches and shelves for walls, you can give your pet everything they need and more. Choose from sets that include natural materials, opportunities to see the outside world, bridges to play on, and platforms to jump between. When you keep your cat's personality in mind, it'll be easy to find the perfect set from the post below.
What to Look For
When we were searching for the best cat shelves and perches for walls, we focused on three main features: safety, size, and ease of installation. We immediately appreciated the Mewoofun Cat Window Hammock for its tool-free assembly and sunbathing potential. We also liked the On2Pets Canopy products for the natural hiding spaces they provide. Which set of shelves and perches will be right for your home and your pet? Scroll through the following options to find out.
Mewoofun Cat Window Hammock Perch
This product lets kitties look through windows before they start to snooze.
This unique cat perch sits on the window instead of the wall, providing your pet with an incredible view of the outside world. It has mounting hardware that wraps around the window sill (as long as it's under 6 inches wide), so you don't have to worry about suction cups losing their strength. This also means the piece can be used in drawers, on the backs of chairs, and more. The canvas hammock is durable, hand-washable, and reversible, with two different fabrics for warm and cold climates.
Pros:
Impressive 40-pound weight limit

Wide variety of mat colors to choose from

Simple, 5-minute assembly

No drilling into walls required 

Reasonable price
Cons:
Requires an appropriately-sized window, dresser drawer, or chair back to attach to
Topmart Cat Window Seat Wall Perch
This pad makes your home's sills large enough for pets to sprawl out on.
This cat wall perch/shelf is designed to serve as a window seat in areas that have a partial ledge. It extends the surface area, giving your pet plenty of space to sprawl out while they observe nature. It stays in place with adhesive strips and metal support bars, each of which is covered in foam to protect your walls. You can also drill it into place if you don't have an available ledge in your home. The included pad is comfortable, and the cover is removable for easy cleaning.
Pros:
Average price
Extra-large sitting area
Gives cats the opportunity to sunbathe
Folds up for storage

Holds 20-35 pounds, depending on the chosen installation method
Cons:
Requires a specific ledge for the easier assembly method
On2Pets Canopy Cat Shelves and Perches for Walls
These leaf-covered platforms are ideal for cats who want to hide, jump, and play.
These fun perches are perfect for pouncing and hiding. The greenery adds a stylish touch to your walls and meets an intrinsic need for cats. You can choose the color of the leaves based on your favorite season and whether you'd like rectangular or rounded shelves. The assembly process only takes around 15 minutes to complete. And all materials are non-toxic, so you don't have to worry if your curious kitten tries a bite of the faux plant.
Pros:
Can be combined with other cat wall perches and shelves
Surfaces are covered in non-slip, scratchable fabric
Plants are sturdily stuck in place
Weight capacity is 32 pounds
All pieces are made by a small business in the United States
Cons:
You will need your own tools for installation 
Purife Handcrafted Cat Bridge for Walls
Grab this engaging set for your most active and outgoing pets.
This incredible cat bridge is ideal for the most adventurous cats and kittens. It's handmade from solid pine wood with non-slip grips on each slat. The bridge is connected with durable natural jute ropes in a criss-cross pattern. The steel brackets allow pets that weigh up to 35 pounds to explore safely, even if they jump from place to place. The assembly process is fairly simple, with all hardware and tools included too.
Pros:
Bridge is a new experience for most pets

Combinable with other cat wall shelves and perches 

Capable of tiring out the most active pets
Can be set up with platforms across from each other or at various angles
Wooden areas can be painted or stained if desired
Cons:
If you're not screwing into studs, you will need to purchase your own drywall anchors
Felivecal Cat Bowls and Shelves for Walls
This product brings mealtime up to the wall for food safety and fun.
This cat wall shelf fulfills two purposes at once. Its perch can be used for resting and playing, while the suspended food dishes keep kibble safe from other pets or young children in the house. It's made of solid pine wood for complete durability. The surface is large enough for cats of all sizes. And the feeding dishes are included at no extra cost.
Pros:
A helpful addition to other cat wall perches and shelves

Water-resistant finish
Easy-to-clean, removable dishes
Elevated eating style is healthier for pets
Wood can be painted or stained
Cons:
Higher than average price
Frequently Asked Questions
How can cat perches and shelves for walls be safely hung?
It's important to follow the instructions that come with the product you choose. If you hang your pieces on drywall, it's also important to find studs to screw into. If this step is skipped, the pieces could fall out of the walls. Drywall anchors are a helpful alternative if studs aren't available in the areas you need.
Do all cats enjoy cat perches and shelves for walls?
All cats are different, but most have an intrinsic desire for climbing and pouncing. These setups can help fulfill these needs while keeping your pet safely inside your home.
About the Author
Why Trust Us
Since 2008, CatTime has provided millions of cat owners with all the information they need to keep their pets happy and healthy. Our experts know exactly what it takes to raise our furry friends and our goal is to help all owners, new or experienced, care for their cats with all the right food, toys, equipment, and accessories.