The Best Tofu Cat Litters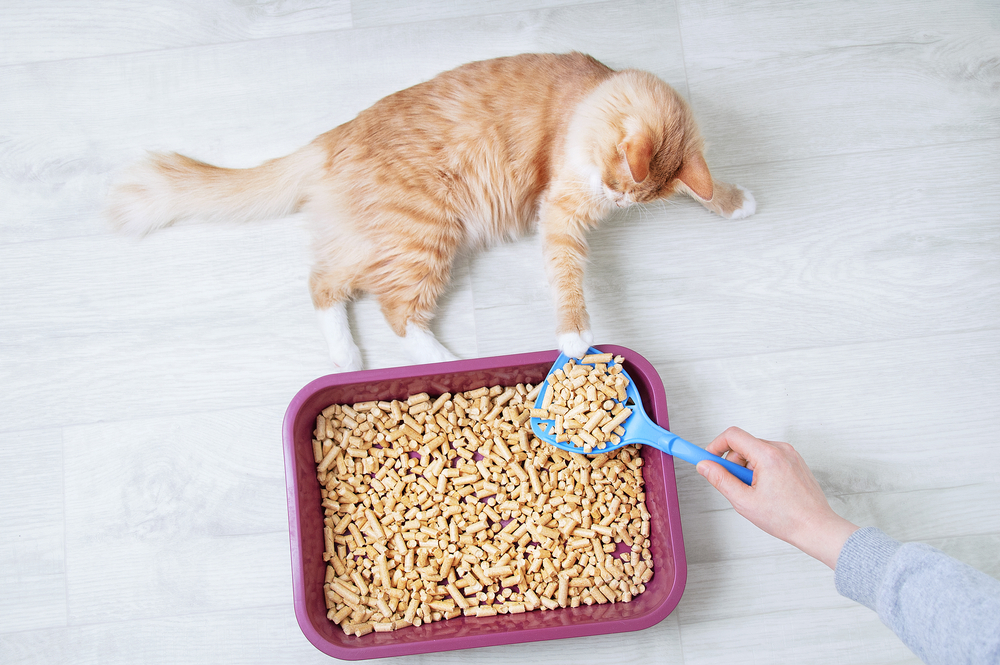 Tofu cat litter is the perfect blend of convenience and function. The pelletized form helps soak up the strong scents of urine and mess, and once it's all inside, you can flush the pieces away for easy cleaning. Cats also appreciate its softness on their sensitive paws, making it excellent for finicky felines.
What to Look For
To ensure you and your cat get the best experience possible, we recommend checking out the ingredients, ease of cleaning, and odor control of the tofu litters you're considering. For example, flushable Nourse ChowSing tofu litter clumps up to trap nasty smells while the pellets stop tracking and dust. Then again, if you're worried about your pet's health, Pidan Tofu Litter can help. It has unique pieces that change colors if they detect blood so that you can tell your vet. You can find more details on these below. There are also a few other options to check out if neither of these works for you.
Nourse ChowSing Tofu Litter
A low-dust formula helps keep your home feeling fresher.
Nourse ChowSing tofu litter has everything you could want in a tofu-based cat litter. It clumps up for easy scooping. Once you've sifted out the mess, you can simply flush it down the toilet. The pellets are biodegradable and break down in the water, keeping your septic safe and your home and trash poop-free. Meanwhile, the scent and formula variety makes it a breeze to find a version that fits your needs.
Pros:
Flushes well without clogs
Controls odors with ease to keep the familiar ammonia smell out of your home
No dust or tracking
Easy to clean from the box or the floor
Cons:
Makes a mess if your cat digs or kicks more than average
K Kamy's Zoo I Am Tofu Litter
Tofu and cornstarch come together to make these pellets safe and easy to use.
K Kamy's Zoo I Am Tofu litter combines soybeans and cornstarch to create quick-clumping, fast-dissolving pellets that trap odor and minimize messes. The scent options include honey peach, charcoal, unscented, and green tea, allowing you to create a fresh atmosphere without overwhelming the senses. And since these pellets are thin, they're gentle on your cat's paws to keep them comfortable.
Pros:
Clumps fast to keep dust or debris off the bottom of the tray
Lightweight enough for kids and the elderly to change and carry
Superior odor control and light scents are great for busy homes
Breaks down in water fast for safe flushing
Cons:
It can get pricey over time
Pidan Tofu Litter
We love how this litter soaks in and dries out in a flash. Plus, its unique granules alert you to health issues.
Pidan Tofu Litter, like most tofu pellet litters, clumps up quickly and is easily flushed away. However, it also has the added benefit of unique pieces that can trace hemoglobin and change colors, allowing you to keep a closer eye on your cat's overall health. The tofu pellets are a mix of longer and shorter pieces to help them clump more efficiently, and the blue pieces stand out against the white pellets if a problem is detected.
Pros:
Has a pleasant scent that doesn't overwhelm your home
Doesn't stick to feet or track around the house
Virtually dust-free with frequent cleaning
Fantastic at soaking up odors
Cons:
You need a bigger scoop to sift these pellets
Furberry Unscented Tofu Cat Litter
You can keep your house smelling fresh and clean without harmful perfumes and chemicals.
Furberry unscented tofu cat litter is ideal if you want to keep odors locked away while avoiding perfumes and heavy scents. The quick-clumping action traps liquids, solids, and any other mess that makes it into the box. Once clumped, all of the ammonia and other offensive smells are sucked up and trapped. From there, all you have to do is flush it away. Your home stays fresh and clean.
Pros:
Dust-free formula makes it great for anyone with allergies or asthma
Absorbs a ton to prevent mess from getting to the bottom
Unscented but still controls odors really well
Flushes without clogs
Cons:
You need several bags to fill a couple of litter boxes
Yodupes Tofu Cat Litter
The light, bright green-tea scent helps cover and absorb nasty odors.
Yodupes tofu cat litter comes in two scents, ensuring your house always smells amazing. It sucks up urine and feces odors while releasing the fresh smell of coffee or green tea. And since it clumps quickly, you won't have to worry about nasty smells seeping through. Whenever you want to refresh it, you can sift out the clumps and flush them for effortless cleaning and then top it off.
Pros:
Odor control and scent combination keep your house smelling fresh
Both scents are great and don't have a synthetic smell
Doesn't make your house dusty
Easy to scoop and flush
Cons:
Needs frequent scooping to stay fresh
Frequently Asked Questions
Is tofu cat litter safe for all cats?
While it's always best to ask your vet about new products if you have concerns, most experts agree tofu litter is safe for cats of any age or size. It's water soluble and made of food-safe ingredients like soybeans and cornstarch. In addition, the lower dust helps prevent issues related to asthma or allergies.
What makes tofu litter flushable?
Tofu litter is all-natural, biodegradable, and water-soluble, allowing it to quickly break up and dissolve in water. That means when you put it into your toilet, the water will dissolve it. From there, it can safely pass through the pipes and septic system.
About the Author
Why Trust Us
Since 2008, CatTime has provided millions of cat owners with all the information they need to keep their pets happy and healthy. Our experts know exactly what it takes to raise our furry friends and our goal is to help all owners, new or experienced, care for their cats with all the right food, toys, equipment, and accessories.