The Best Toy Boxes For Cats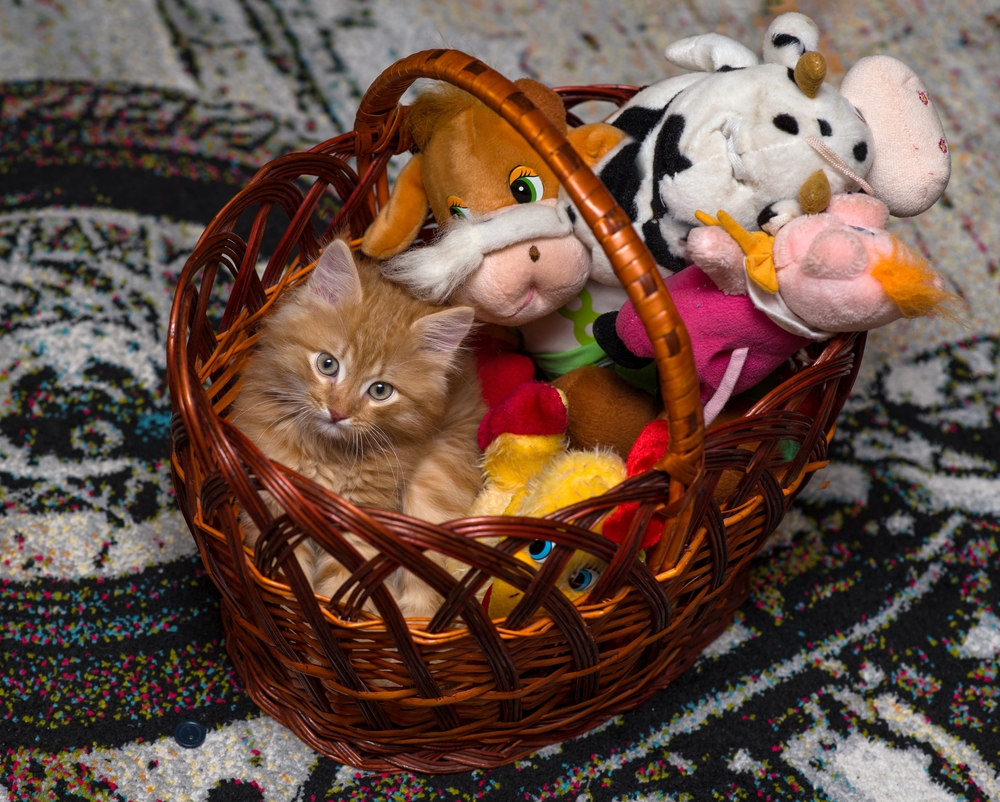 Cats love to play, so you have probably bought your feline friend quite a few toys over the years. Toys can pile up quickly, and you may have even tripped over a few of them as you've gone about your day. Keeping your kitty's playthings organized is easy when you invest in a toy box. These storage containers help you keep toys in their place until your cat is ready to play. With all of that in mind, we've rounded up some of the best cat toy boxes the internet has to offer.
What to Look For 
We recommend keeping the following questions in mind when shopping for a tox box for your cat: Is it spacious enough to store everything you need? Is it made of durable materials? Is it compact and easy to store? Our top choice was the toy box from Morezi, which has two large compartments and a secure lid to keep toys hidden from your kitty when not in use. We also really liked the toy box from VK Living, which has plenty of room for storing toys and other items. Keep reading to learn more about our top picks and why we liked them so much.
Morezi Large Cat Toy Box
There's enough room to store all of your cat's toys in this spacious box with a flip-top lid.
If you're wondering what to do with all of your kitty's toys, this large toy box from Morezi offers a solution. The spacious box has two compartments for organizing your cat's playthings, making it easy to find them when it's time to play. It features a flip-top lid with hook-loop closure to prevent kitties from getting into the box when you're not paying attention. That's not all; durable handles on each side of the box make it easy to move from room to room or wherever you need to go.
Pros:
Made of an easy-to-clean linen-cotton blend

Lightweight, sturdy handles make it easy to transport

Collapsible design for easy storage
Two spacious, deep compartments
Cons:
It would be nice if it were available in multiple sizes
VK Living Woven Cat Toy Box
Put your kitty's toys away in this box when they've finished playing for the day.
Keep track of all of your kitty's toys with this cute basket from VK Living. It features a cat face design and has enough room to store multiple toys, helping you keep them off the floor when not in use. The box is made of durable cotton rope, so you can expect it to last many years. It's also lightweight with built-in handles, making it easy to move around without getting weighed down. Besides storing your cat's playthings, you can also use the bag to store blankets, clothes, towels, and more.
Pros:
Constructed with durable materials that can support heavy items

Made with non-toxic, skin-friendly cotton rope
Handles feature a comfortable, curved design making it easy to carry
Available in several colors to match any decor
Cons:
Won't stand up on its own 
NTAOHAMPER Cat Toy Box
You'll know where to find your feline friend's toys when you use this box.
Whether hanging out at the beach or heading out on a rainy day, this waterproof box from NTAOHAMPER will keep your cat's toys dry and organized. It has a laundry basket design with a wide opening at the top, allowing you to easily put things in it and take them out. Furthermore, it has easy-to-grip leather handles on each side, making it easy to transport. When it's not in use, you can fold it for quick and easy storage.
Pros:
Waterproof fabric makes it a great option for storing wet toys or keeping toys dry

Spacious enough to hold multiple playthings
Extra strong handles make it easy to carry
Made of high-quality, durable material
Cons:
ABenkle Small Woven Cat Toy Box
This box makes it easy to keep track of all of your kitty's toys.
Good things often come in small packages, as this cat toy box from ABenkle proves. It's ideal for cat parents who live in homes without a lot of space and need a way to quickly organize small cat toys to reduce clutter. The woven basket with reinforced stitching is made with durable cotton that can support heavy loads. It makes it easy to keep your cat's small toys on hand for easy access, and since it's so compact, it's easy to hide so your cat can't reach it when it's not playtime.
Pros:
Made with cat-safe materials

Has a modern look that fits almost any decor

Compact design is great for storing toys in small spaces

Machine washable when placed in a mesh laundry bag
Cons:
Vumdua Felt Cat Toy Box
You won't have to search for your cat's toys when you store them in this box.
This collapsible toy box from Vumdua has plenty of space to store your kitty's favorite playthings. It's made of durable yet soft felt materials that won't irritate your cat's skin if they rub against it. Plus, it has a metal wire frame that allows it to sit upright, even when there aren't any toys in it. It doesn't end there; it's incredibly spacious, with enough room to fit cat toys of almost any size. And it's wooden handles make it easy to lift and move around. When it's not in use, the collapsable design allows you to fold it up to save space.
Pros:
Large capacity for storing toys of various shapes and sizes

Collapsible design to save space when not in use

Helps keep home organized and cat toys out of the way
Has a metal frame, allowing it to stand on its own
Cons:
Only has one storage compartment
Frequently Asked Questions
Should I put my cat's toys away at night?
It's a good idea to go through your house and pick up your kitty's toys before you go to sleep at night. We recommend paying special attention to toys that make noise, roll, or bounce. Putting toys away before bedtime makes your feline friend more likely to sleep through the night. It also ensures you don't trip over anything if you get out of bed. However, if you have a cat that plays quietly, it's okay to leave a few toys out for them to play with during the night.
Why do cats need toys?
From exercise to mental stimulation, there are many reasons why cats need to play with toys. Toys are essential for indoor cats who don't get as much exercise or stimulation as outdoor felines. It's a good idea to try to play with your kitty at least two or three times a day for 15 to 20 minutes. Without toys, your cat may become bored and lethargic. 
About the Author
Why Trust Us
Since 2008, CatTime has provided millions of cat owners with all the information they need to keep their pets happy and healthy. Our experts know exactly what it takes to raise our furry friends and our goal is to help all owners, new or experienced, care for their cats with all the right food, toys, equipment, and accessories.