How To Choose The Best Wellness Cat Food For Your Cat – CatTime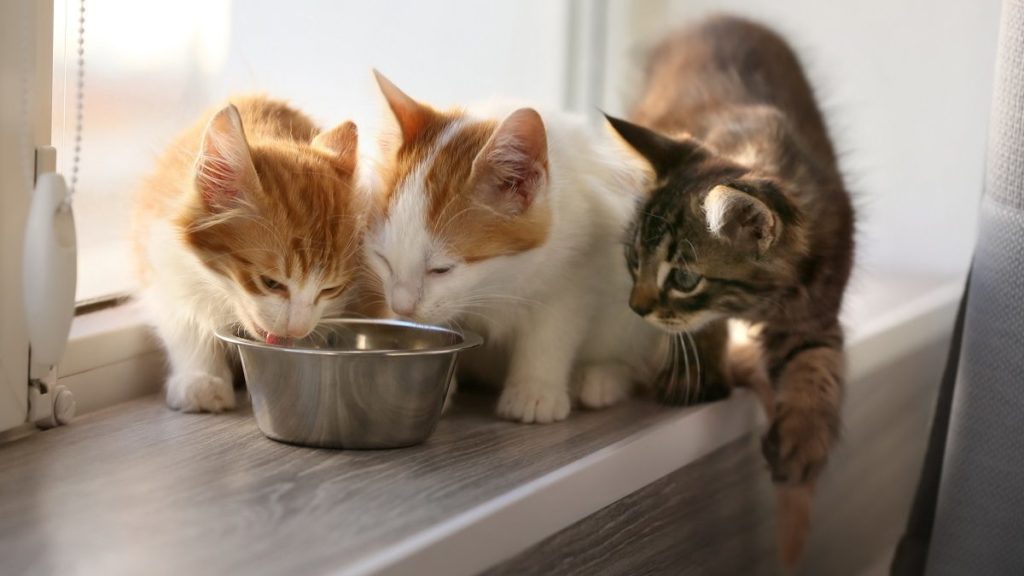 Many companies produce cat food. With a massive market for pet products, varieties and flavors make it possible for pet owners to pick what works for them. Wellness is a market leader in the industry. The company portfolio boasts an array of products for pets and has been in operation for a very long time, making it a trusted brand. Cat food by Wellness comes in various flavors, ingredients, and sizes.

Wellness has a CORE line that specializes in canned foods, ones suitable for cats due to their protein-rich components. The company uses quality ingredients for their product line. Some animals are allergic to grains, while others find digesting it a real challenge. Cats lack amylase, an enzyme that facilitates the breakdown of carbs such as corn and wheat before reaching the stomach. The feline digestive system, instead, produces the enzyme in the pancreas in the latter stages of digestion.

This concern caused the development of grain-free options. Foods without grains typically contain a higher concentration of protein. The absence of this component also automatically keeps pets with grain allergies safe from harmful reactions to food. It is, however, essential to note that the high levels of protein in grain-free food varieties also means a higher amount of fat. For this reason, pet users should serve foods in this category in controlled amounts. This variety of foods is even costlier.

Best Choice
The top choice among grain-free cat food varieties is the Wellness Complete Health Natural Grain-Free Dry Cat Food.
Pros:
The high fiber content in this dry food ensures a trouble-free digestive process. Due to a high amount of protein, you only feed your cat controlled amounts, meaning that the bag lasts longer. The use of all-natural ingredients makes this product a safe bet for your feline friend. It's essential to buy healthy foods, especially if your feline has allergies or a sensitive digestive system. Cats have a taste for this food, making it an excellent choice if you have a picky eater.
High protein levels make the Wellness Complete pack ideal for rescues that need to gain some weight. The recipe is not only healthy but tastes good as well. With kibble, spills are relatively easier to clean up compared to wet foods.
Cons:
High fiber foods tend to result in more kitty litter, so prepare yourself.
Best Wellness Natural
Wellness CORE is a fantastic organic dry cat food. This grain-free recipe has omega fatty acids from flaxseed and salmon oil. These ingredients ensure healthy skin and coat.
Pros:
High protein levels make Wellness CORE a fantastic option for animals that need some extra weight. With a healthy level of probiotics and prebiotics, this high-fiber option ensures a healthy digestive system. The incorporation of essential nutrients promotes healthy eyes, gums, and teeth. Cats love Wellness CORE. There are two flavors in this category, each with its unique recipe. Pet parents can, therefore, choose what works best for them.
Cons:
Recent alterations in the formula have left customers aggrieved. With the change, customers have also noted a distinct lack of interest by their pets. There have been isolated reports of cats developing urinary complications and UTIs after using Wellness CORE. Among the standard reports are the development of struvite crystals and stones.
Best Variety Pack
The Wellness Healthy Indulgence Natural Grain-Free Wet Cat Food offers a variety of different flavors, avoiding the boredom that comes with feeding a cat the same food every day.
Pros:
The package comes with a variety of different flavour options. This is a great way to add more variety to a cat's daily life and, in particular, their diet. There are four different flavoured foods that come included with the purchase of this package. Each flavour features real meat pieces, along with a sauce or gravy that cats tend to enjoy.
Cons:
The pricing of the product is relatively expensive when compared to a large number of alternative options currently available. The only bulk package available comes with 12 packets. The option to buy fewer packages at a time can help a cat owner determine if their pet enjoys the food and if their cat has any particular preferences for flavor.
Best Everyday Nutrition
The Wellness Core Natural Grain Free Signature Selects Wet Cat Food Variety Pack features a total of six different flavors and 12 cans of high-quality cat food.
Pros:
This is a bulk package that provides the customer with a total of 12 cans at a time, ensuring there is an adequate supply of wet cat food for a more extended period of time. The package also comes with a variety of flavors. These flavors include Chicken, Tuna & Salmon, Chicken Liver, Tuna & Shrimp, Beef, and Salmon. These six favors add more variety to the cat's diet.
Cons:
The price of the package may be considered a little high for some people. While the grain-free formula is beneficial, some people do tend to prefer a diet that contains certain grains for their cats. There are also cases where a cat may not enjoy some of the flavors that are included in this variety pack.
Best Wellness Flavors
Some animals are picky eaters. For such pets, you need a variety of flavors. An ideal product for your choosy feline is the Wellness Minced Grain-Free Wet Cat Food. The pack contains 12 3-ounce cans.
Pros:
The manufacturer uses real meat, with no use of artificial add-ons or meat by-products. With three cans of each flavor, the food lasts long. Wellness delivers a nutritious package for finicky eaters. Grain-free foods digest easily. The assortment of flavors makes varying your cat's diet to avoid monotony. Taste is a huge incentive for pets. All-natural ingredients assure safety for your cat's health.
Cons:
Despite the variety of tastes, some cats still don't eat Wellness Minced Grain-Free Wet Cat Food. There are reported cases of cats throwing up. The price is a concern for some pet owners. This grain-free option is relatively costlier than similar products in the market.
Price
High prices are a proven deterrent for pet owners, with people opting for pocket-friendly options whenever possible. Quantities are another consideration at the time of purchase when one wants an estimate of price per piece.
These are the prices for the items reviewed above.
Wellness Complete Health Natural Grain-Free Dry Cat Food (11.5lb) – $32.99
Wellness CORE Natural Grain-Free Dry Cat Food (11lb) – $40.89
Wellness Minced Grain-Free Wet Cat Food Variety Pack
Wellness Natural Grain Free Wet Canned Cat Food (24-pack, 3 ounces each) – $29.52
Wellness Minced Grain-Free Wet Cat Food Variety Pack (12 cans, 3 ounces each) – $28.00
For packages with different flavors, the number of pieces is an important consideration. Compare prices for 12 and 24-packs before making an informed decision. For dry food, check the ingredients as the bags come in 11 and 11.5-lb options, not much variation in weight.
For packages with different flavors, the number of pieces is an important consideration. Compare prices for 12 and 24-packs before making an informed decision. For dry food, check the ingredients as the bags come in 11 and 11.5-lb options, not much variation in weight.
FAQs
Some of these foods contain catnip. Is it safe for my pet?
Catnip is native to Africa, Asia, and Europe. The plant is a type of mint that triggers a euphoric feeling in cats. Despite the hallucinogenic-like effect, it is perfectly safe for your feline companion and is neither addictive nor harmful. Sniffing and ingesting the plants have different effects. Sniffing brings about a stimulant effect while eating or ingesting catnip produces a soothing effect. Considering that the ingredient is ingested with food in our scenario, your fur baby tends to mellow out and relax.
Do all cats have a similar reaction to catnip?
The simple answer is no. Only 50 to 75% of cats register a reaction to catnip. The response itself comes from nepetalactone, a chemical naturally found in catnip. In Australia, for instance, most cats don't feel the effects of sniffing or ingesting the plant. The reactions are less evident in kittens and senior pets. There is a strong possibility that sensitivity to nepetalactone is a hereditary trait.
Which option is best for my pet?
All products have various standout qualities. For most pet users, it depends on the feeding habits of their felines as well as preferred ingredients. Some options come with high-protein recipes and may prove superb for middle-aged cats. For pets with digestive issues, the smart approach involves going for kibble and other high-fiber foods. When in doubt, get additional information from your vet.
How is Wellness Cat Food as a brand?
This company has a wide range of products, each with different ingredients and flavors. Such variety is an added advantage for people seeking specific qualities in their preferred pet foods. Wellness also goes for quality. There are no ground bones, hooves, beaks, or necks in the recipes. The company also keeps out corn, wheat, and soy, which are known allergenic fillers. Grain-free recipes use brown rice, which digests quickly and is rich in fiber.
What are the advantages of grain-free cat food?
Grain-free varieties contain a high amount of protein and are low-carb. For animals that are chiefly carnivorous, carbs found in grain may prove tough to digest. The high protein levels also mean that you should stay vigilant with portion control — too much protein results in weight gain. Overweight pets remain susceptible to a range of health issues, such as diabetes, liver problems, pancreatitis, and joint problems.
How do I go about changing my cat's diet?
In some cases, cats might reject new foods. If the flavor, texture, or scent doesn't measure up, picky eaters immediately lose interest. For such situations, go for a variety pack that offers a range of options and observe your cat's eating habits. Carefully check the labeling on each product and spot any ingredients that may cause allergic reactions. Successfully switching to a healthier option eliminates some medical issues, so the risk's worth it.
What Really Matters?
The first consideration when buying cat food is safety. Pet owners steer clear of recipes that induce vomiting or cause other health issues. If your feline friend has a sensitive stomach, you need to check the package for safety purposes. Nutrition is another vital factor. Ensure that you purchase food that contains all the necessary nutrients and minerals. Avoid recipes with artificial coloring and flavors whenever possible. Grain remains a challenge for cats, so, go for a grain-free option. As is the norm, the price is an essential consideration. Rates that are too high may prove deterrent as we all want the items we need at the right price.
Final Take on Grain-Free Cat Food
Even with new recipes in the market, trusted brands remain prominent. However, with time, the idea of making healthy choices for your pet is quickly catching on. Cat food companies understand the need to eliminate chemicals, fillers, and artificial additives to recipes. As a result, new products in the market pose less risk and offer excellent nutritional value.
Before making a switch to a new type of food, first, ensure that you have enough information. Sometimes, more modern isn't always better. However, most new grain-free options offer healthier alternatives depending on the ingredients used. At any point, avoid foods with artificial ingredients such as coloring, preservatives, and flavoring.
Despite its many advantages, grain-free food may not always be the perfect option for your cat. Consult your vet for recommended brands that effectively meet your furbaby's nutritional needs. Take time and gather all necessary information before making the switch. Remember, grain-free foods cost more, so the benefits of using it come at a price as well.