The bond between pet and pet parent is one of the greatest in life. It's important to a lot of us to be as in-tune with our pets as we possibly can. Being able to pick up on your furry friend's expressions is extremely important.
A great way to strengthen the bond between pet parent and pet is by handfeeding interactive supplements to our pets.
Just like we humans, pets need nutrients and vitamins. Supplements are a great way to keep our beloved pets healthy and happy. When you give your pet supplements in an interactive, personal way, you're taking care of their health and strengthening your bond all at the same time!
What Can Supplements Do For Pet Health?
There are a lot of supplements out there that can add a natural boost to your cat or dog's health.
Here are a few that you might want to consider adding to your pet's diet:
Omega-3 fatty acids address inflammation and gastrointestinal toxicity related to cancer treatments, and they aid in proper brain and eye development.
Milk thistle can treat acute and chronic inflammation.
Hemp oil helps calm pets, especially important for pets who get nervous on airplanes.
Glucosamine promotes cartilage health and reduces the release of inflammatory triggers. It can be used as part of comprehensive pain-control measures in pets with joint problems, such as arthritis.
There are all types of supplements available, from oil to capsule to freeze-dried salmon filet treats. Have your special furry friend tell you which one fits them the best.
The Importance Of Making It 'Interactive'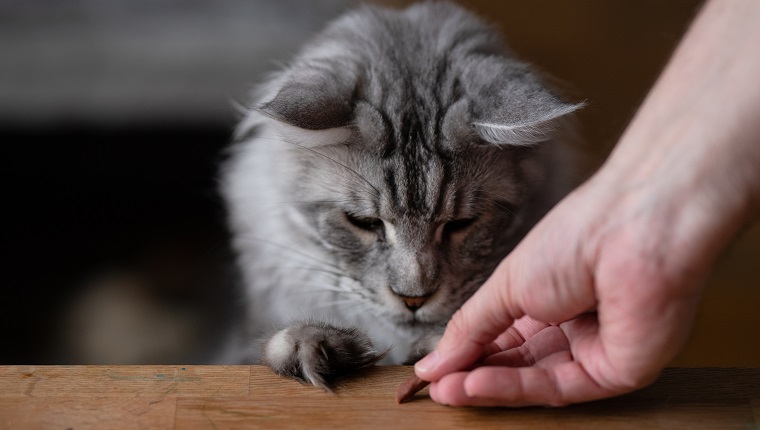 Now comes the most important part: handfeeding your pet. There are numerous benefits to handfeeding your dog or cat. It teaches them when you reach out, a good thing happens — a conditioned response! Professor Ivan Pavlov salutes you.
While this is happening, your pet is understanding that they can trust you, and you are are understanding that you can trust your pet. This is a very vulnerable position for both of you, so that shared vulnerability will bring you closer.
Close-hand feeding helps your pet to learn impulse control. The idea here is that you keep your hand closed until your pet backs up, looks away, or even just stops pawing and licking your hand. Then you then open your hand and let them eat.
Our pets understand that we are the ones who gives them everything. They trust us and depends on us. When a dog or a cat understands that they must earn things they want, behavioral change and learning rapidly occur.
It also teaches pets to eat slowly, especially important for those of us who have food-inhaling dogs. You can also practice basic obedience skills between feeding handfuls of their meal.
Or, maybe go all out and come up with an intricate routine with your dog and go to the next obedience championship. I don't recommend having a dance routine with your cat because Andrew Lloyd Weber ruined the whole dancing cats thing.
If your pal is on the shy side, they could greatly benefit from handfeeding. Just let them tell you what they are comfortable with. Go slow. Patience is always a virtue!
Handfeeding your pet supplements is the foundation of a good working relationship. In the end, we are all the same: we fall in love with people who feed us. Tasty interactive supplements will change the way you communicate with your pet.
Do you give your pet any supplements? Do you ever handfeed them to improve your bond? Let us know in the comments below!
Find Out More About Holistic Pet Care: