Hurricane season generally lasts from June to November but it seems like we see some of the worst storms later in the season. You really just never know. If you live in an area affected by hurricanes, it's always good to prepare.
Stock your emergency kit at the beginning of the season; that way, if emergency services call for evacuation and the grocery stores empty out, you'll already have what you need.
When a hurricane is approaching your home, you need to be concerned for the safety of your whole family, including your cat. It's' important to have a disaster preparedness plan so you know exactly what to do to protect all of your family members, even the furry ones.
Here are seven ways you can make sure that your cat stays safe and comfortable in the event of a hurricane.
1. Have Your Emergency Contacts Handy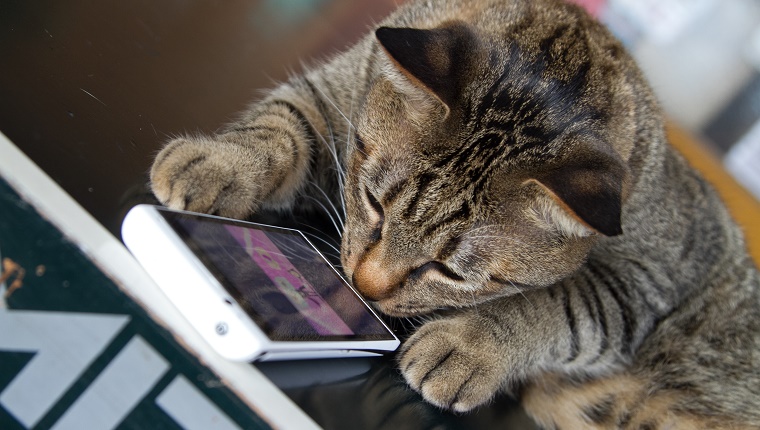 Keep a card with a list of your emergency contacts available at all times. Make sure to include phone numbers for your veterinarian, shelters, disaster relief facilities, emergency services, and family members.
Have this card in a place where you can access it quickly if necessary.
You can also purchase an inexpensive solar phone charger or back up phone charger to keep your phone charged up when the power goes out.
It's a good idea to have important numbers and addresses on a laminated piece of paper in the event that your phone dies or malfunctions. If you can't laminate, keep your contacts in a zip lock baggy to prevent water damage, and be sure to use a sharpie or permanent marker that won't bleed if it does happen to get wet.
2. Make A Disaster Preparedness Kit That Can Travel With You
Use a watertight plastic bin or tub with a secure lid and create a disaster preparedness kit that can be easily moved from one location to another.
This kit should include a week's worth of food, fresh water, any of your cat's medication, litter, vet records, grooming supplies, first-aid items and personal comfort items or toys. Your kit should be kept in a place out of any area that might be affected by flooding.
You can find a list of ten items you should include in the kit here.
If you know that you may need to evacuate soon, move this tub to your car and have it ready to go in the event of a fast moving evacuation.
3. Stock Up On Supplies If You Take Shelter At Home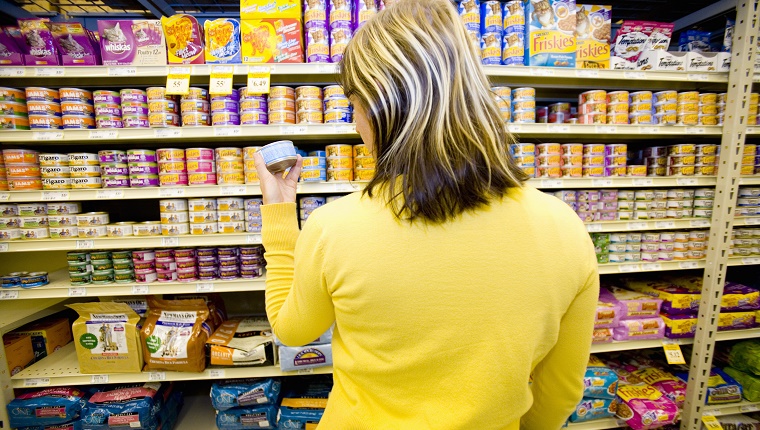 If you are going to stay at home, make a trip to your grocery store and stock up on cat food and fresh water. You never know how long you might need to stay in your home until the storm blows over, so make preparations.
You'll also need to make sure any of your cat's medications are filled. As with the disaster preparedness kit, it's important to keep these supplies out of areas subject to flooding.
It's recommended that you make sure to have at least a two week supply of cat food, fresh water and other supplies in the event of a hurricane and a two month supply of flea, heartworm, and other medications on hand.
4. Make Sure You Know First Aid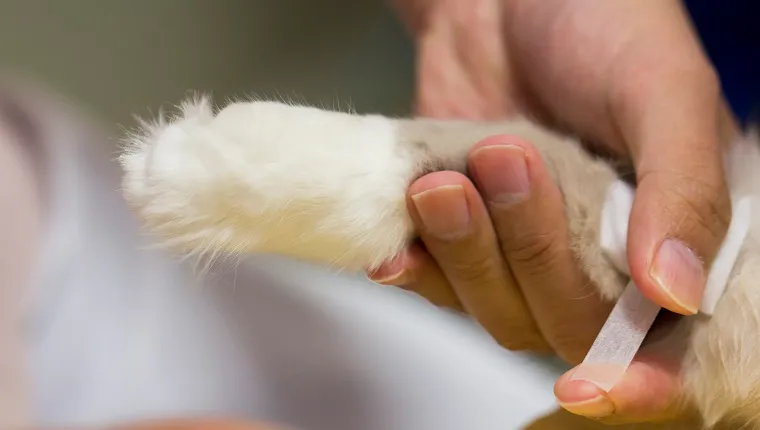 It's no good having a first-aid kit if you don't know how to use it. Make sure you know how to treat minor injuries by yourself, as you may not be able to get to a vet for some time.
This is an important skill for a cat parent whether you're preparing for a natural disaster or not, as you never know when your cat may need your help.
5. Know Where To Go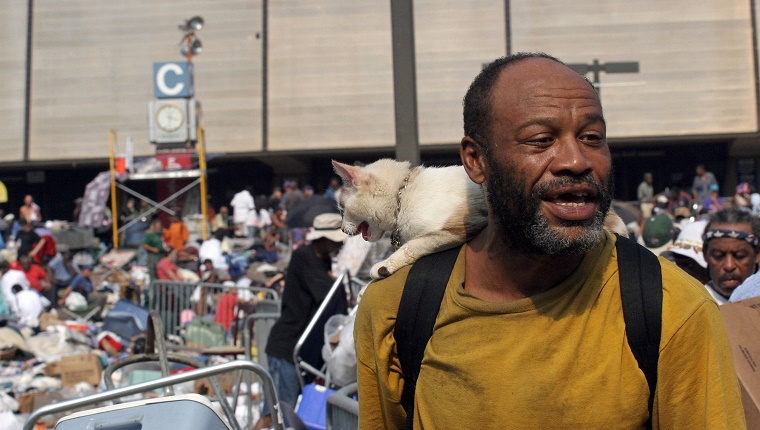 Have a plan of where to go if something goes wrong. Hurricanes can cause a lot of damage from rain and wind, and if your home suffers damage, you'll need to find a more secure location.
Contact relatives or friends who live outside of the area affected by the hurricane, and see where shelters have been set up locally. If you live in the state of Florida, you can find local shelters here, but no matter where you live you should have this information handy.
Not all shelters take pets so you should put in the effort to find a pet friendly shelter ahead of time.
6. Update Your Cat's Tags And Microchip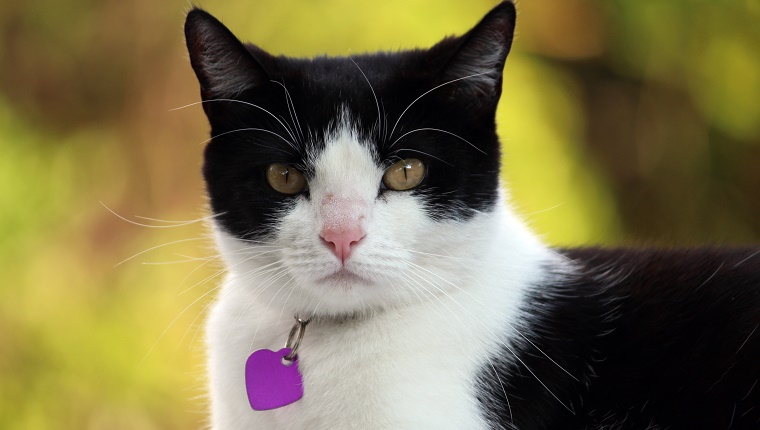 If the worst should happen and your cat does manage to escape or get lost during the storm, you'll want the most up-to-date and easily accessible information so you can be reunited quickly.
A microchip is a great way to make sure your cat can be returned to you, but have a collar with tags as a backup. You may not want your cat to wear a collar all the time, but it's important during a natural disaster. The tags should have your information as well as the information of a relative who lives outside of the area affected by the hurricane.
If you are separated from your cat, be sure you know how to find a lost cat so you can act swiftly to be reunited with your furry family members, and always make sure to have a recent photo of your cat should you have to make posters or posts on social media.
7. Bring A Home Away From Home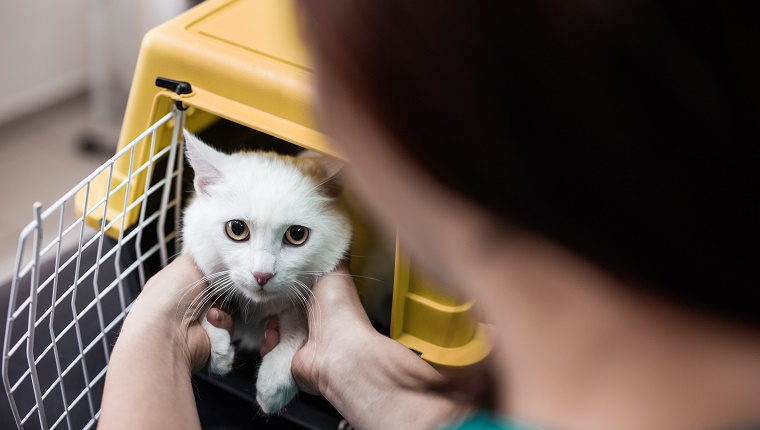 If you need to leave home quickly, you'll need a cat carrier both for transportation and as a shelter for your cat. Make sure it has room for a small litter box, as you never know how long your cat will need to stay in the carrier.
Get your cat familiar with the carrier before you use it to reduce anxiety. The carrier should be a safe space for your cat to feel comfortable and secure.
If your carrier is too small for a litter box, be sure to have a cat harness and leash so that you can safely take your cat out to do their business. Pack newspaper and extra bags or baggies for disposing of waste and trash.
Also, pack your cat's favorite toys and blanket to provide emotional comfort for your kitty.
Do you have a disaster plan that includes your pets? What other ways can you make sure your cat stays safe during a hurricane? Let us know in the comments below!
Click the bold links in the article to shop for your cat and support our content!